Just doin' it: Tommy Hale on touring, performing, friendship and the future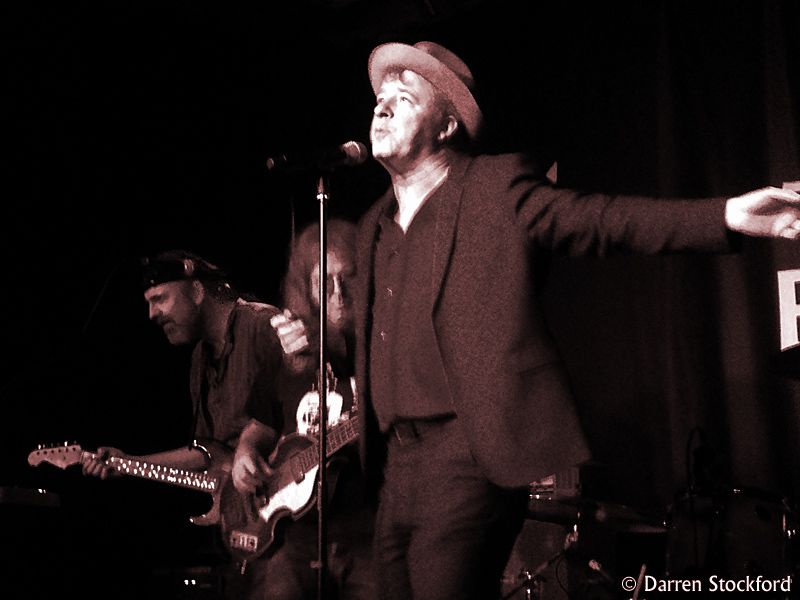 It's 7pm on a balmy spring evening, and I'm wandering up Orsman Road in Hoxton, towards The Stag's Head. I have no idea why I expect to find a tranquil beer garden on a Friday night in London's East End, but my awakening is far from rude. As I enter the pub I'm immediately greeted by Tommy Hale, who's standing just inside the doorway nursing a large wooden spoon bearing the number five.
The singer, songwriter and sometime guitarist from Dallas, Texas, is in the UK for an eight-date tour, which has already taken him and his band from Exmouth to Hastings, via Swindon, Bristol and Guildford. I saw the latter show three nights ago, and this evening I'm looking forward to questioning Tommy about some of its finer details - hopefully, for the benefit of the tape, in a nice quiet spot.
But first, there's that wooden spoon to take care of.
Tommy nips off to see whether he's needed yet at soundcheck, leaving me to guard the timbered tableware. Upon his return a few minutes later, one of the bar staff approaches and Tommy exchanges the spoon for a thin-crust, ham-topped pizza - a 12-inch, I believe, which may or may not prompt my first question.
What happened to your plans to release the album on vinyl?
"A lot of the vinyl places wouldn't contact me back," says the singer as he settles, post-pizza, into a window seat on the band's rented van - a spacious 16-seater that makes the perfect replacement for a quiet beer garden.
"It just became a nightmare. And then I was speaking to a friend that owns a record label in Dallas. He was talking about getting stuff back that was warped. And it got to where I wanted to put the record out, so I just had to move forward."
So sadly, there are no LPs on sale tonight - though, happily, their absence means that Tommy didn't bust his airline baggage allowance.
"Yeah," he says, "they're heavy to carry around, but it would have been nice. It got away from me. I regret it a bit, but it doesn't seem to have been as big a hindrance as I thought it was going to be."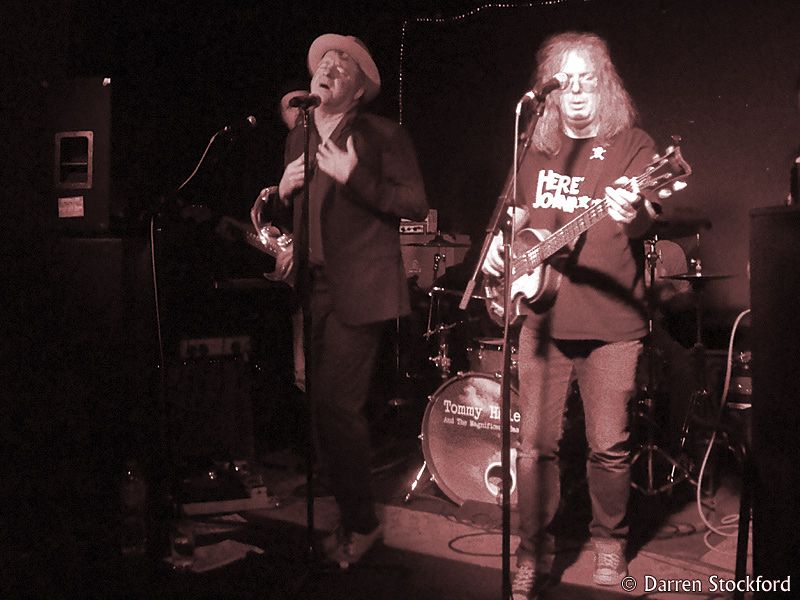 I last spoke to Tommy in November 2015, during the recording of his latest album. Back then the record didn't have a title, though Magnificent Bastard was high in the running. And eventually, despite some concerns about how the moniker might fly with certain sections of the media, it became clear that the album couldn't really be called anything else.
"It was the title I wanted," says Tommy, "and I think it's helped us in that it sums up what the album's about. When I was on the BBC the other day [a radio interview for BBC Wiltshire], I said 'Magnificent BEEP'. We kind of had fun with it. So in the big scheme of things it hasn't hurt us at all."
Released in September 2016, Magnificent Bastard went on to pick up an array of complimentary reviews from the likes of Maverick, R2 and Vive Le Rock magazines. Americana UK called it "a superb album" and concluded: "The more you listen, the more fundamental it becomes."
On Tuesday, I caught a train to Guildford in Surrey, to find out how the new songs sounded in the wild. The venue, The Star Inn, a labyrinthine pub at the bottom of the high street, impressed me with its sizeable dance floor, high stage and great sound, and the band appeared relaxed and in good spirits.
Downstairs, a group of mathematics enthusiasts were enjoying a 'maths jam' (look it up), while upstairs Tommy and the boys were cooking up some impressive numbers of their own.
Three songs in, Tommy announced that this was a "friends and family night" - a gig that was booked in "the area where everyone lives" so that the band's nearest and dearest could come to see them play. "I'd like to thank everyone here, one at a time," he said, before starting to reel off a list of names.
Tonight he tells me: "We knew everybody there - people I've known for years and years and years. We weren't trying to impress anyone who hadn't seen us before."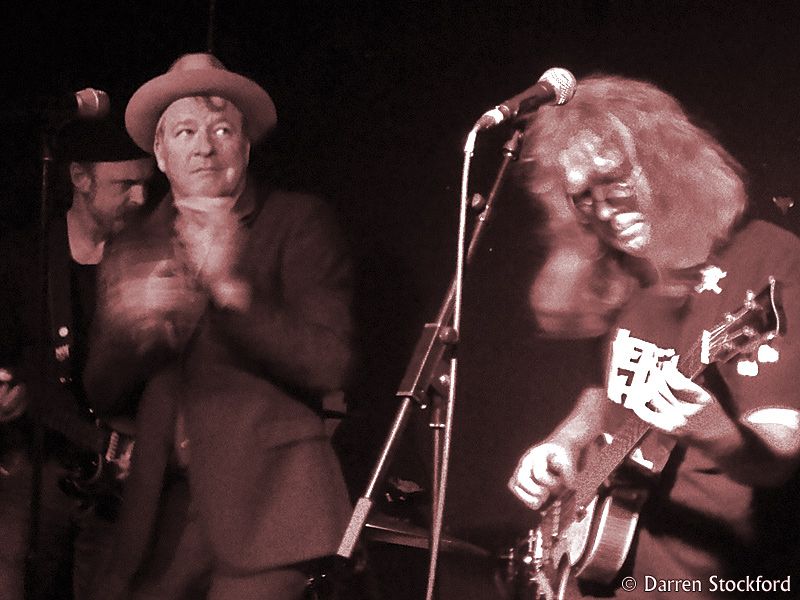 The 'we', or 'us' if you prefer, are Tommy's British band: John O'Sullivan (bass), Dan Tilbury (drums), Simon Moor (guitar) and Nick Beere (guitar, keyboard and infectious grin).
Christened the Magnificent Bastards - a name they share with Tommy's Dallas-based band - they're a group of UK-based musicians whose history has, over the course of many years, become entwined with Tommy's through various gigs, tours and recording sessions.
Ten years ago, the singer wrote on his MySpace page that his UK tours were a "thinly disguised excuse" to drink with these guys. I ask him whether this is still the case, and he laughs loudly.
"Y'know, that's a good portion of it. It's always good to hang out with them. On this one, we wanted to promote the record more. It didn't seem like we could fully put it out there into the world without playing some dates, so people could hear it. So it's both. I mean, they're all my really good friends."
They're an impressive band - the kind that makes everything look effortless and intuitive. Was there much rehearsal for these dates?
"They rehearsed once without me," says Tommy, "and then once with me, when I got here. And then we went out. I think we started off with an hour and a half of material, and we whittled it down. They learned a tonne of stuff, including songs that I didn't know. I came back and they were like: 'Hey, let's play this one!' I was like: 'I don't even know the words to that.'"
The setlist for this tour covers many bases: Stonesy rock, aching Americana, New York Dolls-style punk, soulful pop, tongue-in-cheek country - even a Mexican murder ballad. However, Tommy describes the set as "guitar-oriented", and feels that overall the shows have been pretty rockin'.
In Guildford, the band finished with a raging version of Jim Carroll's People Who Died, a song I first heard Tommy sing with his old band, Swank Deluxe, in 1998. Has it made regular appearances in his live set since then?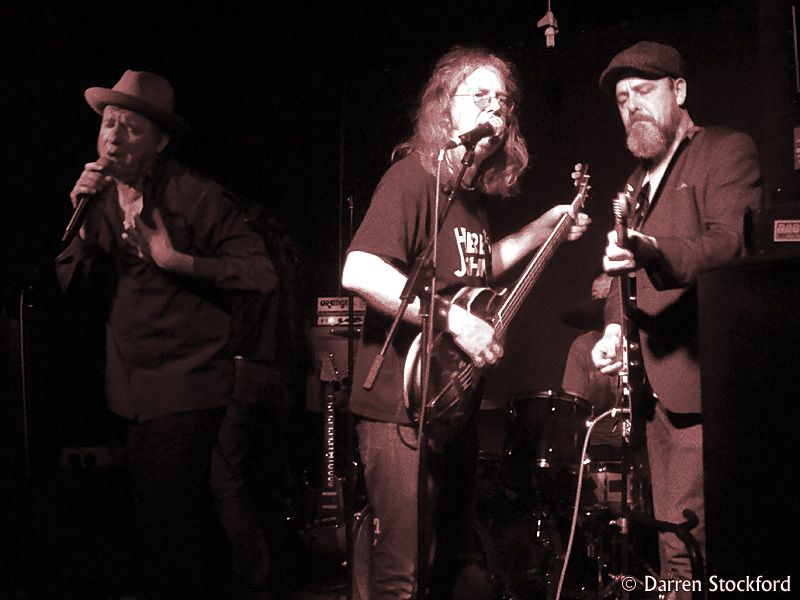 "No, no, the guys wanted to do it. We used a lot of Jim Carroll's late '70s, early '80s, angular sort of New York City feeling when we were doing Backburner and Magnificent Bastard. I felt that both those songs had that vibe and we really tried to capture that - the vibe of that time. And I guess it's why it came back up.
"For this tour the guitar players chose the setlist, which has been fun. At home, we slow it down a little more. I play more of the gospelly stuff - things like Silver Clouds - and a Leonard Cohen song."
Are your American band less 'in your face', musically?
"Well, they're just like those guys [in the British band] - or they want to be."
So you rein them in at home?
"I try."
He laughs.
"I don't know… yeah, I try."
There's gospel influence to be heard in Save Me (The Ballad Of Odell Barnes Jr), which Tommy is singing every night on this tour, and which he's keen to talk about both on stage and off. The song, which took the singer numerous attempts to write over many years, is about the state execution of an old school friend, and I wonder how it's been received.
"In England, it seems to really affect people," says Tommy. "In America, I haven't had much response. I mean, people were shocked that I had a friend that happened to. But I think it's much more accepted over there, which I find a bit puzzling.
"When I was young, I didn't think that much about the death penalty. But the older I've got, and the more deeply I've thought about it, the more I've thought that it's barbaric. And you rarely know the whole story. You rarely know the absolute truth. So it's difficult."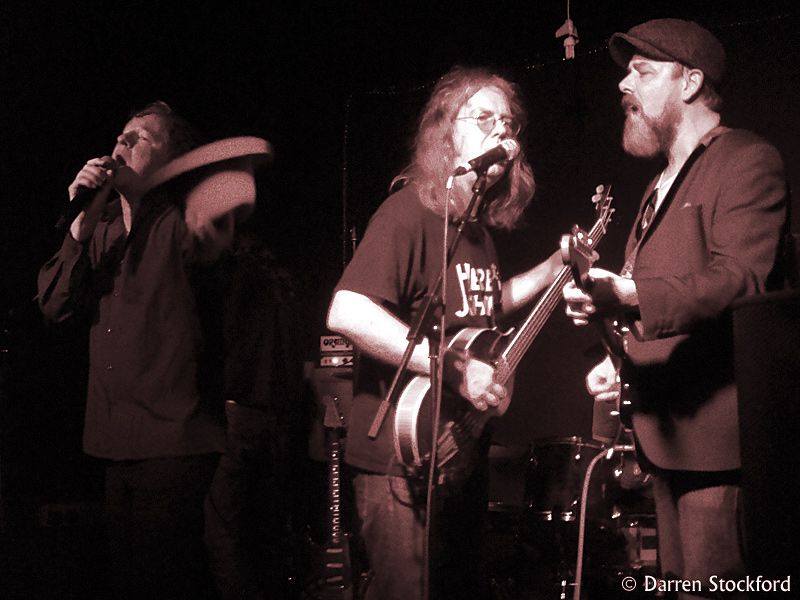 When Tommy introduced the song on stage, his final line was about the out-of-the-blue phone call he got informing him of Odell's death, and the audience remained silent, the revelation landing in a vacuum. Was this the effect he was aiming for?
"Absolutely, because it's something you don't expect anyone to ever say. Certainly, I never expected to say it, or to ever know anyone whose friend was executed. Executions are something you see in the paper, and it seems like it happens to other people.
"You think, well, maybe they deserved it - that they're bad people. But to actually know the person brings all the human things into it, which are easy to have a disconnect with when it's just in the paper. Every time I play the song, it strikes me."
In Guildford, Save Me ended with Tommy on his knees, his head thrown back, eyes closed, and palm wide open, reaching for the sky. I was struck by his fearlessness.
"Yeah."
The singer laughs.
"That's not always the best thing."
Have you always had that as a performer? If so, where does it come from?
"No, I haven't always had that. I was a bass player before, so I sang later in my career. I used to get accused of being a Jagger clone, and I think he originally did whatever felt natural to him. I think it's become a bit of a pantomime. He knows what he's doing.
"I'm doing what I feel. I've noticed sometimes, at soundcheck, I'm bobbing my arms around like I do and stuff, without even thinking about it. I think some of it comes from watching other bands and thinking, just do it. Don't sit there and try to look cool. Whatever you feel, just do it."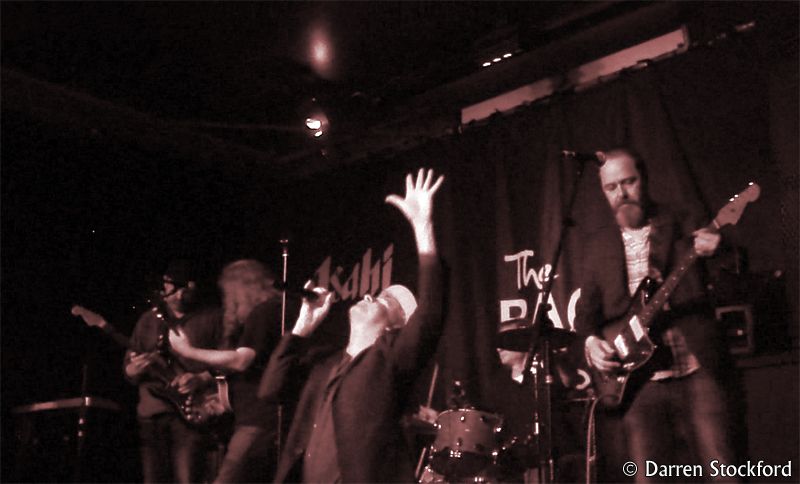 Tonight, come show time, Tommy is up on stage working his credo. Despite suffering with a "throat thing", an intermittently crackling speaker and a monitor that doesn't seem to be working ("I got nothin' up here," he tells the soundman after Homecoming Mum), the singer unleashes the full Hale storm upon Hoxton.
At one point, he tries to extend the stage forwards by setting foot on a table. At others, he resembles a preacher, spurred on by the passion of his subject, his arms waving in front of him, index fingers pointing at the venue's ceiling.
The Stag's Head's is full and the atmosphere is 'Friday night', as the band live up to their name with aplomb. At the set's mid-point, Open Letter, Tommy takes the song down, whispering "it's all right, it's all right" over and over, until Dan kick-starts the band with a snare hit so explosive that it startles me.
At the end of the song, Simon takes centre stage to say a few words about Barry Marshall-Everitt, the much-loved promoter who died last weekend after a battle with cancer.
Barry helped The Snakes - a band whose members have numbered Simon, John and Dan - when they couldn't get a gig, "or even arrested". Simon urges his old friend to "shine on, you crazy diamond", before the band toast him with a rousing Magnificent Bastard. The title might be written as "M - B'd" on tonight's setlist, but there's nothing coy about the performance.
The set climaxes with a raucous Libertine - a song that, 10 years after its release, sounds like Tommy's theme tune - and the singer says good night: the show's over. However, the crowd say otherwise, and the 'Bastards pour one for the road in the shape of a tall, cool Ringmaster. The circus, it seems, has one last act to showcase before it rolls out of town.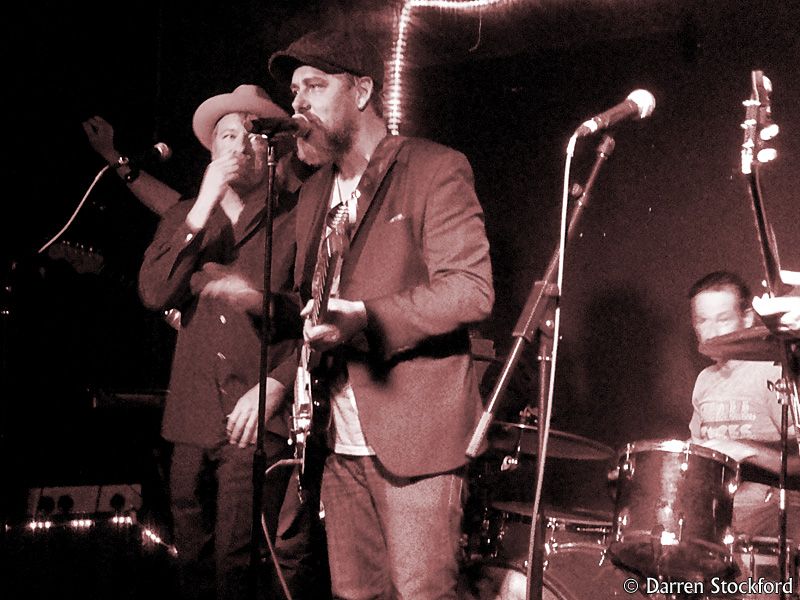 Eighteen months ago, as the album neared completion, Tommy told me: "This is hands down the best collection of work I've ever put together. It's been an emotionally difficult record, but I'm really, really, really pleased with it."
Is he still happy with the record - I mean, completely?
"Yeah. And it's a real photograph of time: where I was, what we were all doing. I don't think it can be recreated. I think that was it."
Twice during today's chat, Tommy says that Magnificent Bastard is "what the album's about", and in a week like this it feels easier than ever to marvel at the alchemy of friendship - the magic that brings then binds people together. It really can produce gold.
On Monday, one of their two days off from this tour, Tommy and the band returned to Mooncalf, the Wiltshire studio where they made Magnificent Bastard, to record a Hanoi Rocks cover, Sailing Down The Tears.
"I didn't want to waste a day," says Tommy, "so we recorded the song. We rearranged it. I've only listened to it once since then, but I think it's good. We went through a tonne of different ideas of what to record, and we ended up playing that one. It wasn't a terribly scientific process."
How will you release the track? Will it be an internet-only thing?
"Probably, yeah. I wanted to have something for in the fall."
And after that?
"No hard plans. I'm going to write some more. I've got a few ideas, and I want to do some more collaborative stuff, where maybe I'm not the main songwriter on everything on the record. When you and I last talked we'd just finished the album and I was beat, and I was emotional. And it was an ending point, I'd say. It seems like it's a time capsule of the near past, rather than part of me now.
"It's a strange part of music, because I always feel like this - that it's the end. It's the last; I'm done. I think the touring is kind of the end of that record. Play some dates - ta-dah! - and then move on. So now I'm starting to pick up on what I want to do now."
A new beginning?
"I guess. I guess."
• Visit Tommy Hale and the Magnificent Bastards' official website
• For updates and news, hook up with Tommy on Facebook
• Check out more of my Tommy Hale interviews: 1998 | 2007 | 2015