Maybe it's the lateness: Tommy Hale talks about his "emotionally difficult" new album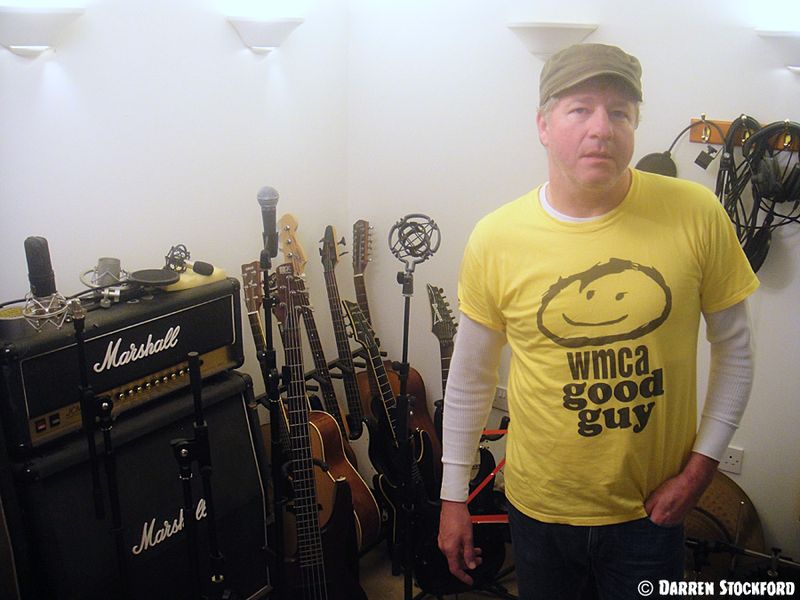 "It seems I let time slip away…"
- Magnificent Bastard by Tommy Hale
Time is many things - some prosaic, some poetic. To the young it's a comfort; to the grieving it's a healer; to the toiling it's a currency; to the creative it's a storyteller. Albert Einstein once said that the separation between past, present and future is an illusion, which has got to be worth a shot the next time your mortgage payment is late.
The one universal, scientifically agreed truth about time, though, is that if you're awaiting a new record from a favoured musician, it's a massive pain in the arse.
It's been eight years since Tommy Hale's last album, Stolen Conversations, Three Chords And The Truth - and, given the opportunity to grill him about its now-imminent follow-up, I wouldn't be doing my job properly if I didn't ask him why.
"I don't know how popular it'll be in Texas, because most people are a little bit more pro-death penalty than I am, I guess."
- Tommy Hale
"It's hard now, y'know?" says Tommy. "I haven't been writing songs as fast lately. I kind of got some writer's block. But it was hard at the start, having to do it all myself again and get the guys together and stuff like that. I think it slowed me down."
It's Friday 27 November, and for the last four days the Texan singer-songwriter has been holed up with 'the guys' in Mooncalf Studio, a recording facility tucked away in the tranquil environs of Swindon's Draycot Aerodrome - an out-of-the-way idyll where the distractions of modern life are few and far between. A lone plane, covered with a blue tarpaulin, sits on the airfield, but the view from the studio's kitchen window shows nothing but green, affording visitors a literal field day if they wish.
Of course, the location wouldn't mean a thing if no one had thought to install a plug socket, and a few yards away in the control room the digital age is in full swing. When I arrive, a luxurious set of speakers conjures a chiming guitar and reverb-heavy, late-night vocal ("Maybe it's the lateness of the hour…"), while computer monitors hover above a huge mixing desk: an electronic shrine to creativity that has helped birth Tommy's third album, of which he's about to give me a guided tour.
"I've never really told anyone what my songs are about," he says. "So this is a new thing for me. You kind of break the magic of, 'hey, make up your own thing as to what it's about', and I'd hate to lose that."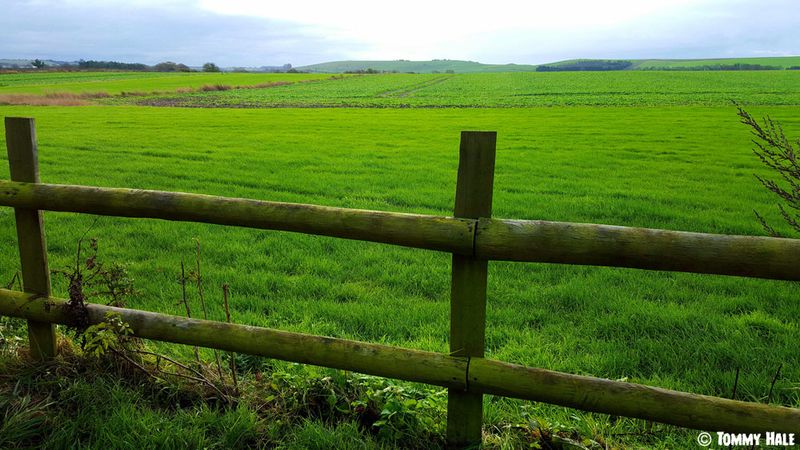 However, he has one new song that he feels a particular need to explain: "I don't want anyone to read their own thing into it. I want people to know what it is and to know the story."
That song is called Save Me (The Ballad Of Odell Barnes Jr).
"When I was growing up…" says Tommy. "You've seen segregation and stuff in America, right? Well, they'd just integrated the schools, and so we used to always have two black kids in every class. It was never three and it was never one - always two; every class. We had the tracks in the town, and they bussed them in from the other side of the tracks. I guess I was about 11 or 12 or 13 - right around there – and I met my friend Odell. And, as we got older in high school, he got kind of mean, though he was always really nice to me - he was always shielding me, a little weeny white kid.
"And so I went off to Dallas, got out of my home town, went to college – all that stuff. And I guess he started getting in trouble. I lost track. To tell you the truth, I kind of forgot about him, right? But he was accused of killing a woman. He went on trial, did the whole thing, and they railroaded him through and put him on Death Row. Pope John Paul and France and a bunch of people came to his aid, but it was too late because he'd had such bad lawyers, and to get something overturned it has to be much higher preponderance of evidence."
Barnes was executed by lethal injection on 1 March 2000.
"I didn't find out till a couple of years later," says Tommy. "But it really, really affected me. I don't know if he did it or not, or anything like that. But the song's about that. I don't know how popular it'll be in Texas, because most people are a little bit more pro-death penalty than I am, I guess."
A ballad with gospel overtones, Save Me begins with an intimate vocal accompanied by a piano, before building to a crescendo of guitar and multi-tracked voices that seem to be begging for salvation. Its roots go back at least eight years - to before Tommy's last album, even.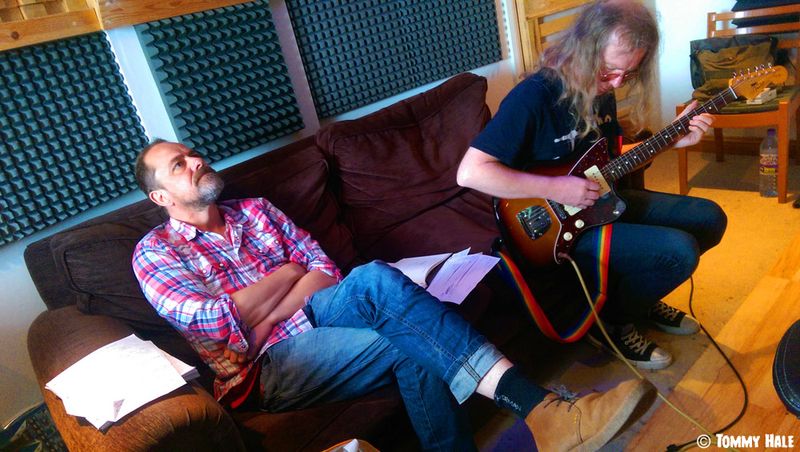 "I've rewritten it and rewritten it," he says. "I've written pages and pages – I've turned it over, this and that, and really struggled with it. But we finally got it. I think we got something that fits this whole huge, broad, crazy story."
The 'we' of whom he speaks are his chief collaborators on this album: Simon Moor, the sessions' producer and guitarist, and John O'Sullivan, their bassist - if that's not too limiting a job title.
"Johnny can play anything," says Tommy. "Some of the guitar solos and stuff are him, which is crazy, 'cos he's the bass player, y'know? I play music off of feel, but I think he really sees the note and sees all that stuff in a completely different way. It's really cool. If you've got perfect pitch I've always been fascinated, 'cos I don't have it. I'm getting a little better - I can hear something and I think that's in G or E or whatever, but I used to have no idea."
By night, both John and Simon are members of The Snakes, a London-based outfit who've spent the last decade or so making waves on the British alt-country scene, and whose association with Tommy goes back many years, through various line-ups.
"I was like, if it's too sappy just tell me and I'll put it away."
- Tommy Hale
"We used to play gigs where one of us would play first or second," he says. "But I started actually playing with the band in 2003 or 2004, I guess. I came over here and they backed me up - we played some shows together."
These performances led to numerous Snakes, including Simon, their frontman, playing on half the tracks on Stolen Conversations. Simon also had two writing credits on that album - one of which, I'll Be Around, was a song he'd already recorded for The Snakes' debut. This time, apart from an atmospheric take on Bill Withers' Hope She'll Be Happier, which looks set to close the record, the songs will all be credited to Hale, Moor and O'Sullivan.
"The three of us have written everything," says Tommy. "We've three songwriters, rather than just me. It's my first time to have a producer, too. I really have tremendous respect for Simon. I picked him to do this. He's always done his own records but he's never done it for anybody else. I think it was good for both of us, but especially me."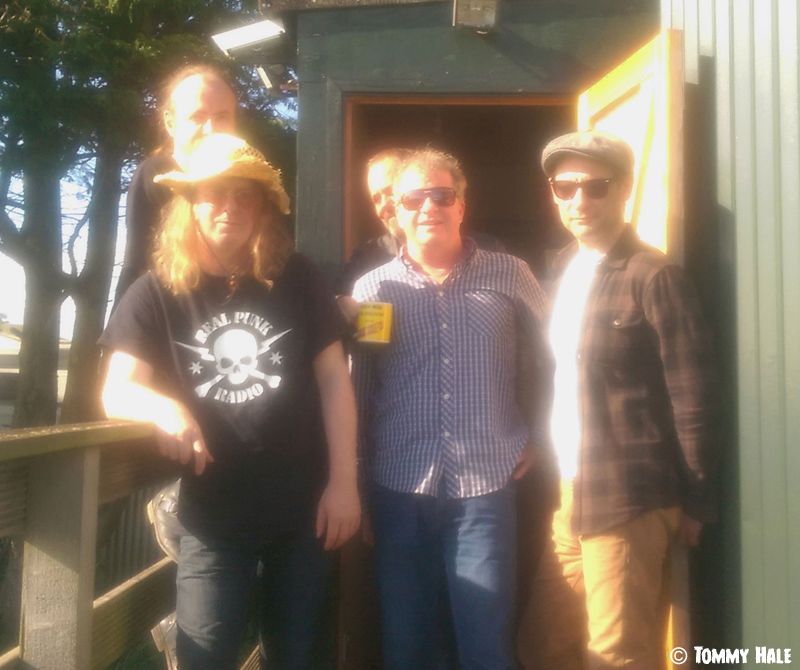 The album's drummer is ex-Snake Dan Tilbury, who's absent today, having completed his parts during the album's initial sessions back in May, while its engineer is Nick Beere, who's very much present. Nick is the man who drives the desk, turning ideas into sounds. But he'll rustle you up a fondant fancy, too, should you so desire.
"I haven't had anyone requesting cake," says Nick. "And it's part of the bloody service."
"What, that you should supply cake?" asks Simon.
"Yeah," says Nick. "Rock 'n' roll cake."
"Nick really knows how to make things happen," says Tommy. "He's a really good musician, too. He plays a lot of organ and piano stuff on the album."
A barrelling, bar-room piano features on Just How She Died, a track that sees Dallas-based singer-songwriter Madison King duetting with Tommy, and which he describes as "a real country song - just a throwback to old George Jones". Even before 'that train whistle blows', the lyric mentions a dog and a wedding ring - sure signs that we're Nashville bound. It's a fun four minutes and, at this stage of the article you're reading, a good pointer to the record's eclecticism.
John suggests, with his tongue firmly in his cheek, that the album should be titled The Many Moods Of Tommy Hale. Or perhaps The Sounds, The Sights, The Smells…
"It's quite diverse," he says. "Each song is a different world."
"I haven't had anyone requesting cake, and it's part of the bloody service."
- Nick Beere
"I think," says Tommy, "for the focus and everything, this is hands down the best collection of work I've ever put together. It's been an emotionally difficult record, but I'm really, really, really pleased with it. I always feel like whatever I'm doing is the last one. I always just feel like I'm done, y'know? I got it all out. And then something else starts creeping back. Ah, I've got to write about this!"
Rest assured, this won't be Tommy Hale's last stand - he says he already has a "couple more ideas". However, he could be facing the vinyl curtain.
"I haven't made a final decision," he says. "But I think this album will probably be vinyl and download only. I don't know if people buy CDs any more. If people are going to want them I'll definitely do them, but I haven't bought one in years. I'm talking to people, so I'm trying to figure it out."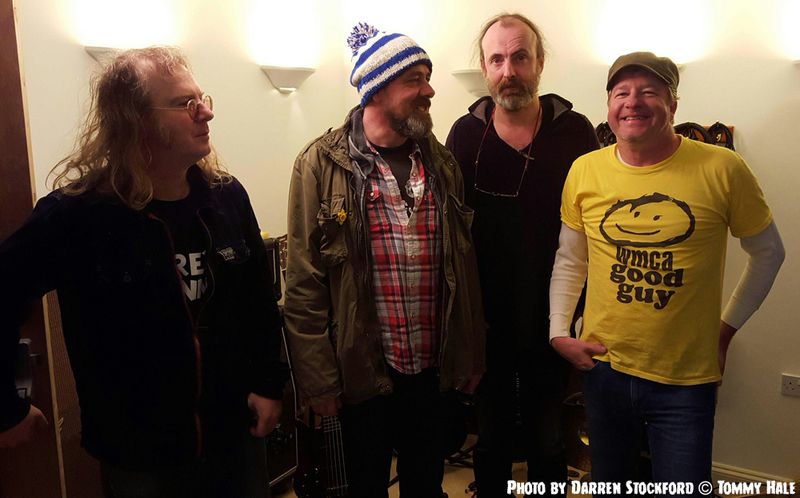 Tommy is also undecided on the record's title: he's swinging back and forth between Backburner and Magnificent Bastard, both of which are the names of songs. His heart seems to favour the latter, but he's worried that out of context it's open to misinterpretation, especially outside America.
"The song," he says, "is about kind of the old days… ish. I don't know if I remember when exactly, but sort of."
One of two outright rockers on the record, Magnificent Bastard harks back to some of the tracks that Tommy recorded in the '90s… ish. Though the guitars strip flesh, the song comes with a little new-wave bent in the shape of a keyboard break.
Its chorus runs: 'You'll never believe all the things that we done… You'll never believe all the things that we saw. I still can't believe that magnificent bastard is gone.'
Backburner is the album's other rocker, and the title "means a couple of things". Musically, its parentage is the Rolling Stones' Bitch - it's a swampier take on the theme, but it has a similar sense of menace and drive. And heck, I'll say it: it's kind of sexy too, though at this point I have little idea what it's about.
"I've always found that writing obscure stuff, obtuse stuff, was really easy," says Tommy. "Like I said, it means two or three things. That, to me, is really easy, and I think I hide behind that. I've got a song on here called Simple Song, and it's straight down the middle of the road - no double meaning, nothing. So that's a first for me. It's really hard - it makes me squirm."
"Johnny can play anything. Some of the guitar solos and stuff are him, which is crazy, 'cos he's the bass player, y'know?"
- Tommy Hale
Why? Too direct?
"Too direct. Open the heart and here you go, y'know?"
When Tommy sent Simon and John the demo, he braced himself for a knockback: "I was like, if it's too sappy just tell me and I'll put it away. But they were, like, no, no, no, no, no - it's perfect just the way it is."
With its gentle picking and pretty melody - a nod, perhaps, towards McCartney's Blackbird - and a lyric that repeatedly declares "I love you", it'd be remiss of me not to call Simple Song Beatlesque. It's a highlight of today's listening session - as is a wistful-sounding slice of mid-tempo Americana titled Homecoming Mum.
"Do you guys have homecoming games here?" asks Tommy. "In school sports? They have a dance, usually, in the fall. You buy a girl a 'mum' - it's a 'mum' flower [from chrysanthemum] and they stink. They've got, like, glitter and crap over them, and they have streamers that come down and bells on - they're just the most Texas thing in the world.
"I guess what the song's about is: as you go on in life you start realising that something you grew up with, something you took for granted and thought that everyone around the world does… actually, other people go: 'That's insane. I don't know what that is.' Every culture's got that thing, and with Homecoming Mum I realised just a few years ago that that's weird."
One of two songs I hear being mixed today is Sonrisas Y Sunshine - which, as the title suggests, has a little Spanish flavour, as well as a ribcage-rattling bass that continually rises and drops.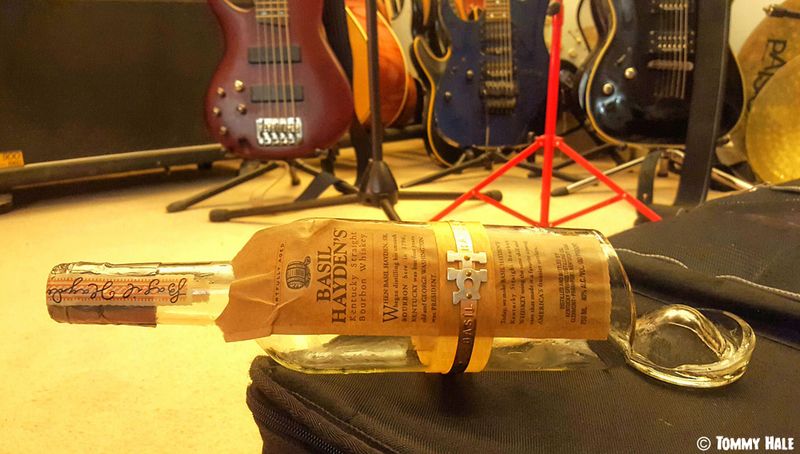 "Do you know what narco-corrido is?" asks Tommy. "It's kind of like the gangsta-rap of Mexico - real old folky music. They sing about 'drugs people' killing people, y'know? In the song a guy tells his girlfriend that to be known forever he's going to kill them, and then they'll both be immortalised. And she's like, 'fuck you' - and kills him instead. It amused me, the whole idea. So it's a story."
The track features some prominent, and intricately patterned, handclaps.
"We had a terrible time making a handclap sound like a handclap," says Tommy.
"It's one of those old stories," says Nick. "How did you make that handclap? We got an old sock, filled it full of cats and hit it with a badger."
No animals were harmed during the making of this record, but it's fascinating to see Nick work his magic on the tracks, pulling in sounds from the various files in his library - a deep bass note, an old detuned radio - and sculpting them until they fit perfectly.
At one point, Simon picks up a guitar and starts playing around with feedback - a "horrible noise" that he wants to underpin the melancholy of Hope She'll Be Happier.
"I'm just destroying the song for him," he jokes.
"That song is just Johnny playing guitar and me singing," says Tommy. "And we did it live, kind of looking at each other, because it didn't really have a structure."
Did you play any guitar on this record? You played some on your previous albums.
"I play tambourine, harmonica… I tried to really zero in on the songs and the vocal delivery and stuff. We came in for five days, and they stuck me in the vocal booth and closed the door and I sang for, I guess, eight to 10 hours a day, for five days straight. I've never done that before in my life. Instead I've always been doing everything else. So it was, like, 'do it again, do it again'. It made me better and it made me work a lot harder at just singing."
Is it hard to get in the zone when you're on your own in the booth - to get emotion into the thing?
"I'm just destroying the song for him."
- Simon Moor
"A little bit, but the hardest part on this one - and it was good; it's a good thing - was those guys in there talking back to me, going: 'No, no, no - do it like this. No, no, no - don't go…' I'd be, like, 'in Texas that's the way we would say it.' They'd say: 'No, it's not good grammar.' And I'd listen to them back and forth and back and forth. Since I wrote the songs [the initial demo versions] I had the melody of the vocals, and they'd say: 'No, sing it like this and change the melody.' To make your brain switch over to the other melody and sing with conviction is really hard.
"It's funny; the things that they notice are the real timing stuff. Timing has never been that important to me. It's the power, the way it felt or whatever, but they're more worried about the timing. And I think them putting me on time really tightens it, especially after we got more instruments on it. Sometimes I'll work and work and work and work, and never really know if I'm there or not. And then I get frustrated. How do I put this together? Where do I sing what?"
It must be nice to have someone to trust musically.
"Yeah, yeah, yeah. Total trust in all those guys."
Someone else who had the singer's trust was Tony Chaffee, a friend and one-time musical partner who died suddenly last autumn, at the age of 46.
"He just had a heart attack," says Tommy. "I never saw it coming at all. It was a complete shock."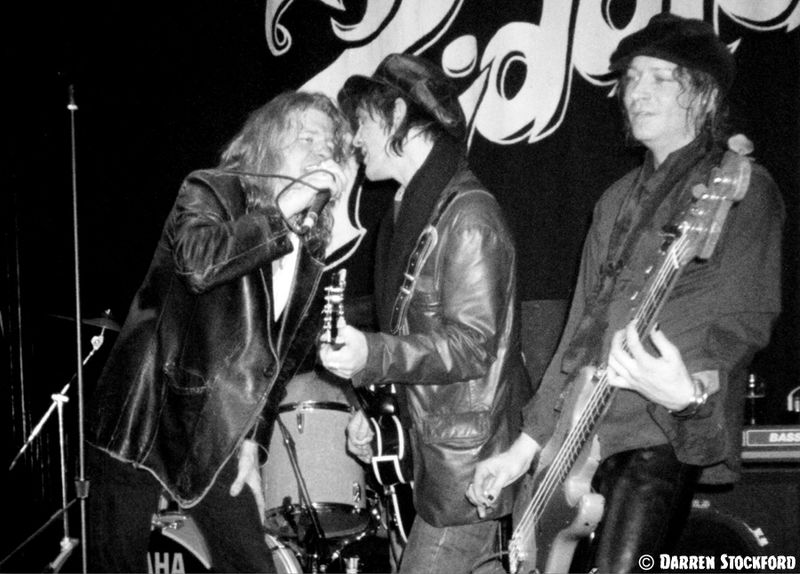 In the '90s, the pair played together in a band called Swank Deluxe - Tommy as the frontman, Tony the bassist - and it was this raucous and rockin' outfit that caught my attention in 1997, when I was sent a CD titled An Acceptable Level Of Decadence to review. The album, whose sound I described as the 1971 Stones with a hint of New York Dolls trash, knocked my socks off, and happily I managed to catch the band in March '98, when they played a couple of London shows.
"It was a lot of fun," says Tommy. "It was a real culture shock, coming over here. It was a complete accident. It was Simon's ex - that was how I met him. He was in Dallas, and this woman came up to me and said: 'Hey, you guys would go over great in England.' And I said: 'Well, book us some gigs and we'll show up.' She said: 'Okay.' And she sent me a letter that said: 'I've booked you some gigs. Here's the date.' Oh shit.
"So we saved up our money and got some plane tickets and came over and met some more people, and just kind of kept expanding it out. It was cool - we kind of caught lightning in a bottle."
Tommy says that, with this new album, he set out to make a record that Tony would have liked.
"It's a record where I could've gone: 'Ta-dah! What do you think?' A couple of the songs are real late '70s sounding, like Jim Carroll, and we both really liked that. He would have dug that, y'know? It's kind of what you do, anyway. If you're a musician, you try to impress somebody."
In memory of Tony, I present Tommy with a framed photo of the pair of them on stage with their buddy Darrell Bath, which I took in 1998 at the Mean Fiddler in Harlesden.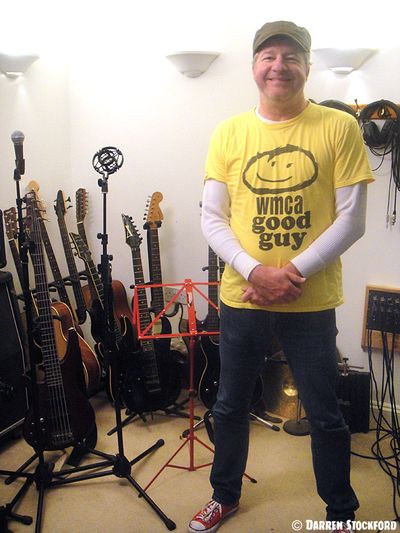 "It's funny," says Tommy. "My younger friends - I show them pictures from when I looked like that, and they're like, 'wow, what?' Because they've never known me… y'know, I'd cut my hair off by '99. One of my friends was like, 'I wanna hang with that guy!'"
I have similar photos, I say: me with my lovely long locks. We were all so cool and beautiful back then.
"It didn't feel like it, but… yeah."
It's easy to get bogged down in nostalgia, isn't it? It's fine to a point, I guess, but you have to keep moving forward.
"Before Swank Deluxe I was in a band called Dancin' With Manson. I was the bass player, and I always thought, yeah, we had something, and we did fairly well in Dallas. But, man, I got hold of it, a little over a year ago, and popped it in. I was like, this is awful. They kept asking me to do a reunion gig. And I was like, I'm not playing these songs. I'd rather come over here and do this - y'know what I mean?
"There's not all the time in the world."
• Magnificent Bastard by Tommy Hale will be released on 30 September 2016
• For updates and news on the album and forthcoming gigs, hook up with Tommy on Facebook