Dallas wow boys: Swank Deluxe live at the Mean Fiddler, London, 24 March 1998
Tommy Hale surveys the situation from the bar: "I think this is amateur band night or somethin'."
It certainly looks like it. The band currently doing their thing on stage are somewhat less than inspiring. The crowd seem more suited to a karaoke night in a wine bar. Rock 'n' Roll Central this is not.
"The King's Head was the same kind of thing," says the Swank Deluxe frontman, leaning in towards me to make himself heard above the sub-Jamiroquai funk-lite lounge muzak. A few days before tonight's second-on-the-bill Mean Fiddler bash, Tommy led his troops through a 40-minute set at the King's Head in Fulham, where they found themselves sandwiched uneasily between two bands who, by the sound of things, probably think that Chuck Berry is a renowned US undertaker and Keith Richards used to front a popular '60s group called The Shadows.
To their credit, though, Swank Deluxe never once complain, and they play the gigs with good humour and a massive amount of drive. This is their fifth visit to the UK. They're here to try to drum up some industry interest in the band, hopefully resulting in an album distribution deal this side of the pond. While they're here, though, they're also taking some time out to catch up with old friends, one of whom has just walked in the door.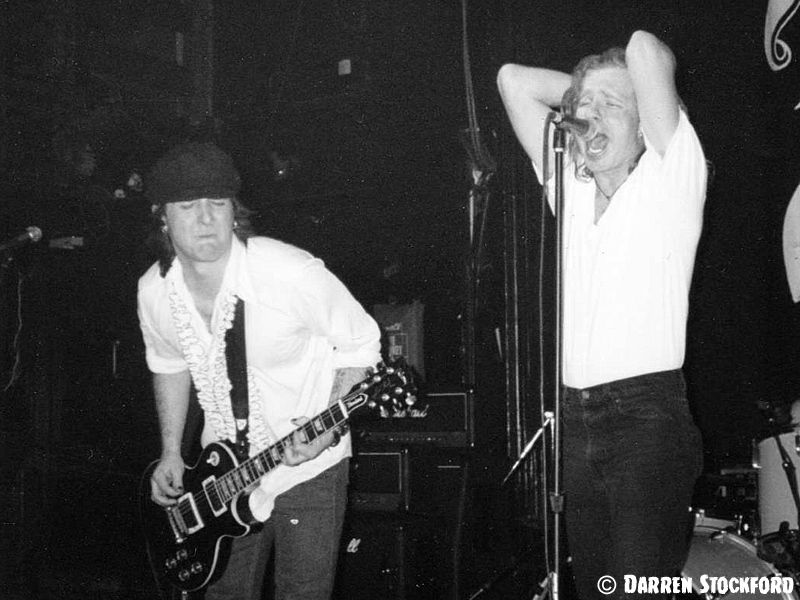 "This is Darren," says Tommy, playing host as Darrell Bath, a six-string hero of mine, extends his hand in greeting. "He interviewed you once."
Erm, maybe 'interviewed' is the wrong word. I briefly spoke to an inebriated Darrell for five minutes in 1995, and managed to scrape together just enough material from that conversation to hang an article on. Well, I was pleased just to meet the guy, y'know? As a member of first the Crybabys and then the Dogs D'Amour (and since our first meeting, a couple of brilliant Ian Hunter albums), he's played on some of my favourite records.
"An interview, yeah?" says Darrell. "Where was that?"
"In the Marquee, a few years ago," I reply. "You probably don't remember, though, 'cos you were really, really drunk."
"Oh yeah, I remember now," lies Darrell, the charmer.
Tommy describes Darrell as "like our long lost brother. When we're together all we do is listen to obscure records, play guitars and go shopping for them in Soho. And enjoy a few pints. As Darrell says, 'it'd be rude not to'."
The last time the band visited the UK, Darrell hopped on stage with them at a gig in Basingstoke, and ended up inadvertently starting a minor riot. The boozed-up guitarist threw up during the performance, a cue for an agitated crowd to start throwing punches at each other. When the band returned to play the same venue on this tour, the landlord cut the power off during their set, complaining about the noise level.
"Then he turned the jukebox on and it was twice as loud as us," says Tommy. "I think he and a few others in Basingstoke had it in for us this time."
With only a few minutes to go before showtime, the band - with Darrell in tow - disappear backstage to prepare. I glance around the sparsely populated venue and despair. I feel so out of place here; really conspicuous. This makes me nervous. I wish I was drunker than I am. Luckily, I leave my self-consciousness behind as soon as the band wander on. Tommy starts dismissing a heckler almost straight away: "Yeah, yeah, yeah…" I feel totally connected now, for some reason - like it's me and the band against the world. I'm ready to fight for what I believe in, ready to make a stand in the face of adversity.
Maybe I'm drunker than I think I am.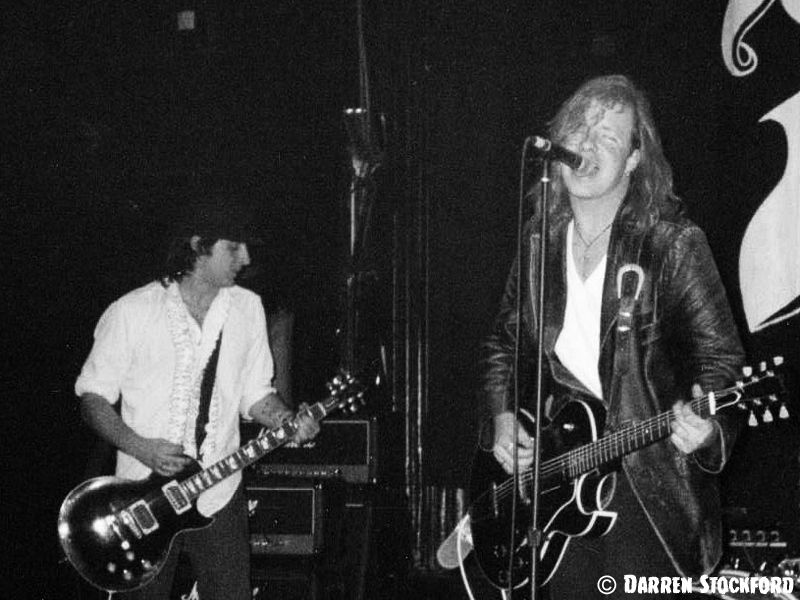 When the band start playing, they sound every bit as spirited, ragged and magnificent as they did at the King's Head last week, Razz Callahan's storming guitar cutting through the previously dead atmosphere like a drunken gatecrasher at a posh wedding. Tony Chaffee's bass sounds incredibly loud tonight, although that may have something to do with the fact that I'm standing in direct line with his amp. But I'm not complaining because the Swank Deluxe rhythm section - completed by drummer Brian Klein - is a pleasure all of its own. The groove thang's happening, and both players look totally into the experience.
Vocally, Tommy's a close cousin of Mick Jagger, although he later tells me that he's always getting comparisons with the American new-wave singer/poet/writer Jim Carroll. Tommy, not surprisingly, has mixed feelings about both associations. On the one hand, both Jagger and Carroll are great vocalists, whose respective bands have written and recorded some brilliant songs (a couple of which Swank Deluxe get their chops around at the two London gigs I witness). On the other hand, no frontman, or band, wants to be living in someone else's shadow. It's a dilemma the vocalist is well aware of.
"I try hard to write songs people will relate to or something," says Tommy, "and of course, people get drunk and want to hear the novelty song. I just want to be the first Tommy Hale, and not the new Jim Carroll or Mick Jagger."
I think Tommy's worrying too much. When writing about bands that aren't in the frontline of popular culture, it's sometimes necessary to approximate in order to give the reader a flavour they can taste. I compare him to Jagger because it gives the reader a fair idea of where he's coming from, style-wise, not to imply he's playing a part, because one only has to watch two minutes of Swank Deluxe's live set to realise he's feeling up there on stage. He's being nobody but Tommy Hale.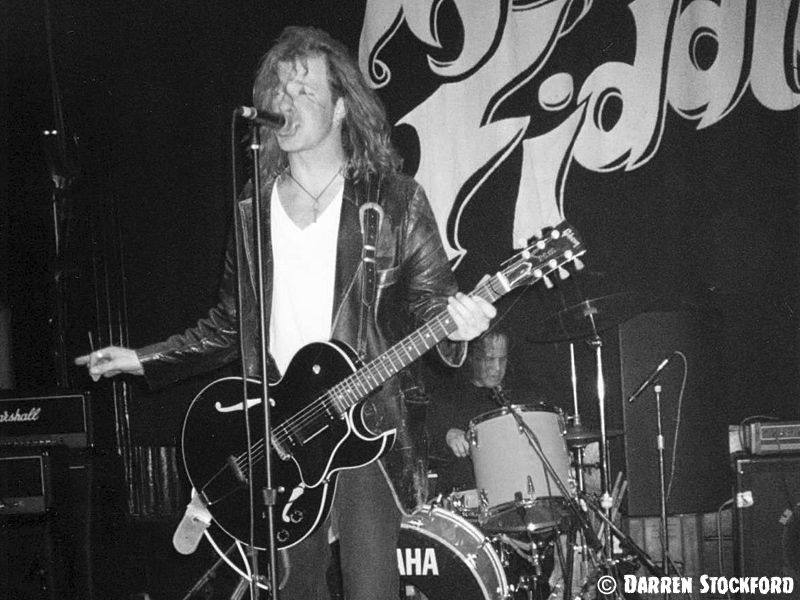 And as far as covers go, audiences are always going to start dancing when they hear something they're familar with; it's an automatic reaction. As bands build a loyal fan base, and people get to know the original material, the covers no longer stand out in a live set. When they played Jim Carroll's People Who Died at the King's Head, it was the only song in the set that night that I didn't recognise, although I had no idea it was a cover and enjoyed it on its own terms. Later, when I discovered it was someone else's song, I hurried off to track down the original.
The moral being that by shoving their influences in people's faces, Swank Deluxe are just doing what every great rock 'n' roll band has done before them - turning people on to the stuff that turns them on. It's how it should be: one band leads you to another, until you find yourself listening to some old guy sitting on his porch in New Orleans in 1912 playing the blues on a battered acoustic.
One of The Black Crowes' old tour T-shirts proclaimed 'blues is blood'. The message was that the blues was something you had inside you, that it was running through your veins, that you could inherit it. It's a concept Tommy's obviously familar with. He stops short of discussing genetics, but admits: "We've all grown up in the south, so you hear some form of the blues from the day you're born. I feel a closeness for the concept of 'an evil woman bringing a good man down'. I like to overblow things in songs so it becomes a little amusing and true. That's my favourite thing about the blues. To hear Howlin' Wolf sing 'How many more years am I gonna let you bring me down?' is something special, even though I've heard it 786 times."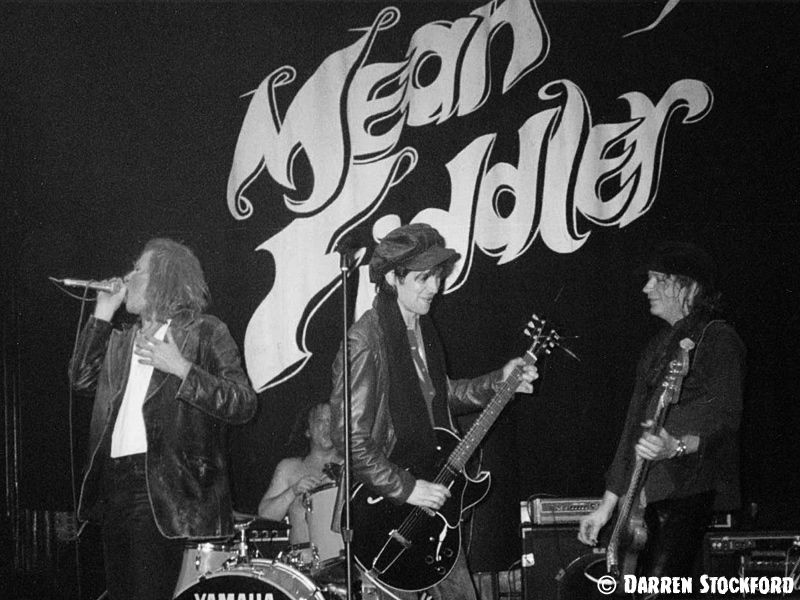 While the Stones at their peak melded Muddy Waters, Chuck Berry and Gram Parsons, Swank Deluxe bring a few punk pals to the party, with guitarist Razz's scorching lead breaks adding an occasional trashy edge to their sound. Last Crack (not played tonight, though they opened with it at the King's Head) is a particularly 'scuzzy' song.
Last Crack is weird," Tommy tells me. "I lived with our first guitar player, and I used to play that twangy lick because it annoyed the hell out of him. He considered it 'non guitar'. Well, he ended up giving up on life and plunging into smack, so I wrote the song about him. He played on it for at least six months and never knew it was about him."
It's a safe bet to say that these songs have been lived in. Ringmaster, the centrepiece of both their King's Head and Mean Fiddler sets, boasts a dark lyrical edge that contrasts nicely with an infectious melody and semi-wistful vibe. It's almost the perfect country song.
"On Ringmaster I was going for a Dylan vibe," says Tommy. "You make up nicknames for people and situations that are going on around you."
When Darrell gets up on stage to lend his guitar talents to a cover of the Stones' Dead Flowers - introduced by Tommy as (deep breath) "a song by some guys from England trying to sound like they're from the south, played by some guys from the south trying to sound like they're guys from England trying to sound like they're guys from the south" - things become even more laid back and countrified.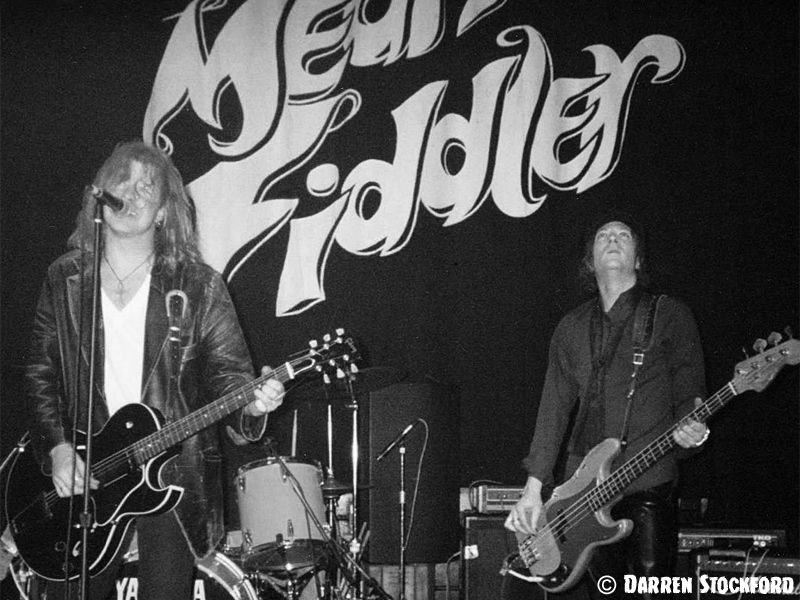 Tommy leans into Darrell and shares his mic as the band groove on the song, playing it at its proper speed (the first time I've seen a live band do this; most bands seem to speed it up for some reason). The atmosphere in the venue is about 100 degrees warmer now than it was 20 minutes ago.
Swank Deluxe bid farewell with a breathless romp through An Acceptable Level Of Decadence, before thanking the audience and packing up.
The following day, they take a ferry over to France for a gig and bag themselves a new pet when French customs turn a sniffer hound loose on their van. All it sniffs out is food, but that doesn't stop the customs officers pulling on the surgical gloves and getting to know the band on a more intimate level. It's not the ideal start to the day, but things come good in the end. When the band take to the stage in the evening, says Tommy, they're given a "rabid" welcome. The following morning, though, it's business as usual, and Swank Deluxe once again find themselves smack bang in the middle of Problem City.
Tommy: "Our French promoter was this hippy-dippy guy who said he was 'struggling for peace' and that 'evil was following' him. He promised he would get us up in time for the morning ferry, but of course, he got really drunk the night before and I ended up waking everybody up. We got to the dock just in time to see the ferry sail away. So I had to drive across the country to Calais - no, I don't speak any French - and take the train to Dover. We arrived in Cambridge for that night's gig right on time, but it was quite a struggle. And not for peace."
When they hit finally English shores, they end up having their passports coded when someone spots their gear and notices that they don't have the necessary work visas.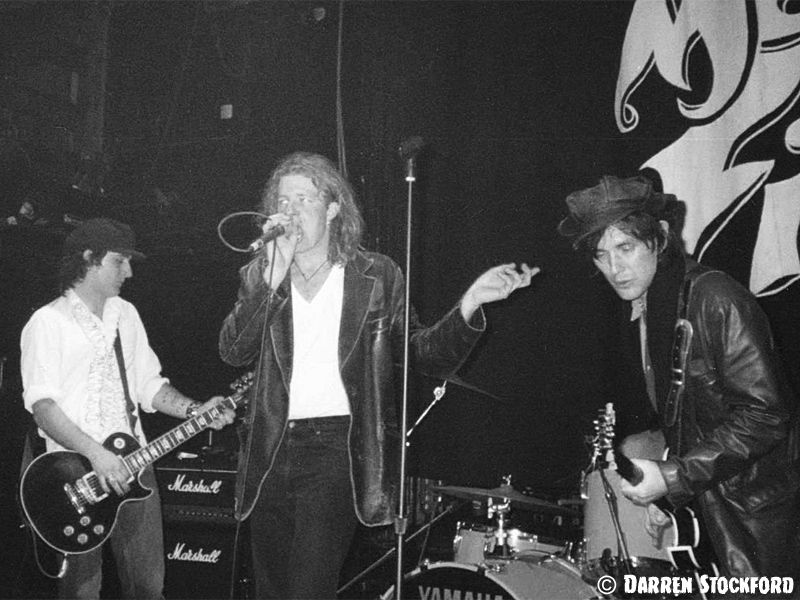 The Swank Deluxe touring experience is best described as 'eventful'. Luckily, though, nothing seems to faze them. And I've a hunch that it's this do-or-die attitude that'll see them winning the hearts of future fans, both at home and abroad - although the band won't be touring again outside of the US before album number two sees the light of day - a record that they're in the process of writing.
"I'm working on some new songs," says Tommy. "One of them is the heartwarming tale of how my family fought over the inheritance when my grandfather died, and how my father only wanted the finger that my grandfather lost in an oilfield accident and kept in a mayonnaise jar. Of course, the money grabbing relatives use up everything else and then come for the finger."
Be they over-friendly customs officers, acid-casualty promoters, pub landlords with selective hearing problems or money-grabbing relatives, I think anyone who asks for the finger deserves to get it.
They're not the new anybody. They're the first Swank Deluxe. And they rock 'n' roll.
Sit on that.