Stolen conversations: Tommy Hale live at What's Cookin', London, 5 December 2007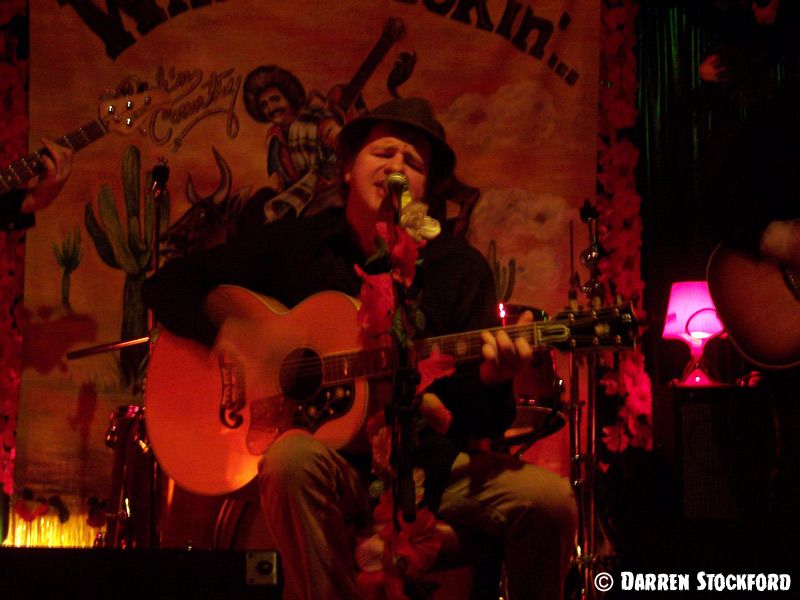 Dan Baird once joked that all his songs were about teenage runaways. For Tommy Hale, it's lost love.
"This is about a girl that left me. Pretty much every song is about a girl that left me."
Reassurance from bassist John is swift: "We won't leave you, Tommy!"
The introduction is for Miss Independence, a choice cut from Tommy's new album, Stolen Conversations, Three Chords And The Truth. The song sounds even more striking in a live setting, its falsetto hook a badge of the Texan performer's confidence.
An annual visitor to the UK, Tommy is midway through what he calls a "mini-tour", which includes two shows in London. On Monday, he opened an acoustic night at The Boogaloo in Highgate, playing to a stacked and stoked crowd, the likes of which I had no idea existed so early in the week.
Tonight, he's in Leytonstone, supporting his friends and collaborators The Snakes at What's Cookin' (note: a statement, not a question), a twice-weekly happening for aficionados of the capital's Americana scene. Held in an ex-servicemen's club, the event is free and the drinks are cheap. Best of all, the stage is a work of art, the vibe fun but respectful. Everyone in attendance has clearly come to hear some live music.
"I get nervous here," he tells me after his set, as we (politely and with permission) gatecrash the downstairs, members-only bar. "It's the quietness of the place. Everyone's really watching. You saw me at The Boogaloo the other night, and there was always that noise going on. When I come down here it's really crazy quiet, and I feel that I have to really put on something."
Is it hard to be part of the audience one minute and on stage - as a rock 'n' roll performer, the centre of attention - the next?
"Sometimes. But at the same time, I've done it all my life. I think it's harder for me not to be the guy on stage. It's harder to be an average, everyday guy. That's kind of the purpose of this tour, you know - be the first guy on, play the songs, and then turn it over to my friends."
Those friends are The Snakes, a band with a reputation and plaudits of their own. On previous years' tours, the billing was Tommy Hale And The Snakes, in the vein of Tom Petty And The Heartbreakers. But this time around there are separate sets, with Tommy swiping just a couple of Snakes for his supporting performance.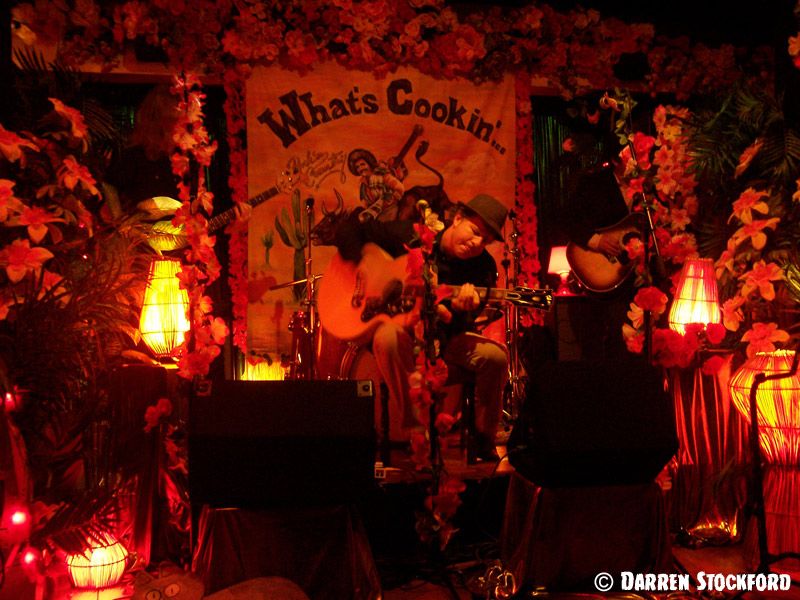 "Basically," says Tommy, "I came over here because I always go play with The Snakes, and they always back me up, and they're always really gracious about it. They never want to play their songs, and I just want to split it half and half. So I booked all the shows and came over and am opening up - just playing acoustic shows - and inviting them to sit in with me from time to time."
Between dates in London (the 5th) and Farnham (the 12th), Tommy - and Tommy alone - is hitting the continent.
"I'm going over to Austria - I've never been to Austria - to play some stuff over there. If it goes well, I'll bring The Snakes over and we'll journey into Europe a bit more. If it's horrible, it's just me that goes down in flames."
Next year, there'll be an album to promote. Though Tommy's selling it on this tour, it hasn't been officially released: "I haven't even started to work on that yet. I just had it pressed. Several companies have talked about putting it out, so I just had a few pressed up and bought 'em with me."
One of the record's key tracks is Silver Clouds, a beautiful, gospel-sounding song that sits somewhere between the Stones' Faraway Eyes and Kris Kristofferson's Why Me Lord (recorded by, among others, Elvis and Johnny Cash). The track started life with a different feel, though.
"I woke up and I was having a dream," explains Tommy. "There was a scratchy country band, like a really old one - black and white footage, the whole thing. And they were on TV playing the song, and I was sitting there thinking 'ah, it's killing me, it's the old-time thing'. I woke up and kept singing it, and I thought how cool it was, and I went and turned on the recorder and recorded it.
"And so I guess in my head it was a bit of a scratchy country thing. I ended up making a demo. I brought it over to England, and the guy that was engineering said: 'Hey, I can play an organ.' He turned on this little keyboard and started playing, and it sounded like a huge church organ. And it kind of turned into that [gospel sound], and it was for the best."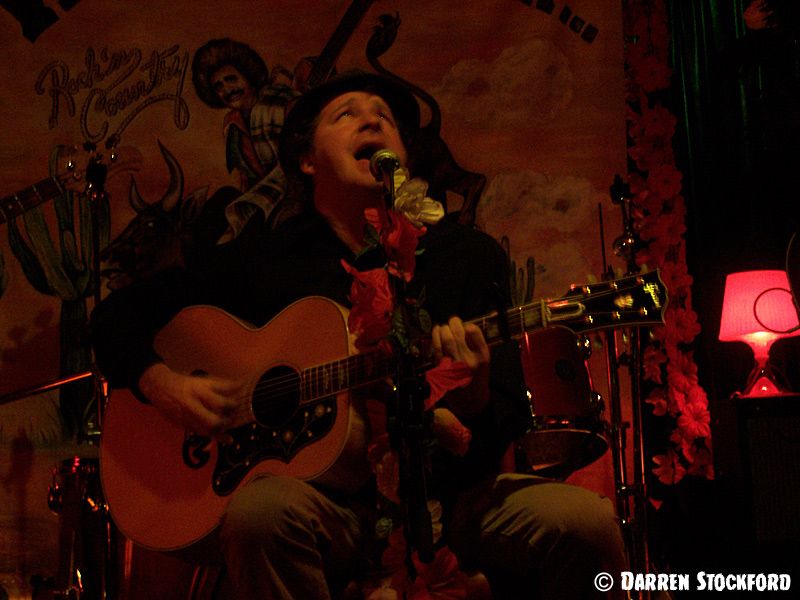 Tommy performs the song at both London shows, prefacing it at Leytonstone with a story about his grandfather going out to the desert to pick up dinosaur bones: "We had a big family trip last June. It was one of my favourite times in my whole life."
Later, he expands on the song's origin: "My grandfather said some stuff to me. He was kind of giving me his instructions on his demise."
Is the song about death?
"No, no, no. He's 90. He's gonna live for at least 10 more years. He's fine, but I guess it was the first time in my life that I've had that conversation with somebody of, you know, 'when I go'. And you think, 'it's possible they can go'.
"My grandfather was a real geologist. He was really into rocks and dirt and all that stuff. And he wanted to be cremated and just put back in the ground, 'cos that's the way we all end up. It really hit me. So it's about that."
One of the most surprising songs on the album is a cover of The Cure's Just Like Heaven, simply because it's 'out of genre', so to speak - like Cash taking on Depeche Mode.
"To me it's not out of genre at all," counters Tommy. "My friends are slapping their heads going 'oh God, another Cure track'. I really like that type of music. It's great pop songs. And good songs, you can play any way you want. When I was young everyone always told me that any good song, you can play acoustically. If you play it acoustically and it's no good then it's not a good song."
That said, "I think it makes you better playing electric than playing acoustic. I like dimming it down and then bringing it back up. The dynamics are better."
As acoustic performances go, Tommy's London sets are more dynamic than most. He's a captivating, versatile and unique vocalist who gives it everything he's got - and that's quite a lot. These setlists might be small, but they're loaded with some of his best new songs - the cuts from the album that he seems most proud of and that, to these ears, best showcase his songwriting and performing chops.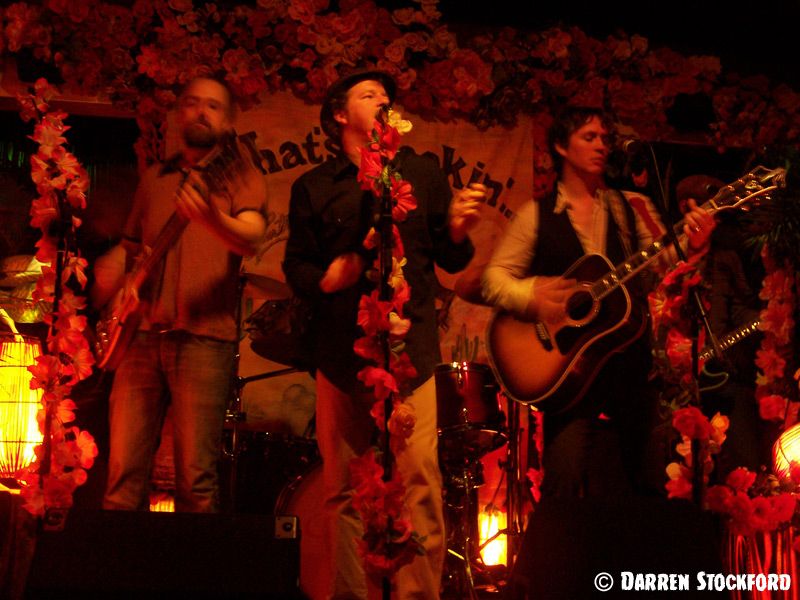 Post-interview, Tommy and I head back upstairs and he joins The Snakes for a raucous Libertine - a tantalising glimpse of his plugged-in side. The band appear to have hit the button marked 'turbo'. The energy cranks up a couple of gears, as guitars burn with the warmth of musical comradeship.
After last year's UK dates, Tommy posted a blog on his MySpace page that said he'd booked the shows as "a thinly disguised excuse to go drink with my friends". When I quote the line back to him tonight, he responds with a cagey, almost apologetic: "Yeah, well, blogs are only half true, you know."
I say it's cool and that I can well believe it, and he opens up: "My friends know the good places to play and everything. So I come over and, yeah, it's an excuse to hang out with them.
"That's kind of what music is."