The Gates of 'Hello'! Meeting Fabio Frizzi and Catriona MacColl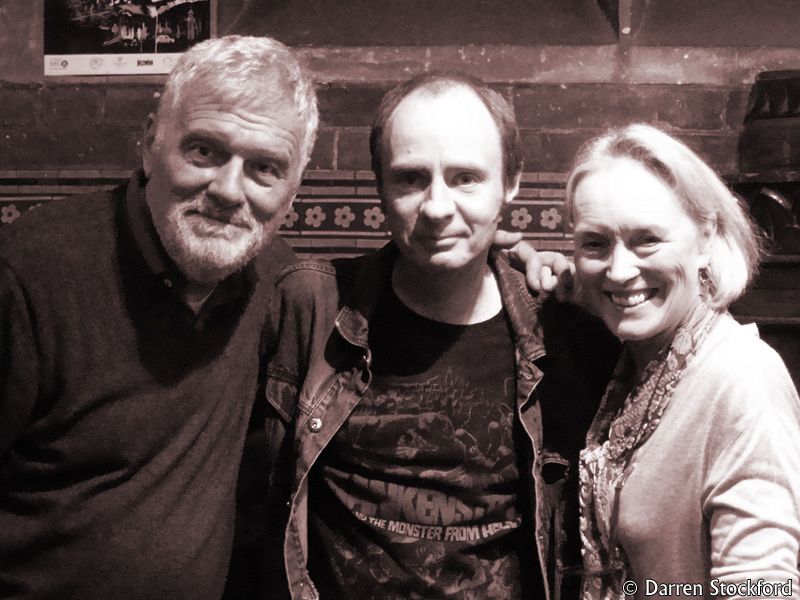 Here's one for fans of '70s and '80s Italian exploitation films. From left to right we have composer Fabio Frizzi, some interloping no-mark, and actress Catriona MacColl.
Last night Fabio and his six-piece band played a wonderful gig at Union Chapel in Islington, performing suites of music from throughout Fabio's career as a composer for film and television.
It was his third London show since 2013, and he'd reworked his set since his last visit to the UK two years ago, though of course all of his 'hits' from Lucio Fulci's gothic horrors - the likes of Zombie Flesh Eaters, The Beyond and City Of The Living Dead (or The Gates Of Hell, as it was titled in the US) - were present and correct.
As long as Fabio remains a cult figure to horror fans, those babies ain't goin' nowhere.
It's strange to think that, not so long ago in the big scheme of things, these films were considered a threat to civilised society. Now they're available uncut on DVD and Blu-ray, complete with scholarly extras, and clips from them can be screened in a church without the walls crumbling or the vicar going to Hell (erm, fingers crossed).
Catriona, star of three of Fulci's 'big four' horrors, was a special guest at the gig, joining the composer on stage before The Beyond for some hugs and nice words about Fabio and the "Fulci family".
There was an official opportunity before the show to meet Fabio and Catriona, and get a few things signed. They were both lovely - welcoming, chatty and in fine spirits - though my pic works best in monochrome, due to the lighting.
It might be Halloween weekend, but irradiated faces weren't part of my plan.