Rock this town: Lee Rocker live at the London Bass Guitar Show, 7 March 2015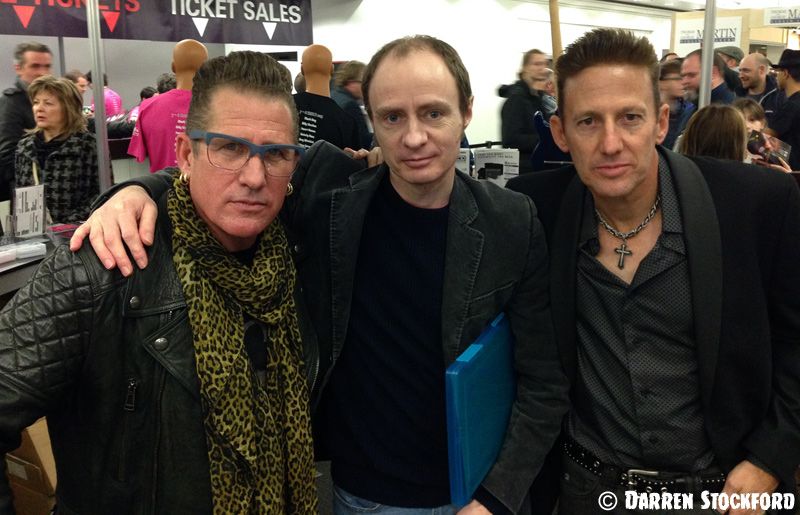 Goddammit, that headline is so obvious I'm almost ashamed. Almost.
Sometimes what's obvious is what's right, and what's undeniably right is that this morning in old London town Mr Lee Rocker more than lives up to his name.
The bassist, who made that name with the Stray Cats in the early '80s, is here at the London Bass Guitar Show, at the Olympia Conference Centre in Kensington, to perform for around 400 fans and other interested parties.
It's been nearly 10 years since I last saw Lee play live - at Dingwalls in Camden, a gig that had a completely different kind of atmosphere from today's theatre show. Back then I had to abandon my place near the front when the dancing got a bit boisterous (to say the least). Today, with theatre seating and a sober audience - at least I hope they are: it's 11.20am when the set kicks off - I enjoy a more civilised experience and get to hang on to my position in the front row.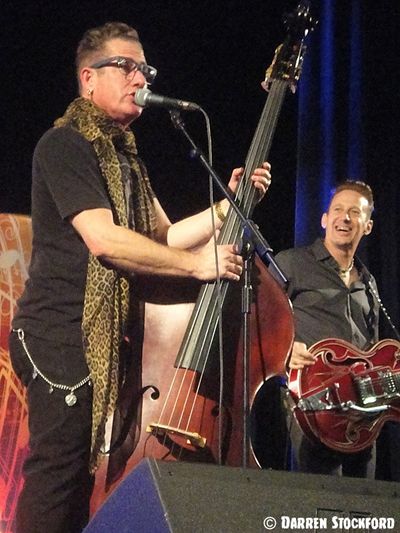 Lee is joined on stage today by a drummer whose name I don't catch (so sorry, fella) and the brilliant Buzz Campbell on guitar, whose name I very much do catch as it graces the credits on Lee's last four records. Buzz's tone alone is enough to melt me, but I'm grateful for his bravura performance too.
The 10-song, 40-minute set seems designed to get straight to the point, as the Stray Cats' greatest hits rub shoulders with a couple of Lee's best solo cuts and a clutch of rockabilly classics. Given the occasion, the addition of bass solos to many of the songs isn't a surprise, but in Lee's hands it's nowhere near a chore, either. Quite the opposite.
Here's that setlist in full:
Built For Speed
Stray Cat Strut
That's All Right / Blue Moon Of Kentucky
Memphis Freeze
Miracle In Memphis
Good Rockin' Tonight
Runaway Boys
Rock This Town
Rockabilly Boogie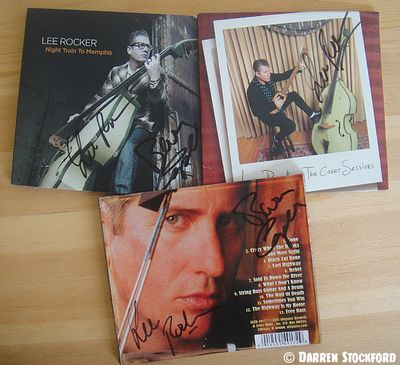 Tomorrow afternoon, Lee will give a bass masterclass at this same venue, demonstrating techniques and fielding questions from the audience. If I didn't have other plans I'd be sorely tempted to return, and I don't even play.
As it stands, I have to settle for getting a few CDs signed and grabbing a photo with Lee and Buzz. But, y'know, I think I'll cope.
Go on, take a close look at that photo at the top of the page. Nothing says rock 'n' roll like a turquoise stationery folder tucked under your left arm, does it? Forgive me - I'm in a room full of musicians, and this is the only way I can carry a note.
Photo of me, Lee and Buzz by Tim Emery, whose camera turned out to be way better than mine. Thank you most kindly, sir!