He scores! Meeting film composer John Scott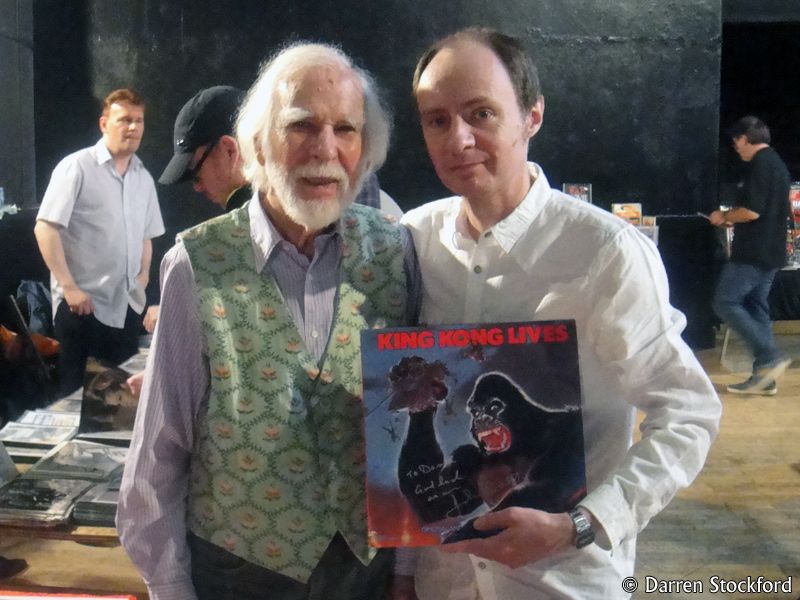 "Rest the toe by not walking or standing for too long, and not putting weight on the toe. You can begin normal activity once the swelling has gone down."
That was the advice I got from the NHS website after I whacked my little toe on the corner of my built-in wardrobe on Friday afternoon. Over the years, I'd stubbed the same toe many times before, often in the same manner, and I'd never suffered any ill effects beyond an initial yelp and a brief sick feeling. But this time was different. This time, the appendage still hurt to walk on hours later, and when I removed my sock I saw that the toe was badly bruised and had swelled up. Was it broken? Possibly, reckoned the NHS guide to toe injuries. Either way, it looked like it had been stamped on by a giant gorilla and I should definitely rest up, at least until the swelling went down.
Unfortunately, this was not an option, as the following morning I had somewhere I wanted - nay, needed - to be. John Scott, composer of film scores, was attending the Camden Film Fair, and I wasn't about to let the occasion pass just because I'd been playing football with the wall. So I carefully donned a pair of green Converse and hobbled my way to NW1, clutching two copies of the King Kong Lives soundtrack: an original vinyl issue from 1987 and the CD reissue on the Intrada label from 2012. If John would sign these precious artefacts for me, well, it'd be worth crippling myself.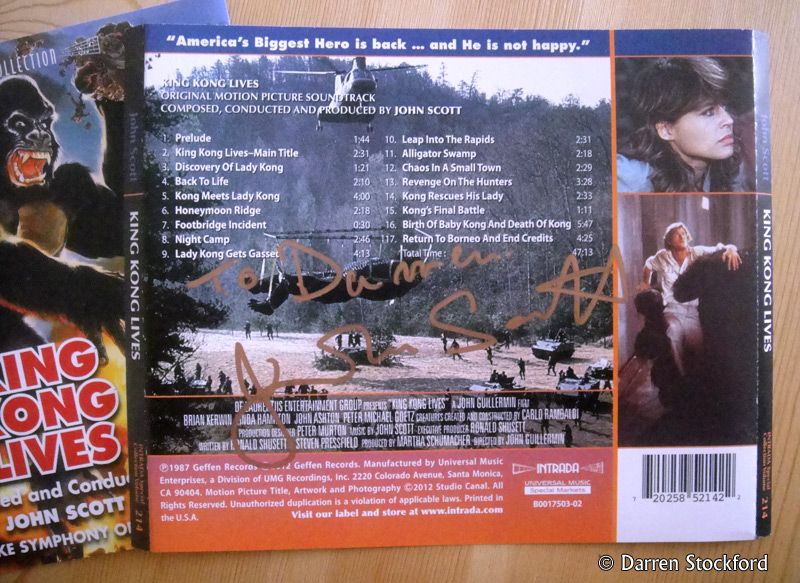 With more than 150 composer credits to his name, John Scott has a hefty back catalogue of film and TV work - one to which a whistlestop tour could never do justice. Among his compositional achievements are the theme tune to Nationwide, music for numerous episodes of US soap-opera Dallas, and scores for a vast array of films (The People That Time Forgot, the 1972 Tigon production of Doomwatch, and Greystoke: The Legend Of Tarzan, Lord Of The Apes, to name but a few). He also has a lengthy list of musician credits, among them John Barry's score for Goldfinger, on which he played saxophone, and - get this! - The Beatles' You've Got To Hide Your Love Away. The flute on the track? It's all John Scott. On this song, at least, he's one of those Fifth Beatles you hear so much about.
So where, you might be asking, does 1986's King Kong Lives fit into all this?
Okay, you've got me - I enjoy this much-derided film. As a sequel to the 1976 Kong remake, it falls short. How could it not, when the very idea of resurrecting the titular ape (with a massive artificial heart, no less) turns the ending of the original story to mush? But on its own terms, as a slice of Sunday-afternoon, B-movie hokum, I think it's a lot of fun. As I said to John, though the film is often campy in its execution (exhibit 1: Kong and Lady Kong's amorous dalliance in the wilderness), it has a strong emotional sweep to it. And it achieves that through its epic-sounding, romantic score - the one element of the film that even its harshest critics usually compliment.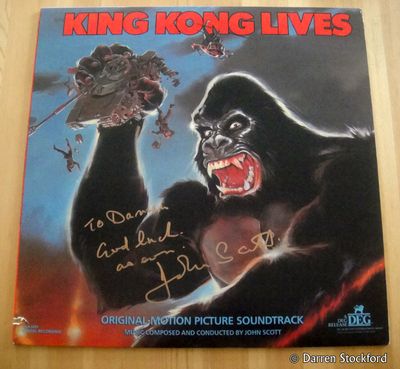 I've been enjoying the King Kong Lives soundtrack - first on vinyl and then on CD - for around 18 years now, and it was lovely not only to meet the man who composed it, but also to find out that he's a thoroughly welcoming chap. As there was no one else waiting, we chatted for 10 minutes or so - about the film and its director John Guillermin, about the difficulties of making a living from creative endeavours nowadays, and finally about how rare it is to see composers at this type of event. "We don't know about them," admitted John. Event organisers and guest bookers clearly need to widen their net. The campaign for composer awareness starts here!
My albums look great signed in gold pen, and it's especially pleasing to see John's signature on my LP, as that record and I go back quite a way. And there's even more good news: as I write, two days after my Camden jaunt, the bruising on my toe has started to lighten, and though it's still swollen and awkward to walk on, it's at least showing signs of healing. So no major harm done, I guess.
Yep, I'm glad that I made the effort on Saturday. If I'd passed up the opportunity to meet John Scott, I'm sure it wouldn't be too long before I was using my one good foot to kick myself.