Who dunnit: The Robots Of Death at the BFI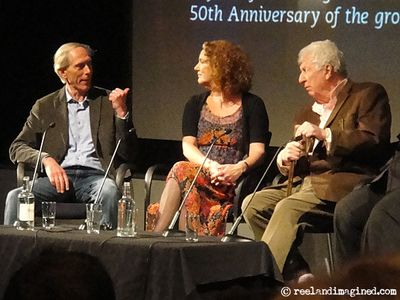 Talk about April showers. I needed a cold one when I found out that Tom Baker and Philip Hinchcliffe were going to be sharing the stage at the NFT1 for this, the fourth of the BFI's 'Doctor Who at 50' events, on Saturday 20 April.
The story chosen to represent Baker's Doctor was the 1977 whodunnit The Robots Of Death, the penultimate production of the Hinchcliffe era - that peerless two-year period between The Ark In Space and The Talons Of Weng Chiang, when both the show and its lead actor were at the peak of their powers, scaring the bejesus out of kids like me every Saturday evening with tales of Zygons, Wirrn, Krynoids and Kraals.
I've seen Baker talk at various events over the last few years, and he's always fantastically entertaining. For this BFI screening, though, I was hoping for a little bit more. I wanted a Tom Baker who didn't just amuse (if 'just' is the right word, given the man's natural skill in this area), but also looked back properly on the six and a bit years he spent in the role of the Doctor. So I was pleased when his old, and best, producer was announced alongside him. Hinchcliffe is a thoughtful and considered interviewee, and his presence, I hoped, would push Tom into similar areas.
I don't know whether Hinchcliffe was the catalyst, or whether it was just that Tom was sitting in NFT1, rather than a drafty convention hall, but I'm pleased to report that I got my wish. This was a Tom Baker who combined his usual wit and irreverence with genuine reflection. It was perfect, the best of all worlds: my favourite live Tom Baker experience to date. The job, as they say, was a good 'un.
Also on the guest list was Louise Jameson, Baker's co-star in The Robots Of Death - she played fiery companion Leela through 40 episodes. Last year the pair were reunited by Big Finish, producer of Doctor Who audio plays. On stage, both actors acknowledged that they had a somewhat cold working relationship when they were making the series in the 1970s, but time and Baker's softening personality built a petal-strewn bridge and they're now dear friends. On stage, their camaraderie is charming and appears natural.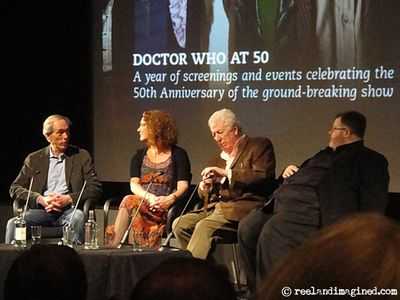 Some of the best quotes from this three-pronged main panel, chaired by the BFI's Justin Johnson, can be found in an article that Patrick Mulkern wrote for Radio Times, and the BFI has published its own 33-minute video of highlights, so I won't repeat here too much of what was said. However, I must just note that I was very tickled by Baker's comment about trying to find his way around Television Centre: "I've got no sense of direction, really, which is why I've never had children." A sentiment I recognise.
Introducing the screening was current Doctor Who showrunner Steven Moffat - a surprise guest, and no one seemed more surprised than him. Unprepared he might have been, but he still managed to present an introduction that both warmed and amused, as he recalled once queueing for Tom Baker's autograph, and many years later finding out that a certain Mr David Tennant was in that same queue.
Another surprise guest was Matthew Waterhouse, the actor behind the divisive Adric, companion to the Fourth and Fifth Doctors. My foot has always firmly been in the 'I like him' camp with regard to both Adric and Waterhouse. I've never understood why the character became a whipping boy for fandom, and in the flesh the actor has always struck me as unassuming, gracious, perceptive and funny.
Waterhouse had clearly done his homework for this BFI event, arriving with a wad of A4 paper, which he loosely read from. He spoke chiefly as a fan of the show, reminiscing about its mid-'70s tropes. Unfortunately, his halting delivery and microphone problems (he kept overloading it) distracted slightly from the content, but still, I was glad to hear from him and was buoyed by the warm reception he was given.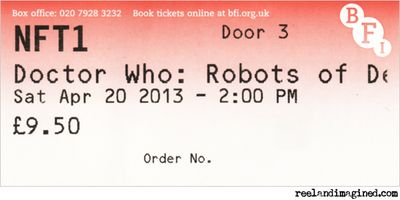 Special-effects whizz Mat Irvine was also on hand, popping up after the first two episodes of The Robots Of Death to spend 10 minutes or so talking about his work on Doctor Who and the BBC's visual effects department in general. And in the audience - announced but unseen - were Brian and Sadie Miller, the husband and daughter of the late Elisabeth Sladen, the actress behind Sarah Jane Smith.
No event dedicated to the Fourth Doctor would have been complete without a tribute to the most beloved of Who companions, and the BFI obliged by screening five minutes of Lis on stage at the Death Of The Doctor screening, from October 2010 - a thoughtful and quite clever way to give the actress a presence and voice at this celebration of an era in which she played a huge and successful part.
Unlike last month's 'Doctor Who at 50' event, where a Jon Pertwee serial had its first public airing since being restored to colour, The Robots Of Death on the big screen didn't throw up any real surprises for me. It was, however, interesting to see it with an audience. Doctor Who is quite often a solitary pursuit, especially the classic series, and when I hear an audience reacting to a story such as this it reminds me that, yep, it's still got it.
Archive television is sometimes viewed through the prism of irony, as so much has changed, stylistically, over the decades. But here the laughs, I'm pleased to report, were in all the right places. The script, by Chris Boucher, is solid through and through, and the story has many quotable lines, such as Leela's "now you're showing off" and the Doctor's "a simple 'thank you' would have been sufficient". In part four, the robot D84 says: "Please do not throw hands at me." Yet the whole event was worthy of a big one.
At the end, with the applause ringing out, Tom Baker leant down from the stage and gave five pound coins to a little lad in the front row, as a reward for sitting through his panel. As paid work goes, that's some of the best right there.