Keller television: The Mind Of Evil at the BFI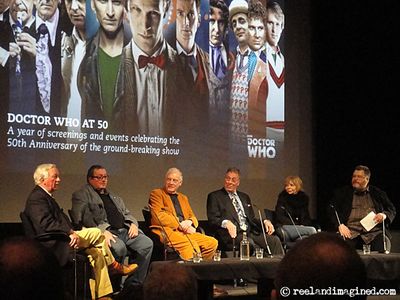 On 10 March, I attended a BFI screening of the 1971 Doctor Who story The Mind Of Evil, in which the Doctor pits his wits against his arch-enemy the Master and his mind-sapping Keller Machine. This screening was the first time that this story had been seen entirely in colour, in public, since its original broadcast.
For the unaware, the BBC junked the original tapes in 1973 (it's a long story), and in recent decades fans have been watching The Mind Of Evil on tapes sourced from black-and-white 16mm film copies, alongside a few colour clips that survived thanks to a domestic recording someone had made in the US. But now, thanks to the efforts of the Doctor Who Restoration Team, the entire six-part serial exists in colour once again.
To the technically challenged mind, such as mine, the colour-restoration process is pure wizardry, so I'll not attempt to detail it as my ignorance is bound to show. Instead, I'll slip in the term 'chroma dots' and leave you to it, should you want to know more. (It's worth noting that returning episode one to colour was trickier still, as no chroma dots existed for this and key frames had to be manually coloured - a process that reportedly took 18 months.)
For the most part, I found the results of this work very pleasing. As episode one played out on the large NFT1 screen, I felt like I was watching the original videotape. Unfortunately, this feeling wasn't carried over to episode two, which had pulsing colour and various other artefacts (during their panel, the Restoration Team acknowledged that this episode was the worst-looking of the bunch). But things picked up again for episode three, and the rest of the serial looked pretty good to me, with perhaps a slight dip in quality for parts of episode five.
Overall, then, a success, and the Restoration Team were rightly applauded like rock stars.
The Mind Of Evil will be released on DVD, along with a wealth of extras, on 3 June. While you're waiting, though, why not enjoy an hors d'oeuvre?
Below is a 30-minute edit of the main panel from the BFI screening, featuring guests Timothy Combe (director), Terrance Dicks (script editor), Richard Franklin (Captain Mike Yates), John Levene (Sergeant Benton) and Katy Manning (Jo Grant). The interview is chaired by the BFI's Justin Johnson.
Doctor Who will return to the BFI on 20 April, with a sold-out screening of the 1977 story The Robots Of Death in the presence of guests Tom Baker (the Fourth Doctor), Louise Jameson (Leela), Philip Hinchcliffe (producer) and Mat Irvine (special effects). Just a couple of weeks later, on 4 May, it'll be the Fifth Doctor's turn, with The Caves Of Androzani getting the big-screen treatment. Guests for this screening have yet to be announced.