Speed of sound: In the recording studio with Marc and Slyder from Last Great Dreamers, Dec 2017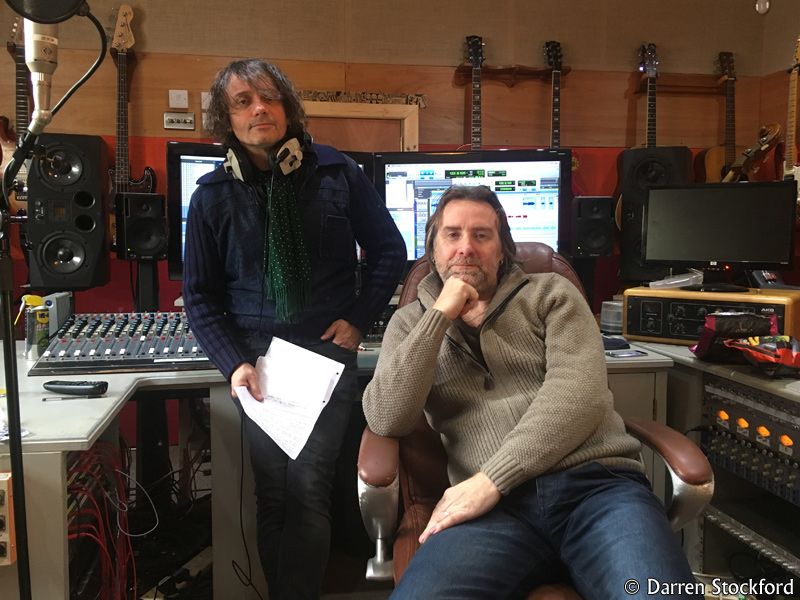 "I think if you stick one back on, we'll know."
Record producer Pete Brown is guiding Last Great Dreamers' frontman, Marc Valentine, towards a perfect vocal take. He advises him to listen to just one side of his headphones - to "take an ear off".
"I've got all three off at the moment," says Marc, before lead guitarist Slyder chimes in with an idea of his own.
"How about putting them over his eyes?"
It's Monday the 11th of December and I'm at Henwood Studios in Oxfordshire, where the Dreamers' fourth long-player, the follow-up to 2016's Transmissions From Oblivion, is nearing completion. The album has been in production since early November, though the sessions have so far been split into three chunks, so no one has gone stir crazy yet.
No, really - they're always like this.
Like many recording studios, Henwood is an unassuming sight from the outside. Housed in the grounds of a farm, it blends in perfectly with the surrounding architecture, its barn-like appearance disguising the technological wonders within. In the control room, guitars of both six- and four-string varieties hang on the brightly coloured walls, along with a clutch of gold discs: records that Pete worked on, including albums by his dad Joe and his sister Sam.
With Pete travelling home every night and the Dreamers' rhythm section, bassist Steve Fielding and drummer Denley Slade, having been granted time off for good behaviour - very good behaviour, judging by the sounds emanating from the studio's customary high-end speakers - only Marc and Slyder are in residence.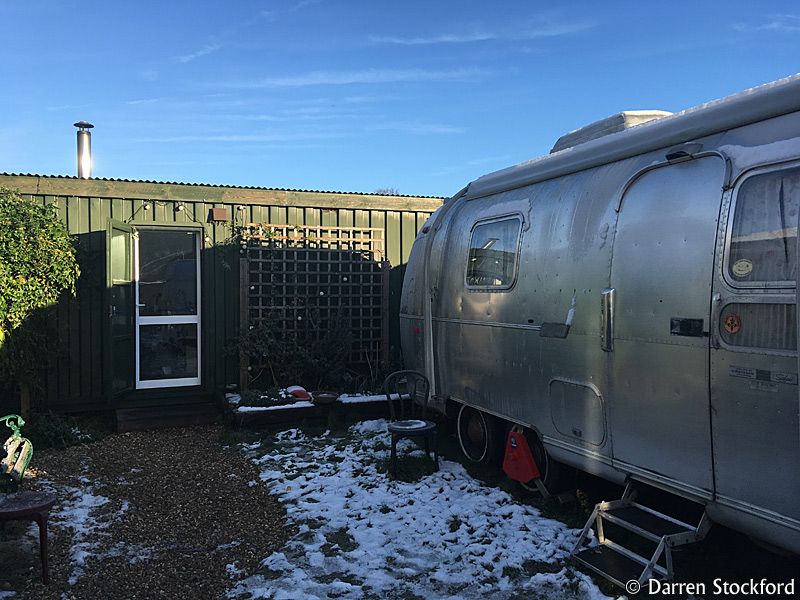 The songwriting duo are staying in a converted shipping container at the rear of the studio, and though it's far from a 'des res', it's reasonably comfortable - at this level of occupancy, anyway.
There's a double bed and some bunks, plus hot water, a fridge, a cooker, a microwave and a wood-burning fire - a welcome sight at this time of year. There's also a neighbouring two-berth caravan, though its facilities are sparse: just a couple of sockets and some bedding.
Yep, forget any en-suite fantasies - everybody here pees on the same patch of porcelain, and that's the one that lurks at the end of a gravel footpath between the container and the studio. I'm surprised to find that the toilet door contains, at its centre, a head-to-foot panel of unfrosted glass, though thankfully someone has hung a towel on the back of it, to prevent anyone peeking while you're leaking. Who said that modesty has no place in the music industry?
The Dreamers briefly considered making their last album here at Henwood, when a reservation they'd made with another studio in the area fell through at the last minute.
"I'd just pulled up at a rehearsal in Birmingham," says Slyder, "and I had a call from the guy saying, sorry lads, I've fucked up - you can't have those dates."
Unfortunately, there was a double booking.
"We were all ready to start recording. We had a release date and tour dates planned, so it was a major bombshell."
The band were given Pete's number - "not to work with him, but because he had this recording studio" - and discussions were had, though in the end they headed for Foel Studio in the Welsh valleys (an adventure you can read about elsewhere on this site).
However, a year later, Pete's name popped up again on the band's radar.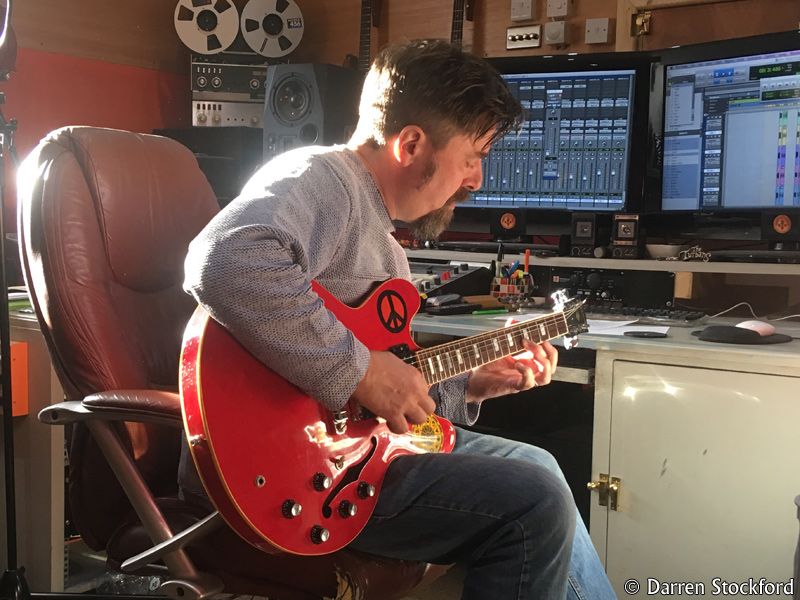 Says Slyder: "We started working with this guy, Stuart, who's working on the music business part of it for us. And he dropped Pete's name into a conversation, saying he heard a band that were working with him and he thought the production was great. He was on about the vocal arrangements sounding amazing.
"So Den and I came down here and had a meeting with Pete, and Marc spoke to him on the phone. We listened to loads of stuff he'd done here and produced. He's a guy that's worked with George Harrison, Dusty Springfield, Status Quo, The Specials, Dave Edmunds, Nick Lowe - and then there's his playing ability and his knowledge of musical arrangements, live and in the studio."
And so the deal was sealed.
"It just seemed a bit of a no-brainer. Although we knew it was a little bit rough and ready here, I thought we were going to get an amazing album out of this."
"Who Pete doesn't know and who he hasn't got a story about… it's incredible, really."
- Slyder
Watching Pete work, I'm struck by both his roundedness and his groundedness. He's on top of everything - every breath that Marc takes, the shape of his words, and their meaning and intent - and he's not afraid to demonstrate exactly what he wants to hear. Yet his tone is collaborative, his manner down to earth.
In fact, he walks the fine line between encouragement and brutal honesty so casually that it feels as if his relationship with the band goes back years. You're never more than five minutes away from a joke he's just been reminded of, or a rock 'n' roll tale from his more than 30 years in the business, which is equally as likely to make you laugh.
As Slyder notes: "Who he doesn't know and who he hasn't got a story about… it's incredible, really."
Pete's a grafter too, working late into the night in the pursuit of audio perfection. At one point he ponders: "Do you think that listening to words and parts of words over and over again is against the Geneva Convention?"
The situation lends irony to the lyrics Marc has been singing for the last few hours: "I messaged you a hundred times…" If the frontman has had enough, though, he isn't letting on. He's still happily taking Pete's direction ("could you sing it down the octave?"), if not Slyder's ("try to do your Rs more like Jonathan Ross").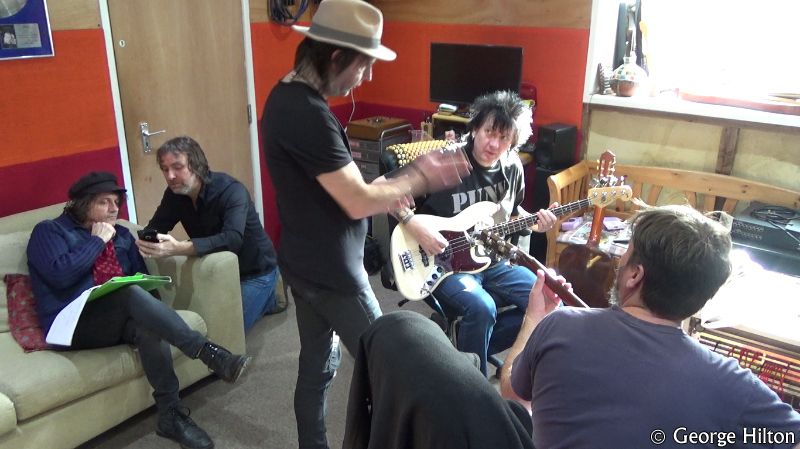 When work eventually stops for the day, Pete loads some of the album's other songs into Pro Tools so I can take a listen. All of them have parts to be added - some of which Marc and Slyder fill in vocally as they sit listening - and nothing has been mixed yet. But the tunes and ideas shine through, and I get a sense of where the record is heading.
As I try to take in what I'm hearing, my notebook fills up with phrases such as "acoustic intro" (Broken Things), "patented Slyder riff" (13th Floor Renegades) and "fast, melodic punk" (No More Sunshine In My Brain). Underneath the heading I Think I Like It - a song title that happily doubles as opinion - I scribble something that Pete says: "Backing vocals and rockabilly guitar needed." The song has an angular, new-wave feel, and Marc says that the lyric was inspired by 21st-century paranoia.
"It's about how, with technology, it's a blessing and a curse. We get paranoid about the things that are happening around us, but in some ways we go along with it and kind of, y'know, get to like it. You can't help yourself."
"It'll be us, the old gits, saying, remember when you could strip off and run down the beach?"
- Marc
"It's like your social networks," adds Slyder. "There's an addiction to it - you're involved in it - but you know that ultimately it's not really that healthy, is it?"
Marc mentions Big Brother - the concept rather than the TV show - and the way that society seems to be heading, with cameras watching us from various angles.
"Tick box and click accept," says Slyder. "Terms and conditions apply."
The conversation reminds me of apparent must-haves such as the Amazon Echo, a device that you bring into your home that listens to what you're saying, in the hope of hearing a magic word, Alexa, that activates its Internet-accessing powers.
"I see that," says Slyder, "and I think, I know it's a gimmick but why would you…? You can't trust it. But there's a great demographic that has no fucking qualms, or even a thought in their head, about what's actually happening. They just want the stuff. It is worrying. And I don't think there's any getting away from it, is there? Eventually, wherever you go, there'll be someone watching you, somewhere."
"For the next generation," says Marc, "it'll just be accepted, because that's what they've grown up with. And it'll be us, the old gits, saying, remember when you could strip off and run down the beach? You could do any kind of shit and no one knew everything."
Concerns switch from the future to the past on Primitive Man, a '70s-style glam stomp with a wild guitar solo, a none-more-rock ending and a chorus that asks: "Is anybody there? Can you help me?"
Marc explains that this song was inspired by "watching a lot of old movies and seeing how politically incorrect we used to be - how behaviour has changed over the last 20 or 30 years, certainly in the male sort of role and how we're perceived to be. It's about this guy who hasn't evolved, who's still living in 1972 almost. It's the way he behaves - he can't understand why things have changed around him. So it's got a sort of satirical vibe."
Some of the arrangements on this album find the band in uncharted country - with the emphasis on country. Unusual instrumentation - for the Dreamers, anyway - brings a rootsy edge to two songs on which Slyder sings lead, Miles Away and For Your Information. The former, a reworking of Today, a song that the guitarist used to perform with his old band Toy Eye, has an intimate, confessional feel - helped along by his new-found lower-register voice - while the latter, a laid-back, slightly woozy slice of what label-makers might call Americana, seems to channel Ronnie Lane.
"I turned up with fucking country and western songs, and I don't really know why."
- Slyder
"It was kind of weird," says Slyder. "When we've been writing together… I mean, my background is more rock and metal than Marc's. As a kid I started listening to the end of glam rock, punk, new wave, ska - stuff like that - then got into more rock and metal stuff. So the heavier edge of Last Great Dreamers is my end, and the poppier side is coming from Marc - normally, I guess, just to keep it basic.
"But Marc turned up at our first writing session for this record with Status Quo and AC/DC riffs. I thought, this is great - it sounds like Love Hungry Man or something. And I turned up with fucking country and western songs. I don't really know why; I don't know what's going on."
The guitarist says that, at first, he wanted For Your Information to have an 'oompa' sound. However, with Pete's input, the track evolved.
"We're lucky to have a very talented musician at the controls," says Slyder. "We knew from stuff that Pete played us that he's got mandolin on this, that and the other - and lap steel guitar. So he's put down some slide guitar and mandolin on a couple of tracks."
And just to be clear: "He's not doing it against our will or anything."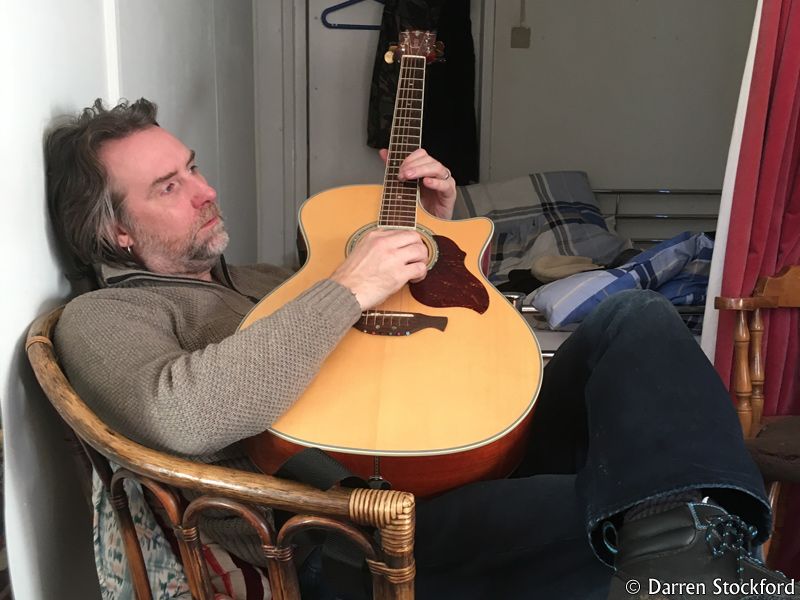 Pete has helped bring a freshness to the album's vocal arrangements too - most noticeably, at this point, on Speed Of Light. With its We Will Rock You drum pattern and rising harmonies, it's the closest the band have come to sounding like Queen. As Marc sits on the control room's sofa singing a live vocal, Slyder notes a guitar part that he's particularly pleased with by shouting: "Doctor Who!" And I can see what he means.
As the closing note decays, I hear myself saying: "That's amazing, that is. I got goosebumps."
"I love the way that came together," says Slyder. "We'd been writing for three days - having a session in Birmingham - and that was our last day. It was about four o'clock in the afternoon. We had a couple of hours and we thought, let's try and mess about with a few more things. So Marc played me this… I guess it was like a verse thing, really. And I started playing an addictive riff that had come into my head - it was a bit hypnotic.
"The vocal arrangements are phenomenal. It has a Queen sort of vibe."
- Slyder
"It was just a simple little line that had to be repeated all through it. I didn't want to go off and make a pretty melody or anything. It was telling me that this is it, all the way through. And then I thought of the We Will Rock You kind of drumbeat, but more of a doom version. It was like a dirge that didn't go anywhere. It just travelled along on a flat line, almost like a heartbeat.
"So it starts off, it does this, and then it ends. It's like this journey of darkness, with this really annoying riff that hooks you in. That was how it all came together, and it's taken another leap here because there's this bright light that comes up with the bridges. The vocal arrangements are phenomenal. Like you say, it has a Queen sort of vibe."
The chorus runs: "Going nowhere at the speed of light", and Marc says that the psychedelic lyrics of the verses were inspired by a "really bad drug experience" he had as a young man.
"I came up with it in my old bedroom at my mum's", he says. "Back in the summer, I went round there and I thought, oh, I'll sit and play guitar in my old room. And I came up with the melody, and the idea of the song came then. It was funny, because that's probably the first song I've written in that room since I was 15. It was interesting going back 35 years later. It was a bit of time travel for me."
I ask Marc about the song he's spent the day working on, Whose Side Are You On?, a mid-paced rocker with a wistful-sounding chorus melody. Earlier, I heard him call it an "important song" for him, but what's it about?
"Well," says the frontman, "it's a little bit ambiguous, that one, but it's kind of a break-up story."
His answer hangs in the air for a couple of seconds, and I sense that he doesn't want to say much more, so I move swiftly on by congratulating him for spelling the title correctly on all the literature I've seen. A lot of bands would have put 'Who' apostrophe S, and I'd have been annoyed forever.
"I think I put apostrophe S on my list," says Slyder.
Marc laughs.
"Did you? Brilliant. Tell him off."
"No one's going to say, I love that album because the title's great. The title will be great because the album is great."
- Slyder
I raise the subject of album titles, recalling the pages of ideas and weeks of debate that eventually led to the band's last record being christened. And I'm surprised to learn that so far there are only a couple of contenders.
The debate will no doubt heat up once the recording is finished, but as Slyder says: "At the end of the day, an album is remembered for the album. No one's going to say, I love that album because the title's great. The title will be great because the album is great. So it could be called anything or nothing."
This record, like their last one, was crowdfunded through PledgeMusic. Was the process any easier the second time around?
"Having toured extensively with the Quireboys this year, we were hoping that we'd made some new fans that would get involved. We had a target, and we've exceeded what we hoped we could do.
"It's a weird thing because we're out there, cap in hand, and you can feel a bit crap in a way. You get mixed reactions about what you're doing. It's like, please give us some money so we can make an album. And then somebody might say, well, why should we do that? They think, you've done three albums; where's the money off those albums? Why aren't you paying with that?"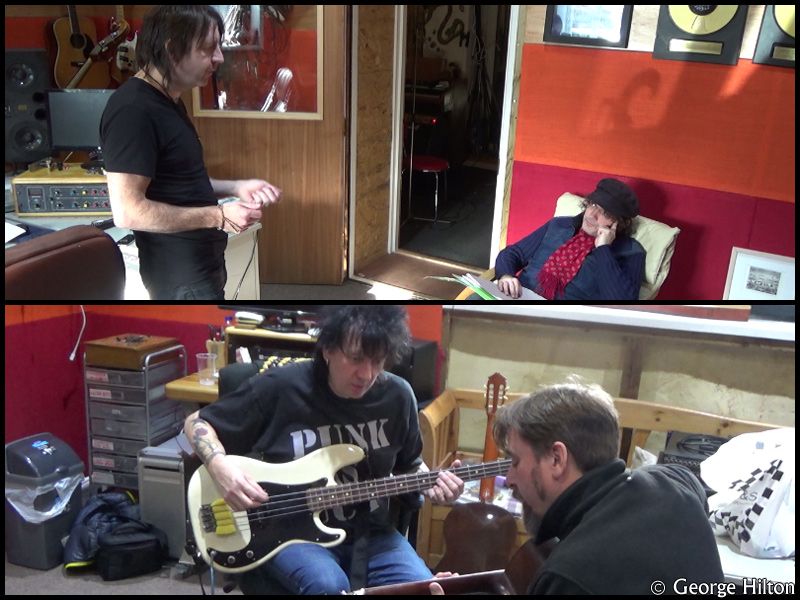 "The thing is," says Marc, "we've never made a penny from any record we've ever made. There aren't many bands who do, unless they're selling quite a few records."
"We've spent a hell of a lot," says Slyder. "It's not like we're sitting there counting the money, going, ooh, that's lovely - we can pay ourselves this, that or the other. We've already put in everything ourselves - the same amount times ten - although we're not complaining about it. Some people might say we should, but you don't want to moan, do you? You don't want to look like a twat, because you're out there having fun, enjoying the gigs and all that sort of stuff.
"It is a hard thing, though. We're doing a job we love doing and want to do, but it doesn't mean it's a cakewalk. It's hard work, and at times it's soul-destroying. What we put into it personally - financially, emotionally and time-wise - is fucking immense, but there's something weird in us that makes us want to do it. That small bit of joy we get from it and the reward is worth the sacrifice."
The guitarist catches himself and laughs.
"Sorry, I went off on a tangent. We just want the kids to know that we suffer, so they'll pledge more."
"We've never made a penny from any record we've ever made."
- Marc
Marc says that the band are lucky to have had the opportunity to make this record: "There are a lot of people involved with it, including everybody who's got involved with the Pledge. We couldn't do it without them."
I made a pledge of my own this evening: to let the guys retire at 12.45am. It was a request from Marc, who's been hard at work in the pilot's seat all day. But of course, we go flying past the allotted hour, the landing gear failing to engage at least three times. Thank you for flying Dreamers Airlines.
Marc eventually makes a lunge for his bunk around 1.40am, while Slyder opts to join me for a nightcap in the caravan. We spend some time putting the world to rights, before the guitarist heads back to the shipping container and falls into a red-wine coma.
The next morning, I peek through the caravan's curtains to be greeted by a sky of pure blue and a diffused spray of shining, yellow light. It appears to be a lovely day. However, it's true what they say: looks aren't everything.
The sun might well have his hat on, but he's also wearing a big coat and some woolly gloves. In this part of the country, there's still snow on the ground from two days ago and, according to BBC News, last night was the coldest of the year. Not that I needed to be told: I spent the night fully dressed - hat, hoodie, the lot - and wrapped in two duvets, with a small electric radiator as life support. I notice that the caravan's wall-mounted clock says it's three o'clock - coincidentally the time that Slyder departed - and I briefly wonder whether its mechanism has frozen.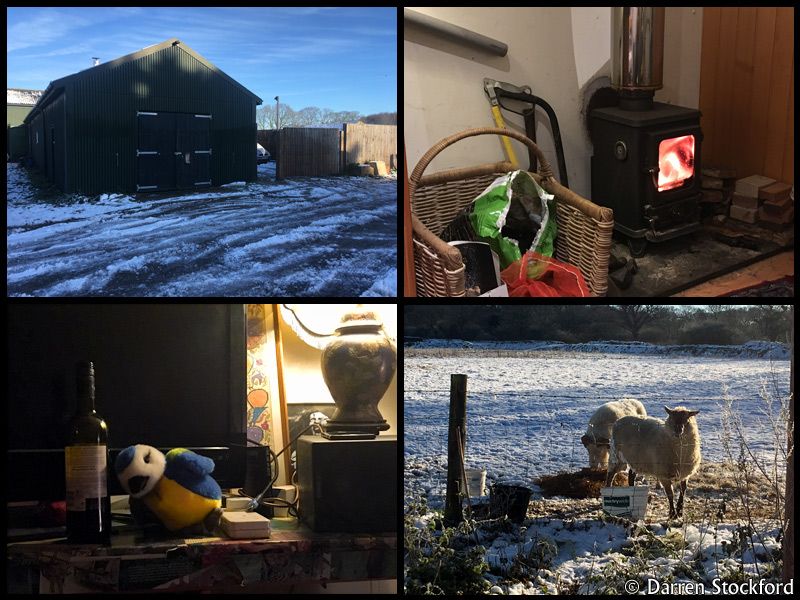 After a swift change of my smalls, I swing open the door to see Pete trudging down the driveway. He tells me that he's off to buy some bottled water, as there's none available on draught right now. The sub-zero temperatures have frozen the pipes, which means that cups of tea - or "splosh" in Pete's parlance - have the potential to become scarce, too.
It's show-stopping news. If the kettle doesn't rock, Pete and the boys don't roll. The Geneva Convention is very clear on this point.
Marc makes use of the downtime by doing a spot of songwriting. Even at this late stage, he's scribbling on sheets of A4, firming up lyrics before they're committed to posterity.
"Captain or concierge?" he enquires as he stalks the kitchen area, strumming an acoustic guitar. And later: "Bastion or pantheon?"
As the creative juices start to flow, he shows me his scarred knuckles. It looks like he's been in one heck of a brawl, but he has no recollection of how his hands came to appear so battered. I suggest alien abduction, but I have to wonder whether it's some kind of studio stigmata.
"I don't even like thinking of that word, comeback, now."
- Marc
When Pete returns, and the splosh crisis is averted, the control room springs into life once again, and Marc spends some time with the producer going over his lyrics. Eventually, with the final draft in hand, the singer returns to the microphone - having remembered to "take an ear off" - and his vocal track for Speed Of Light starts to take shape.
I've been bowled over by the band's progression since their new adventures in songwriting began, and based on the evidence so far I believe that album number four will turn a few heads, given the chance. If Transmissions From Oblivion was their comeback album, LGD4 - as the Pledge campaign's web address titled it - must surely be the album that puts the band on a properly even keel.
"I don't even like thinking of that word, comeback, now," says Marc. "Of course, nostalgia was the only way we could do it - it had to be like that, otherwise we'd have been playing in toilets somewhere with no one watching us. And we're very proud of where we come from - we really value where it all began. But I think we've possibly achieved more in the last two years than we did in our time before.
"Obviously, you want it to be relevant, for your own personal growth. You don't want to think you're living on past glories."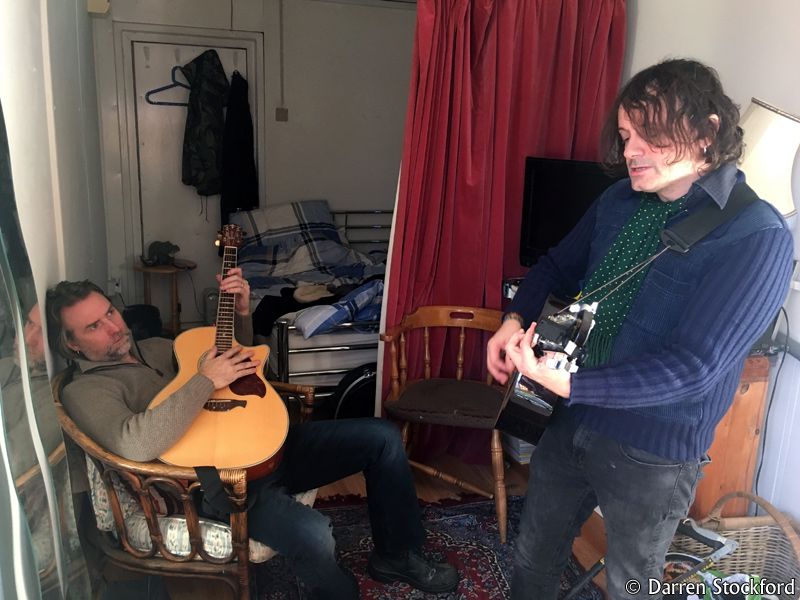 Nearly three years ago, in the first interview I did with the band post-comeba… well, after they got back together, Slyder told me: "I don't think we've ever truly belonged to anything."
Today he notes: "I think our curse and our blessing is that we can't be categorised easily. We find ourselves in a kind of underground rock scene, which is great, and we can do that and fit in with that. But we don't feel that's where we belong, really. And that's great, because it makes us individual, but the music business needs to put you in a pocket, and we don't fit in any of them.
"We're not worrying about what bands who are successful are doing. We've got to be true to ourselves and just let the songs come out organically and turn into whatever they turn into. But we still crave…"
Fame and adulation?
"Yeah, the success, because that's the sort of people we are."
Of course. Everyone in the band grew up in the golden age of pop stars.
"Yeah, and there's something in us that wants that. People who go on stage… y'know, you can't say that you're not interested in fame."
"The music business needs to put you in a pocket, and we don't fit in any of them."
- Slyder
Whenever the duo speak in these terms, one thing seems clear, and that's that the pull of popularity isn't about money or ego. It's about connection and wanting to build an even bigger shared experience - a desire to create the same feelings in others that they get from their favourite artists.
I've heard them talk of fame but never fortune, and they're rarely more than two sentences away from boiling it down to something personal, reflecting on the ways that music affects them and, they hope, the band's listeners.
Slyder recalls driving to the Dreamers' first rehearsal in 2014, "listening to Mott The Hoople - I think it was Hymn For The Dudes - fucking crying, going up the M5. I thought, what a prick."
He laughs.
"I couldn't believe I was going to be playing again. And that's what music does to you.
"All of us are still quite shy in our own way, but the stage is the place where we can go and be somebody: we can step up there and not feel shy or awkward. We can go and do what we do, and just let go and be in the moment. That's the true meaning of it - feeling that joy in that moment. What I enjoy is seeing people who obviously know it all inside-out singing the words with passion. It means something to them, and you're seeing that kind of emotion coming back at you."
Marc agrees: "It's about doing something that means something to someone else. And it's just been amazing, really, what our music means to some people. I mean, yeah, it'd be lovely to times it by 10,000, but we're so grateful for what we have achieved.
"Some fella the other day was saying he has our last album on in the kitchen when he's cooking, and his wife's singing along. It's the little things like that that make it all worthwhile."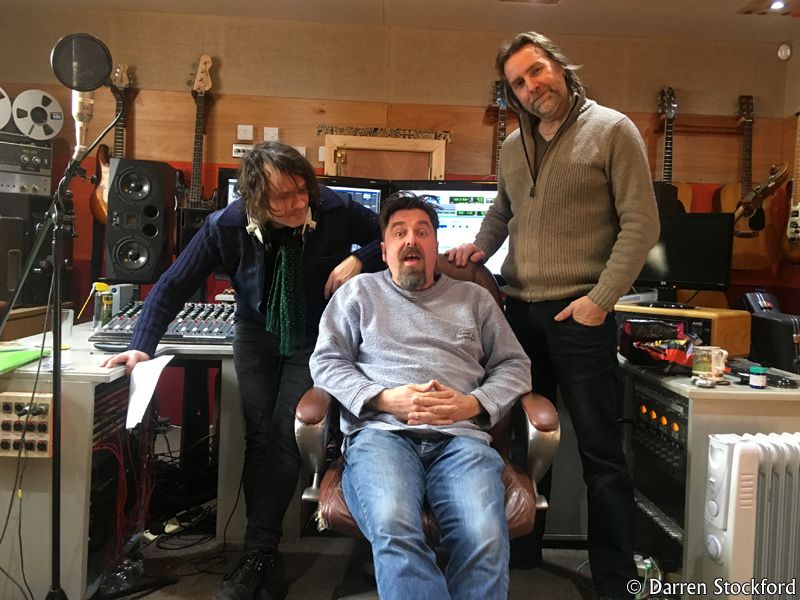 "It is kind of weird," says Slyder, "because you don't think you should be doing this sometimes. At this age and where we are…"
"It's the lifeblood in you," says Marc. "Even though we had a long, long hiatus, it was sitting there dormant, waiting to come out. And we're making up for lost time now. I think we've still got a lot to prove - not to ourselves, but perhaps to other people. We want to be, and we are, a relevant band now. We're making great records - as good as anything we've done, perhaps better than we've ever done. And we want to be taken seriously beyond the realm of where we are now.
"That's the hardest thing, and that's what keeps us going and writing great songs. You know, there's a lot more to give."
• Visit the band's official website for the latest news and tour dates
• Connect with the Dreamers on Facebook and Twitter
• The above photos that feature Steve and Den were provided by George Hilton. Thanks, George!