Transmission statement: In the recording studio with Last Great Dreamers, July 2016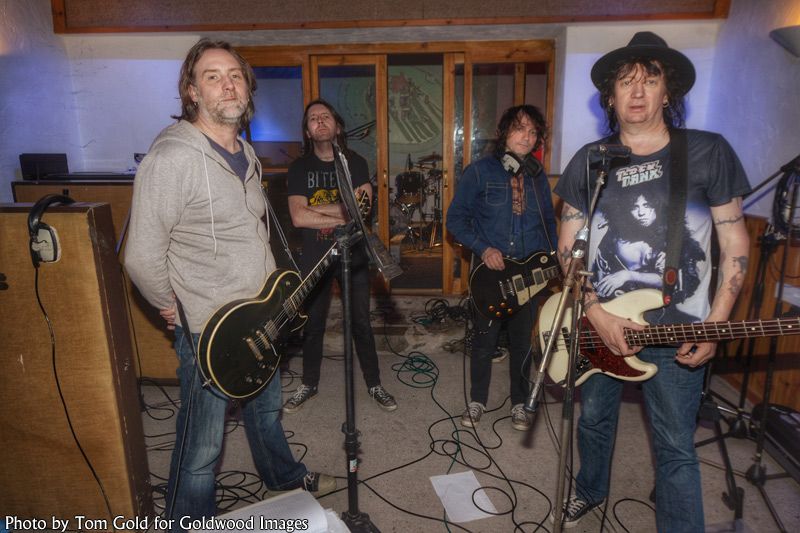 They can be dangerous places, recording studios. Cables to trip over; microphones poised to knock your teeth out; a mountain of electrical equipment waiting to catch fire - some of it heavy too, so watch your back when lifting. If you have a wannabe Phil Spector producing, you might even find yourself dodging bullets as you reach for that high harmony.
Thankfully, today at Foel Studio, Tony Harris isn't packing heat - it's Sunday and he doesn't carry at weekends - but that still leaves the possibility of injury by misadventure. When a crash is heard from somewhere in the building, Tony shouts: "Anybody hurt?"
I walk downstairs to find that someone has "broken Last Great Dreamers' toilet". A couple of fans, Val and Steve, are visiting the studio. Unfortunately, no one warned them about the loose loo seat and Steve has found out the hard way.
Still, I don't think he considers it a bum deal (isn't it me who's supposed to be 'lifting the lid' today?). He and Val are guests of the Dreamers, having bought a 'studio hang' in the band's recent PledgeMusic campaign - a three-month drive to raise funds to pay for the recording and distribution of the band's third album, Transmissions From Oblivion - and they appear to be enjoying themselves, despite frontman Marc's concerns as they watch the somewhat repetitive recording process.
"Had enough yet?"
No, they most certainly have not had enough. What might seem monotonous to a musician is far from everyday to a civilian.
"Try being me, Marc Valentine," says Val.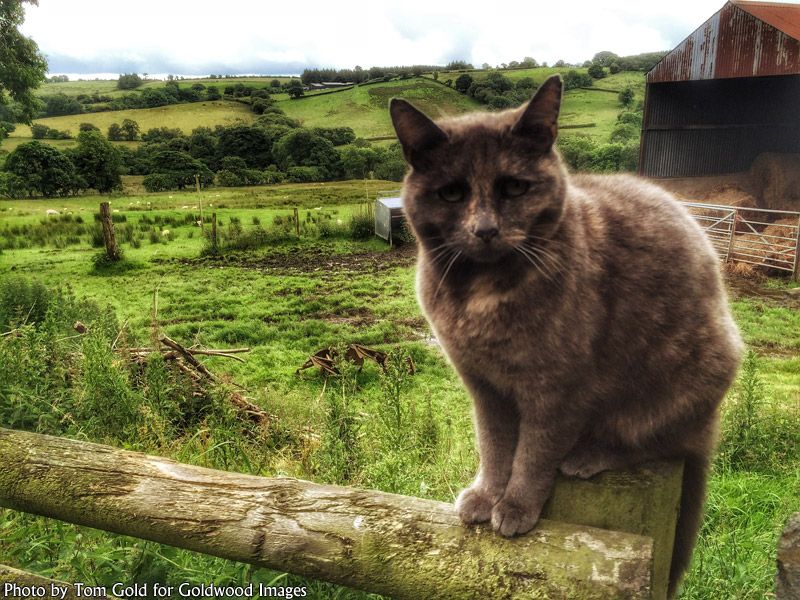 Foel is Last Great Dreamers' current home from home. Set in the side of a lush green valley, six miles from the small Welsh town of Llanfair Caereinion and 15 miles from the nearest train station, the residential recording studio has an air of holiday home, complete with picture-postcard views of farmyard critters: sheep to the south, cows to the east. The cottage and studio are reached by navigating a narrow, long and winding stretch of tarmac that the sat-nav calls an "unnamed road" - useful to know in emergencies - before a final dip down what feels like a 45-degree slope. Crampons aren't provided.
The band were originally set to record this album in Oxfordshire in June, and I'd planned to visit the studio during the mixing stage for a preview of what would have been an almost-finished LP. However, when the studio booking fell through at the last minute, necessitating a change of both location and date, my overworked diary handed me just one option for the rescheduled sessions: Sunday 3 July.
And so I find myself at Foel on day 5 of 12, with Marc and lead guitarist Slyder still in the thick of recording, and drummer Denley Slade - Den to his friends - providing encouragement and feedback in between rolling cigarettes that he occasionally wanders off to smoke. Bassist Steve Fielding, the newest member of the band, isn't here - he returned to the real world yesterday and will be back in a few days - but his presence is very much felt in the sounds thundering out of the studio's speakers.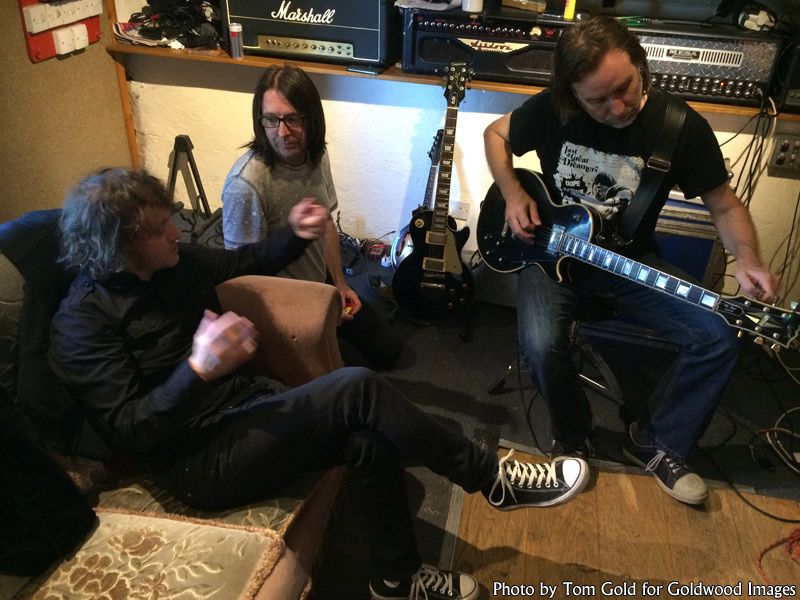 The control room at Foel is the ultimate home-stereo fantasy. A cosy attic accessed by a bare wooden staircase, it houses a vintage Trident mixing desk that has had all manner of wonders flowing through its electrics over the years: Hawkwind, The Stranglers, New Model Army, The Wildhearts. And for that lived-in touch there's an ancient sofa, upon which I park my bottom for nine hours, comfort breaks notwithstanding, and fill a notepad with observations, thoughts and any rude words I hear.
"Ah, fucking twat… bollocks."
Slyder, there.
"Ah, you fucking motherfucker. My fingers have lost the plot."
"Just walk down the stairs and back again," advises Marc.
"Ah, you fucking motherfucker. My fingers have lost the plot."
- Slyder
I enjoy watching the band at work, and I even feel a bit emotional at points - Slyder's guitar, as ever, evokes a combination of nostalgia and euphoria - but in all honesty I get a mere glimpse into what they're up to here at Foel. As I mostly hear parts of unfinished arrangements with an occasional hint of guide vocal, I have little idea about what the mixed and mastered album might sound like - I still have that experience to look forward to. What I do hear today both pleases and surprises me, though. At one point I scribble: "LGD sounding but bigger." And elsewhere there are sounds that are new to the band's box of tricks, including a climax that Slyder eloquently describes as "like a fuckin' sleaze orchestra".
The song in question, Turn It Up, has a tribal rhythm and reminds me in part of Adam and the Ants. It even has a Prince Charming key change. "It sounds just like the Dolls," says Slyder. "It's brilliant."
While the boys are trying to find a guitar tone, producer Tony repeatedly suggests something that goes unheeded, until he takes a more direct route.
"I don't want to be a cunt about it, but can we try the Fender Twin?"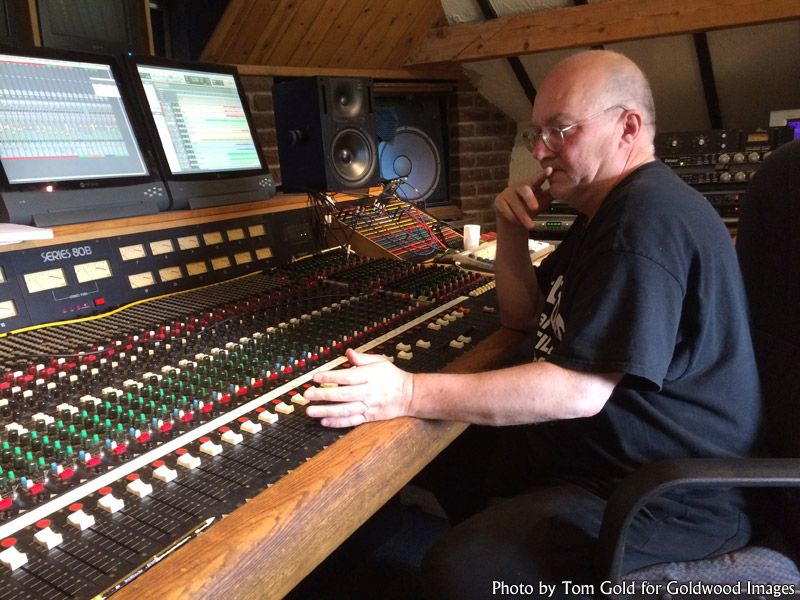 Tony has the amusing habit of referring to chords as "Norfolks" - a lovely bit of Cockney rhyming slang that leads me to discover, when checking that he didn't invent the term, the existence of an alternative: "Norwegians". Another of his quirks is that whenever he needs to create new tracks in the studio software, he claims to be popping out to get them.
Tony first worked with the band in 1993, when they were known as Silver Hearts, and went on to produce the majority of recordings the band made between 1995 and 1997 - tracks that ended up being released two decades later as the album Crash Landing In Teenage Heaven.
Having spent 37 years in the business, Tony has engineered, produced and mixed a wide array of artists, from Sinead O'Connor through Bad Company to The Jesus And Mary Chain, and the Dreamers' love for him is obvious. Twenty years ago, after the band were unhappy with the sound of their debut album, Retrosexual, Tony gave them a bright and bold studio sound that matched their ambitions. So there was only ever going to be one man for the job of producing their first custom-built long-player of the 21st century.
"Resist the temptation to chug and damp," he tells Marc while recording Turn It Up. "We want racket."
He gets it, from both guitarists.
"Resist the temptation to chug and damp. We want racket."
- Tony Harris
Later, Slyder tells me: "Listening to that, me playing that, it excites me because… I suppose Retrosexual was too tame. It was too clinical and too practised and too tuned and too _everythin_g, y'know? The wildness had gone out of it. And Marc's vocals were spot on, because the producer was getting everything pitch perfect - which is great, but you didn't get the life from it. Whereas that is just me making a racket, and it sounds wild and I love it. You can lose that in the studio."
The drums, I note, sound huge.
"Initially we thought we'd record that drum loop, and then just build it in the studio. But then Tony changed his mind and thought, it could be great if you just played it like a band - he wanted to have a room mic that picked everything up. So that was all done live: the guitar, bass and drums."
"And it worked" says Marc. "A lot of it is obviously down to Den's skills as a drummer - that he can maintain pretty much any rhythm you want for as long as you want. He's got some chops on him, really."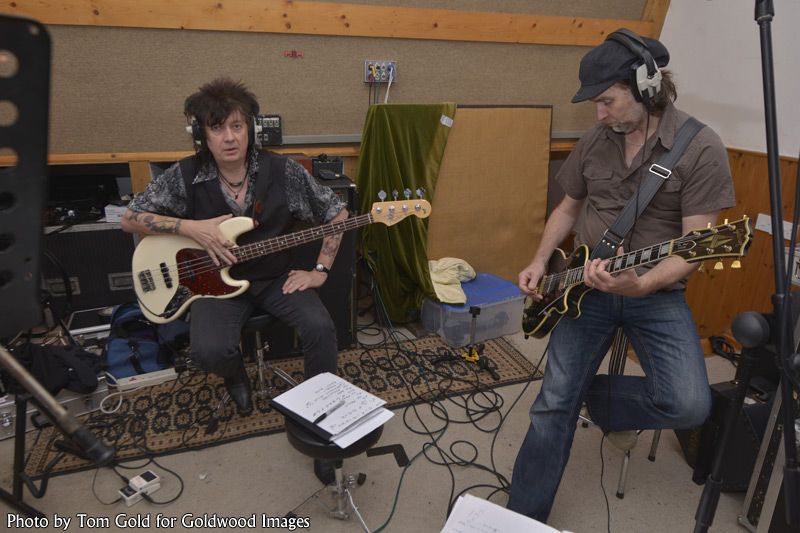 What's the song about?
"Turn It Up is all about being a kid," says Slyder, "a reprobate, a delinquent - that sort of '70s childhood, with ripped jeans and kicking cans up the street - and about music maybe being a saviour through all that, and taking you somewhere, rather than you digging up in a borstal or something. It's got that yobbiness. It's a kind of Ramonesy, New York Dolls… it has all that crazy guitar on there, I loved doing all that today. It's like a metaphorical shambles. It's got no chorus, it's got no verse. It's just music - making a noise."
Adds Marc: "It's like a jam, really, isn't it? There's a lot of texture to this album."
Tonight the pair were in the studio until midnight, breaking just once around 9pm for one of Slyder's delicious vegetarian curries - the first food to pass anyone's lips since slices of Last Great Dreamers cake, a gift to the band from Val and Steve, were offered around in the early afternoon. Where creative pursuits are concerned, time has a habit of losing all meaning, and residential recording studios are the ultimate shut-away. What's good for making records, though, isn't necessarily good for a chap trying to nab an on-the-record chat with his subjects. And so I find myself press-ganging the duo into doing an interview at 1am.
"I suppose Retrosexual was too tame. It was too clinical and too practised and too tuned and too everything, y'know?"
- Slyder
On the coffee table in front of me, as I lay out my recording devices, is a pile of sleeves from vinyl albums - among them AC/DC's If You Want Blood You've Got It, Pink Floyd's Atom Heart Mother and the Sex Pistols' Flogging A Dead Horse. Marc has brought them along as inspiration while the band try to figure out what they're going to put on the cover of their own record. Their secret weapon here is photographer Tom Gold, who's documented every day of the sessions so far, snapping the band at work and play, and capturing some superb images, some of which you can see here making my words look 200 percent better. Tom's photos will adorn the sleeve and packaging of this as-yet-untitled new album.
Hang on a cotton-pickin' moment, the album has no title? Yes, dear reader, you've got me bang to rights: my fourth-paragraph reveal was a cheat - an echo from the future. At this point in the narrative, Transmissions From Oblivion is one idea among many, and debate about just what to call the record has been raging for weeks. Marc arrived at the studio on Tuesday night with a handwritten list of more than 100 titles: unedited ideas and stream-of-consciousness phrases, some of which come complete with critical notices, in red pen, from his wife Billie. "Too modern - I'm visualising angular furniture," says one. "Bearded hipster?" queries another. And then there's the dagger to the heart: "Love - but too cool for you?"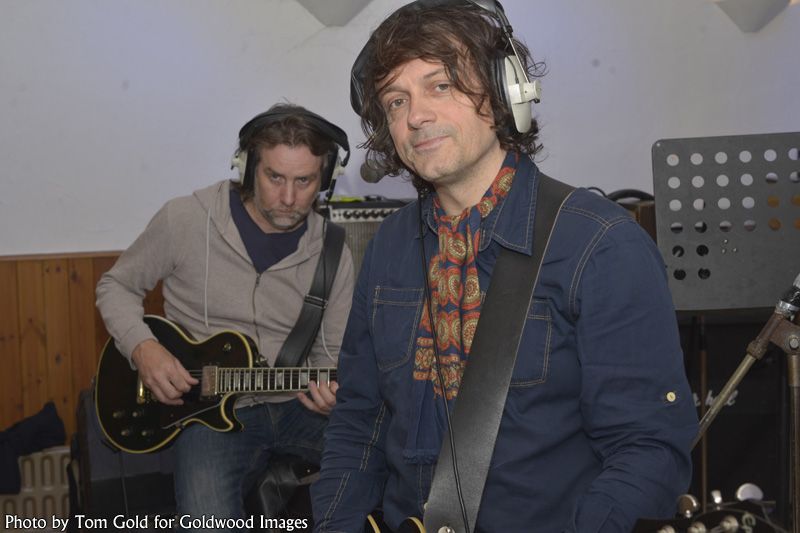 One title that appears to have her approval is Chasing Heroes ("very you guys"), which is also the name of a song, a mid-tempo rocker, that the band are recording for the album.
"That one's written about and for Ray," says Slyder. "It's probably the first song that we've worked on that's been more of a 50/50 sort of thing. Some of the lyrics are obviously about Marc and Ray, and there are ideas about him that I wanted in there as well."
Ray Ranjid - or Mike Jeynes, to use his formal title - was the band's manager and tour wrangler. He was effectively the fifth Dreamer - the man who got the show on the road and made sure it bloomin' well stayed there.
"There was no one more dedicated than him," says Marc, who was also Ray's cousin. "There was nothing more important to him than the band. When we split up, he probably found that harder than we did, to be honest."
"The thing that I always think about Ray is his enthusiasm," says Slyder. "He'd ring you up of an evening with some news to tell you, and he'd tell you in 20 different ways about what was happening. He wouldn't stop telling you about it, over and over again. It might be about a tour or a gig or something like that. We had a lot of fun."
"There was nothing more important to Ray than the band."
- Marc Valentine
"I think one of the best calls," says Marc, "was when he phoned everyone and said: 'Right lads, have you got your passports? I need to take them to the Chinese Embassy - we're going to Taiwan to do an exchange visit with the Chinese State Circus.'"
He laughs.
"It fell through at the last minute. We were going to be the first rock 'n' roll band in Taiwan, or something. It never happened but it was just a great phone call."
"That's what makes it kind of strange," says Slyder. "We all know how depression works, but you look at those bits and you sort of… It's upsetting to think of the good times and that the balance couldn't be tipped somehow."
Tragically, Ray took his own life in 2003, aged 41.
"It's a difficult age for men, I think. It's like Gary Speed, who was a similar sort of age. He was managing Wales, but none of it means anything, and that's the heartbreaking thing: to think that all the good stuff you have in your life won't cut through the… It's tough to think of that."
"The times I spent with him," says Marc, "and there was nothing I could do to convince him that… Obviously some things you can't revisit or you can't bring back, and that's why it hurts a lot of the time. For anybody."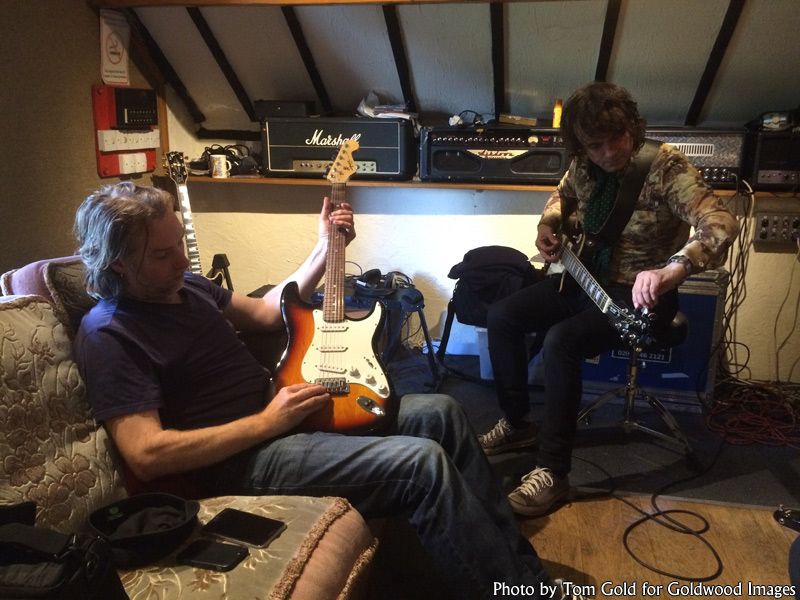 The band's recent single, Glitterball Apocalypse - which asked in a delightfully catchy fashion: "D'you ever get the feeling it's the end?" - was inspired by what Marc calls "the story of rock 'n' roll", though he says that there's a personal element to the idea, too. "I think it's partly our journey: where we've been, and the people that we've lost along the way."
Chris Smith, the band's soundman, is another one of those people, having died of cancer aged 41.
"A terrible shame," says Marc. "He was such a funny guy. A brilliant guy as well."
"Yeah, a very individual character," says Slyder. "And I think with us, it's people like that who fit in: people that understand our kind of humour and the way we are - the crap we talk and all that. Not all people can get it. You know what it's like - we're all close and have fun and mess about. And he fitted into all that."
"That's the heartbreaking thing: to think that all the good stuff you have in your life won't cut through."
- Slyder
The youngest loss to the Dreamers' family was roadie Paul Lawrence, who the band knew as Porky.
"He was around all the time," says Marc. "He was just such an important part of what we were then as well, as a fan and as a friend."
"He was a lovely guy," says Slyder. "He was very good-looking: blonde hair, make-up and glamour - one of these really beautiful-looking beings. He used to wear the old fake fur coat and all that: leopard skin and everything. He was good fun, but he had depression and he took his own life. He was about 24, I think."
With the band's PledgeMusic campaign having reached its target, they're donating 10 percent of any new pledges to Mind, the mental-health charity. As Marc notes: "It seemed relevant. People have been generous enough to give to us, and help us achieve what we need to do. It's nice if we can do something else with it as well."
How did the band find the whole Pledge process?
"Well, we had a great start," says Slyder. "As soon as it went live, we had pledges coming in. It was fantastic.
"We worked closely with the people there to get advice on how to manage it, and they advised us and predicted how things would go. There's generally a lull between 25 and 75 percent - there's a kind of slow period. But they said when you get over that 75 percent people see it's going in the right direction and then they'll come in. And in the last few days, people will think, oh god, I'd better get that done. We went over 100 percent before it finished, and that was great. We had a few come in late, and some big ones as well, which really pushed it that last weekend."
Marc says that he was overwhelmed by the fans' support and wants to thank everyone who got involved. "I hope we repay them with an album they'll love as much as our previous ones."
Among the items on offer in the Pledge, alongside the expected downloads, CDs and vinyl LPs, was Slyder's Fender acoustic guitar, which he's owned since the early 1990s and has used to write many of the Dreamers' songs. This afternoon he handed the instrument over to its new owner, Val, who I was starting to suspect might quite like the band.
Also on the Pledge menu were Last Great Dreamers gigs in one's own home - a treat (nay, must) for anyone whose neighbours are fans, too.
"We're doing one for a guy in Oxford," says Slyder. "They were massive Silver Hearts fans, and every time we see them they always go on about Silver Hearts. Like I said to them, all those songs on Retrosexual are Silver Hearts under a different name, but I thought it'd be nice to maybe play Silver Heart. That's easy to do acoustically. We've played it together - messed about with it."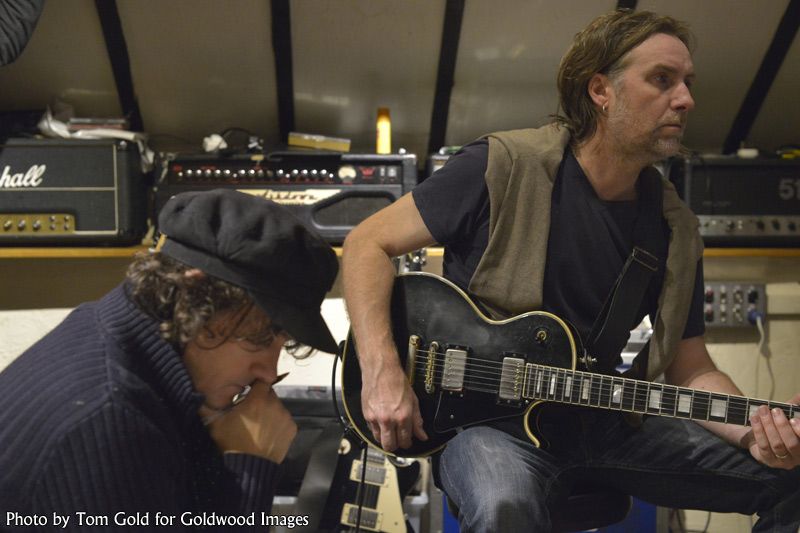 Have you thought about re-recording any Silver Hearts songs? Sunset Over Suzi would be a popular choice.
"Well, funnily enough, Marc and I did do that - record it as a home recording sort of thing with programmed drums. And it sounded pretty good, but it never got finished. It's one of these things I thought it'd be good to do and other stuff kind of took over, and it got left behind."
"I can't imagine doing any Silver Hearts stuff again," says Marc. "I wouldn't say it would never happen. It'd be kind of cool to do if there was enough demand to do a one-off Silver Hearts gig, but it'd be a bit weird. I wouldn't see the point."
When you sat down to put this new album together, did you consider recording any of the lost Dreamers songs, the ones performed live in that post-Retrosexual period that you didn't capture on tape back then - the ones that got away?
"Yes," says Marc, "there was a temptation there, but we couldn't remember them."
He laughs.
"We couldn't find any rehearsal tapes of about half a dozen songs or more that we'd played and written, years ago. There's no evidence of them, apart from vague memories of chord structures - no lyrics, nothing."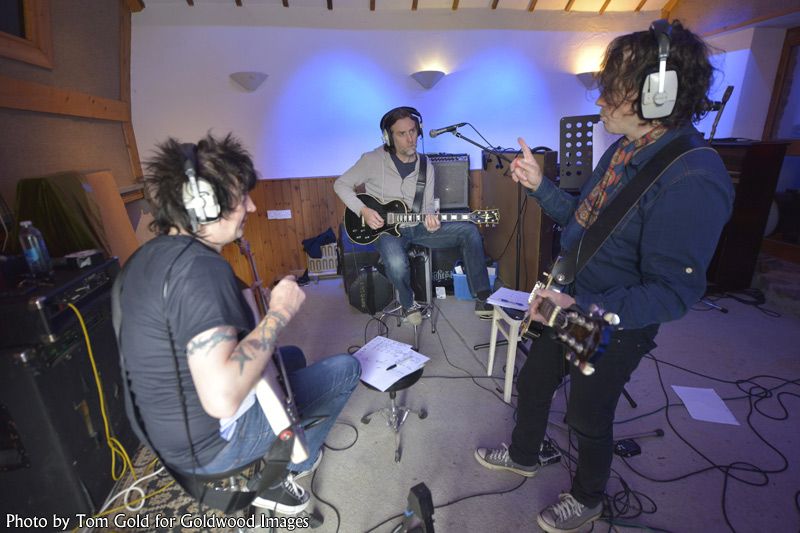 "The only one I can remember," says Slyder, "was one that came from me, Two Minute Souvenir. I've got some notes and chords written down. We did play it together, but I didn't think it was something I wanted to pursue. And even then we couldn't remember all of it."
The guitarist also admits to partial memories of Glass Mountains, and he sings me a snippet of its chorus. He says that ex-bassist Ian Scruffykid - Steve's forerunner and the man responsible for the band's reformation in 2014 - remembered parts of another song from this era, Wake Up Taste, and that "there might have been a thing about Monday morning, or something like that, in the chorus". The song apparently had "a kind of very close harmony, like a sort of Honeycrack, Wildhearts vibe".
One intriguing title from near the end of the band's original lifespan is Monkee Suit.
"That was the very last song we wrote," says Slyder. "I think we played that live once only, at our final gig. No idea what it sounds like. It didn't have a title, and we called it Monkee Suit, so there's no title."
"We don't have any memories of it at all," says Marc. "It could be the best song we ever wrote. I'd love to hear these songs. It's a shame, isn't it? They're lost, completely lost. I don't have notes on them. And I don't get rid of cassette tapes - I've got all my old cassettes."
"Yes, there was a temptation there to record old songs, but we couldn't remember them."
- Marc Valentine
I throw another title into the ring, just in case: Stay Your Way.
"That I can remember!" says Marc. "Roughly. It's a bit like Gold Painted Butterfly."
And with that, he picks up an acoustic guitar and plays me the chorus. His verdict? "That was a bit cheesy but it was all right."
"There were harmonies on it," says Slyder. "All those songs, I remember them being good. I remember liking Wake Up Taste. I know that Monkee Suit was really good."
I can't remember these songs either; all the titles I know are from old setlists. But I remember thinking at the time that it was a great era for the band - even, dare I say, their artistic peak to that point.
"Yeah, I think we knew that," says Slyder, "and that was probably more frustrating: that we knew it yet we felt we'd missed the bus, almost."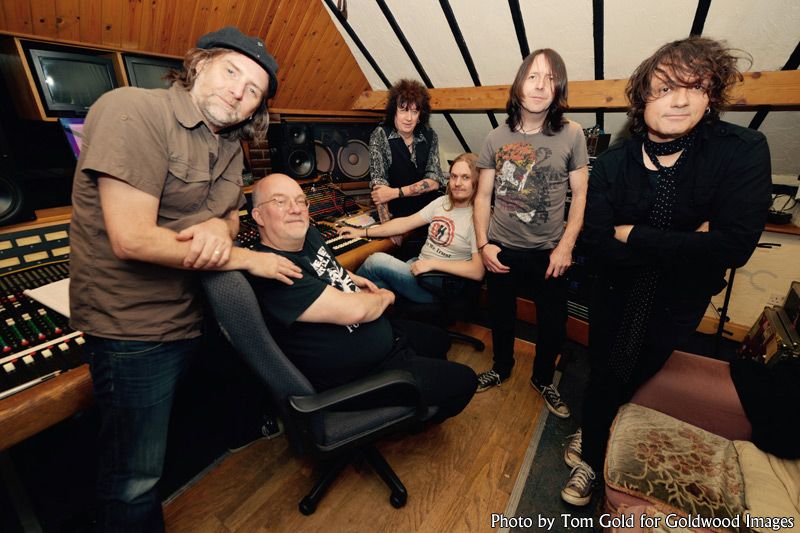 It's a subject addressed by one of the tracks I hear the band working on today, Misunderstood - a song that Slyder says started out as '80s pop, though he doesn't know what it is now, besides "something different".
"There's a lyric that's about forgetting why you did it, forgetting why you were doing this, about how your mind becomes based on chasing the success, rather than enjoying the music and enjoying the act of doing what you're doing. That's how it was before: it was about getting signed, getting this, getting that, whatever.
"The song is about playing in a band, loving music and wanting to be a musician, and then it all disappears because you get so fucked up with the business. I was telling Den today about stuff that you'd do, and how you'd try anything to get noticed. And that's what fucked it all up. We should have just been enjoying ourselves, and writing brilliant music."
"I think it's probably different now," adds Marc, "because the industry has changed, and you can create your own little bubble of success, in a way. Whereas before, you went to a record company; they'd say you were shit and they weren't interested. You went to an agent; they didn't like you. You couldn't get people to answer phones. You didn't have anything else - there wasn't any other kind of a medium apart from sending your demos out to people or doing gigs."
In 1996, after freeing themselves from their Bleeding Hearts contract as it was going nowhere fast, the Dreamers were all set to sign a fresh deal with indie label X Records. However, the deal fell through at the last minute, and the band's disappointment marked the beginning of the end.
"Recently," says Slyder, "Marc found the offer, with the breakdown of money and what was being spent on us, and it was quite phenomenal: the budget that was going into things like recording a video, and billboard advertising and all this huge stuff that would have had us everywhere. That was there, and then two weeks later it was all gone. I remember it fairly well. That's that; that was then. So now the important thing is to enjoy the doing. You've got to be in the moment."
When I arrived at the studio this afternoon, Slyder was recording 12-string electric guitar for a track called Werewolves.
"That's about growing up in a small town and being different," explains Marc. "And being aware of that - basically, y'know, going out and getting your head kicked in by a load of meatheads who don't understand who you are. Really who you are."
It's a song that Slyder says he's enjoyed recording. "I loved singing that. That sort of thing can relate to anyone: me, you, whoever. When you're into music and an alternative look or image when you're a kid, that's the sort of shit you go through."
"Marc found the offer, with the breakdown of money and what was being spent on us, and it was quite phenomenal."
- Slyder
The closest thing that the album has to a title track is Oblivion Kids, which unfortunately I don't get to hear today. And I say 'unfortunately' because, by all accounts - and I've heard a few - it's a real stand-out.
"That's going to be a bit of a stormer," says Marc. "It reminds me of a punked-up Born To Run - sort of Born To Run meets Cheap Trick. That's how I hear it. But Tony was saying it was like UK Subs. That's a crowd-pleaser, that one. It's got a classic Slyder riff. It's got a catchy chorus and a good melodic verse."
"We messed around with harmonies and arrangement," says Slyder, "because I'm hearing some other things in there as well. But again, how it ends up you don't know. We've had… I mean, things like Kids In America have come into our heads; things like Bon Jovi's You Give Love A Bad Name - just the sort of vocal bits, the intro. But it's a kind of new-wave pop song really, isn't it?"
"Yeah," agrees Marc, "a pop rocker. So I think you'll like what we've done. It's the song that Tom likes the best, that he thinks is the crowd-pleaser."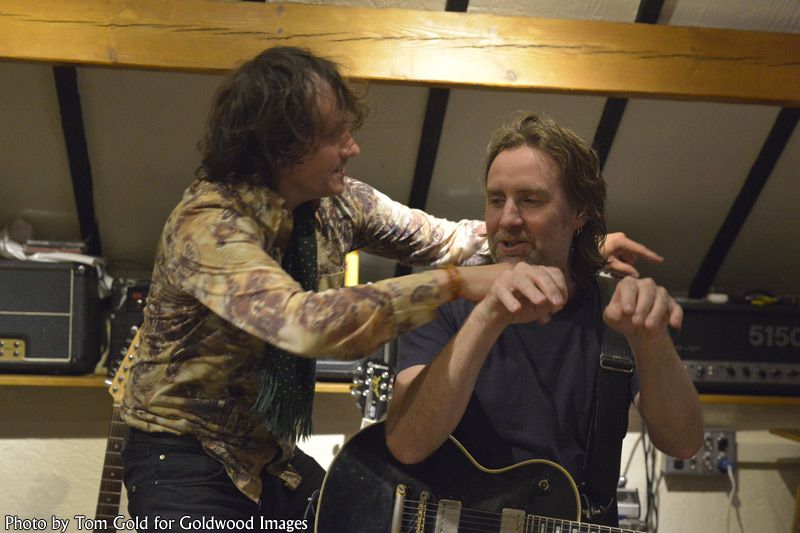 Another song I hear being worked on today is Elegy For Us (Running Through The Night). It's an interesting title.
"We worked on that together up at the rehearsal studio," says Slyder. "Tom was there doing some work, and he came and stayed the night with us, and I think Marc was playing it for the first time, and I was picking out some harmonies. I got this really close harmony - a bit like The Kinks. Tom got really excited at that. He loved the vocals and the harmonies."
"It sounds a little different now from how it did then," says Marc, namechecking Lou Reed and Teenage Fanclub. He laughs.
"We hear different things."
"It's quite emotional, as well," says Slyder, "with the meaning of it."
Marc explains how the song is about him and Slyder, "about how we're heading somewhere. We don't quite know where it is, but we just keep doing it."
"It's a steadfast belief that you're on the right path, and that you don't need to change to suit what other people want."
- Marc Valentine
It's been two years since the Last Great Dreamers bandwagon started rolling again, and with the new album imminent it seems to be pointing in the right direction.
"Somehow the band keeps managing to go from strength to strength," says Marc. "Somehow."
"I think we have the attitude of if we plough on it will come together," says Slyder. "Something will happen, and we'll do whatever it takes to make it work. If you're putting that intention out there I think things will happen. And, y'know, you still get down because you want more, you want to get on a tour, you want this or that. But you've got to put yourself out there to get anywhere. You don't get anywhere doing anything by sitting at home.
"We've both had low points this time round, haven't we? But you keep each other going. What I've learnt over the years, what I probably didn't know 20-odd years ago, is to just have that belief, really."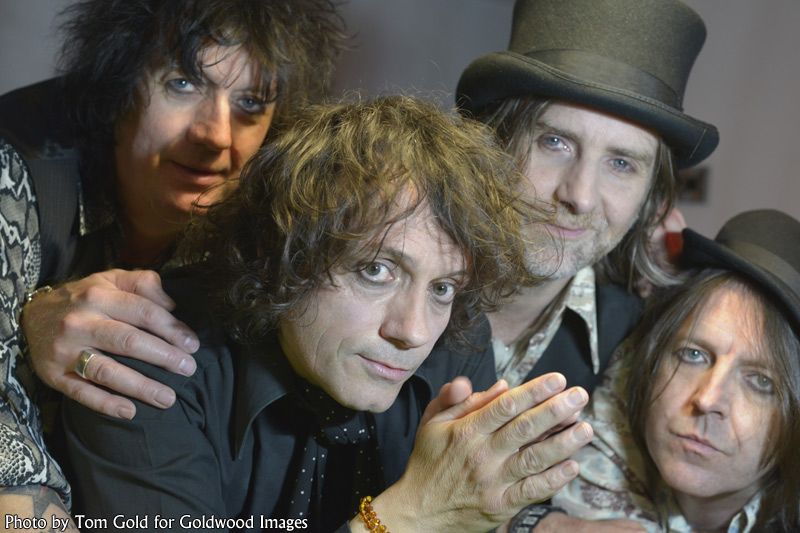 Marc: "It's a steadfast belief that you're on the right path, and that you don't need to change to suit what other people want. The disappointments, they still hurt as much - perhaps even more in some ways, even though you're more experienced and you're perhaps a bit more worldly wise. But I think the good things you cherish more, because with your experience you realise that these things don't just happen, and that you've got to be grateful for things that do happen."
"Believing in that is the thing," says Slyder, "and believing that whatever happens will be the best thing that will happen. Whatever path you're taking, it's going to take you somewhere. And it'll be good."
• Transmissions From Oblivion is set for release through Ray Records on 30 September 2016
• Pre-order the CD, vinyl or download from the band's PledgeMusic page
• All photos in this article were provided by Tom Gold of Goldwood Images. Thanks, Tom!