Floor show: Last Great Dreamers launch their new album at the Asylum 2, Birmingham, 7 April 2018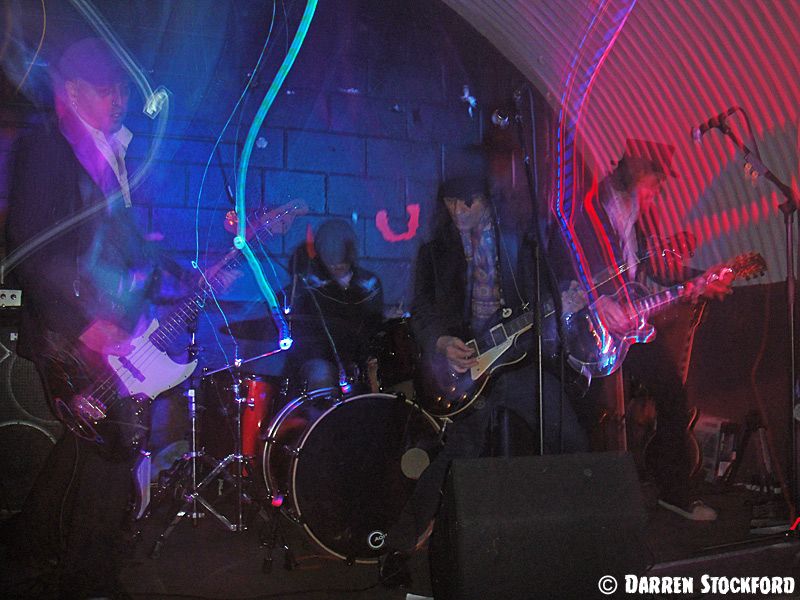 "On the 13th floor, she wanna know more…"
- Ashtray Eyes by Last Great Dreamers
"This is where we do nine new songs, so if you all want to go to the bar…"
It's Saturday night at the Asylum 2, a cosy first-floor venue just outside Birmingham's shopping district, and Slyder, Last Great Dreamers' lead guitarist and vocal co-pilot, is warming up the crowd.
The event is a launch party for the band's new album, 13th Floor Renegades, whose official release is still six days away. However, as tonight's audience are here with the intention of sampling some fresh tunes, there's a good chance the barman might actually get to put his feet up for the next half an hour.
To get the party started the band fire up Primitive Man, a high-energy glam stomp whose riff sounds like the perfect tribute to both Rick Parfitt and Malcolm Young. With its thundering drums, driving rhythm and fiery guitar solo, it's the kind of song that not only knocks your teeth out, it also delights in kicking you up the arse when you bend over to pick them up.
After its explosive ending, frontman Marc Valentine asks the crowd: "What do you reckon?"
There's a huge cheer.
"Well, that was a cover," he lies, to nervous laughter.
Primitive Man is the kind of song that not only knocks your teeth out, it also delights in kicking you up the arse when you bend over to pick them up.
13th Floor Renegades is the Dreamers' fourth album and their second collection of new material since reforming in 2014. With just 18 months between its release and that of 2016's Transmissions From Oblivion - a relatively short stretch in today's music industry - it seems that the band are keen to whip up some creative momentum and prove, once and for all, that they're a 21st-century concern.
The record's opening track, New Situation, speaks of change as a motivating force, and with a handful of songs venturing down avenues previously unexplored in terms of their songwriting and arranging, the air feels fresh once again.
Sure, everything that first attracted me to the band is still in residence: the strong melodies and hooks, the vocal interplay, the sleek lead guitar lines and the unabashed solos. But there's now a sense that the band are really starting to stretch their legs, for nestled among the power-pop window-rattlers are some rootsier songs, with instrumentation to match. And in the album's closing moments there's even a hint of prog rock - a touch of Pink Floyd that brings things to an emotional finish.
But we're getting ahead of ourselves.
Tonight the Dreamers have set up shop in Brum to give fans a memorable introduction to 13th Floor Renegades in the form of an exclusive live set, filled with songs fresh out of the shrink-wrap - though the keen-eared might have also heard the album playing over the venue's PA, at an unusually sensible volume, when they arrived.
And it's now that I must confess to having had a review copy for the last fortnight, so I'm cheating really. But even if I wasn't, present-tense prose is all artifice, darling. Don't tell anyone, but right now I'm really sitting at home in my pants.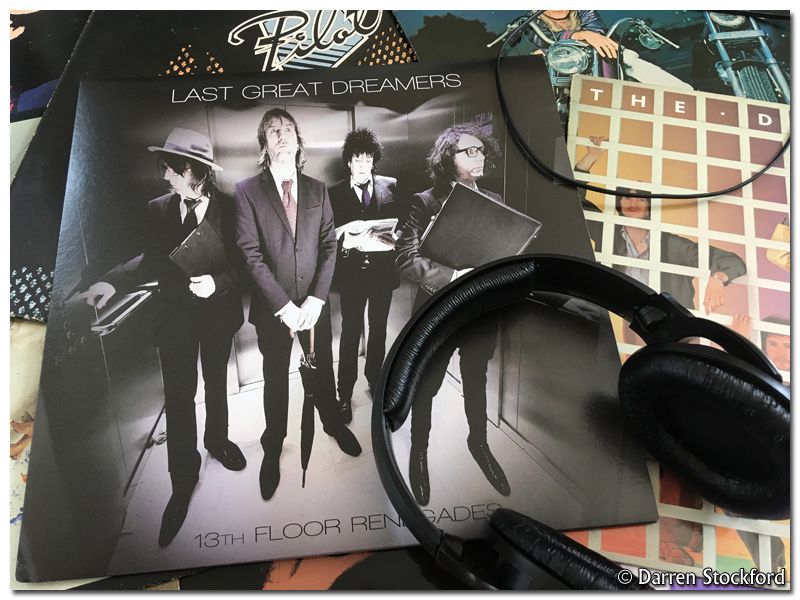 With the band warmed up, Marc introduces the record's title track, which weaves some joyful lead guitar around a breezy, Blur-like verse and a chorus that radiates us-against-the-world optimism: "We were the renegades of Monday morning; even killers have their ghosts. From the 13th floor we could leave tomorrow; we can make it on our own."
As with many of the band's best songs - as indeed with many of popular music's best songs - it doesn't tell you exactly what's on its mind yet you know that feeling, and its recognition is intoxicating.
The middle eight has a hint of arena-rock parody - or is it homage? - with its good-time guitar lick and talk of surviving but ultimately dying for rock 'n' roll. "We've only got this time; do you wanna get high tonight?" sings Marc, adding a "yeah!" for good measure, and my brain fills in the cheers of 12,000 sweaty bodies agreeing with him.
A few days ago, the band released a folk-horror-style video for No Sunshine, one of the album's fastest tracks and the closest it gets to the sound of modern pop-punk.
"As with many of the band's best songs, the title track doesn't tell you exactly what's on its mind yet you know that feeling.
Though the Dreamers' music is guaranteed to give you a lift - my cue for a pun about 13th floor elevators - their lyrics sometimes seem troubled. No Sunshine talks of grey skies and chilled veins, caused by something unexplainable, and has a chorus that pleads: "Now it's gone I really need it." Consequently, it's hard to read it as anything but a howl of rage directed at depression.
Tonight the song benefits from its single status, relaxing the crowd, though the tension seems to be rising on stage.
"Right, this is where it all gets a bit shaky," says Slyder, before numerous voices shout for Green Door.
Marc owns up to a lack of rehearsal in the wake of the album's completion - and, as if to push the point, he introduces the wrong song.
"Just pull his lead out, Steve," says Slyder, glancing at bassist Steve Fielding.
Despite the banter and Marc's looming appointment with Specsavers, there's no evidence that the band actually are winging it. The energy is high and there's a precision to the arrangements, making me wonder whether they're pulling the classic school-exam wheeze of telling everyone they haven't revised, when in fact they've spent every waking moment swotting.
Genuinely, this is an impressive performance that belies the fact that the vast majority of these songs have never been played in front of an audience. With Steve coolly stalking the stage, and drummer Denley Slade twirling his sticks, mouthing the lyrics as he goes, the rhythm section in particular seems as chilled as the proverbial penguin's posterior.
If there are any nerves in the house, they're clearly relaxing at the bar.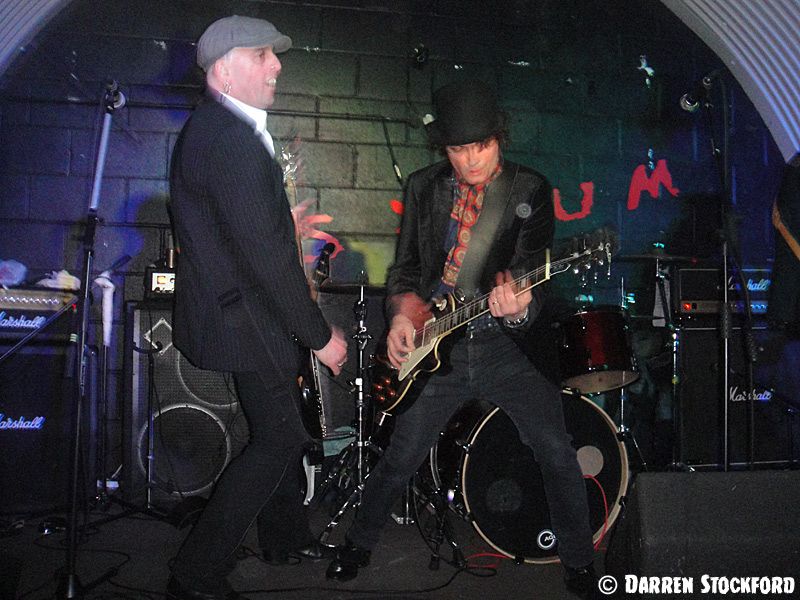 Last December I visited the band in the studio and ended up hearing Marc sing the same few lines of Whose Side Are You On? more times than is perhaps good for a man. However, after a restful night's sleep and three months of counselling, I was right as rain, and I'm a big fan of the finished track's smooth vocal harmonies and, yes, catchy chorus.
This evening Slyder describes the song as a "future hit in America" before Marc punctures his dreams: "If only we could afford the boat over there."
Watching the band play support gigs last year, I got the sense that they were trying to rein in their chatter and let the music do the talking. Tonight it's good to see them off the leash, not having to worry about a time slot or whether another band's audience will appreciate their sense of humour. For me, the band's self-effacing asides and quick wit have always been a part of their charm, and it's great to see this side of them flourishing on stage once again.
Miles Away, one of the record's two country-infused tracks, sees Slyder singing lead and making swift work of the sunny guitar line - the calm before the storm of New Situation, a whiplash tune that brings some Who-like rock 'n' roll to the stage.
"It's not bad this album, is it?" says a heckler, before Slyder reveals how chuffed he is that no one appears to have gone to the toilet yet.
"It's not bad this album, is it?" says a heckler, before Slyder reveals how chuffed he is that no one appears to have gone to the toilet yet.
"Steve reminds us that he's been twice since we've been on stage," says Marc, before Slyder warns: "Never leave an empty pint pot near him."
Speaking of toilets, when I ventured downstairs before the show to look for the loo, Den called out to point out the correct door. Just as I was stepping inside, he followed it up with: "Mind the step." His timing was impeccable - a fraction of a second later and I'd have tripped - and I couldn't help but think, 'yep, he's definitely a drummer'. Also, the soap dispenser in the gents' is a Jack Daniel's bottle, and speaking as a germophobe mine's a double - cheers!
We're into the home straight now - I've seen the setlist: perks of the front row - and here comes a sparky pop tune, straight out of 1979, called I Think I Like It.
An ode to the pleasure and pain of advancing technology, it's the kind of song that a time machine and the address of John Peel's record dealer would turn into a long-cherished, new-wave classic. Clocking in at a shade under three minutes, it's also a prime example of concise being nice - an idea that the band really seem to have embraced on 13th Floor Renegades, though as the next song proves, short doesn't always mean sweet, in the traditional sense anyway.
Broken Things begins with some cosmic references that bring to mind The Way We Collide from the band's last album: "When the universe was made, and the stardust hit your face…" However, things soon crash to earth lyrically, and the Summer-of-Love-style intro gives way to a feisty slice of punk-pop with a melancholic bent and a touch of The Wildhearts in its middle eight.
Rarely have helplessness and regret sounded so good.
"Okay, that's enough new stuff for now," says Slyder. "Any requests?"
Requests? Hang on a moment, there, sir. What's happened to the final song on the setlist?
Going Home, it seems, has gone home without even saying hello to anybody.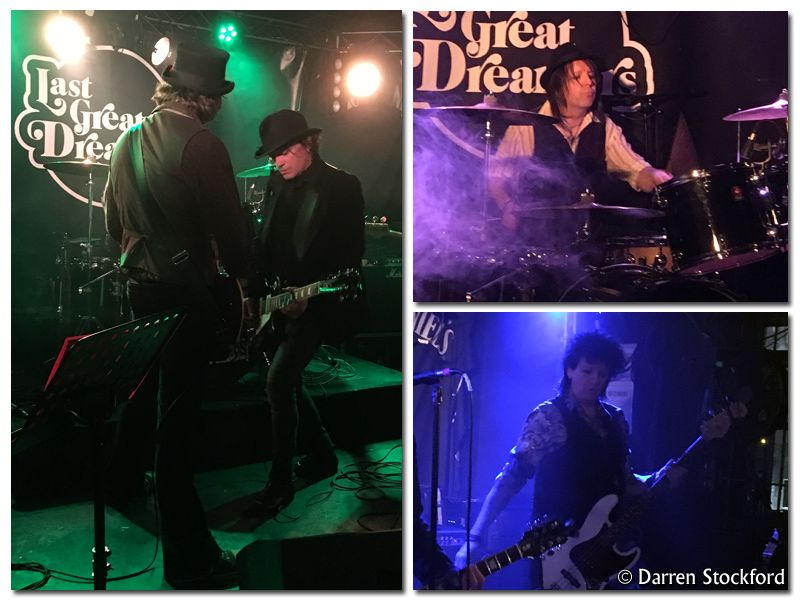 There's a shout for Roll Of The Dice, a song from the days when the earth's crust was still cooling, and Slyder rattles off a deliberately wobbly opening before abandoning it. "Right, that's that one," he says. "Any others? If they're all this short, we can do at least another three or four."
I'm disappointed by Going Home's absence, as it's a personal favourite. However, to salve my broken heart the band turn over their setlists to reveal another 12 titles.
"Do you want to hear some old hits?" asks Marc. "Is anybody leaving yet? Can you put the bolt on, please?"
With Oblivion Kids leading the charge, the Dreamers begin a whole new set, firing off tracks from their first three albums and teasing both each other and the audience, who are displaying some fine comic timing of their own.
Introducing Glitterball Apocalypse, Marc asks: "Any of you guys got Transmissions From Oblivion?"
As the cheers die down, a voice from the back of the room shouts: "You're not having it back."
After an hour, the 'oldies' set draws to a close and I head to the bar, only to realise that the band are returning for an encore. I resume my place by the barrier just in time to see Marc dishing out chocolate.
"I've stolen my kids' Easter eggs," he says. "They don't know I've got them."
He throws one my way and it lands right in my freshly poured pint. There's a bigger treat to come, though.
"I've stolen my kids' Easter eggs," says Marc. "They don't know I've got them."
With the new album boasting the band's best recorded vocals to date, there was perhaps the danger that some songs' live counterparts might sound like lesser versions. So far I've heard no such problems, but the real test is about to begin, because Going Home is suddenly back on the menu.
The intense, two-minute vocal coda that closes both this song and the album has no antecedent in the Dreamers' catalogue. It stands proud and alone as… well, something that I never even considered that they might perform live, if I'm honest - hence my delight at spying it on the setlist, and my momentary deflation when it seemed to have done a runner.
In the end the song works beautifully, with its vocals soaring and the emotional weight of the piece buckling my knees.
Only in its closing moments do things waver - there's some hesitancy: what looks like a sudden lack of confidence - and for a few seconds it sounds like the boys are wondering how to finish the thing. But by this point it doesn't matter. They've proved that they can reproduce some of their more progressive material on stage, and only idiots like me picking holes in it is likely to put them off.
I really hope it doesn't.
Earlier tonight Marc thanked the audience for helping fund 13th Floor Renegades, saying: "I think it's probably our best album, and I hope you guys think the same. But if it's shit you can still tell us."
That's not so much an invitation as a challenge, and I'm not sure it can be pulled off. It's tempting to call the record a floored masterpiece, but that would just be for the pun of it, because quite honestly I find it hard to level a single criticism at it.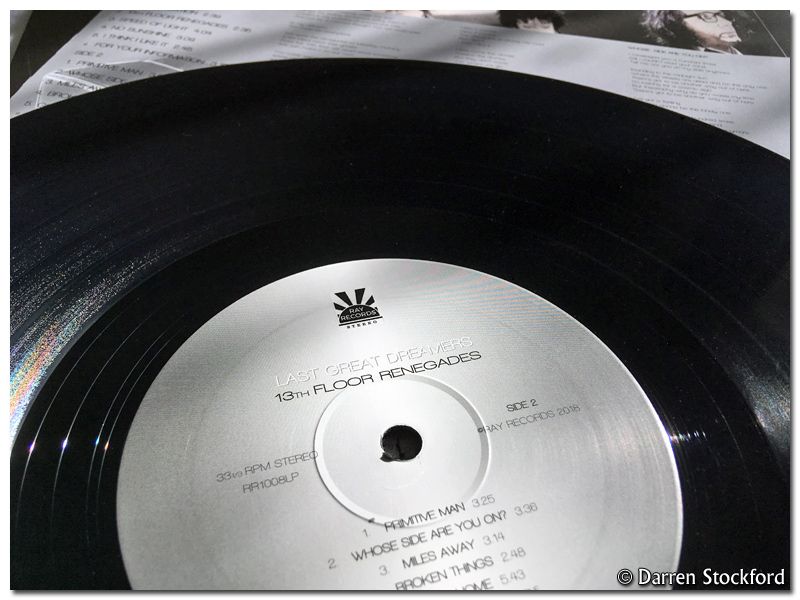 With Pete Brown's punchy production pushing the band's sound to new heights, and a dynamic mastering that suggests they're respectful of both their heritage and the listener, it's a record that deserves to be noticed beyond Last Great Dreamers' established fan base. In real money, it's the kind of thing that radio ought to lap up - and I don't just mean specialist shows - because it's a collection of songs that sound very much like hits.
However, it's also an ambitious album with a cinematic sweep to it, due to its eclecticism, widescreen sound - particularly in the vocal department - and sequencing. The shift in style and mood from one song to another reminds me of the way a good screenplay weaves its magic on a viewer. If you're not feeling it by track three, the crunchy-yet-psychedelic Speed Of Light, with its We Will Rock You drums and layered vocals, then maybe this isn't the record for you.
But, c'mon, you are, aren't you?
It's tempting to call the record a floored masterpiece, but that would just be for the pun of it, because I honestly find it hard to level a single criticism at it.
Listening to the record in headphones while I took notes for this review, with the lyric sheet from the LP in front of me, and Marc and Slyder's voices right there in my ears, I found myself getting choked up at points.
"Sitting here at the station; got nothing in mind; got no destination at all."
With its mandolin trills and lazy, Sunday-afternoon vibe, the arrangement of For Your Information perfectly captured the feeling of inertia from its lyric, and the track really started to get to me. Then later, as the end of the album approached, with Miles Away chronicling a sort of social disconnect, and Broken Things reminding me that I can't fix the past, I just kind of… went, if you know what I mean. And it felt cathartic.
By the time Going Home was on its final furlong, I was an 11-year-old boy kneeling on the floor of his bedroom, with his dad's chunky brown headphones clamped to his head, listening to The Game by Queen. Home and safe.
Music, good music, opens itself up to you, and - as with conversation, good conversation - if you see yourself in what it's saying, you'll open up in return.
Last December, as I sat in Henwood Studios' living quarters interviewing Marc and Slyder, I told them - not for the first time - how the Dreamers had given me my mojo back. Inspired by them picking up their instruments in the spring of 2014, I'd started writing about music again, five years after thinking that I had nothing more to say.
However, it's not the mechanics of music that I enjoy writing about. It's the effect it has on people: the human experience - how art holds a mirror to our lives and reflects little pools of sunlight into dark places. Music asks: "Remember this feeling?" And you do; you really do. Songs give us connection, hope and ambition: reminders of who we are when we're dreaming, though conversely they're a tool to stop us sleeping through our lives.
To these ears, 13th Floor Renegades sounds like the perfect wake-up call.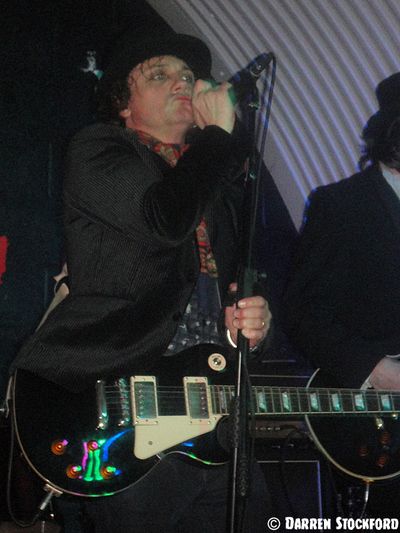 Back at the gig, there's just time for one more, and Lady (Don't Need You) takes the honour. This song always teleports me back to the mid '90s and plonks me down in front of the Marquee stage, where my wife and I used to stand in front of Slyder, singing his "na-na-na-na" backing vocals at top volume.
At the end of a night like this, where the band have been on stage for 105 minutes, playing songs old and new to some of their biggest fans, closest friends and even a couple of their deputy bassists - hello to Dave Halley and Jon Cooper - Lady is the perfect host, bidding her guests farewell with a friendly kiss on the cheek and the promise that we must do this again.
Yes, we really must.
It's been a cracking evening, and with 13th Floor Renegades out next Friday and a headlining UK tour about to begin, it's likely to be the first of many for many.
Tonight, though, we've all got to vacate the venue as an alarm is screaming - clear and objective proof that, right now, Last Great Dreamers are on fire.
• Visit Last Great Dreamers' website, and hook up with the band on Facebook and Twitter
• Go behind the scenes of 13th Floor Renegades with my picture-packed studio report