Signal to noise: A review of Transmissions From Oblivion by Last Great Dreamers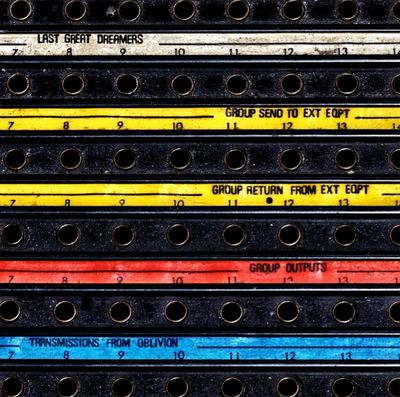 It's been a busy couple of years for Last Great Dreamers. From a nostalgic comeback in 2014 - a reunion after nearly two decades of retirement - they steadily rebuilt their empire with singles, videos, tours and festival appearances, before announcing that they were recording an album, to be funded via their fans through PledgeMusic: a confident move, which appears to have paid off.
The finished record is called Transmissions From Oblivion. It's a title that put in an early bid and fought long and hard to win its crown. But listening to the album, I'm struck by a fitting alternative, and that's simply Last Great Dreamers.
If any of the band's three long-players deserve an eponymous billing, it's this one. At times, I've wondered whether there's a case to be made for it being a concept album of sorts - about growing up, music, the business and the connection between these things. Not all the tracks fit, but there's a strong sense that this is quite a personal record for its songwriters - a cleansing, in some ways.
The idea that these songs are transmissions from oblivion, that the band are breaking through the dead air of their wilderness years, feels poetic and apt, and the record is littered with tie-ins - some obvious, others not so - which add to its depth. (The basis for the sleeve art, by the way, is a close-up section of the vintage Trident mixing desk at Foel Studio in mid Wales, where 10 of the LP's 14 tracks were recorded.)
Fittingly, given the sci-fi leanings of its title, the album begins with a throbbing synthesizer line straight out of a John Carpenter movie. But just six seconds later a guitar crashes in, closely followed by a brief trailer for the first of the record's many infectious choruses and some joyous lead guitar - an instantly recognisable sound and the dynamo powering Last Great Dreamers' beating heart.
As a scene-setter for a new era, Oblivion Kids is perfect, fusing new elements with old ("woah-oh-oh-oh!") to create what sounds like an anthem to self-belief and rebirth. After a reflective verse, frontman Marc Valentine and lead guitarist Slyder trade vocals on the song's bridge ("Something's happening / Don't know what it is"), and the pay-off hits: "Every time I die I know I wanna live. I wanna be with the oblivion kids!"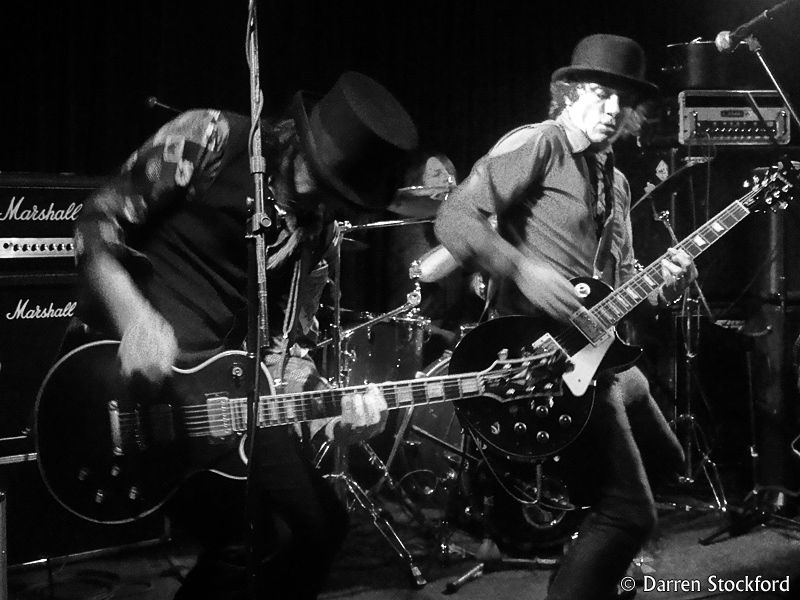 The theme of salvation is mirrored in the album's closing track, Turn It Up. "45 kept me alive," sings Marc, his voice submerged in a sea of tribal rhythm and untamed guitar. "Decibels saved me from hell." It's a song unlike anything the band have previously attempted, yet it still sounds unerringly like Last Great Dreamers.
They might be in uncharted territory at certain times on this album, but they're not undercover. Even when they go back to the '60s, as they do for Tommy Tears, the album's Phil Spector homage - all reverb-drenched percussion and rapidly strummed acoustic guitar - the sound is anchored by Slyder's lead playing and, of course, those voices. The cross-pollination works beautifully, and the wistful, retro ache of the song's style turns out to be the perfect vehicle for a lyric about the high emotion of touring and friendships born on the road.
On a more boisterous note is You Don't Work, a two-and-a-half minute punk anthem with a Slyder lead vocal (one of three on the album) that, in its own way, is another departure for the band. Sure, there are seeds of the song's style in last year's rollicking single Dope School, but the venom flies even more freely here: "You don't work, and what's worse I'm here with you / You don't smoke, but we choke on everything you do."
Of the album's upbeat numbers, this was the one that struck me on first listen as having instant commercial appeal. With its crashing rhythm guitar and a nosedive into its yob-chant chorus, it's infectious to the point of antibiotics, and thus begging to be quarantined as a single.
There's a punk edge to Love To Hate Me, too. "You're a child of Satan / You're the queen of hating." In the verses, Marc's vocal has a carefree, late '70s vibe - there's a hint of Peter Perrett - though the song turns on a sixpence come the chorus, which echoes the glam-stomp style of the band's 1994 debut, Retrosexual. Again, it smells fresh and feels comfortable - a winning combination for any musician, but an especially pleasing one for a band whose last album was recorded 20 years ago.
The Way We Collide, a track that for many months was available exclusively to 'pledgers', is a short but very sweet power-pop track with a chorus that reminds me a lot of the band's early days, when they were known as Silver Hearts. The subject is the randomness of relationships, but the song's lyric is a wonderland of metaphor woven around a cosmic theme, thus it feels very romantic, especially when it travels through the star gate. "Some day soon we will be stardust in the void / You and I will travel far beyond the noise."
There's a fatalistic sweep to the idea that the collisions which send us off in various directions are unavoidable, that "it just happens", but that doesn't feel like a bad thing here. Life, the song seems to say, is a ride, so strap in tight and enjoy it.
Whether by coincidence or design, the track that follows The Way We Collide, the balladic Elegy For Us, also comments on relationships - or rather one relationship in particular: its songwriters'. "Took your picture from the wall / The empty suitcase in the hall / Didn't really know where you had gone." Their disappearance from each other's lives is touchingly rendered, with, at the song's core, a feeling that fate will continue to guide them.
In terms of its arrangement, Elegy is perhaps the most modern-sounding track on the album, its driving feel underpinned by some grungy guitar, and the rhythm section truly shines - as indeed it does throughout the entire record. High in the mix, and with no sign of anything being squashed due to overloud mastering, both bass and drums sound huge, shining a spotlight on the impressive performances of drummer Denley Slade and the band's newest recruit, bassist Steve Fielding.
It's hard to shake the notion that the band are still trying to make amends for the somewhat thin sound of their debut album, and that's absolutely fine if this is the result. Never has the Dreamers' bottom end been more in your face - and I bet you'll love it, you dirty buggers.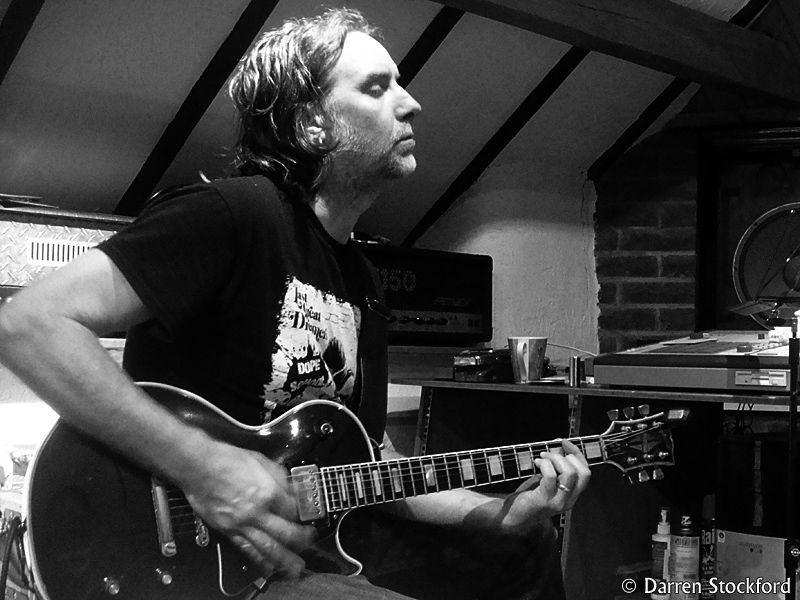 The sense that the band are wanting to make the most of their resurrection is captured in Misunderstood, a cautionary tale about musicians becoming consumed by the music industry, with another lead vocal from Slyder: "Talented boy, you wanted more / Forgot what he first did it for / Enjoy it now; it never lasts."
There's a discordant, Police-like feel for much of the song, though it ends with an explosion of high-pitched singing, crashing percussion and siren-like lead guitar. The album's grower, Misunderstood is the sound of Last Great Dreamers raging against the monster that gobbled them up back in 1997 - a reminder that here be dragons.
Of the tracks on which Slyder sings lead, this just leaves Alone, which I guess you could call a power ballad of sorts - at least that's how it begins. This song dates back to 2000, when the guitarist was indeed alone - in Last Great Dreamers terms, anyway - and the lyrics feature some compelling imagery. "Last night I dreamt you died / Tonight I just can't sleep / They say reverse your dreams, and now I'm counting sheep."
With its classic-rock guitar break, freak-out ending and a part-time riff that brings to mind Since Yesterday by Strawberry Switchblade (remember them?), Alone is an uplifting song about a downbeat subject - something that the band seem to be rather good at.
The band's recent single, Glitterball Apocalypse, treads a similar path. When it comes to lyrical hooks, they don't come much bleaker than: "Do you ever get the feeling it's the end?" Yet, as you well know - I mean, you've heard the thing, right? - no one walks away from this song without a prize. The bittersweet ache of its chorus almost makes you feel guilty for the grin you're wearing while you sing along. Almost.
Six months on from its digital release, Glitterball Apocalypse feels like it's always been part of the band's catalogue. And when it kicks in, seven minutes into the album, it feels like a 'greatest hit' - a very pleasant feeling.
Of course, Dope School, the band's previous single, is here too - opening side two if you're listening on vinyl - along with its B-side, White Light (Black Heart), whose title is now sporting a fetching pair of brackets.
I admit, in the wake of Dope School's frantic, buzzsaw punk, it was reassuring to hear White Light on the flip, as it was closer to the band's patented power-pop style. "They sound so quirky, upbeat and happy," commented a friend back in March. And they did. Marc's smile is audible throughout White Light, but it's at its broadest right at the end. Check out his final line to hear the sound of a man thoroughly enjoying himself.
Dope School flies like the proverbial poop off a scoop, which is probably why it's been closing the band's live sets since its release - though until recently I had no idea what a 'dope school' was. C'mon, be honest, did you?
As Marc explained to me in July, when I visited the band in the studio: "It was just a saying that I liked that reminded me of being rebellious when I was a child. And it was wanting to just get back to that. For me, it's anti-establishment - wanting to get away from the kind of conformity of the way you've been pushed by society."
So there you go - and that's a 'deleted scene' from the published interview, by the way. Thought I'd, y'know, save it for later.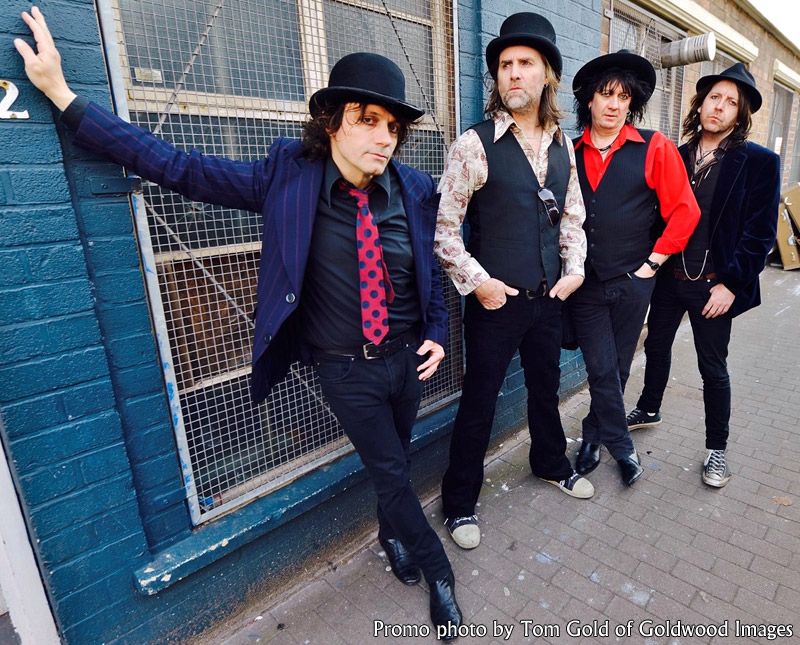 The childhood theme resurfaces a few tracks later with Werewolves, a pacy, hook-laden pop tune with a bold chorus (he says, as if that's any kind of novelty for the band). It's a song that wonders what became of the terrors that bothered you so much as a kid - the bullies and ne'er-do-wells that took objection to you for being different. "Where are the werewolves that chased us into an early grave?"
There seems to be the idea of adulthood taking away the fear, of the full moon being eclipsed, though it's possible to read the song as an ode to anxiety in general. "Running away from my mind…" The song has a hopeful tone but there's a melancholic bent to it too, which ensures that it goes straight to my chest.
When it comes to emotional heft, though, the album's most potent song is undoubtedly Chasing Heroes, Marc and Slyder's tribute to their dear friend and band manager, Ray, who sadly took his own life in the summer of 2003. As a thumping bass gives way to the scrape of a guitar and a classic Dreamers riff, it feels as if the track has been tailor-made to get audiences bouncing. In contrast, the lyrics paint a picture of regret. "Trying to change it all but it never ends / If only for a day, we could just pretend / Wish we could be chasing heroes again."
As an encapsulation of Last Great Dreamers' charms - not only with regard to their sound, but also their vision - Chasing Heroes is pretty hard to beat. As a memorial to Ray, it's breathtaking. And I mean that literally: the musical phrasing and lyrical poignancy of the song's middle-eight and subsequent guitar solo creates a rush of emotion that whips the wind from my lungs.
Halfway through, the song takes a tranquil turn. Birdsong appears, and the guitars start to sound like they're going backwards, as if the band are attempting to rewind to a more innocent time. At the end, as the drums erupt with volcanic vigour and the white-hot guitars liquefy the surrounding landscape, the sense of catharsis is palpable.
In July, Marc told me that the idea with the modern-day Dreamers was "not just going out and playing your hits from 20 years ago, but to make records that are hopefully still relevant to your fans, or perhaps to new people".
Clearly, this is now more than a comeback; it's an attempted stayback. Transmissions From Oblivion sees the band looking to the past to process the present. No longer 'that old glam mob in the funny suits', they've reinvented themselves for the 21st century while retaining everything I ever loved about that old glam mob… except for the funny suits. (I did love the funny suits.)
In short, Last Great Dreamers are back, properly back, from oblivion. And I can't imagine them transmitting on a more resonant frequency.
• Transmissions From Oblivion will be released on 30 September 2016
• Available as a 14-track CD, 12-track vinyl album (limited to 500 copies) and download
• Read my interview with the band about the making of this album
• Visit the band's official site and hook up with them on Facebook and Twitter