Back in purple: Last Great Dreamers live in Camden, north London, 21 September 2014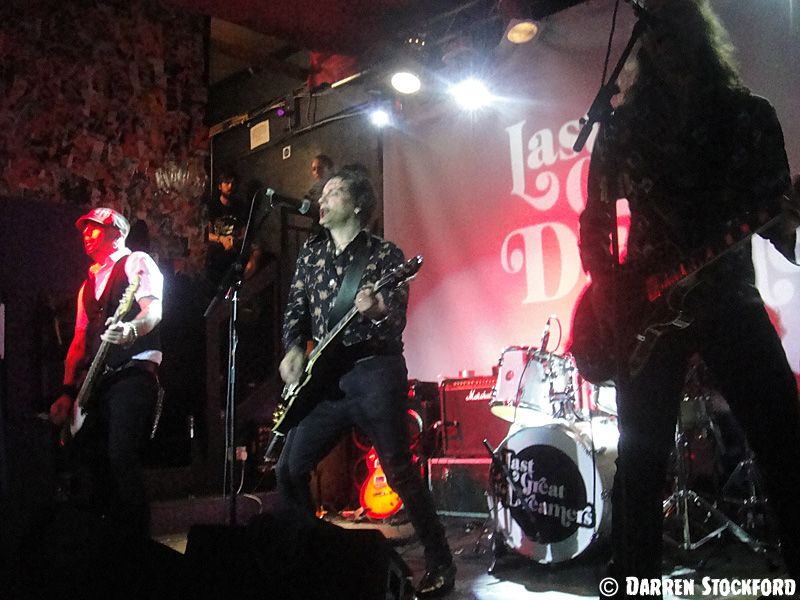 For so many things in life, preparation is key.
It's Sunday night at The Purple Turtle in Camden. Last Great Dreamers are on stage, playing their first gig in 17 years, and Slyder's footwear is disintegrating. On Tuesday, the guitarist was rooting around the back of his wardrobe, pondering whether to wear a pair of stack heels or some thick-soled brothel creepers. He went with the latter, and now his shoes appear to be creeping back to the brothel from which they came. With every step he takes, another small chunk of rubber breaks off the underside, laying what looks like a carpet of coal around his amp and mic stand.
Like every other fan, I want him to 'break a leg' tonight, but falling arse over tit on crumbling footwear isn't what I have in mind. Thankfully he remains upstanding, in both senses of the word.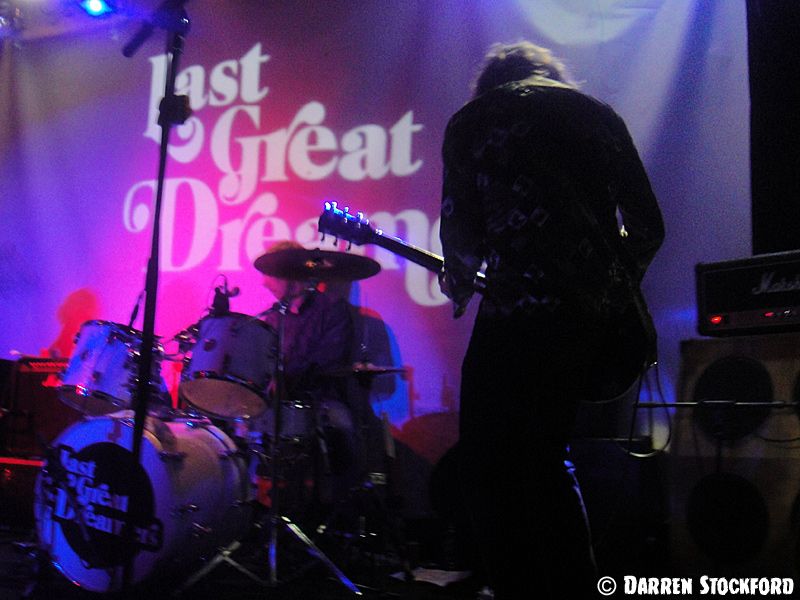 It's astonishing to think that, back in January, Last Great Dreamers were nothing more than a rosy memory. What started with two old friends getting together to reminisce about their youthful rock 'n' roll exploits has, after a nine-month gestation period, birthed a band that's mightily close in energy and spirit to the one that tickled my fancy 21 years ago. They might joke about their middle-aged bones, and I wonder whether tonight's low stage lighting is down to misplaced concerns about being compared with 20-year-old photos. But there's no hint of sluggishness in the performance as Slyder plus frontman Marc, bassist Ian and drummer Ginge take the old songs for a spin. Sure, they drop a gear or two when a song's tempo requires it, but they're still pushing the throttle. Come 10.30pm, there'll be no petrol left in this tank.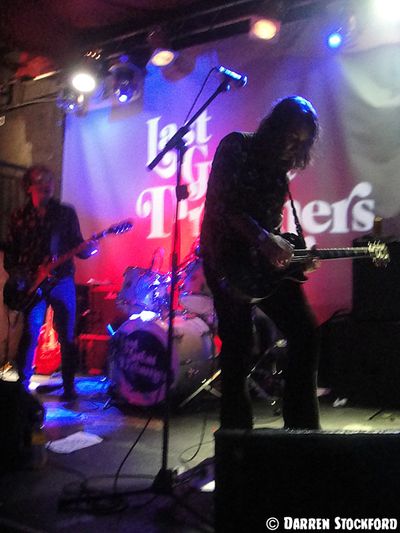 Oh, it's tempting to think that the memory cheats and that there was a whole other level to what they did back in the day. But watching the current incarnation of the Dreamers tear through the likes of Only Crime and Crash Landing In Teenage Heaven, I'm not so sure. 'Blistering' is an overused word in rock reviewing, but in this context it really is the best man for the job.
After the first couple of songs, someone in the crowd seizes a moment of relative calm to shout: "Welcome back!" I'm sure they speak for everyone who's accepted an invitation to this, the band's christening, and there are clearly quite a few fans with a willingness to wet the baby's head on a school night, because the place is respectably full - a pleasant surprise, it seems. 'If you build it, they will come' is an oft-quoted maxim, but of course it's a reference to a damned movie. Luckily, tonight seems to be screenwritten to perfection. Last Great Dreamers fans do the band proud.
"None of you have changed at all," notes Marc from the stage. "It's us that are fat and ugly!"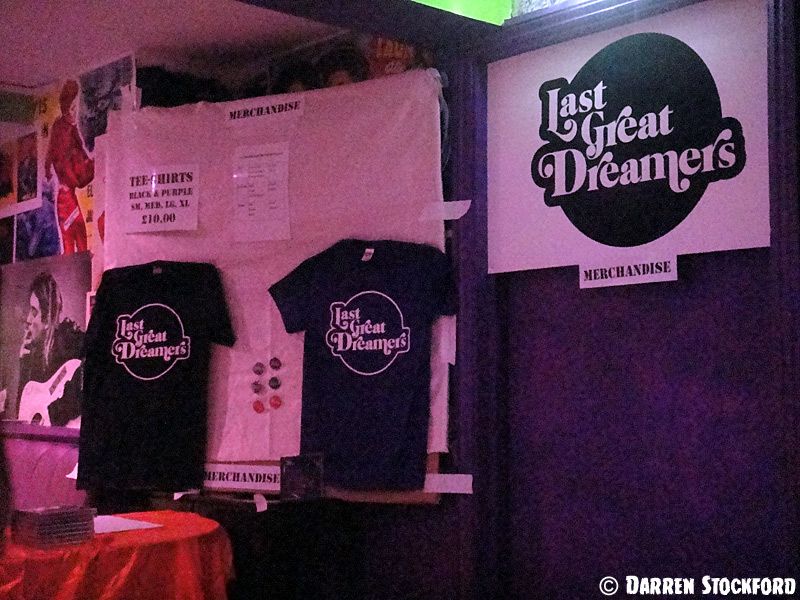 He's wrong on the last count, but I can see his point on the first. As I stand in front of the stage by the right-hand speaker stack, gazing up at a silhouetted Slyder as I shake a limb and sing along with his backing vocals, I'm transported back 20 years to a time when I did exactly the same at the Marquee. From the high stage to the lively, good-natured atmosphere, it's uncanny how much this feels like a vintage London show. Even the merchandise is being sold at 1994 prices. A tenner for a T-shirt? I'll take two: one for casual, one for best (my wife Tara thinks one's for her). I'm grateful for the purple option, to complement the new album cover, and I'm delighted when I realise that the venue is decorated to match. Call it coincidence if you like; I call it serendipity, because… well, it just sounds sweeter.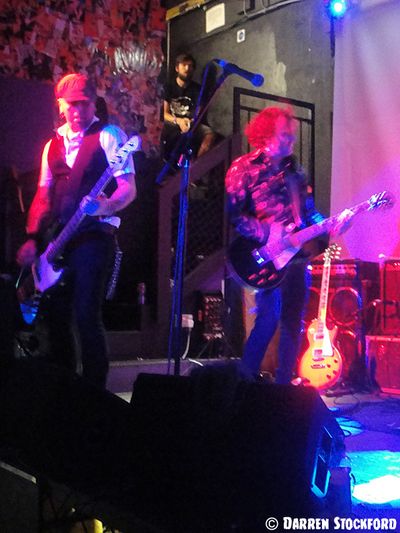 Tonight's setlist consists of five songs from the 1994 debut album - the aforementioned Only Crime, Chrome Tonic, Far From Home, Lady and the band's signature song Last Great Dreamer - plus everything from the long-lost but recently released follow-up except for No 1 Wonderboy. Oh, and in the encore there's a lovely, sepia-tinged bonus in the shape of Sunset Over Suzi, a track from a 1990 demo, when the band were called Silver Hearts - a nod to the real old guard that goes down just as well with this crowd as anything from the albums.
"This next number got to number 97 in Moldova in 1998. In the charts for three days…"
As Marc introduces Sci-Fi Louise, it's clear that no song is too good to be put down with a wry quip. But there's reflection tonight, too, as he dedicates Gold Painted Butterfly to old friends Ray, Chris and Porky, "some of our crew who are sadly not with us any more". I never had the pleasure of meeting Chris and Porky, but I was blessed by the company of Ray on many an occasion, and I was stopped in my tracks this morning by a photo of him that the band posted on Facebook. The picture was a perfect match for the personality, the essence of Ray, that I'd carried around in my head since the mid-'90s, and it was brilliant to see him again.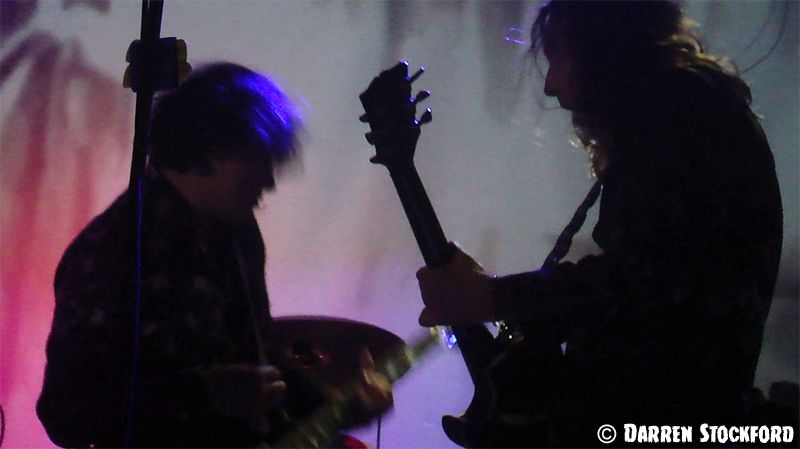 It's an emotional evening for all kinds of reasons (I even get to talk soppy with the band's old drummer, Steve), but at the root is a sense of reconnection. It's easy to be cynical about the idea of rekindling one's youth and past glories, to write it off to desperate folly, but when it's handled with care it feels less like a mid-life crisis and more like a timeless celebration of something inspiring and fun - which, of course, was the band's original remit. As that great 1980s poet George Michael once said, if you're gonna do it, do it right.
I promise you, Last Great Dreamers are doing it right.
Having said that, Slyder's footwear definitely needs a rethink. Selling your sole for rock 'n' roll? He'll be lucky to get 50p on eBay for what's left of his…
• Crash Landing In Teenage Heaven is available now at Amazon, on CD or as a download
• Read about the warm-up gig that the band played at their rehearsal studio in early September
• Take a walk down memory lane as I reminisce about Last Great Dreamers in the 1990s