Living the dream: A fan's-eye view of Last Great Dreamers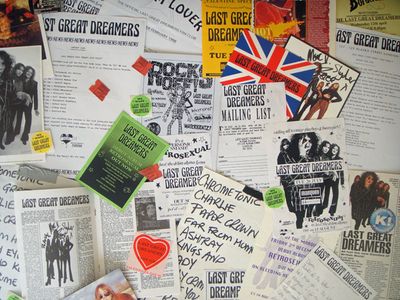 "Got it!" Rooting around in my under-stairs cupboard, I'm delighted to find, nestling in its furthest reaches, a poster tube. For the last couple of weeks I've felt as if I've been on an archaeological dig in that cupboard, turning over layers of history in a search for artefacts of an age close enough to remember but too far away to touch.
The catalyst for all this rummaging was the reformation of a rock 'n' roll band, Last Great Dreamers. For four years in the mid-1990s, I followed this band with a passion. They had one of the best names I've ever heard – it sounded like the kind of thing I could get on board with, even before I'd heard them play a note, suggesting as it did something unique, with aspiration and imagination. I first saw, and heard, the band in 1993, at one of their many Dogs D'Amour support slots at the Marquee. Straight away, I could see that the Dreamers were a perfect package: the songs, the sound, the clothes, that name. They had what all great bands have: a philosophy. Of course I'd end up with their posters on my walls.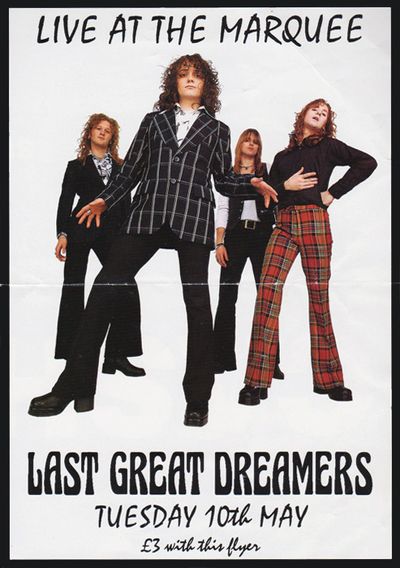 It's one of these posters that I unfurl today, once I disentangle myself from the mess of the cupboard and pop the top off the cardboard tube. It's a large, blue advertising sheet for the band's one and only album, Retrosexual. The poster, which once furnished the wall of my old flat in Tooting, comes rolled inside an even bigger one – for Velvet Goldmine, Todd Haynes' 1998 film that fictionalised the rise and fall of 1970s glam rock. I smile at the thought of these two posters being bedfellows for the last however long. The truth wrapped in a fiction - the heart of any good story. The poetry of the scene feels like it's straight out of the band's songbook.
I unearth lots of other treasures, too: flyers, gig photos, press cuttings, newsletters, fanzines, stickers and – hey! – more posters, many of them half-inched from venue walls (don't judge me – I waited till the encore… mostly). It's a mini-museum of Last Great Dreamers memorabilia, a trove of jewels that aren't worth anything but are worth everything – representing, as they do, a period in my life when I believed that music could change the world, and that my favourite bands could make it happen by becoming the biggest thing ever, which would truly, definitely happen if I wished really, really hard.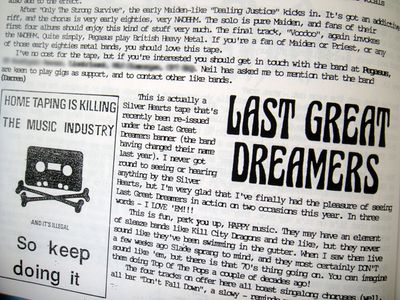 One outlet for my wishing was a fanzine I used to run, Rocks Off. It was for the January '94 issue of this home-made, staples-and-scissors publication that I reviewed a Last Great Dreamers demo tape I'd bought (recorded when the band were still known as Silver Hearts). Looking back at my writing from this time, I clearly didn't give a hoot for the country's exclamation-mark shortage - in fact, I think I might have caused it. This review was the first of many love letters I'd pen to the band over the course of the next three years, via the pages of the fanzine.
Before I go any further, I must confess: I had another love in 1994. Her name was Tara. Luckily for me, she liked the Dreamers as much as I did. Luckily for the band, she edited her own 'zine, Scuzz. Talk about a perfect storm. Tara and I quickly became regulars at the band's Marquee gigs. Before the release of Retrosexual - which seemed to take an age to hit the racks - the shows were the only places outside of that demo where we could get our fix of the band's songs. It was, for all intents and purposes, 1972, and the Marquee was our radio. If we didn't tune in when it was broadcasting Last Great Dreamers, we'd miss our chance to hear the likes of Lady, Chrome Tonic and Far From Home.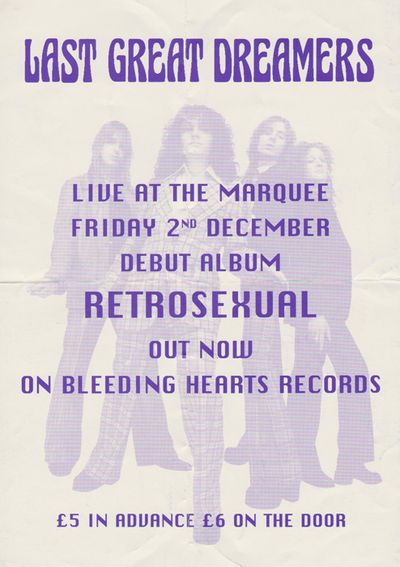 So we went, and we sang - we quickly became syllable-perfect with the 'na na nana' backing vocals, helped, no doubt, by our regular spot in front of guitarist Slyder - and we danced. A Kerrang! review from December 1994 drew attention to "personages makin' glorious twats of themselves whilst shamelessly boppin' down the front" – a charge for which we not only pleaded guilty but were really rather proud. We were a two-person Top Of The Pops audience – and not one of those boring late-'70s ones, either. (Have you been watching the BBC4 repeats? They might as well have hired mannequins.)
As 1995 rolled around, Tara and I accepted an invitation to interview the band before a gig in Portsmouth. It amazes me now to think that this was the first time we'd spoken to anyone involved with the Dreamers except Ray, the band's tour manager and PR whizz, and all-round top bloke.
As we entered the venue on that Wednesday night in January, Ray greeted us and, in a move that brought to mind Del Trotter, opened a suitcase full of band merchandise, including some "actual flyposters". There were photos (I had mine signed); there were T-shirts ("birds – small / fellas – medium"); but there were no CDs – "we aren't actually allowed to sell them," frontman Marc told us later – so Ray made sure that everyone knew the catalogue number, CDBLEED10. Unfortunately, distribution didn't seem to be going too well, and asking a shop to order the album was the only option for some.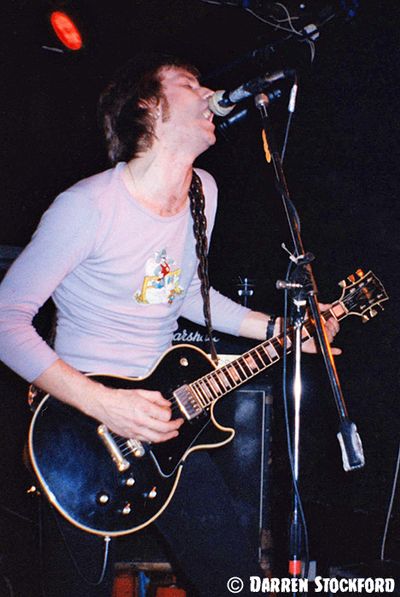 The band soundchecked with some bluesy material – a nifty move, given that there were punters in the pub, as it protected the excitement of the gig to follow. And 10 minutes later, when all that was left for the Dreamers to do was walk on stage and play, Ray took me and Tara through a door by the bar to a surprisingly spacious dressing room to meet Marc, Slyder, bassist Paul and drummer Steve. "Blimey!" said Marc, as we poked our heads around the door. It was the perfect introduction.
In many ways it was the perfect interview, too – not because it read brilliantly (it didn't – I was blind to editing in those days), but because, for us, it cemented the image to the people. Slyder, a man in his early 20s, puffed on a cigar throughout, in what felt both like a nod to a bygone age and an act of rebellion against cigarettes, which of course every other rock 'n' roll band was smoking. Even the guy's vices were of another time. The Dreamers' retro stylings had, said Slyder, "changed my whole life. I drive a 1976 Ford Cortina now, to go all the way with it".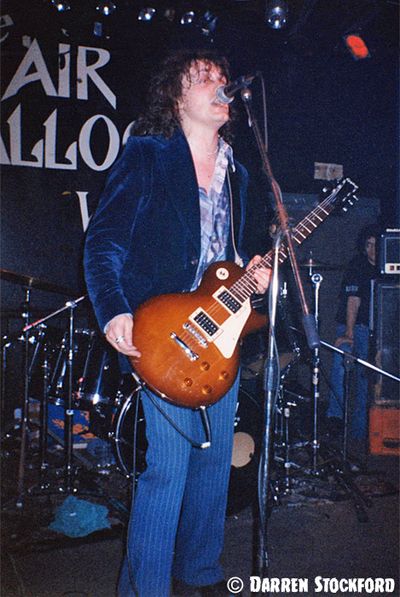 The band's humour, too, revolved mostly around pop-culture references of the past: Johnny Rotten, Thora Hird, K-Tel, mail-order-only sewing products. "Who was it was saying to me that they'd made something with their Handy Stitch?" pondered Steve, while Slyder spotted a gap in the fashion market: "I tell you what no one's ever done: made a whole suit out of 7-inch vinyl records."
Clothing, of course, mattered to the band - the flares, winged collars, stack heels and Rupert suits placing their image firmly in the early '70s British glam scene, where the pop-rock divide was beautifully slender. While many of their contemporaries were taking sartorial inspiration from the likes of Hanoi Rocks – bands who walked the sleazier side of the tracks – the Dreamers were swanking up, presenting themselves as dandies; eccentrics rather than rebels. Marc even promised to "open a boutique when we get some royalties".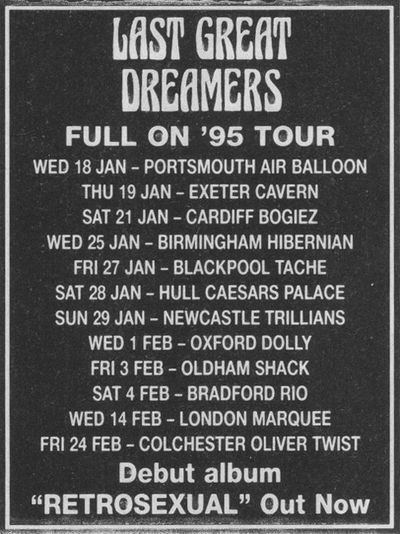 I've never been any good at fashion. Even as a young rock 'n' roller, I felt two steps behind everyone else, with their clinging shirts and well-trodden cowboy boots. But that didn't stop me, later that year, visiting Kensington Market and paying 20 quid for a long, brown leather jacket that was slightly too big for me, in an effort to reinvent myself as a suave, more-retro rocker-about-town.
Not long after that, Tara bought a brown suede coat with a fake-fur collar from a charity shop. As these garments had a vague whiff of the '70s about them (in more ways than one), we christened them our 'Last Great Dreamers coats'. Tara was wearing hers when she fell in a huge puddle outside The Royal George on Charing Cross Road. She never wore it again - it stank - and the shine wore off mine after that (not literally).
In the months following the Portsmouth gig, things appeared to be going really well for the band. Kerrang! magazine had already taken them under its wing, proclaiming them "kings of fop 'n' roll" and one of the "hot new bands in metal" – not a bespoke accolade, you'll note, but given the prominence of the article (half a page, complete with colour pic, in the mag's news section), it wasn't to be sniffed at. Fantastically, though, this was topped by a two-page picture spread and report on the band's Valentine's Day '95 gig at the Marquee. It was a whacking great hint that Last Great Dreamers had arrived – as if the numerous high-profile live reviews and Pandora Peroxide appearance hadn't already tipped folk off.
Five weeks later, Tara and I saw Last Great Dreamers at the Astoria 2 supporting Bang Tango, an American glam-metal band who were doing pretty well for themselves. The gig was part of a tour on which the Dreamers would open each night. Only half the audience were in the London venue as the band took to the stage, but it still gave me a glimpse into how they'd cope on the next rung of the ladder, sharing stages and spotlights with higher-profile artists in an attempt to lure some fresh faces into Last Great Dreamers fandom.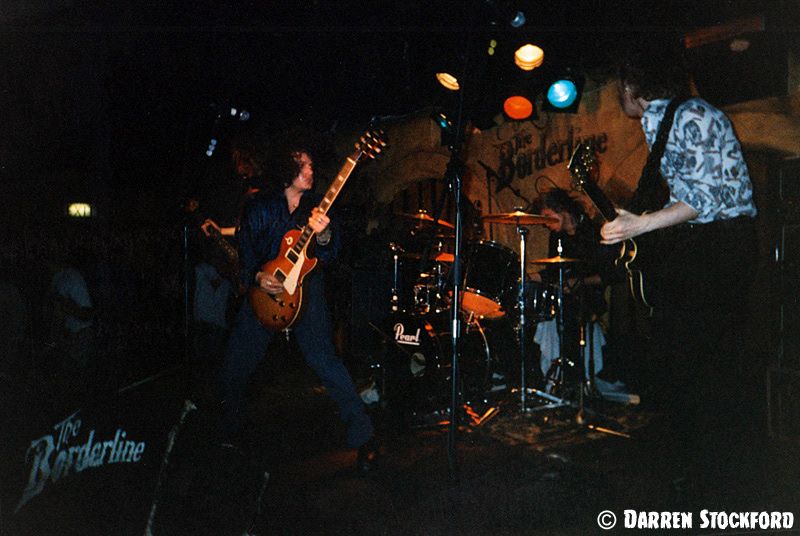 My review noted that the band were "looking more like a world-class act with every gig", the three-part harmony vocals lifting the songs above and beyond what I'd heard from them live to date. It was clear that all the band needed was a push to the next level. They had careers waiting; they just had to collect the keys.
The summer saw them picking up more press for their appearance at the Kerrang! awards, and I caught some more gigs – at the Camden Palace and the Borderline. Free from their previous record contract, and with some new and quite brilliant recordings under their belt, the band seemed optimistic. It felt like something was still going to happen for them. How could it not? They'd worked hard, so they were definitely going to get paid.
And then the Marquee closed.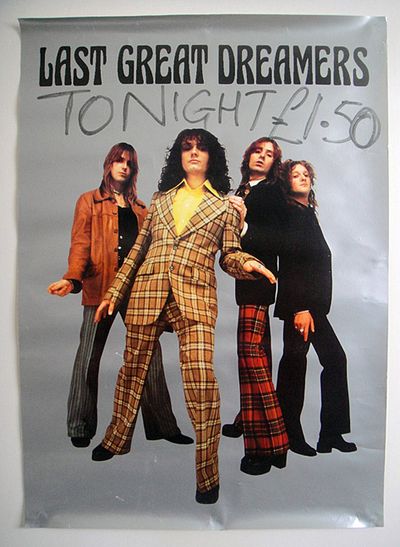 This legendary venue on Charing Cross Road was the band's spiritual home, the place where they'd built up a formidable London following. Curiously, their final gig at the Marquee, on 29 September 1995, wasn't as well attended as usual, making for a slightly muted atmosphere.
The band were as brilliant as ever, though. Armed with seven songs that didn't appear on Retrosexual – including the newly recorded Ashtray Eyes and No 1 Wonderboy – they were clearly gearing up for a new record.
I left that night with wet trousers – both metaphorical and uncomfortably real. While scrabbling around pulling some fanzines out of my bag, I managed to pour half a bottle of brown ale down my left leg. As goodbyes go, the Marquee didn't get my best.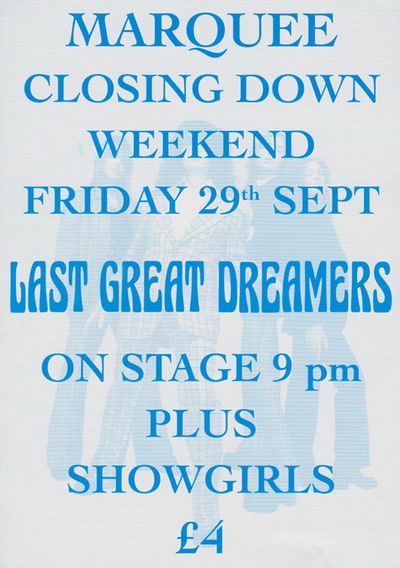 With my favourite venue gone, it felt like the end of an era. Six months or so later, Last Great Dreamers were gone, too – though, thankfully, Marc, Slyder, Paul and Steve were still together, playing in a band that sounded suspiciously like the one they'd just left. Amusing as it sounds, that was how the band sold the change of name to their audience. "Last Great Dreamers are no more," announced a newsletter that summer. "The band split in the spring and are reforming as Jet."
The industry, it seemed, had led the band such a merry dance in the wake of Retrosexual's release that they'd decided to launch themselves afresh. The name was "more streamlined", said Steve. I was disappointed, but I tried to convince myself otherwise. In a review of the first Jet gig I saw, at the Dublin Castle in August 1996, I wrote: "The Dreamers have ditched the cartoon '70s image (a gradual process, it must be said) and changed their name to Jet; a name that, in some ways, has far more '70s connotations than their old moniker ever did. Obvious Wings connection aside, there's a certain element of camp masculism to the name."
If you say so, mate.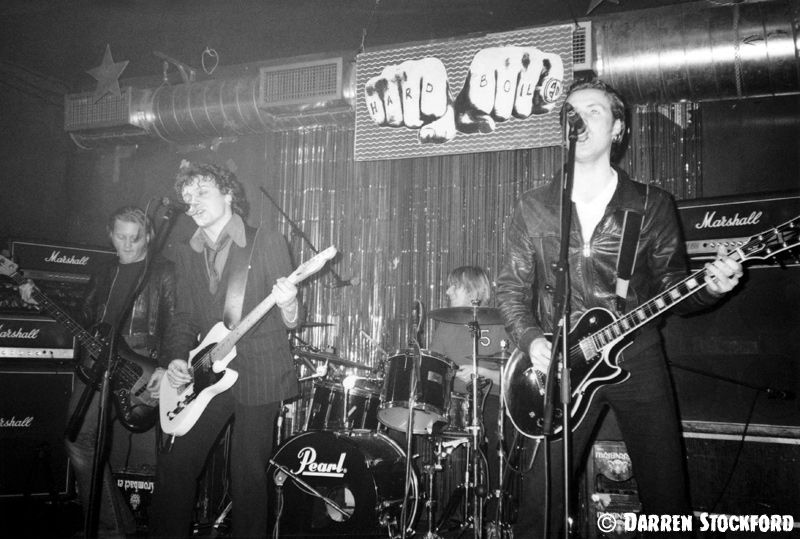 Before the band took to the stage that night, Marc told me: "The name's the only thing that's changed." And he was nearly right. Something else had happened, too: they'd found a new energy – one that allowed them to jettison the Rupert suits and stack heels, and even rein in the width of their flares. With the songs and musical performances reaching a proud peak, the band's confidence seemed to be leading them out of the glam-rock scene and towards Britpop. Once upon a time, Marc would play Pop Quiz with the audience, while the encore would be Sweet's Fox On The Run. Now things felt a little more serious, the band's identity less comic-book. Marc had even dropped his distinctive stage-surname, Valentine. The inlay of the first Jet tape listed him as Marc David Wilson.
The previous year in Portsmouth, Steve told me: "We're getting called a glam band, although I don't think we are. We're a glamorous band, if you take it like that – we're extravagant, flamboyant. But we're getting accused of being, or lumped in as, a glam band."
Slyder was more pragmatic: "At least they're putting us in front of, like, heralding this big explosion of glam or whatever again. 'Cos there's loads of bands doing metal with lipstick and big hair. We never did anything like that. We're really a rock 'n' roll band. It started off with this Quireboys thing, but we're well away from that now."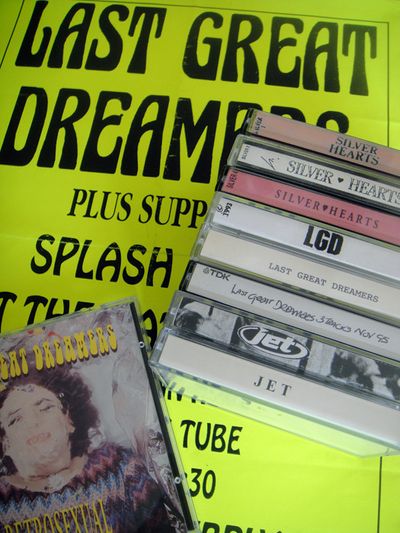 Eighteen months later, they were even further away from it. Unfortunately, they were also quite far away from their old audience, the bulk of whom had failed to get the memo about the change of name. The gigs the band played in the latter part of the year failed to pull in the kinds of crowds they'd enjoyed as Last Great Dreamers.
It was a huge shame. As well as hitting some fantastic highs live, the music they recorded in the wake of Retrosexual, as they tried to secure a new record deal, was most impressive in terms of both the songs and production. Gone were the biscuit-tin drums of their debut album – these new recordings had oomph.
Over the course of four tapes, there were 10 new songs (plus a re-recorded Last Great Dreamer) that – for fans like me – effectively comprised a complete second album. In fact, in the early 2000s, I digitised these tracks, sequenced them in a pleasing way and titled the result Crash Landing In Teenage Heaven, after the most frantic song of the new batch. I've been playing this 'album' ever since.
In 1996, the internet as we know it was in its infancy, and Tara and I had only been online for a short while when we found ourselves building and running a website for the band, who weren't yet computered up. 'Jet on the Net – the official Jet homepage', to give it its full title, housed news, tour dates, live and promo pictures, sound samples (it was all RealAudio back in those days) and details for ordering a tape of their latest recordings – by sending a cheque through the post, as PayPal had yet to be invented.
There was also a set of band-member profiles, in which Marc shared his first gig (Darts, Theatre Royal, Norwich, 1976), Slyder confessed a love for I Could Be So Good For You by Dennis Waterman, Paul revealed his biggest turn-on ("the idea of actually making a living from all this"), and Steve unburdened his greatest fear ("that one day I will wake up and my face has been swapped with my arse").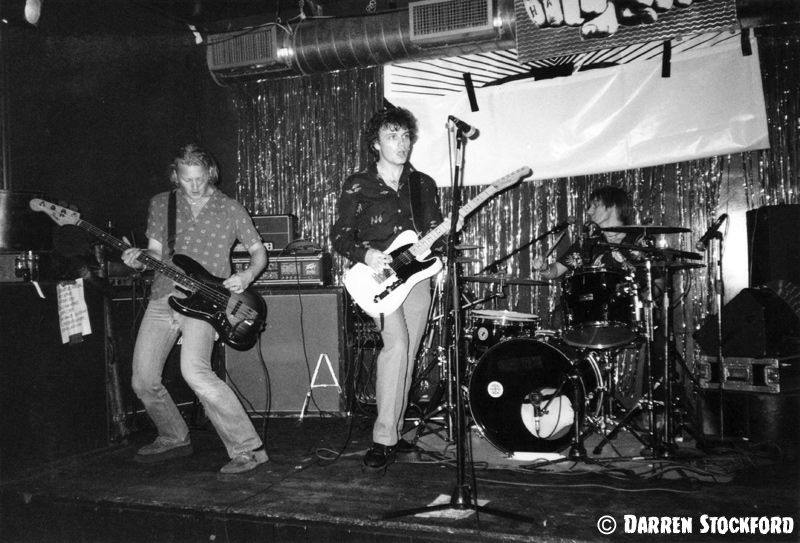 The following year, Tara and I got married and moved to Croydon, where my rudimentary Photoshop skills were put to use making flyers for Jet gigs – or rather Jet City gigs, the band having undergone another name change. Marc and Ray came round to my flat and filed their requests, and we all sat at the computer – me trying to look like I knew what I was doing, and them trying to sound as if they liked what I was doing, which was basically scanning images from 1970s pop annuals and adding some gig details at the bottom…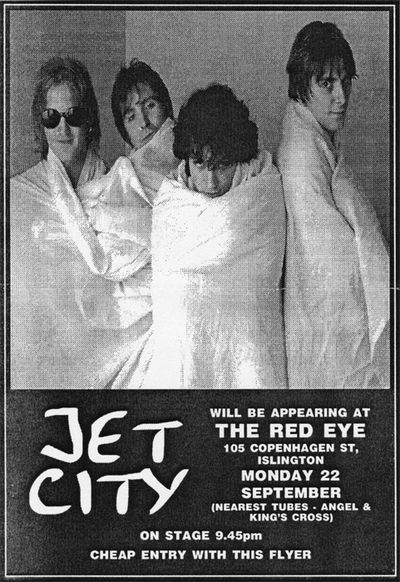 Marc and Ray had recently opened a pop and rock memorabilia shop in Crystal Palace, and I was paid for my efforts with stock from the shop – in particular a Mr Men LP (because there was a chance it sounded like The Wombles) and a framed vintage magazine featuring a cover shot of Badfinger (I loved Badfinger). Most of the flyers were awful. I know who got the better deal.
And then, as the curtain came down on 1997, Jet City left the stage - this time for good.
It was sad news, but not much of a shock. Musically, the band were better than ever; their image more mature and - I'd hoped, when it came to the eyes of the record industry - less divisive. But the storm of interest they'd whipped up in 1994 and 1995 was now a stiff breeze. The Marquee closing had scattered the fans, and two name changes had pruned the band's audience even further. The underground glam scene that had once looked like it might break a few mainstream waves – and which, in Slyder's words, they'd once heralded – was now an also-ran to Britpop.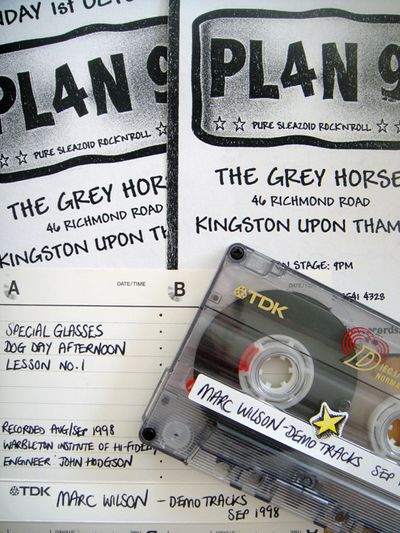 In theory, this new landscape should have been ideal for a band with their musical influences (Marc: "I like The Kinks, The Beatles, Mott The Hoople, Bowie – they're my favourites") – a better fit, in fact, than the glam scene that had birthed them. But, as with so many wonderful bands, the music business had finally worn them down. Just as I could feel the excitement and hope in 1994, I could feel the frustration in 1997. With hindsight, it's possibly why their live performances became more of a sonic assault towards the end. They were playing for their very survival.
The postscript – the bits of story that I'm aware of, at least – involved a short-lived solo project for Marc (he sent me a three-song demo in 1998), and two new three-piece bands for Slyder, in the shape of Toy Eye and Plan 9, which saw him taking on the role of frontman with relative ease. (At one of the Toy Eye gigs I saw, in May 2000, he had his wallet pinched from the dressing room and had to cancel all his cards 20 minutes before he went on stage – ah, lovely London town.)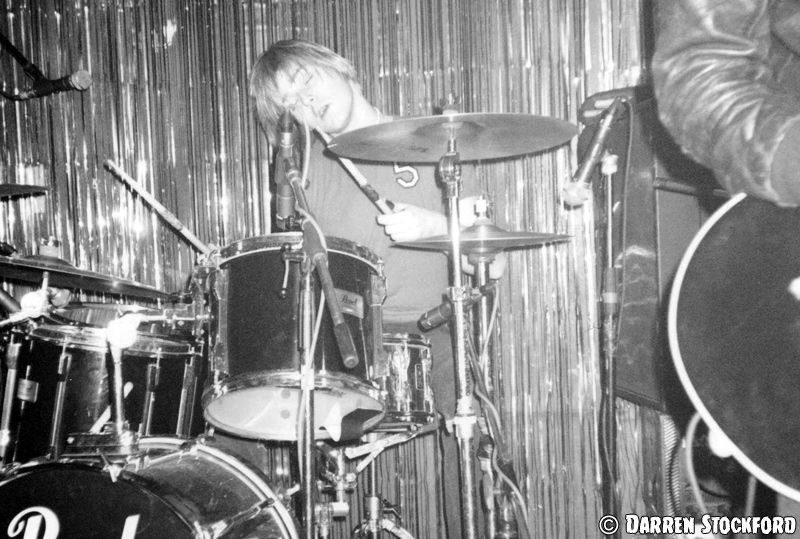 In November 2002, at a Hanoi Rocks gig at the Camden Palace, I took the opportunity to tell Steve how much Last Great Dreamers had meant to me. I got a bit choked. It got a bit awkward. I don't think Steve knew quite what to say. And that was fine.
Every generation sets out to change the world, and thinks it can. Last Great Dreamers were part of my experience, my dreams – in that respect they were aptly named. In the '80s, as a teenager, I fell for heavy metal, but by the end of the decade I'd followed the sound of the electric guitar back to the '60s and '70s, and in particular a genre of music I liked to call good-time rock 'n' roll. That many of the bands I fell in love with weren't actually from the decades in question is irrelevant; the lineage was the same. It was the feeling that mattered: the joy of a Gibson guitar, some lyrics that nailed the melancholia I felt and the dreams I harboured - and, hey, if there was a feather boa somewhere in the mix too, all the better.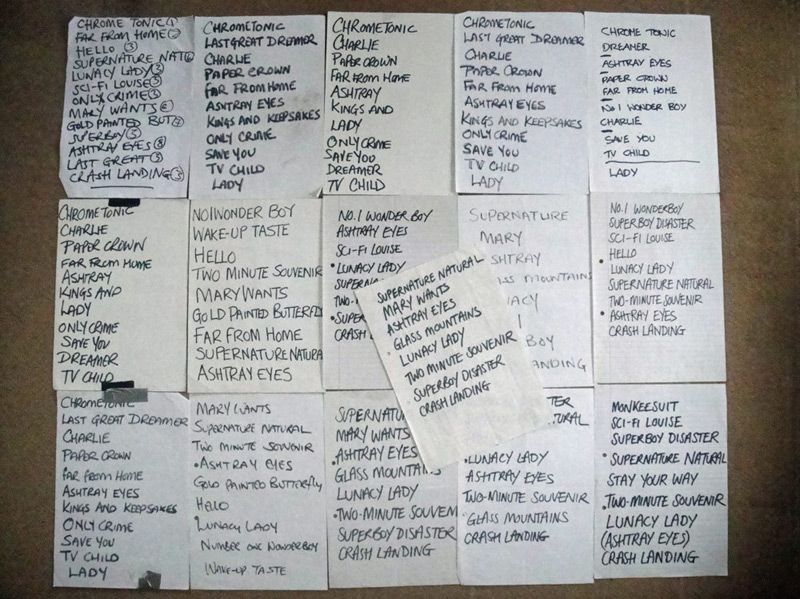 As a 44-year-old, I'm as prone as anyone else of my age to looking at the youth of today and saying: "Seen it, heard it, done it." But back then, of course I felt differently. I wasn't born till 1970. The bands I saw play as a young man – Dogs D'Amour, Quireboys, Last Great Dreamers – were my Rolling Stones, my Faces, my Mott The Hoople. To me it was a golden age of rock 'n' roll, a part of my personal revolution. For that reason, that poster from my wall, the one I've just rescued from my under-stairs cupboard, will forever be the treasure of kings and keepsakes (to steal a lyric).
"Credit to 'em," wrote Ray Zell in Kerrang! in December 1994. "While their Marquee fodder contemporaries were still churnin' out sub-Heartbreakers riffs and token punk covers, Last Great Dreamers attempted to construct actual songs."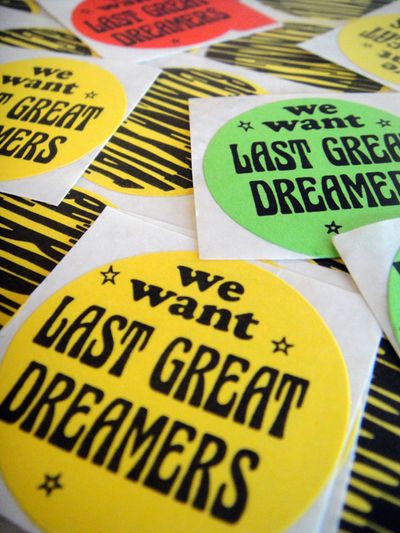 'Actual songs' might sound like a faint legacy, but it's one that has allowed Marc and Slyder to reunite in 2014 with, I hope, little fear that time has stolen their worth. Alongside their old muckers Ginge (who drummed for the band in their Silver Hearts incarnation) and Ian (their old roadie, now on bass), and with the old name – the best name – back in place where it belongs, the pair have mentioned the possibility of live shows, and perhaps even some new recordings.
In a new interview on the band's blog, Marc confesses to a mid-life crisis that's been going on for 20 years (I know that feeling), but there doesn't seem to be any desperation in the reunion. "Meeting Slyder after 10 years and jamming through a few of the numbers was brilliant and I think the connection is still there," he says. "Seeing my dad continuing to play bass with his rock 'n' roll band The Offbeats in his 70s is living proof that old rockers never die. We're all still kids really!"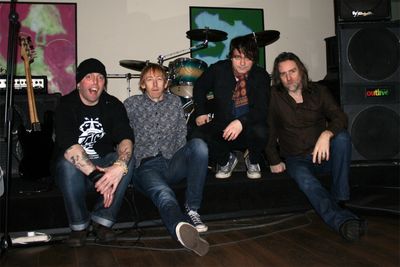 Slyder says that prior to meeting up with Marc again, he would "occasionally listen to our songs and think, what a waste nobody is hearing this". The reunion began with the pair listening to their recordings, reminiscing about old times and playing through some songs. "We were surprised how much we had forgotten," he says, "but it felt great to be playing together again."
"Twenty years down the line," says Marc, "and I must admit it still has a strange allure – once a Dreamer always a Dreamer, I guess."
• In April 2014, Last Great Dreamers announced the release of their second album, Crash Landing In Teenage Heaven, a remastered collection of 11 tracks recorded between 1995 and 1997. It's available now to buy from Amazon, on CD or as a download.
• On 21 September 2014, the band played their first live date in 17 years, at the Purple Turtle in Camden, north London. Read my reviews of the gig and the dress rehearsal.