Project MotorMouth: Five Doctors, one good cause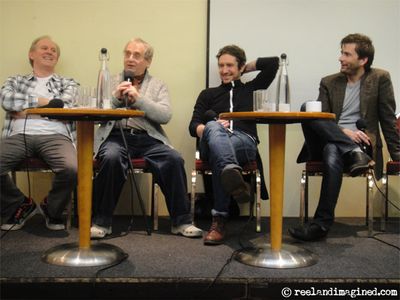 The announcement of Project MotorMouth last September was bittersweet. A Doctor Who convention featuring Doctors 5, 6, 7, 8 and 10 - that's Davison, Baker (C, not T), McCoy, McGann and Tennant - was an appealing prospect, but the reason for the get-together was linked to some far less pleasant news.
"Janet Fielding has a new fight on her hands," said the event website, "not against the Daleks or Cybermen but against cancer".
The idea for the event, scheduled for 19 January 2013, was dreamt up by Janet's Doctor Who co-star and friend Peter Davison, who "swung into action and enlisted the help of his fellow Doctors" to try to "raise money for a good cause but also keep Janet's spirits up".
That good cause was Project Motor_House_, a charity aiming to renovate West Cliff Hall, a derelict motor museum in Ramsgate, Thanet, turning it into a mixed-use arts/entertainment complex where, as the event booklet put it, "people of all ages can enjoy themselves and where Thanet's young people can get the vital, hands-on experience they need to be able to start their own businesses".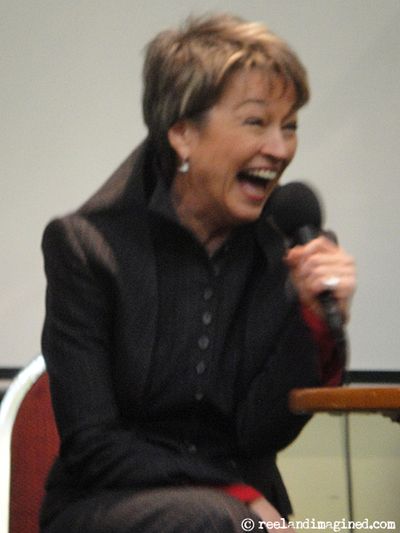 Janet, who played Tegan, companion to Peter Davison's Fifth Doctor between 1982 and 1984, is the charity's Project Co-Ordinator. She was also responsible for the title of this similarly named convention. As she explained in an introductory piece she wrote for the convention programme: "The name was my idea. Tegan was the 'mouth on legs', and people in Ramsgate already call it Project MotorMouth. I have no idea why."
Janet also said that the event was "the light at the end of the tunnel, something to look forward to while I was undergoing chemo and radiation", and was also a way of thanking the people of Ramsgate for looking after her - driving, cooking and shopping for her during her treatment. "Some of them are here today," she wrote, "as are some of the local politicians who support the project and our board members."
From the atmosphere on the day and the feedback I've read since, on forums and social-networking sites, I'd say that the Doctor Who fan community did themselves proud.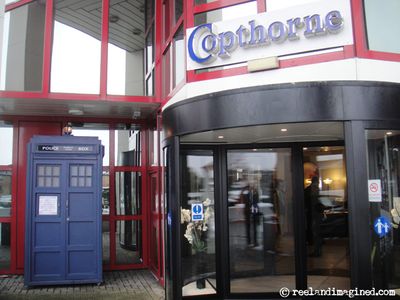 Due to some typical January weather it was a snow-lined journey for all, but once inside Slough's Copthorne Hotel (you couldn't miss it - it was the building with the TARDIS parked outside) the mood was warm and welcoming, with organiser 10th Planet's crew patiently explaining how things worked to each attendee as they arrived.
To my amazement, back in September I'd managed to buy ticket number 1 - a first for me - so I picked up minor celebrity status, in my own head at least, a (possibly imaginary) fanfare playing every time I had to show my numbered wristband to a crew member.
The day didn't run exactly as planned - John Leeson, the voice of K-9, found himself stranded in Germany due to a strike; Colin Baker arrived at 3.30pm, due to rehearsals for a play; and one of the day's two scheduled panels never made it to the stage due to some earlier overrunning - but I didn't hear anyone grumble. The morning's photoshoot with Doctors 5, 7, 8 and 10 went smoothly (if a little slower than planned), and the afternoon's autographs queues moved swiftly, thanks to a limit being imposed of one signature per guest per attendee.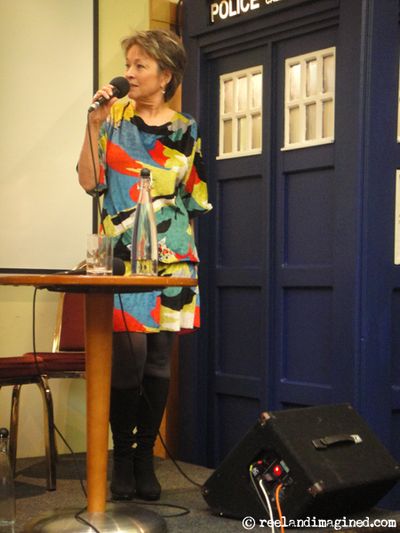 Unlike most conventions, no extra autographs were sold here. This might seem strange, as the day's big aim was to raise money for Janet's charity, but it was understandable given that there were 300 attendees for each of the main guests to sign for in just four hours, and no one wanted to run the sessions as a race - something that can spoil this type of event. Instead, most of the day's fundraising, outside of that already collected via the £100 ticket price, happened during the spectacular auction, which raised £7,700 thanks to the generosity of the winning bidders, whose Doctor Who collections now boast one-off items such as a hand-made, child-sized TARDIS, a script for Blink featuring a handwritten message from its writer Steven Moffat, and one of Tegan's colourful dresses (as modelled on the day by Janet - pictured left - and yes, it still fits her).
With the Doctors playing the part of auctioneers beautifully (David and Sylv, in particular, appeared to be old hands), it was a thrilling hour or so, an unexpected highlight after the day's expected highlight - the appearance on stage of David, Paul, Sylv and Peter, who were later joined by a beaming Janet. All the guests made their entrance via the TARDIS at the side of the stage, a simple but crowd-pleasing trick that set hundreds of cameras flashing as each new face appeared at the door. It was quite possibly the quickest series of regenerations in Doctor Who history.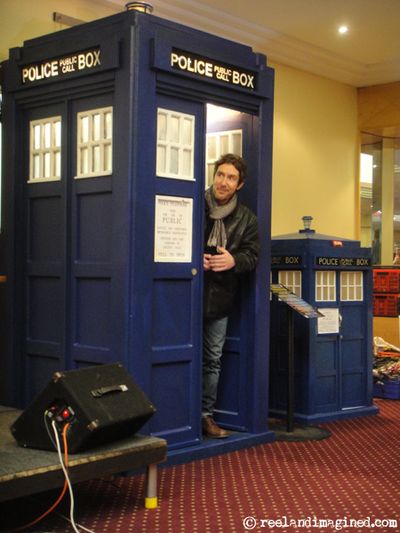 As always at these panels, many questions came from the audience. One of the most memorable was from a lady who took the microphone to address Paul and Peter, seemingly seizing her moment to say everything she'd ever wanted to say to the actors about Doctor Who. She spoke for couple of minutes about the Time War and went on to say how she'd given each Doctor a nickname relating to their personality (eg, David was 'Angsty Doctor'), before finally asking: "So my question is… what was it like working on Jonathan Creek?"
Naturally, she brought the house down and earned herself a round of applause. "Yeah," replied a deadpan Paul, "Jonathan Creek was good."
Undoubtedly the finest question of the day, though, came from one of Doctor Who's young fans, who asked the panel whether they would rather be able to travel in time or in space - a beautifully simple, but actually quite original, query that drew an awed 'ooh' from both guests and audience.
Later, bang on the stroke of 3.30pm, with the main autograph session in full swing, Colin Baker glided through the hotel lobby and took up residence at a signing table in one of the hotel's smaller function rooms.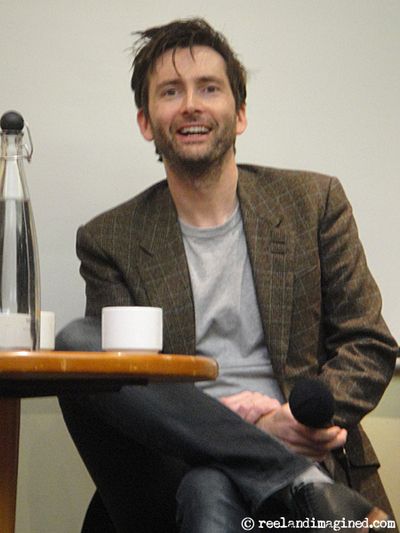 The day was almost over for me. Colin's was the final autograph I had to get. With the Sharpie pen still drying on my 8x10, I thanked him for coming, packed my bag and wrapped up warm. A last look at the TARDIS parked outside the hotel had me wishing I could jump inside and avoid the cold walk back to the station and the hassle of the train journey home.
Twelve days later, the money had been counted and 10th Planet announced, via their Facebook page, the grand total that this event had raised for Project MotorHouse: £30,920.63. It's an impressive sum, and if you click that last link you'll see organiser Derek Hambly with a thrilled-looking Janet Fielding.
At the beginning of this piece I mentioned Janet's illness, and I expect that many Doctor Who fans have, like me, been wondering how she's been doing. Ultimately, of course, it's a private thing, but people care and do like to know, and so graciously Janet gave an update on her health in the introduction to the Project MotorMouth booklet.
"There has been a minor hiccup in my recovery," she wrote, "so the biopsy has had to be postponed and I don't know yet whether I am in remission. But I'm hoping my health worries have bottomed out and I'm bouncing back. After all, there is still Project MotorMouth 2 to look forward to later in the year."
I wish both Janet and the project all the very best.
If you'd like to donate, you can do so via the official Project MotorHouse site, where you'll also find more information about the charity and its aims.