Steel yourself: The Cybermen invade Chiswick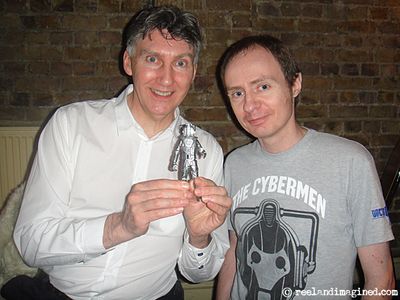 Some people like to buck conventions, but I embrace them - at least I do when they're branded Doctor Who**.** (Do you see what I did there?) The current kings of Who cons are Fantom Films, a company who regularly run small-scale but hugely enjoyable day-long events in Chiswick, west London. The venue for the last couple of years has been the George IV pub on Chiswick High Road - or, to be precise, the Headliners comedy club out the back, which comfortably houses 60 fans of the show, along with choice cuts from their merchandise collections for signing.
With two autographs from each guest included in the £35 entry price (extras are available for £5 each), and all the guests happy to pose for a photo, these events are good value - to the extent that it only takes the announcement of two or three strong guests to have me whipping out my wallet and buying a ticket.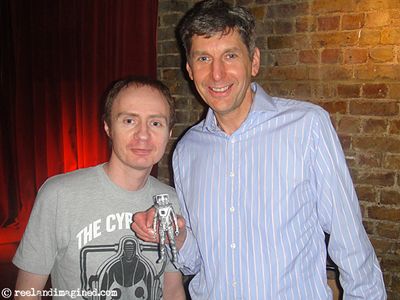 Such was the case last November, when Mark Hardy (pictured left) was added to the line-up for Fantom's Cybermen-themed event, Men Of Steel. Hardy, who played the Cyber Lieutenant in Earthshock (1982), The Five Doctors (1983) and Silver Nemesis (1988), joined a guest list that already included '80s Cyber Leader David Banks (pictured above) and '67 Cyber Controller Michael Kilgarriff. The event was shaping up to be a Cybermen lover's silver dream machine.
Unfortunately, three weeks before Men Of Steel's kick-off, Mr Kilgarriff had to cancel - a major blow as he was to join his co-stars Deborah Watling, Clive Merrison and Bernard Holley for a Tomb Of The Cybermen reunion - but, still, the line-up was solid, with guests covering an impressive spread of Cybermen stories.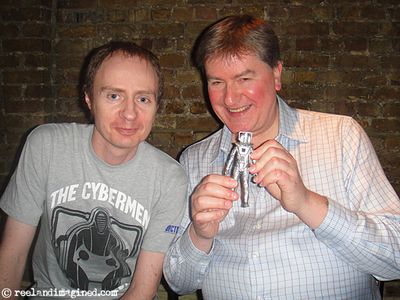 Representing the Russell T Davies era were Colin Spaull and Andrew Hayden-Smith, from 2006's Rise Of The Cybermen and The Age Of Steel (and, in Hayden-Smith's case, Doomsday as well). From 1968's The Invasion we had Ian Fairbairn, who played scientist Gregory. Brian Orrell (pictured right), who donned a silver suit for Attack Of The Cybermen and Silver Nemesis, joined his '80s co-stars Banks and Hardy. And, best of all, there was the original Cyber Leader, Christopher Robbie from 1975's Revenge Of The Cybermen.
The last time I met Mr Robbie, at this same venue last August, his long white hair and beard reminded me of both Father Christmas and Uncle Albert from Only Fools And Horses. The first thing I noticed on Sunday was that he'd had a trim. 'Goodo,' I thought, 'at least I'll get a slightly different picture this time' - though, actually, having met David Banks last year too (at a 10th Planet signing), I'd planned something a little different this time, anyway.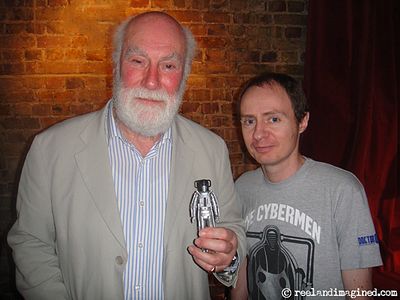 At Fantom's last Chiswick event, a Dalek-themed convention called The Exterminators, I regretted not taking some toy Daleks to pep up my photos (not just to play with - honest). Not wanting to make the same mistake twice, I took some Character Options Cybermen along to Men Of Steel, introducing each of the figures to its real-life counterpart and vice versa. Christopher Robbie, especially, seemed quite pleased to see his five-inch likeness.
Apparently, he'd not laid eyes on one before. If the figure wasn't relatively scarce, and only available in a Revenge Of The Cybermen set exclusive to Forbidden Planet, I'd have probably let him keep it. Instead, I told him that the set cost almost as much as the event we were both attending, and hoped he'd appreciate that he was holding solid gold. Well, okay, not solid gold - making Cybermen out of the one substance that kills them would be unethical - but you get the idea.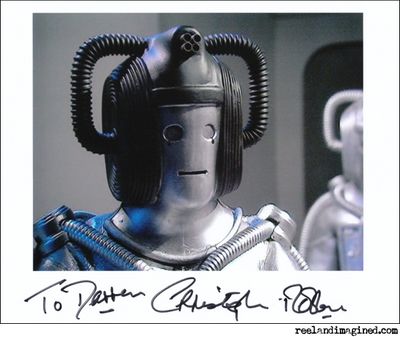 In his 1988 book about the Cybermen, '80s Cyber Leader David Banks said of his predecessor: "Robbie turns in what has since been regarded as a very funny performance - though that was not the intention at the time."
Alas, Banks and Robbie didn't get to meet on Sunday, and Banks said during his interview that this was indeed a shame. Of course, there'd have been no fisticuffs - I've seen nothing but good, self-effacing humour from everyone involved in these productions, and as Robbie demonstrated on Sunday, he's more than aware that his character is known and celebrated for his hands-on-hips, slightly camp ways.
No, I was just imagining how splendid it would have been to have both Cyber Leaders in the same room at the same time. That's what I'd call Earthshock!
Visit Fantom Films' website for details of future events and to buy tickets.