Grace period: A morning with Daphne Ashbrook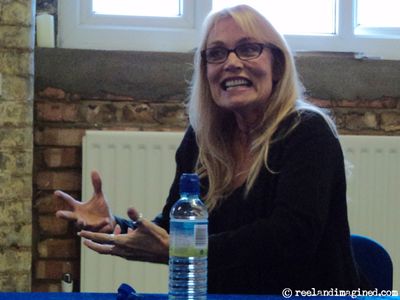 What's a kiss between friends? As it happens, quite a lot, if one of those friends is a Time Lord. In May 1996, when the telefilm that has come to be known as Doctor Who: The Movie first aired, it attracted the ire of many long-term fans. Its 'crimes' were legion, but two in particular raised certain viewers' hackles to planet-scraping heights: 1) the Doctor said that he was "half human", and 2) our hero romantically kissed a woman for the first time in the show's history.
The recipient of the controversial smacker was Dr Grace Holloway, played by Daphne Ashbrook, who happens to be the guest of honour at today's 10th Planet signing in Barking, north-east London. These Saturday-morning events are always quite well attended, but today's is even busier than usual. Ashbrook shares the spotlight with two other actors from the series' past, Kenneth Gilbert and John Gleeson, known in Who circles for their roles in 1976's The Seeds Of Doom, but the majority of fans here this morning have clearly been enticed by presence of the Californian actress, who might well have been in the TARDIS but is still very down to Earth.
"Shall I write across my boobs?" she asks one chap, whose Grace Holloway trading card requires a signature. Her partner, musician David Vito Gregoli, moves in with his camera to take a picture of the act, presumably a candidate for the photo-blog section of the official Daphne Ashbrook website.
Gregoli, a multi-instrumentalist, has produced the actress's debut album. Punningly titled Grace Notes, the record features songs originally performed by the likes of Joni Mitchell, Patty Griffin and Shawn Colvin, plus a cover of Humble Pie's I Don't Need No Doctor – "to make us all giggle, hopefully" says Ashbrook during her post-signing interview. "We took this heavy metal tune and jazzed it up - did it like an old Billie Holiday tune. It turned out pretty cool. I liked it."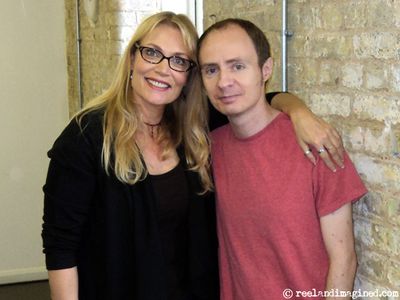 Whether or not she needs the Doctor, Daphne Ashbrook appears to want him. She seems happy to play her part in Doctor Who fandom and proud of her association with the show. With her upbeat, welcoming personality and accommodating attitude (she stands for photos today, and even makes sure that the background is the best it can be), she comes across as someone who gets that these events are supposed to be fun.
It appears, too, that she's a fan of contemporary Doctor Who, particularly the current, Matt Smith era. "He's great!" she says. "Is he not great? I love it. I'm just having so much fun with this new one."
One thing that the actress can't have failed to notice about the modern Doctor is that he's no longer a stranger to the idea of locking lips with his companions. It surely must bring it all back for her…
"I didn't know that the big snog [in Doctor Who: The Movie] was going to be such a thing," she says. "To me it was, like, I'd been working for a little while by the time I did Doctor Who, and I'd kissed all kinds of guys. But, oh my God, the fervour [over kissing the Doctor]! People were pissed off… everybody was a little whacked out about that. And now they can't get enough of it, right?"
Grace Holloway? Now there's a doctor who was a pioneer in her field.