Show time: London Film & Comic Con '09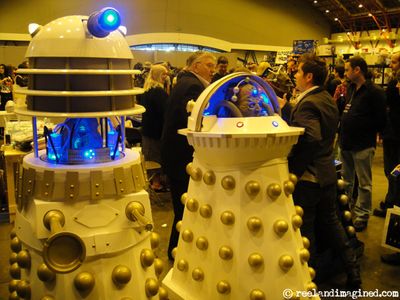 The 11th Doctor's costume? What the recently released press picture doesn't show is the white stick and K-9-style guide dog. Remember, you heard it here first - unless, that is, you attended the Doctor Who talk at last weekend's London Film & Comic Con at Earls Court Two. It was here that one of Matt Smith's Time Lord predecessors, Tom Baker, put his hand over the side of his face, imitating the young actor's floppy hairdo, and announced that the new Doctor has "only got one eye".
Baker's mischievous irreverence might not have been to everyone's taste (anyone expecting a serious Q&A session about the minutiae of Doctor Who will have been disappointed), but I thought it was a hoot. His eccentricity is a large part of his on- and off - screen charm, and he's always good value for money. Asked what advice he'd give to future actors, he replied incredulously: "I couldn't give a monkey's toss about future actors!" - the first of many answers that had the audience roaring.
When a small child asked him what his favourite Doctor Who story was, he began: "I was paid £35,000 per episode. My favourite was the one where I was accidentally paid £45,000." By the time he was describing an imagined tryst in a hammock with Johnny Depp, pretending that the microphone had cut out at the crucial moment, he'd almost stolen the show - not an easy thing to do given the line-up of guests.
For many, this year's big draws were Scott Bakula, best known for his roles in Quantum Leap and Star Trek: Enterprise; Peter Facinelli from Twilight, who was booked for both days but ended up missing the Saturday because he turned up at the airport without his passport; Edward Furlong, one-time child star of Terminator 2; Danny Trejo, known for his roles in movies such as From Dusk Till Dawn and The Devil's Rejects; and Michael Ironside (pictured), star of many a fine sci-fi flick, including Total Recall, Starship Troopers and, my personal favourite, David Cronenberg's Scanners, the poster for which adorned my T-shirt on Saturday.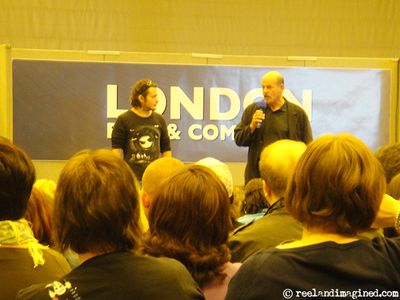 "Oh, that's going way back," said Ironside, eyeing my shirt after a hearty handshake. "Do you want me to sign that?" I didn't - an 8x10 would be fine - but I'd have liked to see him make someone's head explode. I wish I'd said that. I really do.
On Sunday, I managed to catch the second half of the Furlong/Ironside talk (after missing the first 10 minutes due to a schedule clash), which, though billed as a Terminator talk, took in the actors' other work thanks to a broad selection of questions from the audience. Both actors came across well: Furlong's answers were honest but succinct, while Ironside was a little more chatty. I was particularly happy to hear him recall the special-effects work on Scanners, the climactic scenes of which were shot five months apart.
The bulk of the guests I met across the two days were Doctor Who related: Eve Myles (pregnant and radiant - though I suspect she's always the latter), Paul McGann, Frazer Hines, Nicholas Courtney and Philip Madoc. I did toss in a curveball, though, by asking Kenny Baker to sign a screen grab of Bungo from the Wombles, who Baker played in the (under-appreciated but still a bit iffy) kids' film Wombling Free. He seemed delighted to see the picture, showing it off to the nearby Peter Mayhew and asking: "Guess who?"
I asked him to dedicate it to my wife Tara, a Wombles collector, which he gladly did. It's often the case that the best experiences at signing events are the ones you don't have any great expectations for, and presenting a picture of Bungo Womble to the guy most celebrated for his role in Star Wars, and seeing his happy reaction, was one of those moments.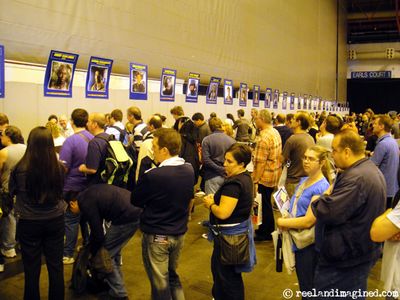 Come mid-afternoon on Sunday, after spending the best part of 20 hours on my feet across the two days, I started to flag. What felt like jetlag kicked in, and my mind and body seemed to separate. Though I've attended LFCC regularly for the past few years, I'd never been for both days, and I'd never hung around from the moment the doors opened right up until they closed again.
What started out for me some years ago as a casual two-hour wander around the dealers' area has slowly grown into the full convention experience, complete with a 5.30am alarm call and military-style planning. This year's LFCC was enormous fun - it felt like an eventful holiday packed into two days - but if I don't get some proper sleep soon I fear that my head will explode, Scanners-style.
So… well, the alarm's turned off and my bed is calling. Wake me up in time for next year's show. I should have just about recovered.