Doctor Who: The feast of Steven
On Tuesday, Steven Moffat was announced as Doctor Who's new showrunner - or, to give him his posh and proper title, lead writer / executive producer. The press release features a lovely, heartwarming quote from the lifelong Who fan: "My entire career has been a secret plan to get this job. I applied before but I got knocked back 'cos the BBC wanted someone else. Also I was seven."
He'll succeed Russell T Davies, who will be standing down once next year's specials are in the can. I've huge respect for Davies, who brought the series back to TV in 2005 (after a 16-year break) and made it such an exciting, emotional, imaginative and, best of all, unafraid show.
However, I'm looking forward to the change of management as Moffat is, hands down, the show's best writer. Check out his form: The Empty Child and The Doctor Dances from series 1, The Girl In The Fireplace from series 2, Blink from series 3, and the Children In Need special Time Crash.
There's a TARDIS-load of era-defining moments right there, my favourite being "whatever you do, don't blink!" (I had a less physical reaction to the TV adaptation of The Woman In Black, and that was bloomin' terrifying). When it comes to solid storytelling, only Paul Cornell, the author of Father's Day, Human Nature and The Family Of Blood, gives him a run for his money (though I'd like to see more from Rob Shearman, the writer of Dalek).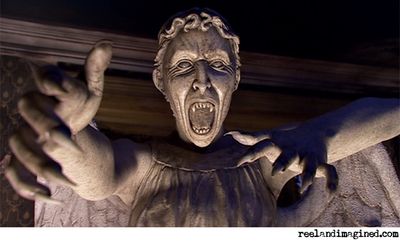 Also, though it pains me to say it, the current series, the fourth, is looking a bit tired. Ideas are repeating and it's taken seven episodes to serve up a story that's anywhere near a classic. I thought that The Doctor's Daughter, screened a couple of weeks ago, was the worst episode since the relaunch, barring a typically strong performance from David Tennant. (And I must praise the unfairly maligned Catherine Tate, who has been my favourite thing about this series so far, aside from Bernard Cribbins' adorable Wilf. He'd better get a ride in the TARDIS by the end, or else.)
Thankfully, there is hope and plenty of it: the second half of the series is where all its big secrets lie. It kicks off on 31 May, after a week's break for Eurovision, with the first episode of a two-part scarefest from the pen of - drum roll, please - Steven Moffat (a chance to pay attention, if you've not noticed him before). From there on in, it's Russell T Davies scripts all the way to a climax titled Journey's End. I'll, um, probably have something in my eye by the end of that.
Recent disappointments aside (and that had to happen at some point), I love this show and wanted to share my joy that it's in safe hands for the foreseeable future. Job done.