The Doctor will see you now…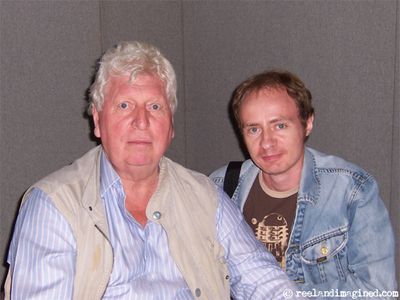 Terry Anderson, leader of the Olympic Ass-Kickin' Team, has a great song on his 2001 album I'll Drink To That called Stay Away From Your Heroes - a warning that they'll let you down. He's obviously never crossed the path of Mr Tom Baker.
As a child of the '70s, I was in thrall to Tom during his years playing the lead in Doctor Who. In recent years, I've been enjoying his performances in the show all over again via the medium of DVD. When I learnt that he was to be a guest at this year's London Film & Comic Con, I thought 'yeah, why not?'.
The event was held at Earls Court, in a gloomily lit section of the complex. Tom was one of the busiest guests, and didn't seem to take a break all day. He was seated next to the guest-talks area, sound from which regularly spilled out into the main hall: cheers, clapping, shouting and loud music.
Me: "Nice to meet you, sir. I'm Darren."
Tom: "Hello, Darren. How are you?"
Me: "I'm very well, thank you. How are you? It's really noisy here, isn't it?"
Tom: "Oh, God, yes… it's a bastard. I've had trouble hearing what people are saying to me, and they think it's my hearing, which is actually very good. In fact, I just heard a woman way over there eating a cheese roll - and it wasn't her first one either."
I really couldn't have asked for a more Tom Baker-ish quote. He signed and personalised a lovely 8x10, invited me to kneel down next to him for a pic, shook my hand - with the very same hand that once held a sonic screwdriver - and bade me farewell (I think he might have even called me "my lad"). In one brief meeting, the guy managed to delight both the seven-year-old and 30-something versions of me.
Tom Baker is a gent and a star. And, let's make this clear, there's absolutely nothing wrong with his hearing.