Bring me sunshine: Ginger and the Scorchers live at the Underworld, London, 19 Sept 2007, plus Warner E. Hodges live in Brighton, 20 Sept 2007
"Warren Feeny."
"Fuckin' show-off."
The post-gig piddle is usually a good chance to overhear some opinions. Men's mouths are never freer than when they're standing side by side with their comrades in urination, having just drunk beer and witnessed live rock 'n' roll. If Prime Minister's Question Time was held in the bogs of the Camden Underworld on a Wednesday night, we'd get to find out what was really goin' on.
The show-off in question is actually Warner E. Hodges, a founding member and mainstay of Nashville's finest rock 'n' roll outfit, Jason and the Scorchers - the band that, in the early '80s, put a steel-toed cowboy boot up the backside of country music, opening it up to the post-punk generation and making cult heroes of the band's members, not least Jason (Ringenberg) and Warner.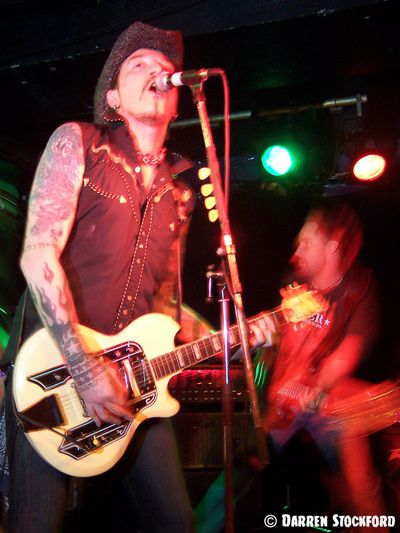 Jason has one of the most soulful and distinctive voices I've ever heard; he's also a wonderful songwriter and one-of-a-kind performer (the one and only time I was lucky enough to see Jason and the Scorchers live, I had to leave early to catch a train - Jason was scaling the venue's balcony at the time). Warner is a guitar lover's guitarist - a man who can make a single Telecaster sound like it's duelling with another, and perhaps even another. His sound is unique and defines the band he built. And he's not afraid of the spotlight - his trademark 360-degree guitar swings have taken out the eyes of many an audience member. (I jest - he knows what he's doing; you just have to trust him. I'm reassured, anyway, by the fact that his strap resembles a seatbelt.)
For many, including Ginger, the Scorchers are a legend. The namecheck he gave them in one of The Wildhearts' most celebrated songs, 29 x The Pain, brought them to the attention of many people, me included, and it could be argued that Ginger's fandom has helped keep the band's name on people's lips over the last decade, certainly in the UK.
It's no surprise to see him taking his stint as Jason's stunt driver very seriously. He wastes no time batting away calls for his back catalogue ("No Wildhearts songs tonight - save your breath"), and thankfully there's no Howling Willie-style parody either - he's trying his darnedest to do this thing right. Before Close Up The Road, he apologises for not matching up to Jason's "stylish voice" and describes his own efforts as "barking like Lemmy". Warner tells him off for putting himself down.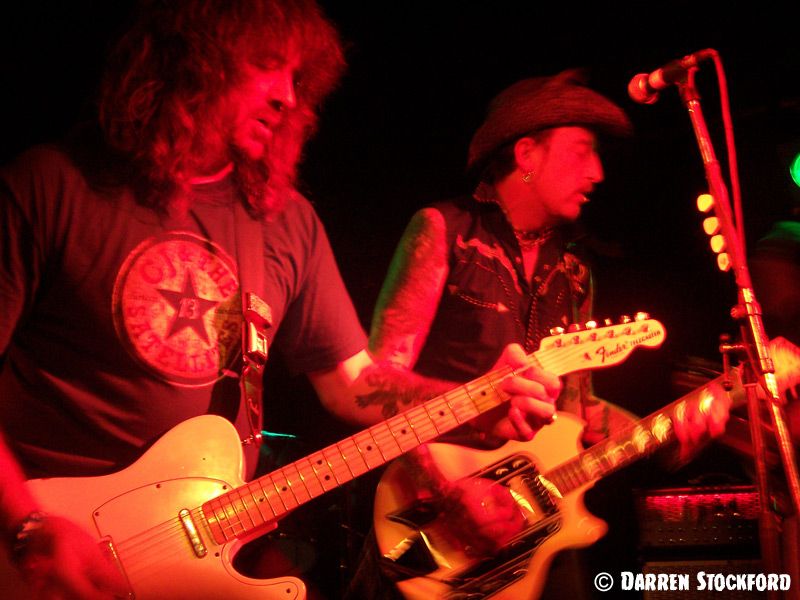 Quite right, too. Jason, as a vocalist, performer and presence, is the absolute definition of irreplacable, but if I'm going to see someone else singing these songs, I'm glad it's someone for whom they have meaning, someone who's been spinning them for half their life because they love them. Ginger's vocals might be mixed a bit low, but I can hear them well enough to realise that he's singing with a concentration suited to the studio.
Warner's in fine voice too, backing Ginger and taking lead for Harvest Moon, which unfortunately acts as the cue for one guy to come crashing into the front of the crowd from behind, wrecking everyone else's good-natured grooving. Warner wastes no time in stopping the song and telling Mr Mosh to behave himself ("Enjoy yourself… don't try to kill people!"), before picking up the song just where he left off. Cool… and most welcome.
Harvest Moon is the only Scorchers cover to make it to Warner's new solo album, Centerline, a 43-minute slice of good-time pie - a li'l bit of country, a dollop of boogie and a whole heap of rock 'n' roll - which sees the guitarist sparring with Dan Baird, its co-producer and, by the sound of things, a major influence on its musical shape. I buy a copy from the merch stand and, later, accost Warner to ask him to sign it. He tells me that he's having a great time doing the Ginger shows but is looking forward to cranking out some different songs on the 'solo' dates.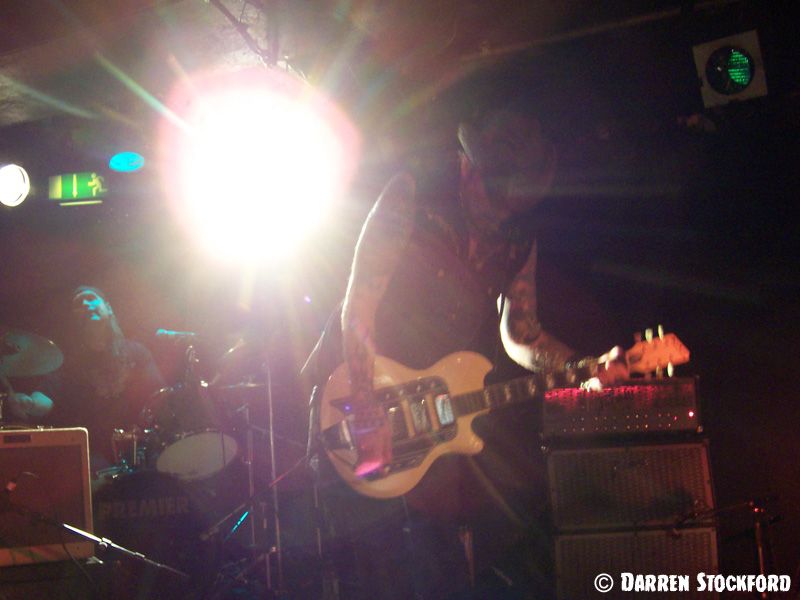 He's clearly a man who doesn't like to be hemmed in by restraints such as 'set list', and that's fair enough - though it must be said that, ordered or otherwise, the songs chosen for these Ginger dates are top-drawer stuff: Lost Highway, Crashin' Down, Broken Whiskey Glass, Shop It Around, Cappuccino Rosie, Absolutely Sweet Marie, Help! There's A Fire, White Lies… even I'm Sticking With You gets an airing, along with Creedence's Fortunate Son.
The following night, I take the train down to Brighton to see Warner and the boys play to about 30 people in a tiny upstairs room at the Prince Albert, a pub next door to the station.
Walking on stage to the sound of the Stones' Rocks Off, Warner insists that the DJ lets the song run at least until we've heard "one of the greatest lines in rock 'n' roll", the classic "the sunshine bores the daylights out of me". He sings along euphorically (we've all done it), announces that "we're what's left of the Scorchers", and cranks out Absolutely Sweet Marie. It's a great moment that's nearly topped when the riff to Greetings From Nashville kicks in.
Tonight is a totally different show from the Underworld, with the set leaning as heavily on Warner's new record as old Scorchers tunes. If my maths is correct, only three songs are duplicated across the two nights. The band are reported to have learnt 80 songs for this tour, which might explain why Warner sometimes has to thumb through a folder of lyrics. Among the surprises are Take Me To Your Promised Land, Ocean Of Doubt and Take Me Home, Country Roads, the latter complete with some glorious backing vox from drummer Fenner Castner - so good that Warner comments at the song's close.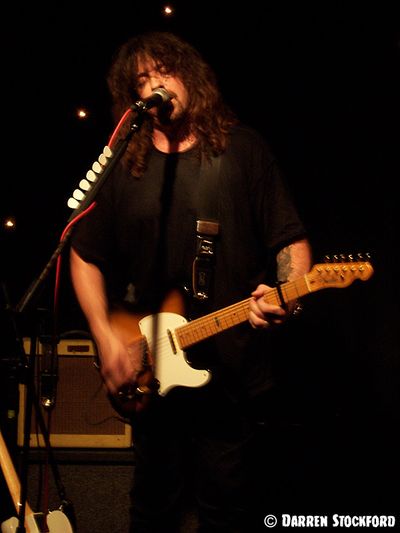 There are guitar problems during the third song, Gimme, Gimme, but it's nothing that a length of duct tape can't sort out. Warner is in a talkative mood, relaying tales after almost every song. He mentions The Wildhearts a few times, describing them as "Scorchers freaks" (in a good way) and talking about Ginger's reverence for the band and material. Also: "They're great guys but they don't do food" (ie, eat). You heard it here first. Unless, of course, you heard it there.
Scorchers drummer Perry Baggs, who's currently awaiting a kidney transplant, gets a mention both in Brighton and London. Fenner, who's been sitting on the band's drum stool since Perry's health required that he bow out, does a fine job, most noticeably on the cover of Hendrix's Fire, where he turns into a tangle of limbs. Kenny Ames, who replaced original bassist Jeff Johnson 10 years ago, is an excellent musician and fun to watch, but his stagecraft feels a bit subdued at Brighton, the small stage curbing his whirling ways. He seems happy and into what he's doing, though, at one point joining Warner in making use of the space on the dancefloor.
Come the encore, there's a request for Window Town - not, apparently, a song that Warner's very fond of. He tries to get the guy who requested it to repent, but he's quite insistent so it goes ahead, with one proviso - that the requestee sings it. The lyrics are on hand in Warner's folder. Surprisingly, it's very good. And I bet the bloke can't believe his luck.
The night comes to close with Lost Highway, the song that opened yesterday's show at the Underworld. Will the circle be unbroken? Bye and bye, lord, bye and bye (sic). I'm sweating like a hog and off home for a much-needed rest. As Jason likes to say at the end of his shows, I'll see you another day down the lost highway.
To which I'd just to like to add, thank you Warren Feeny. Remember the name, folks.