Zealot through the looking glass: Gary Davidson on his Wildhearts book, writing and depression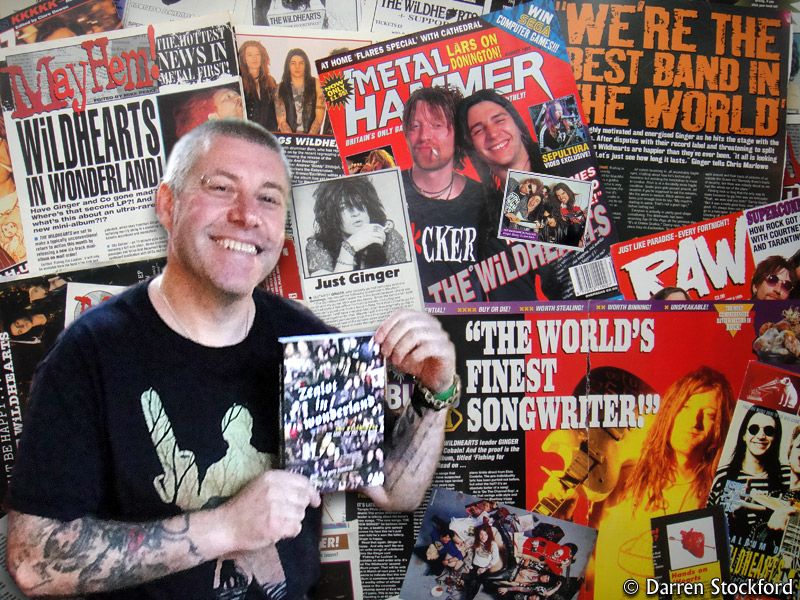 "In another moment down went Alice after it, never once considering how in the world she was to get out again."
- Alice's Adventures In Wonderland by Lewis Carroll
"I've been loved by the sweetest and hated by heroes."
- Geordie In Wonderland by The Wildhearts
The first time that Gary Davidson met The Wildhearts' frontman, Ginger, things did not go well. It was April 1998, and Gary was at a Backyard Babies gig in London, when he spied his hero in the bar area. After tapping him on the shoulder and declaring "I've waited ages to meet you!" he went in for a handshake, only to send Ginger's drink flying - a cue for the off-duty musician to storm off.
"What a fucking first meeting," says Gary, as I remind him of the incident from his book, Zealot In Wonderland.
We're sat in the garden of a lovely little pub called The Gardener's Arms, in Oxford's Jericho district. It's a Saturday afternoon in mid-September - a little chilly, a little wet - and there are only a few other people daft enough to sit outside, which is perfect for the purposes of recording an interview.
I'd arranged to meet Gary at 4pm - "on the dot," he'd said in his email. However, with six minutes to spare I received a text from him detailing a change of plan, due to the pub not opening until five.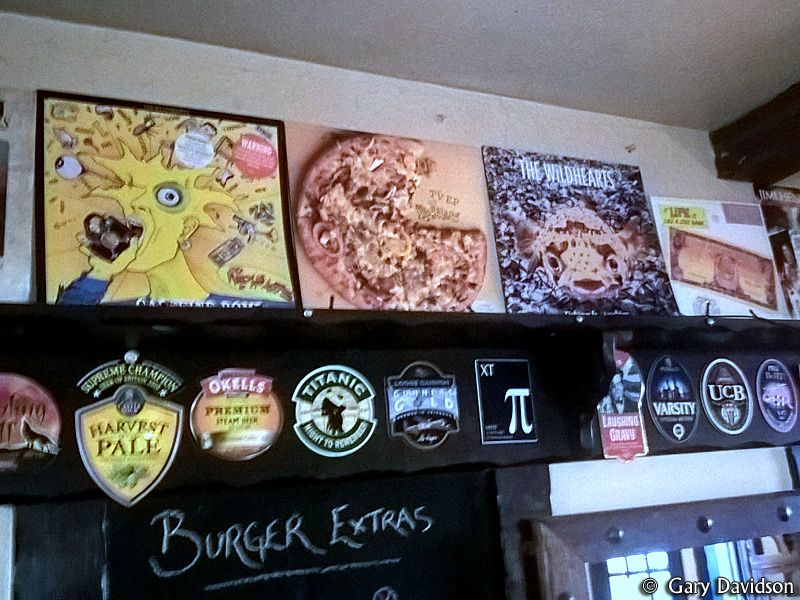 Unbelievable, I thought, because… well, I was sitting inside it with a pint on the go.
It turned out that Gary had arrived and misread the sign - Saturday has longer opening hours. But on learning his mistake, he hurried back, missing the dot by just a couple of minutes.
It was, he said, only his second visit to The Gardener's Arms, though he'd already left his mark: a pile of flyers for Zealot sat on the end of the bar, greeting me as I ordered a pint of Reasonably Priced. (I love drinking outside London.)
The landlord is a Wildhearts fan, and one of the first things Gary did was show me a shelf full of sleeves from the band's records. It's not your everyday pub decor, but it works - staggeringly well, in the case of Caffeine Bomb, a song about a hangover tonic that promises: "Something that'll stop my legs from shaking, something that'll stop my head from aching."
For the uninitiated, The Wildhearts formed in 1989, and by the middle of the next decade they were shaking the foundations of British rock, thanks to the slice-and-dice songwriting of their leader, Ginger. Mixing honeyed melodies with thundering riffs and a hostile irreverence for the music industry, the band sailed gunships through the choppy waters of rock 'n' roll, and even rode the mainstream as far as Top Of The Pops.
"The only reason I wanted to write is because it was about music; it was the only thing I had a passion about."
In a rock scene that was still quite careful with labels - metal, thrash, sleaze, grunge - The Wildhearts stood apart as one of the most creative and exciting bands of the '90s, practically birthing their own genre.
Then, just as folk were starting to get used to the way they did things, the band donned white-noise camouflage, bought a big bag of bowel-loosening 'sonic booms', and retrained as aural terrorists, in an apparent attempt to soundtrack their own demise.
At the end of 1997, they imploded - an act of self-sacrifice that, Ginger maintains, kept all four members alive.
But their story doesn't end there. In fact, we're not even a third of the way through Zealot In Wonderland. The remaining 250 pages document new bands, solo projects and assorted Wildhearts reformations, winding up the tale in 2012 with Ginger's first, groundbreaking PledgeMusic campaign.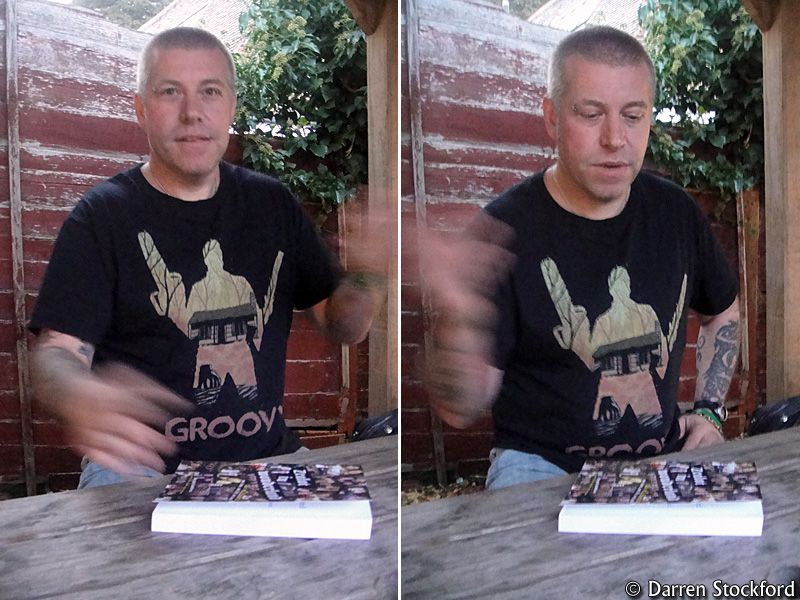 In 2005, The Wildhearts played an outdoor show at Scarborough Castle, at which Gary had an idea: he'd write a book about them.
He'd been scribbling about music since the late '90s, for various small-press publications, and was a long-time contributor to an Oxford mag called Nightshift. But still, a book? What was it about that particular day or moment in Scarborough that prompted that thought?
"I don't know about a day or moment, but it was fucking cold."
"For 10 years, I thought of nothing else. I was obsessed."
He laughs.
"I don't think it was anything about that gig, as such. I was at a stage in my life where…
"I love writing. I love writing about music. The only reason I wanted to write is because it was about music; it was the only thing I had a passion about. And Nightshift was great, but I'd had a couple of reviews that didn't go in, and there was something else going on in my life that, for some reason, I can't remember.
"I was just standing there, and I realised there had never been a book about The Wildhearts. I think there might have been a few things said around the time about that. And I was there, and it was wonderful. And I just thought, fuck it, why don't I write one?"
And so Zealot In Wonderland was born. Easy, eh?
"For 10 years, I thought of nothing else," says Gary. "I was obsessed. I was thinking of something at work and I'd write it down. Bits of paper here, as you do when you're a writer. I can write something small, and I know it's gonna end in three days. But this book… it was wonderful, but it was bloody hard. It consumed my life."
By 2012, he'd written and edited 190,000 words. But then disaster struck: the files became corrupted.
"I lost it all. I didn't back it up, like a twat."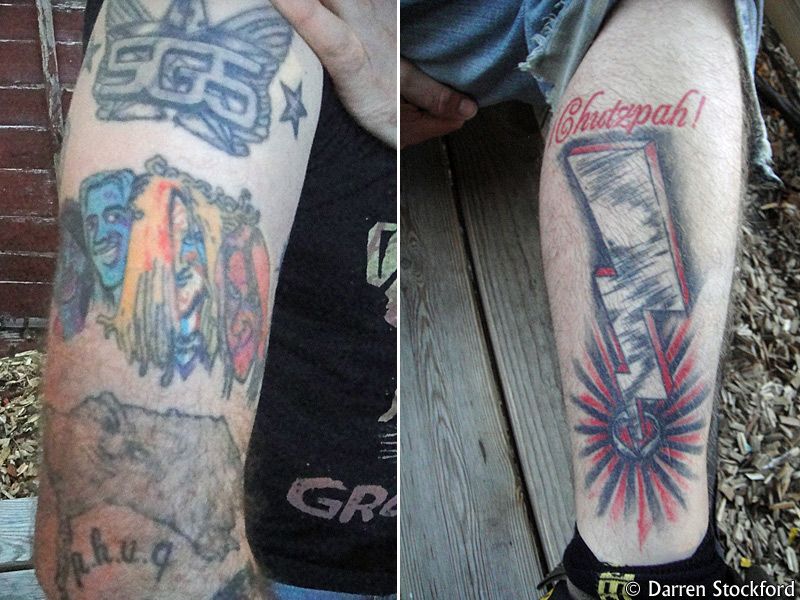 Thankfully, he'd printed out the manuscript, and with the help of his friend Kiki - one of the book's most important characters - he set about retyping it.
He now has copies stored in multiple places, though he still expressed surprise at the beginning of today's chat when I took out my backup recorder: "That's really sensible. Do I ever have a backup when I interview someone? No. I'd be fucked."
Among Zealot In Wonderland's themes are fandom, friendship, depression and obsession, and Gary is pleased that most people who've read it have seen reflections of their own lives within its pages.
"I thought, I'm gonna write a book about The Wildhearts, a book about how they started - they did this, they did that. And after the first bit I started putting how I, myself, did this. It's about me, y'know? And I love the band. So then it just became what it was. I never really had a plan. I think that to just write about the band would be… not boring, but there wouldn't be much emotion behind it. There are a lot of facts in the book, but I wanted something raw and something honest, and I ran with that."
I run Gary right back to the beginning: can he remember when he first wrote something for himself, outside of school?
"I lost it all. I didn't back it up, like a twat."
"I hated school with a passion. I found learning very difficult. I just wanted to get out of the place. I was in these classes for people who were slow learners. But also in the classes were people that just fucked about, so there was chaos, which was ridiculous. We were trying to learn with these people just causing havoc and ripping the piss out of the teachers. I used to read a lot of horror books - Stephen King, Shaun Hutson - and I think I wrote horror and stuff like that."
As soon as he could, Gary left the classroom behind.
"I had no ambitions, no nothing," he says. "I just got a job in Tesco's. And then I became a forklift driver at Oxfam."
It was while he was lifting forks that his life started to change.
"I met this guy called Dick who was heavily into music, and he gave me a couple of albums. I started getting into guitar music and realising what it was all about, and then really getting into bands. It was like I'd entered another world. I don't think I knew guitar music existed. I'd led a very sheltered life."
When Gary first heard the name The Wildhearts, he wasn't impressed. As he notes in the book, his initial thought was, 'what a cheesy name!'.
"I still think that, actually," he says. "But you know when you say something enough times? The name now means a lot. It's this huge thing - all the stuff that's happened over the years, the music and the fun times - which is amazing. I still think it's a cheesy name, but it's kind of not because you have all these memories, all these associations with it."
The first time he saw the band, in a support slot in March 1992, he practically ignored them: "They just went over my head." However, later that year, the band's debut EP caught his attention and set him on the path to righteousness.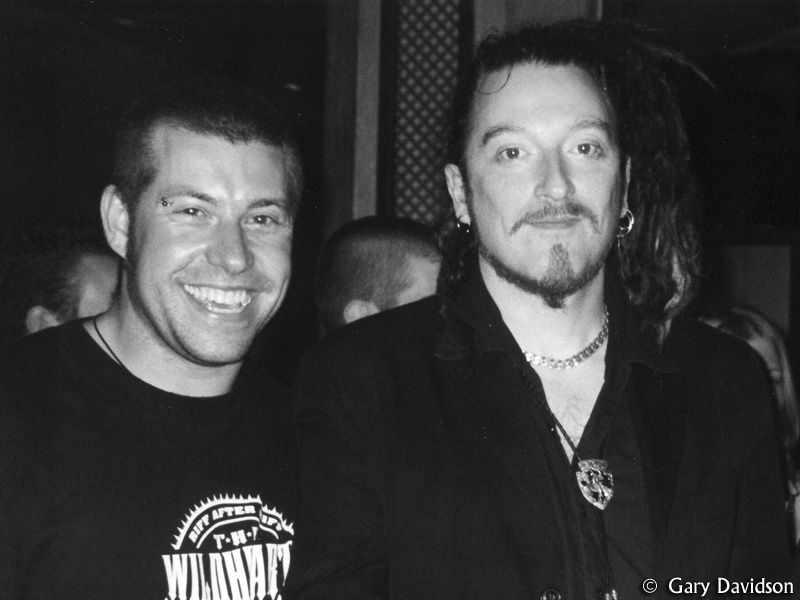 But it hasn't been an easy stroll for Gary where Ginger's concerned. Oh, there were good times, but there was also a lot of stress.
From that awkward initial meeting in 1998 (which got worse, by the way, when Ginger returned), through a frosty exchange of emails in 2001, to Ginger's end-of-tether reaction outside a Worcester gig in 2008 - a knockout blow that left Gary in tears - their interactions over the years have sometimes been fraught, for various reasons.
"Years ago," says Gary, "I used to think musicians were just happy human beings, and they didn't have any problems. It sounds naïve and silly. Of course they're not. I was thinking the other day how, with the lyrics and the music, you can tell maybe what sort of life somebody's had. And obviously they go through the gamut of emotions. But I guess I didn't take that into account. It sounds really awful.
"Now, of course, I think musicians are probably even more fragile. It's like any art - they're doing it not because they want to, but because they fucking have to."
"It's like any art - they're doing it not because they want to, but because they fucking have to."
In a short review of Zealot that I published last month, I noted that the drive to gain Ginger's acknowledgement had started to consume Gary. His desire for an on-the-record chat with the songwriter ultimately became a quest for some kind of approval.
"It was bizarre. Really, I don't think I was too bothered about an interview. I just wanted the acknowledgement. I just wanted to talk to Ginger. If you're into an artist, you want to get to know them more. And you've got this guy who, y'know, saved my life a few times maybe. And yeah, I didn't understand why he didn't want a face-to-face interview.
"Now it's totally different. He's been wonderful with everything that's happened. Amazing."
On page six of the book, just after the contents, is a recommendation from Ginger that contains the words "passionate labour of love", "amazing support" and "deeply flattered".
Says Gary: "Balancing the truth - and it is all truth - and not pissing Ginger off was very hard. But I know he likes honesty. And I was pretty honest - as honest as I could be."
Was he ever tempted to give up on the book? To throw in the towel because he couldn't seem to get Ginger on board?
"No, the only times I was tempted were when I was depressed."

I've saved the topic of depression and anxiety until last, not because I've been dreading it - far from it - but because as a fellow sufferer I've brought along almost three A4 pages of notes on it, lines from Zealot that I identified with, and I was worried about never getting past it.
Over the years, mental health has been the inspiration for some of Ginger's most affecting songs, with their author - another long-term sufferer of depression - drawing on his own raw experiences. In Zealot, Gary talks of Ginger "discharging demons".
Writing about depression for the book must have been cathartic, right?
"My heart and soul went into it," says Gary. "But no, it wasn't a release or cathartic at all. When I'm that bad I don't write. I just don't feel like writing, and maybe it would help at the time. But later on? No. One thing it did do, though, is make me realise how bad I'd been - how much time I'd wasted - because I'd documented it, and I'd never done that before."
"I've had quite a few people saying that it really, really touched a nerve with them."
It's also a part of the book that many readers have commented on, which its author has found gratifying. As he says, depression can be a lonely place.
"Despite all the funny stuff that happened, and all the music stuff that happened, it's the bit I'm most proud of when I talk to somebody. I'd be a bit disappointed if somebody was to read my book and didn't mention it. For me, depression is one of the major parts of it. I've had quite a few people saying that it really, really touched a nerve with them. I'll get emotional now talking about it, but I don't mind. It's good. Carry on."
Gary notes in the book that having depression has made him more empathetic and understanding of other people's problems - something that also chimes with me.
"When I was younger," he says, "I'd see somebody walk along the street mumbling to themselves and looking awkward, and I'd think, fucking idiot. But now I think they could be autistic, their mum could have just died, they could have this, they could have OCD. I just don't judge anybody any more."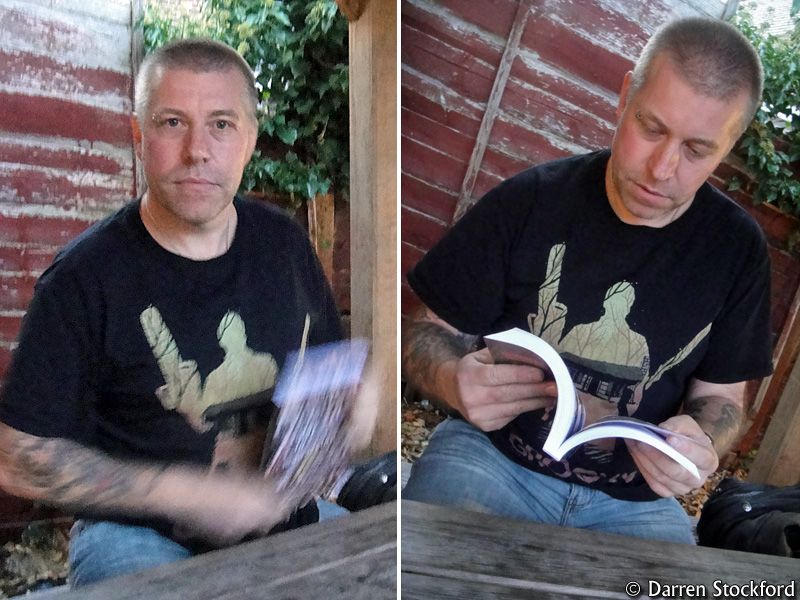 I tell Gary that when I'm not in a deep, dark hole, it's difficult to fathom just how I ever got in there. The thoughts and feelings I had seem so alien.
"Yeah, it's hard to imagine," he says, before pondering whether it would be a good thing for everyone to have depression for a week, to see how it feels. "Maybe the stigma would fuck off."
When did he first become aware that there was something wrong?
"I was around 14, I think. I've always found social situations hard. Sometimes, if I'm stuck with, say, six people around a table, sitting there, I'll just run out of things to say. I get down on myself a lot - feeling awkward and such. I was like that at school. Like I said, I found it hard to learn, and I hated it. Didn't have many friends.
"In the second year of secondary school, I had two friends and they started to hang out with cool kids. And then they started bullying me. My own two fucking friends. They were the only two people that I kind of felt were okay. And at dinner time, everybody would hang out. I didn't - I'd go home. And when I left school and started work, I found it hard to be around people all the time. I was getting anxious and stuff. I always thought that everybody was better than me.
"I had two friends and they started to hang out with cool kids. And then they started bullying me. My own two fucking friends."
"Of course, now I'm older and wiser, I've started to love myself more. And I know what my strengths are. I know what my weaknesses are, and I deal with that now. Well, I say that…"
He laughs.
"I still have periods now. Last night I was out. It was good, everybody was chatting, and I suddenly got this feeling. You know how you can be loneliest in a crowd of people? I know that people say being on your phone's a bit rude, but I use it as a comfort blanket. I sit on my own and look at All Things Wildhearts [a Facebook group], or I have Nightshift in front of me. I ring my mum. I'm 45, but I don't give a fuck. She's lovely.
"I used to go out and fight it, but then I found that really excruciating, the situations I was in. I was feeling really bad. And I'd get home and want to kill myself, because it was really awkward."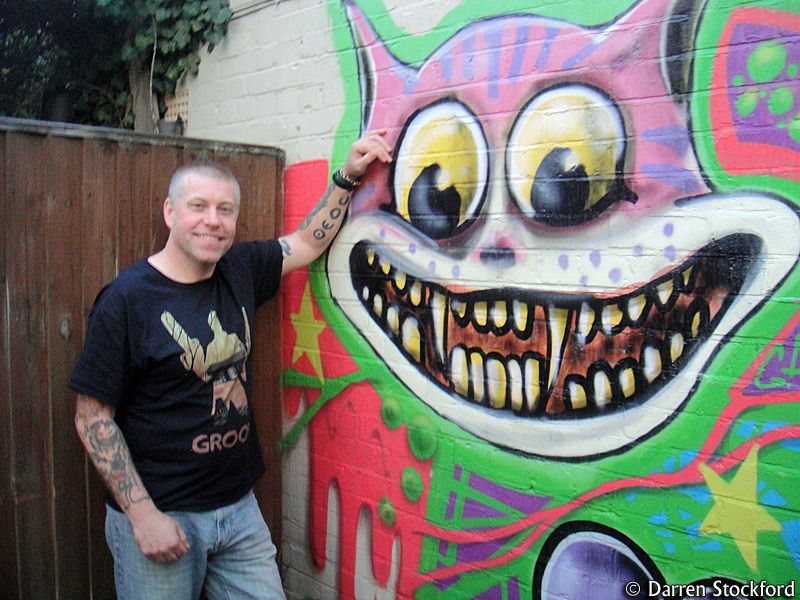 In June 1996, Gary attempted suicide and was saved by his dad, who by chance went up to his room and saw that he wasn't breathing.
Did he really want to die, or did he just want something to stop? It sounds like a silly question, but suicide can be a complex subject.
"I wanted out. There was nothing else. You know when you're that depressed it's all-consuming? I did it again as well. I didn't mention that in the book. But I told someone. Why did I tell her? If I hadn't told her, I might not be talking to you now."
Gary still has suicidal thoughts. However: "I know that I'm not going to follow through with them." Instead, he hides himself away, sometimes for a long time. One of these stretches occurred in 2016, when he realised that his manuscript was far too long and that he'd have to ditch almost half of what he'd written.
"I went into depression for a year," he says. "I left the house four times; I was nothing. I had tickets for all the Ginger gigs, and I ripped every one of them up. I looked at everybody's lives on Facebook, to make it even worse.
"I had tickets for all the Ginger gigs, and I ripped every one of them up."
"If something, to me, feels insurmountable, too massive to deal with, I don't deal with it. And that ruined me. I thought, what the fuck do I do? I came out of it eventually, and I sat there and went, right. And I was loving it. I was editing the fuck out of it."
In the final draft, Zealot ran to 110,000 words and 350 pages. It has a foreword by Ryan Jarman from The Cribs, an 8/10 review in Vive Le Rock, the blessing of its main inspiration, and a recently written epilogue (sent by email to buyers) that skips forward five years to round off the story - fittingly, given the book's title - in a fairytale-like fashion.
This afternoon has been a fascinating - and yeah, emotional - trip to Wonderland. I'd initially cast Gary as the White Rabbit, who was (ever so slightly) late for a very important date. But of course, he's really Alice, an adventurer in a world that seems to make no sense. And it's been a pleasure to join him down the rabbit hole.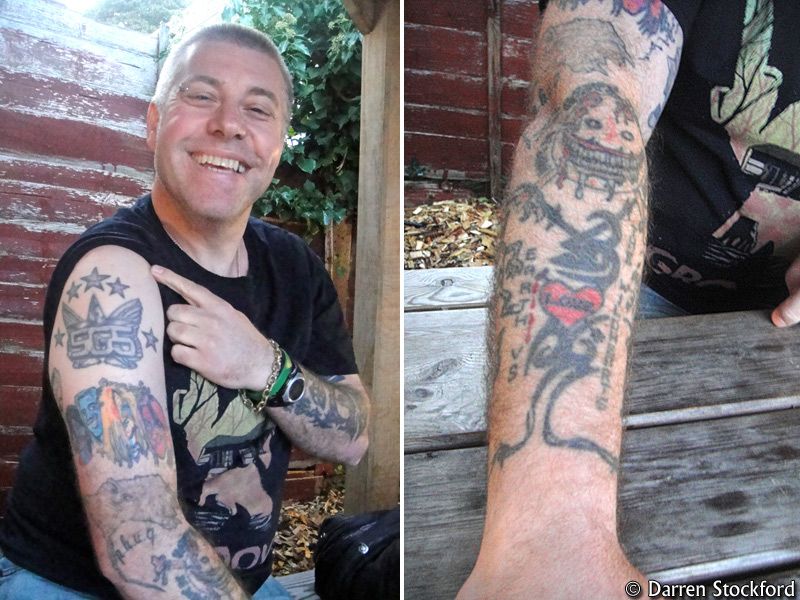 As the afternoon turns to evening, and I take a few photos in the fading light while my camera struggles to focus, Gary flashes his collection of Wildhearts-themed tattoos, and shoots me his trademark grin. And there it is: in the final chapter he's the Cheshire Cat - which coincidentally has been staring at me from the wall opposite throughout our conversation.
Gary is currently working as a cleaner, which has been good for him: "I don't get anxious, I don't get worry or anxiety, or stressed at anything."
He's donating 10 percent from the sales of Zealot to the Samaritans, "because it's close to my heart". And in a couple of weeks' time, he'll start volunteering with Tandem, an Oxford charity that helps people with mental-health problems rebuild their lives. "We spend time with them - like two hours a week - and do stuff with them, so they've got like a buddy."
"I'm living back with my mum now, in the same room that I was, and I've never been happier."
With the annus horribilis of 2016 in his rear-view mirror, and Zealot In Wonderland finally on the bookshelves of Wildhearts fans, Gary seems to be in a good place. Literally.
"I'm living back with my mum now, in the same room that I was, and I've never been happier. When you're an adult, society tells you that you have to have a house, you have to have kids, you have to have this, you have to have that. And I've got none of it. And you know what? I'm happy. And that's all I give a fuck about.
"Yeah, years ago I wouldn't view it that way. But I'm happy."
• Zealot In Wonderland is available, priced £9.99 plus postage, from its official website, where you'll also find some exclusive content, including Gary's interviews with various Wildhearts.
• For support with mental-health issues, visit Mind (England and Wales), SAMH (Scotland), Inspire (Northern Ireland), Mental Health Ireland, Mental Health America or Mental Health Australia.
• You can call the Samaritans on 116 123 (it's free and won't appear on your bill), the US National Suicide Prevention Lifeline on 1-800-273-8255, or the Australian Lifeline on 13 11 14.