"There's a ghost in the Tanglewood that offered light in the black separation."
– Phantom Memories by Ginger Wildheart
"Get a move on, Stockford!"
Yes – tonight, Matthew, I am that guy, the bloke who spends an age at the front of a queue, holding everyone up. I don't mean to be, but the prize now that I've reached pole position is a chat with Ginger Wildheart – someone I've not spoken to, in person, for… ooh, it must be about 16 years.
Back then, my wife Tara and I ran his website SilverGinger.com, as well as the discussion group The Wildhearts Mailing List. It was the days before Facebook, Twitter and YouTube – heck, even MySpace was a glint in its daddy's eye – and a lot has happened since. I've gone bald, for starters.
As Ginger turns to the queue to explain what's going on, I give everyone a daft wave and a doff of my cap (gotta keep the ol' head warm somehow), while a friendly face from halfway back – the lovely Mark Randon, who took some of the pics on this page – shouts the above words of encouragement.
Yeah, yeah, I'm nearly done.
It's the afternoon of Tuesday 6 March, and the occasion is an in-store performance and signing – one of many on this tour – at Vinyl Revolution, Brighton's newest independent record shop.
Having sacrificed a soundcheck so he could greet the early arrivals and get the Sharpie ink flowing, Ginger stands behind the basement counter looking like the coolest shopkeeper on the south coast as he chats to fans, signs records and poses for photos. And there's a feeling of genuine engagement, with everyone seeming to come away having had a good natter with their hero.
With this in mind, I don't think I'm hogging the front for too long, though it's entirely possible that I've been stood here for an hour and not noticed.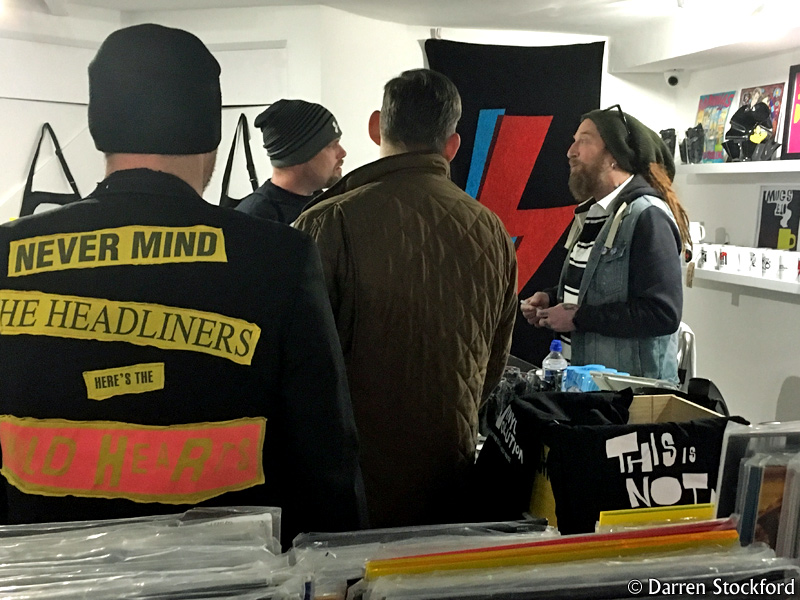 As the name implies, Vinyl Revolution stocks nothing but 7- and 12-inch plastic platters, including Ginger's latest release, the acclaimed Ghost In The Tanglewood, which its author has described as "country music, played by a working-class Geordie raised on country and northern folk music". And fair play to him for that, because the sound of this record isn't an easy one to describe.
While the album might find its author working within a traditional songwriting framework, it's far from a traditional-sounding country or folk album. Rather than Ginger teleporting himself into those worlds, it's as if there's been some kind of fusion at a molecular level. I'm reminded of the way that Steve Earle crafted his own type of roots music, bending the form until the only thing you can reasonably compare his music with is itself.
Of course, resculpting genre is something that Ginger has been doing since the early '90s. And his way with a tune – his gift for creating songs that have a signature, highly melodic sound – ensures that this new-breed record slots into his canon with very little fiddling.
Okay, there's a little fiddling – and some mandolining, some pianoing and a whole lot of pedal-steeling, too. But my point is that the record feels both logical and comfortable.
Though there were already many country- and folk-tinged songs scattered around Ginger's catalogue, it's a joy to hear those influences leading an album – one that's found favour not only within his established fan base but in freshly woken Americana circles, too. It helps, I think, that this is also a record on which Ginger really shines as a vocalist – a key ingredient in country recipes.
Ghost was originally released in March 2017 via PledgeMusic and Ginger's own label, but it now has commercial distribution, having been picked up by Graphite Records. And it's copies of this newly released version, some in a lovely shade of blue, that most fans seem to be offering up for signing today – though I opt for a piece of shiny black vinyl, to keep it 'old school'.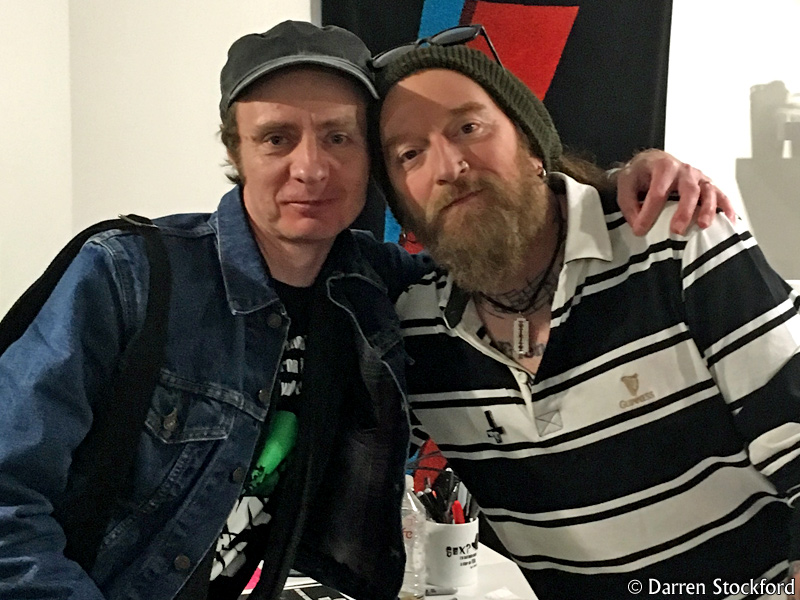 As I hand the record to Ginger, he opens the sleeve and prepares to sign the photo of himself on the left-hand side of the gatefold. However, I ask him to sign the front instead. He tells me that it'll only be the second time he's done so, and checks whether I'm sure. I am, I say, as I'd like to get it framed.
I also ask him to write an inspirational quote of his choice, because this is a record that has come to mean a lot to me over the past year.
"I can get a bit emotional talking about it," I say, as I feel my voice crack.
In the album's press release, Ginger explains that these songs "largely deal with the traditionally taboo subject of mental health issues, specifically depression, which I have suffered from my whole life". He also describes the cathartic nature of making music: "I find relief in this music and hope that the songs bring a similar comfort to the listener."
As a middle-aged idealist with an anxiety disorder, depression and a love of uplifting tunes, I find this album a daily source of comfort, whether or not I'm actually playing it.
Sometimes I'll rattle through the album twice in a row and it sounds like a drunken conversation with my oldest friend as we toast old faces and wonder how the heck we made it this far. Other times a few key songs will exist as a whisper on the periphery of my conscious thought – a benign spectre trying to tell me that it's seen the future and everything's going to be okay. And if you think that sounds like romanticised nonsense, you'll enjoy this next bit.
When it snowed last week, I took the album, the actual CD, for a walk.
Almost every day since mid January, I've donned my battered Converse and set off on a brisk, five-mile march around the streets and parkland of my home town. I was originally trying to shift a few pounds, but after a few weeks my mission changed, as I started to appreciate the place it put me in mentally. And it wasn't just down to the scenery or the endorphins. It was also because of a record that my internal jukebox kept playing me.
Every single day, whether or not I requested it, there it was: Ghost In The Tanglewood, streamed directly from my imagination so as not to aggravate my tinnitus or startle wildlife.
And so, on that cold but sunny Wednesday, I thought that the record might like to stretch its legs and see where its echoes had accompanied me for the last six weeks. And as the pair of us stood in my local park, looking out across the frozen lake with bewildered ducks waddling around on the surface, I felt a brief burst of euphoria.
It was the same feeling I get when I hear, or even just think about, the defiant "yeah!" near the end of Golden Tears – a song about taking your despair and turning it into something that gleams. I can feel my head breaking life's surface – a sensation I call 'coming up for air', because that's exactly what it feels like. "Build your courage," runs the lyric, and for the duration it actually seems possible.
Golden Tears is one of three songs that the band perform at Vinyl Revolution, and it sounds just great. Strapping on an acoustic guitar (a Tanglewood, of course), Ginger is joined by guitarist, singer and long-time collaborator Jase Edwards (sporting another Tanglewood), cajon player Stix and vocalist Sophia Vassalos.
Oh, and there's also a laptop, operated by Jase, filled with the parts of songs that a couple of acoustic guitars can't reach.
Speaking last month to Guy Shankland of OriginalRock.Net, Ginger said: "They're not backing tracks with orchestras and choirs and things on. They're just backing tracks to make it sound less like a traditional acoustic performance… I never want to approach anything in the traditional manner."
It's not the first time that Ginger has gigged with such a set-up – the 1999 Clam Abuse tour and his Songs & Words shows of 2015 ran along similar lines – and though I'll always prefer the freedom of a full band, I'm charmed by the effect of the backing tracks, which turn the aforementioned Golden Tears, along with The Daylight Hotel and Paying It Forward, into something much more colourful than acoustic strums.
As a warm-up, an aperitif if you will, this short set goes down a treat.
Tonight's main course is at The Prince Albert, a pub next door to the railway station, and when I arrive soon after 8pm the small, upstairs gig room – capacity just 100 – feels relaxed and welcoming, thanks to the warm lighting and reasonably priced cans of Red Stripe.
Things are going to get very cosy in here, but as I settle into the front left corner, pretty much second row, I have high hopes for my newly purchased LP making it out in one piece.
The support is She Makes War, aka Laura Kidd, who flies solo to perform a varied and engaging set of songs of a style that her Bandcamp page describes as "gloom-pop".
I'm particularly taken by the vocal loops of Delete, an a cappella performance that builds, layer by layer, while the chorus seems to comment on the process in reverse, if that makes sense: "I'd like to delete myself; don't like to repeat myself." The effect is mesmerising.
By the time the headliners hit the stage at 9.30pm, the crowd are tightly knit, in both body and spirit. United by music, a shared history and a respect for their fellow fan, Ginger's audience must surely be the envy of a lot of more commercially successful musicians.
Tonight he tells the crowd: "I'm very, very lucky to have made a community that'll look after each other as well as me." And you know that it hasn't come from a cue card.
There's a lot of love, and voices, flowing towards the stage, and Ginger notes that the audience are in "fine fettle". I'm pleased to see fans treating the songs from Ghost In The Tanglewood like old friends.
The band play four songs from the album – the three from the in-store plus The Words Are Gonna Have To Wait – but I suspect that two or three more could have been included, with absolutely no complaints or shouts for Suckerpunch to break the spell.
"I do appreciate you coming down here and appreciating the finer points of music," says Ginger, "namely words that you can hear, and melodies and things." He says that at this point in his life, all he really wants to do is be appreciated as a songwriter, and that for people to come out and see him do something like this is a "big deal".
Though the songs are drawn from different pages in Ginger's catalogue, the common thread is their strong melodies, their personal themes and, in many cases, their rootsy nature.
Musically, the likes of Caer Urfa, The Pendine Incident and If You Find Yourself In London Town are a perfect fit for this tour, while Forget About It and This Is Only A Problem mirror Ghost In The Tanglewood's confessional, fighting spirit. And then there's Inside Out, which ticks both boxes and wraps them up real pretty, too.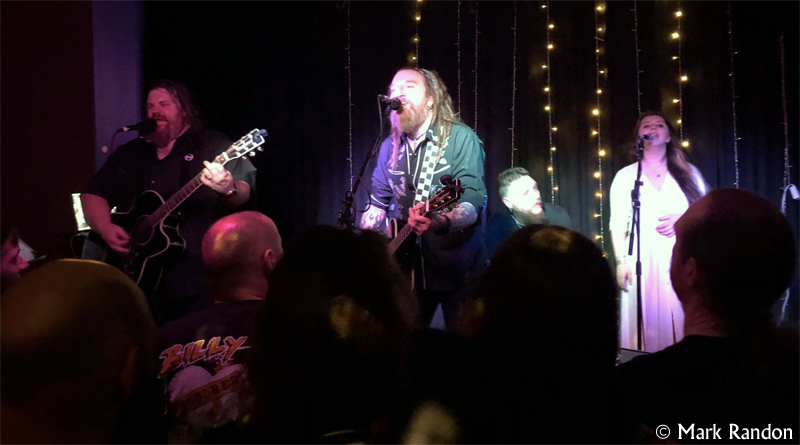 The sound is clear and the band sound great, with three voices lifting the songs to the heights they deserve and some cracking lead-guitar work from Jase. "I'm not bad on the guitar myself," says Ginger, "but I'm a poor second next to this fella."
Before almost every song, Ginger speaks at length – about the fear he once had of using his own name on his solo records, about his younger self ("little Ginger") leaving South Shields and moving to London, about people who are no longer with us, and what feels like a million other things – which gives the evening an 'audience with' vibe.
When he talks about the mines and shipyards in his home town being closed down "because of that lovely woman whose name shall not be mentioned", the PA emits some drone-like feedback, and he laughs at the idea of "some ghost of a fucking Tory" haunting the speakers.
Brighton seems to suit Ginger, and Ginger seems to suit Brighton. Over the past three decades, he might have plied his trade around the world and sung the praises of many beautiful places, but he appears to be quite taken with 'London-on-Sea' – to the point where he starts seeking house-buying advice from the locals.
"Are there any cheap parts of Brighton I could move to?"
Sadly, there don't appear to be any estate agents in attendance, so he cancels his fantasy booking with Pickfords. "Maybe one day if I get rich," he says, "I'll move here and do a weekly gig up the road. I'd like to do a weekly gig here."
Tonight's show has been sold out for weeks, but the main man has still managed to squeeze in a few extra bodies by guest-listing some ticketless folk he met at Vinyl Revolution, and I've seen similar stories from other shows on this tour. Tonight he talks about his considered retirement from music, before the 555% triple-album project prompted a change of heart, and his gratitude is obvious. "It was your fault that I came back. You guys came to my rescue."
As he sings on Paying It Forward: "I realised I'm not alone. Never was I alone."
This song, my favourite on the new record, celebrates a reawakening for its writer. And every time I hear it, or even just think about those opening lines, the message – that we all have the ability to help and be helped, and that it's often the little things that make a difference – hits me afresh.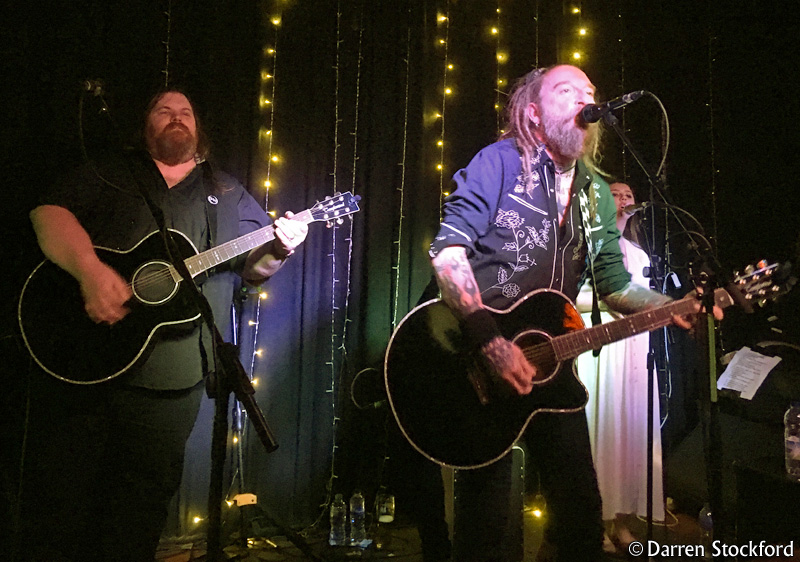 Earlier, at the in-store, I told Ginger how the Internet both lifted me up and brought me down.
Never before has the world felt so small yet so large. The World Wide Web has brought people together and given us friendships, communities, art and businesses that wouldn't otherwise exist. As Ginger acknowledges, it saved his career, and there's currently a drive to raise funds for Wildhearts bassist Scott Sorry, who's battling a brain tumour and its associated medical bills. Without the Internet, many people's lives, including my own, would certainly be much poorer.
However, there's also a constant awareness of everything. On a global scale, this is a benefit – it's energised people, broadened politics and brought about change – but on a personal level it can sometimes be tough to process. When the weight of human misunderstanding, cruelty and suffering can be felt in just a few clicks – or sometimes even no clicks, when it's piped straight to your timeline – it can feel like you're being repeatedly crushed.
Introducing Golden Tears at The Prince Albert, Ginger describes it as a song about maintaining hope. "It's important to remember," he says, "that everybody's dragging something around that they've got to deal with, and it doesn't last."
I'm reminded of another of my mental-health catchphrases – seeing beyond the moment – as well as the words of another song from the album: "The Reaper don't mind the wait."
Come the two final, glorious singalongs, I feel myself coming up for air for the umpteenth time today. I'm an awful singer, but I'm surprised at just how in tune I sound as I belt out the words to Mazel Tov Cocktail and Geordie In Wonderland. The latter's lyrics feel more apt with each passing year, and it's the perfect song with which to end gigs on this tour, seeing as it's where Ginger's folk-rock experiments started, back in the mid '90s.
Thanks to friends, music and the intersection between them, tonight I feel the truth burning my chest: I'm not alone and I never was. And though I know this feeling won't last forever – I mean, it might not even last until the morning – I'm reassured that moments like these will always be out there, waiting.
Bidding farewell to his Brighton audience, Ginger urges: "Whatever you do, look after each other, as well as looking after yourself. It's fucking mental out there."
Thankfully, despite some hearty singing, it hasn't been fucking mental in here, and my LP has survived the evening. It's flat, stain-free and looking forward to its journey back to its new home in London. It's been a brilliant day, and I'm so grateful for this album. Right now, I'd even call it my favourite thing that Ginger's done.
A celebration of humanity in these grim times, Ghost In The Tanglewood is a heartfelt, touching, empathetic record about facing, overcoming and in some cases even embracing life's hardships. I love the album's fragility and its strength, as well as the fact that its fragility is its strength.
It's a welcome reminder to keep walking, even when the ground is frozen and the ducks are confused. And, yeah, that bit where the steel guitar sounds like it's come straight off a Gram Parsons record is pretty cool, too.
• Buy Ghost In The Tanglewood and more from The Wildhearts' webstore
• Watch the video for Paying It Forward, starring The Hope School All Stars
• For the latest news, hook up with Ginger on Twitter and Facebook
• Thanks again to Mark Randon for the pics, as well as the pint and the splendid chat
• Thanks too to Jason Hotchkiss, my gig buddy and oldest friend (he's 128). Love ya, man!
• And finally, thank you to Sarah Meacock for taking the photo of me and Ginger