Day of the Demon: Peggy Cummins at Memorabilia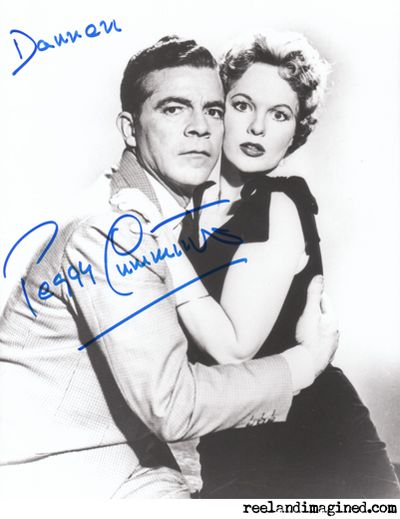 Set your videos - or whatever new-fangled recording machine you currently have living under your telly - because this Saturday, BBC2 is showing a bona fide horror classic, Night Of The Demon.
Directed by Jacques Tourneur, and starring the late Dana Andrews and the, um, fashionably early Peggy Cummins (sub-editor - please change to something that makes sense), this 1957 film based on an MR James story is not only a cracking thriller and a masterful work of suspense; it's also a damned fine fright flick, layered with some fantastically creepy moments and topped and tailed with cinema's best-ever demon (possessed young girls from Georgetown notwithstanding).
You might have heard some folk insisting that the film would be improved if the demon wasn't shown, or that the effect itself is actually a bit hokey, but… well, they're wrong. Y'hear me? Wrong! Watch the film - you'll see. (Just be careful with the spoiler-laden trailer below.) Fans of Drag Me To Hell definitely need to take a look at Night Of The Demon, as Sam Raimi's movie appears to be an homage in many ways.
**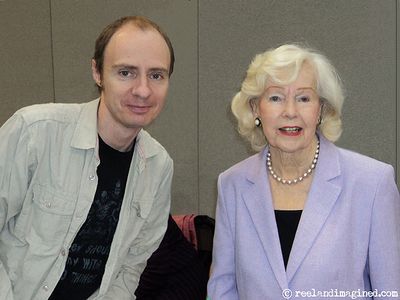 **Night Of The Demon's inclusion in this week's TV schedule also gives me a chance to follow up my Memorabilia report from a few days ago. Not only was I tight for image space there but, really, I think that this wonderful photo deserves a post of its own. So here it is: a snap of me, looking rather chuffed, with Peggy Cummins at the Birmingham NEC last Saturday.
Peggy was the first guest I met that morning. She was also the first name to be announced that cemented my plans to attend the show. Within minutes of finding out that she'd be there, I was searching eBay, hunting down a suitable 8x10 to get signed. The end result is pictured at the top of this post, though it turned out that I needn't have shopped for photos at all. Peggy's desk at the NEC offered the collector so many options, from film stills to prints of posters (some featuring the film's American title, Curse Of The Demon), that no one should have gone home disappointed.
I later realised, though, that I'd missed a trick. How would Peggy have reacted if I'd tried to slip her a strip of paper with some curious-looking symbols on it? If I was her, I think I'd feel nervous just being handed a receipt in Sainsbury's…
Night Of The Demon is on BBC2 at 1am on Sunday 28 November (ie, very late on Saturday night). If you'd like to see more of its ilk on British television, support the Classic Horror Campaign.