Confessions of an autograph collector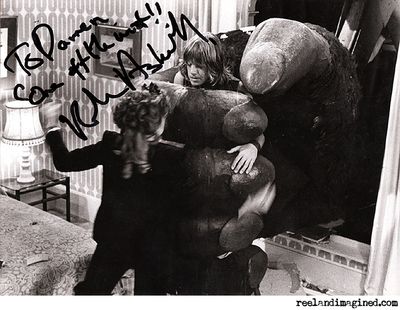 To some, Memorabilia, the twice-yearly signing/collectors' fair held at the Birmingham NEC, is the once proud, now underachieving older brother of Collectormania and the London Film & Comic Con.
Its recent guest lists seem to have drawn more tuts of dissatisfaction than any other show of its kind, both online and offline - primarily, it seems, because there haven't been enough guests from modern science-fiction shows or the latest genre films. "The weakest line-up there's ever been," complained one forum member in the run-up to last weekend's event. At the show itself, I overheard someone bemoaning the "Z-list celebs".
You can't please everyone. Personally I think that, while there are good reasons to criticise Memorabilia's organiser, MCM Expo (they're certainly no Showmasters when it comes to dishing out pre-show information), its guest list isn't one of them - not this year, anyway.
At the March Memorabilia, I was given the opportunity to meet John Saxon, Ian McCulloch and William Forsythe, and naturally I seized it with both hands. Last Saturday, I added another 10 in-person autographs to my collection - the most I've ever acquired at one of these types of events (dedicated Doctor Who conventions don't count).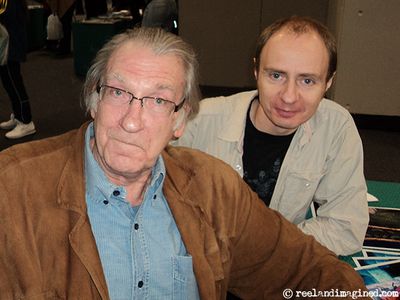 From the dark realm of classic horror, I met the now-84-year-old Peggy Cummins, star of the wonderful Night Of The Demon; the charming Madeline Smith from Hammer's The Vampire Lovers; David Warner (pictured left), who was decapitated so memorably in The Omen; and Valerie Leon, whose signing desk offered lots of fine pictures but not the one that I'd set my sights on - a promotional still from Blood From The Mummy's Tomb that, for my money, showcases her prime Hammer sexiness just so.
What was a guy to do? Thankfully, it didn't take too long to hunt down a copy of the photo from one of the dealers' stalls, for just three English pounds, which just about made my day. There it is below. Don't stare now - it's rude.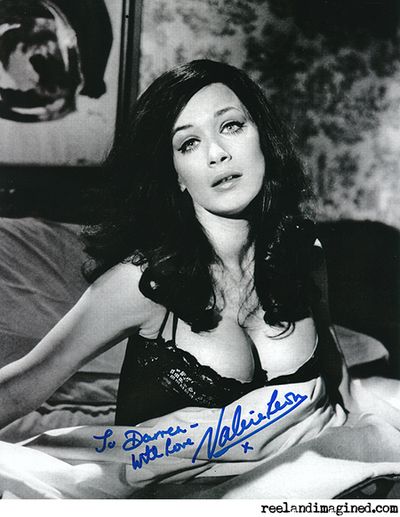 I also took the opportunity to meet Ian McCulloch, from Zombie Flesh Eaters, for the second time. As I mentioned, I first met Ian in March, but unfortunately my camera didn't record the occasion too well. This time, I hoped to get a clearer souvenir. And I did… just. The photo's composition is better than my previous attempt, but the focus is, once again, off. I must assume that Mr McCulloch's image is subject to a voodoo curse or something. (On the subject of photos, I must just say cheers to Rob Sterry for taking most of my snaps at Memorabilia. He flashed so many people that I came close to calling the police.)
On the sci-fi front, I said hello to 1960s Doctor Who companion Deborah Watling, plus Tommy Knight and Anjli Mohindra (aka Luke and Rani) from Who spin-off The Sarah Jane Adventures, and - oh, yes - '60s pop star Jess Conrad, whose role in 1961's Konga, Britain's first giant-ape movie, made him a must-meet guy for me. Of course, I went prepared - for signing, I offered up an original '60s 8x10, which shows Jess about to be murdered by the incredibly lifelike ape of the film's title (cough). I didn't expect there to be any pictures from this under-appreciated little film knocking around on the day, and there wasn't.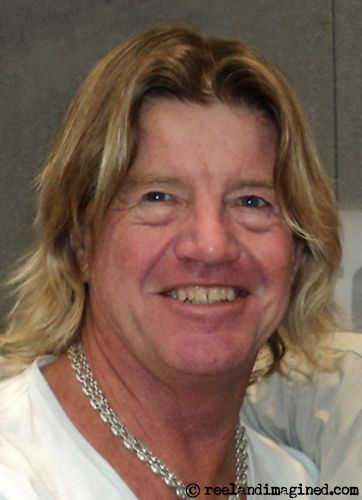 Neither were there any stills from Queen Kong, the 1976 King Kong spoof starring Robin Askwith (pictured right, by my own fair camera) as 'dude in distress' Ray Fay. I find this film both fascinating and alarming. When I first saw it, I thought that it was flat-out awful, but with repeat viewings (initiated by a desire to review the film) it's grown on me; I've found myself entranced by its desperate, misfiring manner. I'm not fond of the 'so bad it's good' cliché as it plays to irony - if you like a film, why not bat for it in purer terms? - but Queen Kong is perhaps the ripest example from my DVD collection of the phenomenon. An essay for another time? Certainly.
When I presented Robin with an original, German, black-and-white still depicting his character in the ape's fist, it took him a few seconds to focus on it - he had, I'm sure, been signing mostly Carry On and Confessions merch - but when he figured out what it was he seemed pleasantly surprised. He said that someone had asked him to a sign DVD sleeve earlier, but that was it, I think. Queen Kong sightings were clearly quite rare. What he wrote for me fits the picture superbly and is one of the finest dedications I've ever had: "One off the wrist!!"
How many people can say they've had that from Robin Askwith?
Memorabilia will be back at the Birmingham NEC on 26 and 27 March 2011.