Flame on: Jason and the Scorchers live at the Academy 2, Sheffield, 6 May 2008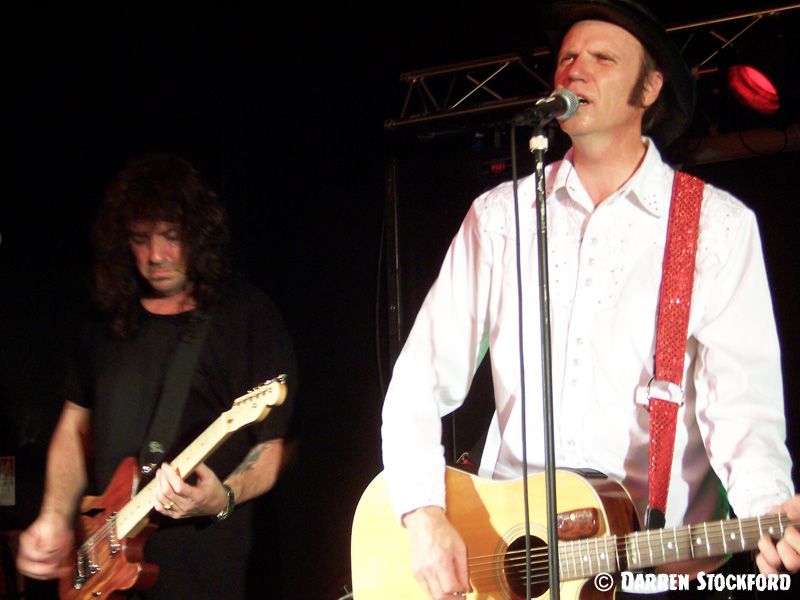 In today's musical climate, where anything goes and the melting pot is regularly stirred, it's easy to forget just how radical an effect Jason and the Scorchers had on the Nashville scene when they formed in the early '80s. Country rock might have been a well-established concept, but never before had the two musical styles blended with such force. The Scorchers fused country twang with white-hot rock 'n' roll, scaring the hell out of country purists. Hank Williams was reborn in an era that had lived through punk.
Commercial success might have eluded them but their cult status was, and is, assured; their pioneering spirit acknowledged with an exhibit in the museum in Nashville's Country Music Hall of Fame, where Jason's shirt and hat from the cover of the Fervor EP are on display, along with press cuttings detailing the band's early trailblazing.
Twenty-seven years on from their three-track debut, Reckless Country Soul - a record whose title defines their sound far better than anything else I've heard - the Scorchers are back in action, having been on ice (with brief periods off it) for the best part of a decade. The last time the Scorchers were in the UK, in April 1999, they played London's original Mean Fiddler in Harlesden, a gig so ferocious that it almost parted my hair.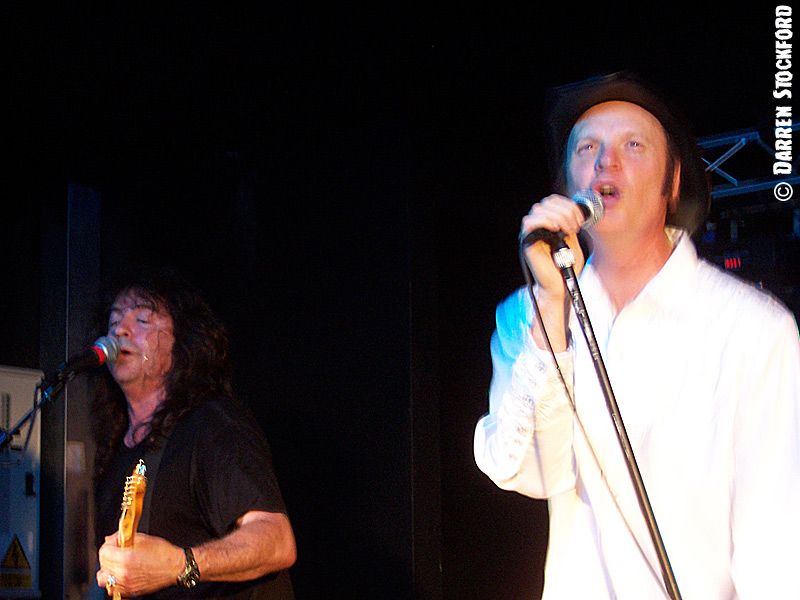 It was my first and, until this week, last taste of the band in a real live setting and, unfortunately, I had to leave early to catch the last train home. At the time, Jason was literally scaling the venue's walls, clambering over fixtures and fittings in an attempt to swing from the balcony.
Regrets? I've had a few. And walking out the door while Jason and the Scorchers played is one of the deepest.
Thankfully, Sheffield's Academy 2 gives me a chance to right this terrible wrong. The weight of expectation lies heavy. After all, Warner (Hodges - guitar) and Jason (Ringenberg - vocals) are older now; they're family men with separate, albeit still musical, careers - one involving singing about farmyard animals to small children in schools and church halls. Farmer Jason, Jason's child-entertaining alter-ego, is fantastic fun for all ages but as far removed from Broken Whiskey Glass as the titular liquor should be from six-year-olds' mouths. Can the rumble of rock 'n' roll still be heard in his belly?
For me, the question is borderline rhetorical - in other words, I'm cheating here, for dramatic effect. I've seen Jason whip up a crowd many times in recent years with just an acoustic guitar and his cowboy boots for percussion. I'm just unpractised at seeing him front a blistering rock band. Of course, when the opening Absolutely Sweet Marie kicks into gear, Jason - the long-limbed, stage-ploughing, harmonica-tootin' frontman for the Scorchers - is clearly still a natural in his profession. As I suspect, the rumble of rock 'n' roll is in his belly and bones.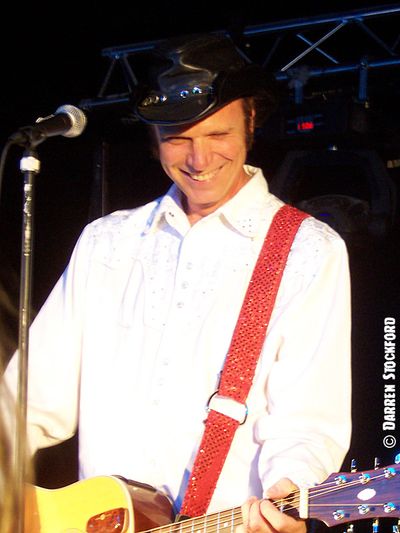 His heart, meanwhile, is on his sleeve. Jason's beaming, infectious smile lights up the back of the venue, and it's clear that he's as much a fan of this band as the folk in the audience are. As Warner spits out his solo for When The Angels Cry, Jason steps off stage and watches from the front row, proud of his friend's skill and keen to show it. The security guard is unsure how to react, but Jason smiles at him and makes an 'OK' sign with his fingers.
Warner spends most of the gig looking like he's repeatedly winning the lottery. His facial expression alternates a parody of confusion (as if to say "lord knows how I'm doing this stuff") with a giant grin, which breaks out whenever the music hits his special spot. Sometimes it's aimed at his bandmates; other times it's pushed to people, individuals, in the crowd who catch his eye. It's natural and, like Jason's sparkly eyed smile, totally infectious - what scientists call a loop of positive feedback. But then I doubt that a blind man would leave a Jason and the Scorchers gig unhappy.
The one-hour, 40-minute set - there's no planned list of what to play - includes tracks from all the band's original EPs and albums. Curiously, considering that it's not generally thought of as one of their best records, Thunder And Fire gets "a hammering" (as Jason puts it) in terms of the number of cuts chosen, prompting me to look at the album afresh and acknowledge its strengths in the song department, rather than dwell on its leanings towards a straighter hard-rock sound.
During Bible And A Gun (always the record's undisputed classic), Jason forgets which version of the lyrics he's supposed to be singing. And in another lyrical twist, I learn that the band's version of Are You Ready For The Country? - also performed tonight - is based on Waylon Jennings' recording, rather than its author Neil Young's, as Jennings changed some of the words.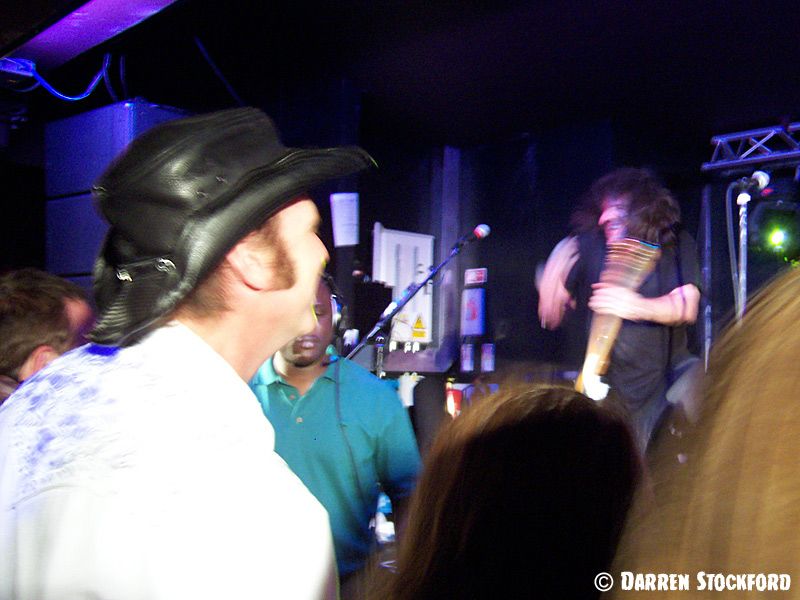 As well as possessing one of the great country voices, Jason is a fine communicator; his acknowledgement of and respect for his audience impresses me every time I see him perform.
Tonight's set features a memorable preface to Drug Store Truck Drivin' Man, in which Jason talks about The Byrds getting flack for their country period. Drawing parallels, he recalls one particularly scathing Scorchers live review which bemoaned the fact that "Jason screamed and then fell down". In the world of country music, this was just not on. The Parsons/McGuinn song sounds as fantastic tonight as it ever has. The last laugh - and it really is a laugh - is ours.
Officially, the Scorchers' current live line-up is completed by bassist Kenny Ames and drummer Fenner Castner. But Jason and Warner are joined for these Euro dates by bassist Al Collins, of the Stacie Collins band, and drummer Pontus Snibb, a wonderfully named Swedish fella who's also handy with a guitar, as he demonstrates during Somewhere Within. Jason dedicates this song to its author, original Scorchers drummer Perry Baggs, who has been battling diabetes for many years and has had to bow out of live performance.
I feel a bit guilty with 'mentions in passing' for the new guys as it's obvious from Jason's introductions that they're held in high regard by their bandmates, and the fact that nothing appears or sounds out of place is to their credit. But, hands up, I find it difficult tonight to watch anyone but Jason and Warner, such is the pull of their personalities. Forgive me - it's been a long, long time since I've seen these chaps on stage together.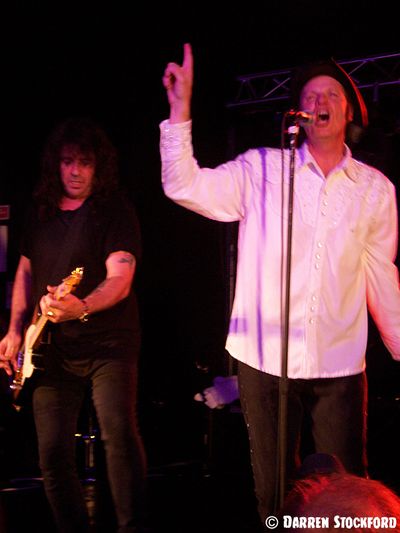 The main set closes with Broken Whiskey Glass, which prompts heavy emotion from me. Jason stops the song after the first verse and asks the crowd to sing it unaccompanied. It's hard to sing with a tight throat, but I give it my best shot. Jason stands there looking like the happiest man alive, before signalling for the drums to kick in. The song explodes and so do my insides. Not even a couple of bassy sound glitches can weaken the impact. The only place left to go now is Lost Highway, which all but blisters the walls. Amazingly, they find a sixth gear for an encore of Both Sides Of The Line and Great Balls Of Fire, and then it's all over.
Music plays over the PA, drowning out the calls for more. There is time - it's 10.40pm and curfew is 11pm. But within minutes, Jason and Warner are out meeting, greeting and signing, and I realise that they've deliberately left some time for this. Gawd bless 'em.
So that was Jason and the Scorchers in 2008: lost and found, still standing… thunder and fire. Well, what do you know? I only have to look at some of their record titles and my conclusion writes itself. Naturally, I'm still holding out for that second encore.