Pray for me mama (I'm a Geordie now): In the studio with Jason Ringenberg and The Wildhearts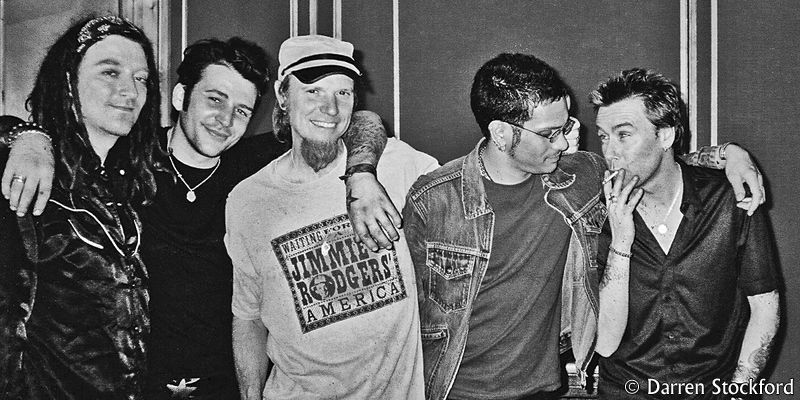 It's like something from a movie. A fantasy sequence in High Fidelity, perhaps?
The camera, in a low shot, glides through the studio door and into the control room. On the floor lies Danny McCormack, curled up in the foetal position, purring like a cat. Pan up over a table strewn with empty beer cans: Special Brew, Guinness, Tennent's Super, K, Becks.
Nearby, there's a tray of stewed coffee and a stack of unused mugs.
Tilt up to see Ginger sitting in the producer's chair, with the engineer they call Fully at his side. They're both rocking backwards and forwards in an excited fashion. Pan right. Stidi is sitting forward, resting his elbows on his knees. He's bouncing up and down like someone just lit a firework near his backside. All eyes face forward.
Cut to the live room, where a man with the voice of reckless country soul and the goatee of an especially hairy goat is singing Jimmie Rodgers' Last Blue Yodel like someone had told him it was the last song he was ever going to be allowed to sing. Intercut with close-ups of hairs standing to attention on all arms in the immediate vicinity. On the soundtrack, Stidi admits to having "a semi".
When the song crashes to its thunderous close, there's a cut to the singer as he pokes his head around the control-room door and a round of applause breaks out.
Ginger: "Oh, man, that was fucking superb!"
That, ladies and gentlemen, was Jason Ringenberg, the man who back in 1981 formed the Nashville Scorchers, welded country to a dash of punk and a whole heap of rock 'n' roll, and went on to become a living legend among music lovers with an ear for good, honest, down-to-earth passion and an eye for a barnstorming live show - the man who, in this writer's opinion, has penned and co-penned some of country rock's greatest songs.
The weird thing is, this is no film. This is reality. Though none of us can quite believe it.
Jason and Ginger embrace.
"That's going on my album," says Ginger. "I can't believe it!" (See, I told ya.)
"Aw, man, that was fun," says Jason with a grin the size of Nashville. "That's rock 'n' roll, brothers!"
Jason Ringenberg and The Wildhearts? Together? How? Why? When?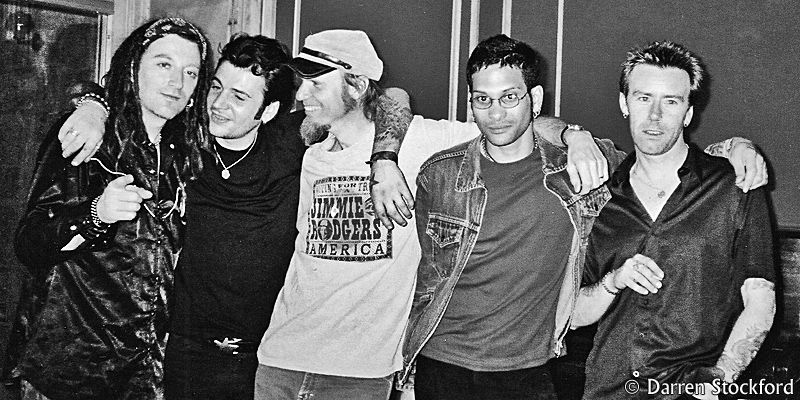 Our tale begins in November 1996, when The Wildhearts played an unannounced support slot at a Jason and the Scorchers gig at London's Mean Fiddler. Ginger, a long-time Scorchers fan, was honoured to be playing with Jason at last, and friendships were forged.
Fast-forward to early 2001, when Jason and Ginger started emailing each other with a view to working together. As Jason was planning to tour the UK in May, the pair figured it would be the ideal time to book a day in the studio. So a date was set: Sunday the 20th.
All Ginger had to do now was write a song.
As anyone who knows anything about Ginger will tell you, that was never going to a problem. He demoed a song called One Less Heartache. Jason loved it. The rest is history in the making.
We're getting a little ahead of ourselves here, though.
A couple of days before the session, on the 18th of May, Ginger showed up, along with the rest of The Wildhearts, at Jason's London Borderline show. It was a superb night, with Jason rockin' up his usual storm. As his set neared the end, he called for Ginger and Stidi to join him on stage.
They appeared genuinely surprised - Ginger, particularly, had a bit of a worried look etched on his face, though this might just have been because the pair were having trouble finding their way to the stage. If you've ever been in the Borderline (capacity 275) you'll appreciate why this moment managed to out-Tap Spinal Tap.
When they eventually found the stage, Stidi stood at the back and clapped out a beat as Ginger picked up Jason's guitar and launched into White Lies. Jason sang, spinning around like a twister and sharing the mic with Ginger for the choruses.
Stidi somehow managed to escape immediately afterwards, but Ginger wasn't allowed to leave until he'd yodelled his way through Jimmie Rodgers' Last Blue Yodel, one of the tracks from the Scorchers' debut Reckless Country Soul EP (though it's a Jimmie Rodgers original, fact fans). It damn near brought the house down.
And two days later, they get to do it all again.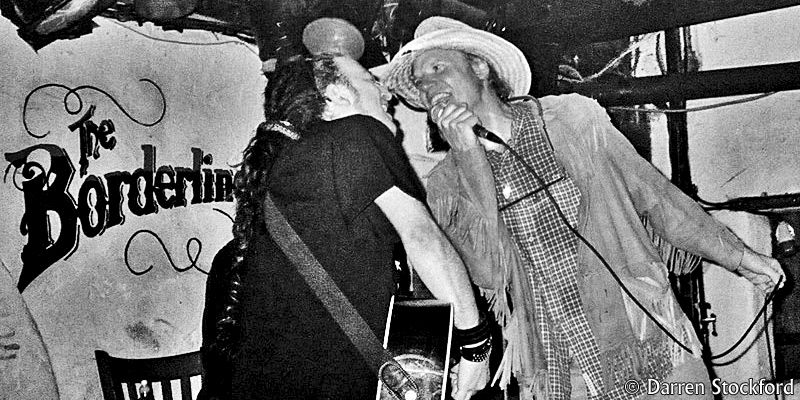 "I can honestly say, boys, I've never had a beer that tasted as good as this one."
I never thought I'd hear Tennent's Super being described as the finest beer known to man (after all, in the words of Ginger: "It's what the winos drink"), but it seems to be doing the trick for Jason.
He's preparing to add a harmonica solo to Last Blue Yodel, and he hasn't touched a drop all day till now, and even then he only has one glass - unlike The Wildhearts, who've spent the day drinking as much booze as they can find in the fridge, and smoking as much dope as CJ's improvised pipe, made from an empty can of K cider, will hold.
It's a bit of a contrast to the last time Ginger invited us to the studio. When he was recording Black Leather Mojo, he was high on nowt stronger than coffee. But, of course, this being The Wildhearts, sobriety is not an option. After Jason's Borderline gig, I caught them slamming down tequilas. Today, snakebites seem a popular choice.
Not long after pouring himself a glass of the student's favourite, Danny conks out for a couple of hours.
"How long will he be like this?" asks Jason after 90 minutes.
"About 40 years," says Ginger.
Only a combination of Stidi wafting a slice of warm pizza under his nose and much shouting from his band-mates manages to rouse him. Danny munches the pizza down, still half-asleep. When he finally wakes up and stands up, he lets out the highest pitched squeaker of a fart I've ever heard.
"Oops."
It's generally agreed that Danny is turning into Albert Steptoe.
It doesn't take long for him to hit his stride, though. When Jason, Ginger, CJ and Stidi start recording gang harmony vocals for One Less Heartache, Danny shouts into the control room mic: "Aw, it sounds like fuckin' Band Aid! It's not very punk rock, lads."
When Stidi returns, Danny congratulates him on a fine performance: "You sing like birds…"
Pause for timing.
"… a bunch of lasses!"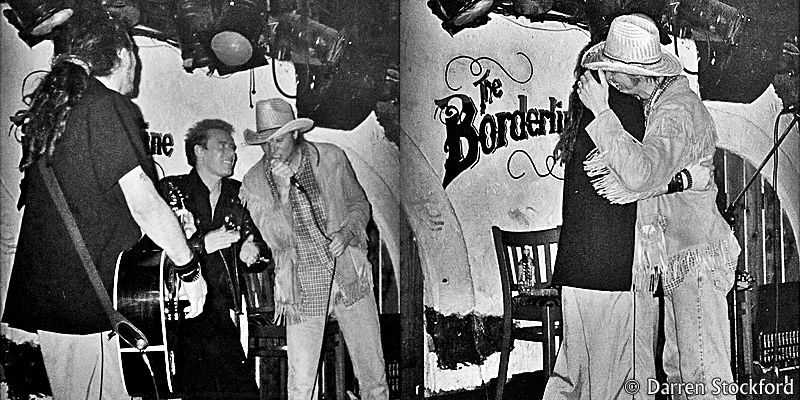 It's not just Danny who's on top form. CJ and Ginger crank out some superb, and totally improvised, guitar solos. Last Blue Yodel is classic My Baby Is A Headfuck-style Wildhearts, complete with OTT rock 'n' roll ending (Jason to CJ: "That's good shit!"), while for One Less Heartache, Ginger goes for a "Carlos Sultana" vibe.
"It needs to be slower," says CJ. "Less runs, more Carlos."
Everyone's chuffed to bits with the final result, which CJ reckons has "a Dinosaur Jr feel to it."
"I couldn't be more pleased," says Jason. "I came to London on Friday with nothing and I'm leaving on Sunday with a song."
And it's a beauty of a song, too. I can see why Jason fell in love with it. It has that timeless Scorchers feel, yet I can also hear The Wildhearts at work, both in the melody (particularly the verse) and the arrangement (though it still has to be mixed).
Ginger says that he'd love to bring more country music to a Wildhearts audience, and to my ears this track definitely has potential in that direction. It'll be included on Jason's next album. I, for one, can't wait.
Right now, though, there's still that harmonica solo on Last Blue Yodel to nail. As Jason gives it some welly, getting the feel of the song, Ginger turns to engineer Fully and asks him to add some distortion. The EQ is bumped up and up. Jason blows into his harmonica a couple of times and says through the mic, in a voice resembling a malfunctioning Dalek: "Sounds pretty distorted to me."
The result is the loudest, rudest, most rock 'n' roll slice of country rock any of us have heard in far too long. Jason looks so pleased I'm worried that he's about to burst. He says that, working on his own for the past year, he's missed the band vibe. He also says that he hasn't heard a band cook up such a glorious racket in years.
Everyone in the room beams with pride. The finished track will be appearing on Ginger's country album, which he's hoping to sink his pearly new gnashers into at some point in the not-too distant.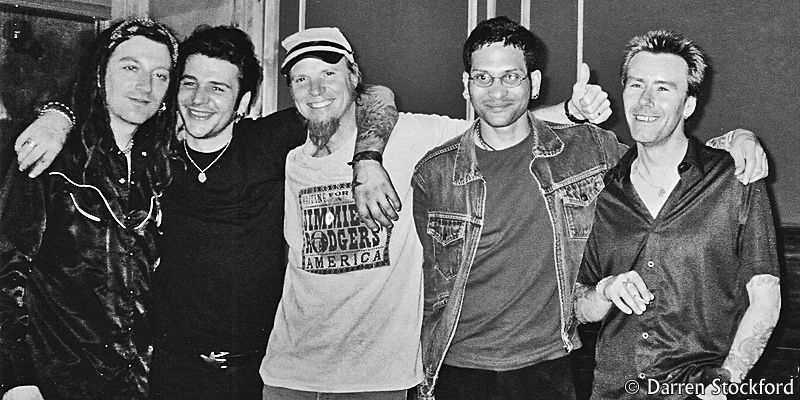 So there we have it, folks: the first Wildhearts recording session in four years. And it just happens to be with the mighty Jason Ringenberg on vocals.
I could natter on for another few paragraphs about how Jason's one of the nicest guys I'm ever likely to meet - 'genuine' is the word that springs to mind - and how little baby Jake shows up and turns a bunch of hardened rock 'n' rollers, plus me and Tara, into baby-talking loons (he has li'l skull & crossbones booties and an SilverGinger 5 jacket on, and big, big eyes - 'sweet' just doesn't do him justice). But, hey, you get the idea.
Man, it's been a hell of a day. I wake up the next morning wondering whether I'd dreamt it all. For reassurance, I put the question to Ginger.
"Until I just spoke to Jason this morning on the phone I was asking myself the same thing. That's what's termed 'a grand day out', I think!"
• Thanks to Jason for the pizza, and the heckler at the Borderline for the headline. For the unaware, it's a play on the Jason and the Scorchers song title Pray For Me Mama (I'm A Gypsy Now).
Postscript (5 August 2014)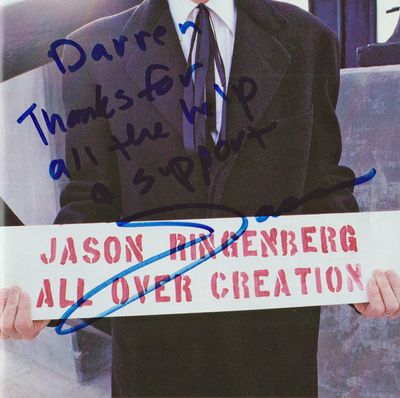 In 2002, Jason released his third solo album, All Over Creation, a collection of 12 collaborations - mostly with what Jason described in the sleeve notes as "family friends or folks I had gotten to know better while on the road in 2001".
Of The Wildhearts, he wrote: "I am here to tell you that I have never seen musicians drink more alcohol in so short a time and then play better than those boys; and I have been around that sort of thing more than your average Joe! It was all pure fun. I felt as if I was participating in a unique culture: that old English rock 'n' roll ethic of good times, good mates and good music. Heck, I even had a little swig or two. We also laid down a smoking version of Jimmie Rodgers' Last Blue Yodel but you'll have to bug Ginger to hear that!"
Of course, people did bug Ginger. I bugged him, repeatedly. Unfortunately, though, around 18 months after the recording session, the track was declared 'missing in action'. Said Ginger on his website: "The studio got sold, the tape destroyed and no one I know has a copy. Amazing, huh?"
However, all was not lost. In late 2007, news broke that Jason and The Wildhearts' version of Jimmie Rodgers' Last Blue Yodel was to be included on a new compilation album that Jason was releasing, titled Best Tracks And Side Tracks: 1979-2007.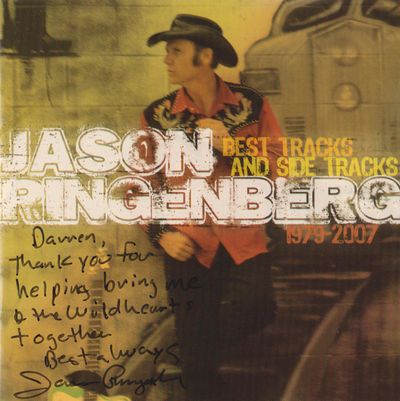 From where had the recording suddenly surfaced? The explanation, included in Jason's sleeve notes, was simpler than anyone could have imagined: "Ginger, you always asked me if I had the recording of this. Forgive me for hoarding it until now!"
The country album that Ginger was planning has yet to appear. However, in 2007, he fronted the Scorchers on a short UK tour, and 18 months later he co-wrote nine songs for a new Jason and the Scorchers album, Halycon Times, which he described in the sleeve notes as "simply a dream come true".
The Scorchers, he explained, were a huge influence on his own songwriting and arranging: "I owe Jason the balls I had to shake up genres with my own music. Returning the favour was, quite simply, an honour that I was blessed to be present to serve."
The record, Jason and the Scorchers' first proper studio album in 14 years, was released in 2010 to much acclaim.
Jason continues to talk about his love for and his collaborations with Ginger and The Wildhearts whenever he plays shows in the UK, either with or without the Scorchers, while Ginger occasionally turns up as a special guest at London gigs.
As for the signed copy of Best Tracks And Side Tracks pictured above… well, as you can probably imagine, I had a bit of a 'wow' moment when that arrived. "Thank you for helping bring me and The Wildhearts together." I had nothing to do with it - I was an observer and documentarian - but through those 10 words Jason's graciousness continues to shine.
"Best always - Jason Ringenberg." He got that right.