Viva LA(2) rock! Dan Baird live at the LA2, London, 13 August 2000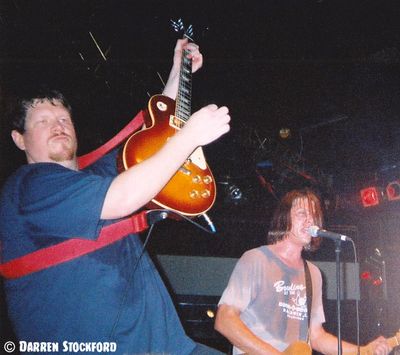 I'm afraid I've not got time to write this one up properly as I'm in the middle of moving house at the mo' (anyone wanna buy a load of old clutter that I've just found under my bed?), but seeing as it was one of the best darned live shows I've seen in ages, I wanted to get these pics out to y'all and at least say a few words about this momentous event.
I mean, Dan Baird just played London for the first time in seven years! I'd still be rubbing my eyes in disbelief if my ears hadn't convinced me that it really was him.
Okay, let's get the technical details out of the way first. With Dan on vocals and guitar (natch), Ken McMahan on guitar, Kyle Miller on bass and Nick Forchione on drums, the band tore up a complete storm for almost two hours, though it felt more like one. Ken was a particular revelation for me, having never seen the guy play before. His scorchin' lead breaks and super-slinky slide did Dan's material proud. In a word: he rocked.
Okay, so that was two, but he deserves it.
Of course, this being a Dan Baird gig, there was plenty of between song banter. At one point early on in the set, he acknowledged his old partner Rick Richards, calling him "fucking amazing", explaining the Satellites split with a simple: "It just didn't work out. How many people here are still married to their childhood sweetheart? God bless y'all."
The set list looked like this (with my comments in brackets):
L'il Bit
Red Light
Julie & Lucky
I Love You Period
Kind Hearted Woman (Ken lead vocal)
Cumberland River
The Myth Of Love
Younger Face (I swear I nearly blubbed during this one - it's one of my all-time favourite songs)
All Over But The Crying
Dan Takes Five
Ball & Chain (another Ken vocal)
Dixie Beauxderaunt
Another Chance (in which Dan forgot the chords)
Keep Your Hands To Yourself (a great singalong, as always)
I Dunno
Tell My Fortune (I never expected to hear this beauty after all these wasted years!)
Wicked World (Ken again)
Sheila
Battleship Chains (with the crowd singing the entire song)
Sin City (the AC/DC one, not the Burritos')
Daydream Believer (yep, the Monkees track)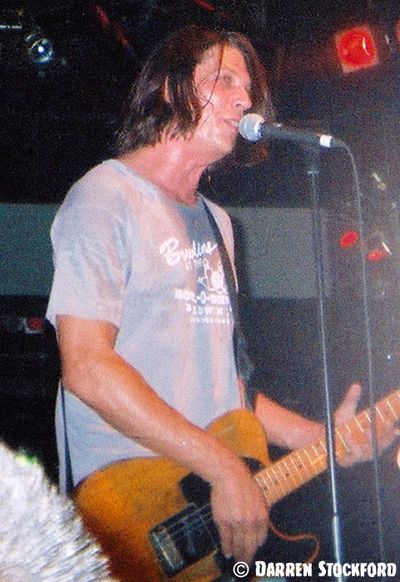 When the show finished (the band choosing to play straight through due to time restrictions, rather than go off and come back on again for a second encore), Dan hung around at the front of the stage shaking everyone's hand and chatting.
Every time I've seen the guy play - which is five times now, including two Sats gigs - he's done this. He seems like such a genuine bloke, and he appeared to be completely bowled over by the reaction he got here tonight.
Before I end this page, I've just got to get in a quick thanks to Chris Stanley and Mick Brown for bringing the band over. Let's hope it's the first of many tours 'cos I don't think I could wait another seven years. The good news is that all the shows on this tour have been recorded. A live album would certainly be nice…
Apologies for the graininess of the photos - they were taken with a disposable. That's my excuse and I'm sticking to it.
Thanks to Trudi Knight for the set list pic. Note that special code. My faves are 'Cumbersome' for Cumberland River, 'Lunger' for Younger Face, 'Mr Love' for The Myth Of Love, and that cute little drawing of a light in (what else?) Red Light.