Runnin' outta time: Dan Baird & Homemade Sin live in London, 28 Nov & 3 Dec 2014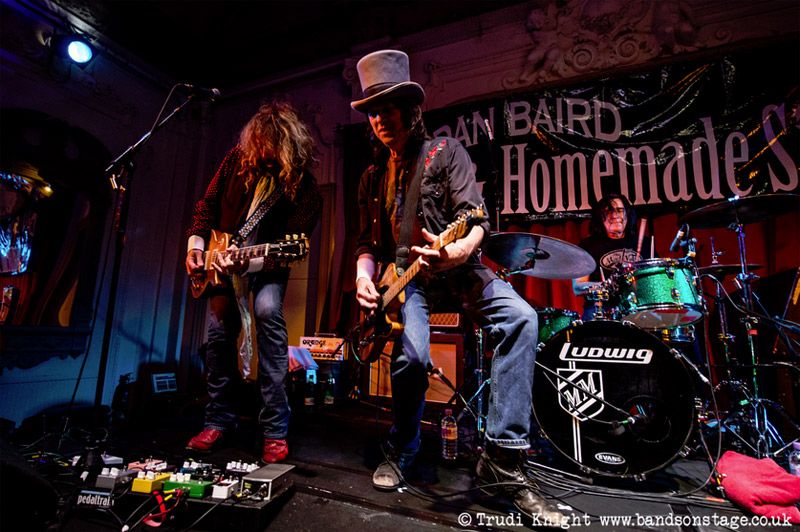 What's the saying? Time flies when you're having fun? It might as well just say 'time flies'. This week, to my amazement, I discovered that it's been five years since I last saw Dan Baird play live. It feels like two, yet I've not been having much fun over the last half decade.
Of course there have been moments, days, even some weeks, that I've enjoyed - a film, a convention, a holiday. But more often than not I've woken up in the morning and, as I've felt my operating system reboot, been consumed by worry and dread. There isn't a day goes by when I don't feel existential panic or sorrow, and despite treatment - at first with antidepressants and then with therapy - I'm no nearer to resolving it, though one strategy I've found useful is to stop and smell the flowers from time to time.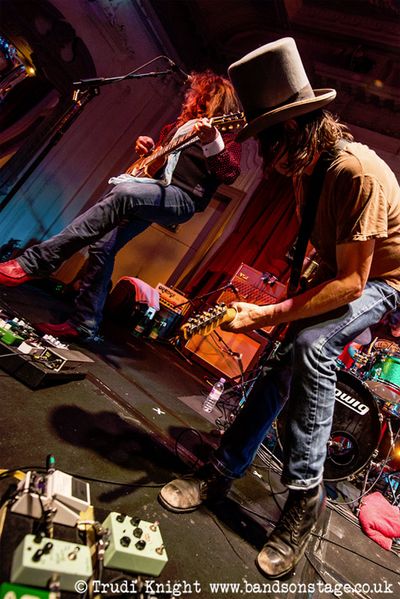 And so, on this chilly Friday night, on my way to my first Dan Baird gig since 2009, I find myself strolling down London's South Bank, past the National Theatre, and looking across the river towards St Paul's Cathedral. I'm attracted by the uplights on the sides of buildings: white, yellow, red and purple with a hint of green. Behind me, the bare trees are garlanded with blue and white fairy lights. I'm cold but that's good - there's a slight wind, and its movement against my face puts me squarely in the scene. I'm not viewing a picture; I'm here, and I feel so lucky to be.
Satisfied with my metaphorical flower sniffing, I take a few photos and start walking back to Waterloo station, to catch a Tube to Shepherd's Bush.
An hour later, I'm standing in front of the stage at Bush Hall, as a pair of roadies put the fear of God in me with two chords on an electric guitar and the thwack of a snare drum. I've gone from smelling the flowers to smelling the coffee. The PA is loud - no, louder than that - and I've forgotten to bring my earplugs. Unpractised in the art of Dan Baird gigs, I realise that if I'm to survive this volume I need to take my head out of the amps, so I retreat upstairs and watch from the balcony, where my hair is still blown back but my ears avoid being sandblasted. I also have a fantastic view - not just of Dan and the boys, but also of the sold-out crowd, which spans the length of a basketball court.
How did this happen?
Like Dan says from the stage, it makes a change from playing the usual basement venues. In fact, it looks to me like a slight return to the type of audiences that Dan enjoyed with his old band the Georgia Satellites - a name I can't mention without going gooey-eyed and lovesick.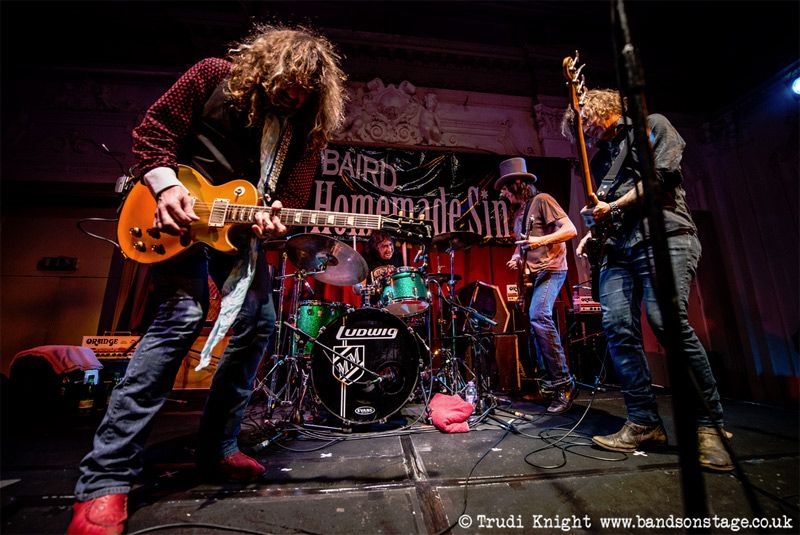 It's a cliché to say that a band changed your life, but… well, y'see, before the Stones and the Faces and The Beatles - for me, at least - there were the Georgia Satellites. They were the soundtrack to the more exciting half of my teenage years, and they also showed me how good live rock 'n' roll could be. It wasn't just about the musicianship, as brilliant as that was. It was about their enjoyment of what they were doing: the wordless, intuitive interplay, the smiles, the wit and the banter. It looked natural and it felt organic. It was pure performance - the distillation of a decade playing bars in Atlanta.
I've seen the effect in other bands since, but I'd never seen it before I saw the Satellites play the Town & Country Club in 1989. They were, and remain, a high water mark. And for that reason, I'll always hold them dear.
Dan's current compadres are known as Homemade Sin - that's drummer (and ex-Satellite) Mauro Magellan, bassist Micke Nilsson and guitarist Warner E. Hodges, who made his name and reputation in another of America's finest rock 'n' roll bands, Jason and the Scorchers. Dan has always chosen his lead guitarists wisely - from Slim Dunlap to Ken MacMahan to Darrell Bath - but Warner seems the wisest choice of all. It's as if Angus Young has joined Status Quo in their '70s prime. What Warner doesn't do with a guitar isn't worth doing, and that includes throwing the instrument backwards over his shoulder and catching it without missing a lick. That's so worth doing that it ought to be one of the first chapters in 'how to play guitar' books.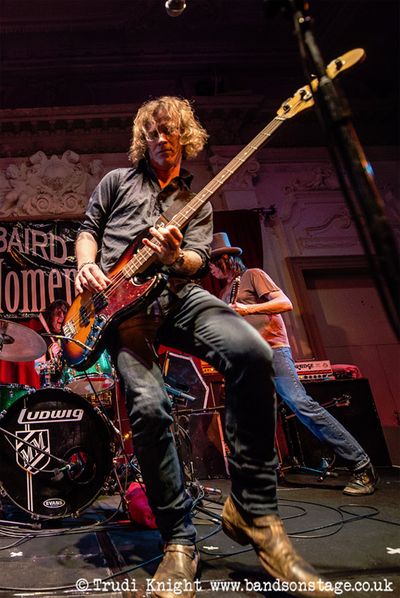 The band's latest album is titled Circus Life, and Dan looks every inch the ringmaster tonight in his grey top hat. With a back catalogue as rich as his, it really doesn't matter where the set goes. Whether it's Railroad Steel, Mon Cheri, Two For Tuesday or Outlivin', there's fresh pleasure with every intro - though I admit to being disappointed not to hear Younger Face, which isn't just one of the best things Dan has ever written, it's one of the best songs anyone has ever written. An aching, sarcastic riposte to the ephemeral nature of fame as a musician, it's grown over the years into an anthem for us all - the middle-aged who have found their voices fading into the background.
"All the young lions laugh and point in your direction Was it really that long ago that you stood inside their shoes? Your final scene comes down so tragic Here it comes as if by magic The younger face come to take your place Man, you're yesterday's news"
Then again, looking at the size and reaction of tonight's audience, the song would never have sounded less relevant.
At the end of the set, I applaud and walk downstairs to see Dan, bless him, already standing by the exit, shaking everyone's hand as they leave. How he got there so quickly, I have no idea, but it's typical of the man. He's never been one to hide backstage after a gig - he's always made himself available to anyone who wants to meet him. And today, due to the venue's 10.30pm curfew, he's standing at the door like the vicar after Sunday service. "Thank you for coming." All that's missing is the collection plate. That'll have to wait until the next gig…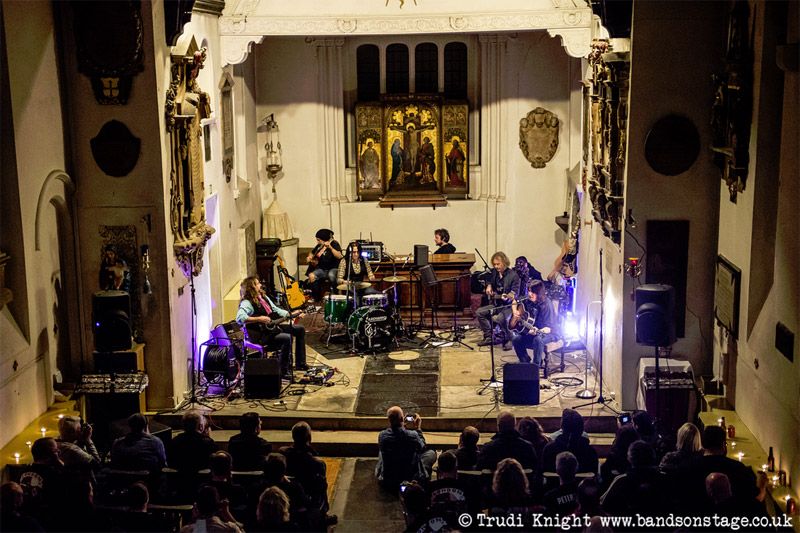 Five days later, the band roll up at St Pancras Old Church, near King's Cross station, to perform acoustically for the first time ever - or in public, at least - to the 100 or so fans who've been lucky enough to get tickets. I've been to gigs in a church before, namely the Union Chapel in Islington (capacity 900), but this is a much more intimate setting, feeling very much like a private party - though perhaps 'party' isn't the right word, because what transpires over the course of two and a half hours is something unique and moving.
Just 24 hours after the media reported the death of saxophonist Bobby Keys, it's no surprise to learn that Dan and the band are thinking of him. Yesterday, Dan wrote a lovely piece for Facebook, and a sign on the door tonight brings the pre-show music, a celebration of Keys' life and work, to people's attention, inviting them to light a candle in his memory. That the band are playing a church is a beautiful piece of serendipity.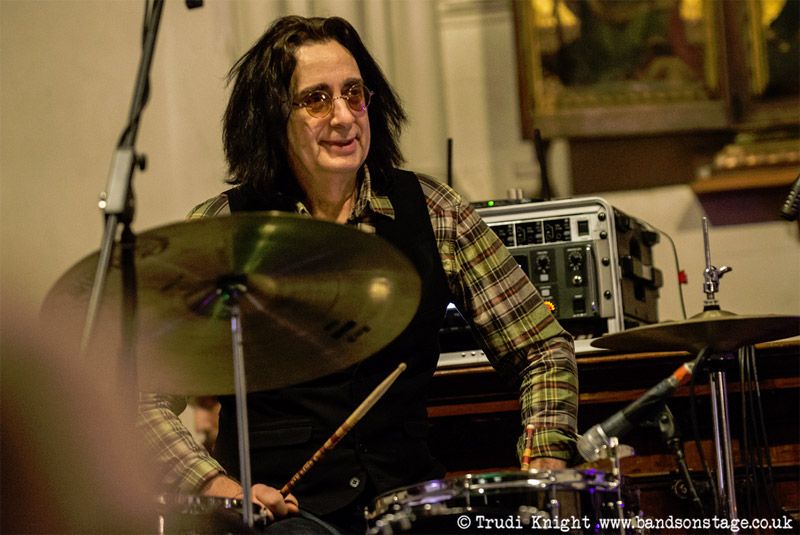 Earlier this evening, on my way to King's Cross, I made another trip to the South Bank, but it was a case of diminishing returns. The view was the same as it was on Friday, but my appreciation for it was less. I felt colder, and the weekend atmosphere was missing. I saw some buildings and some lights, but nothing more.
I was reminded this afternoon that a friend died eight years ago today. She was a fan of Dan's and would have loved tonight. Consequently, I spend the evening thinking about her and what it means to be alive in this crazy world. I don't know whether Bobby Keys had an influence on the setlist, but a back-to-back Runnin' Outta Time ("you think you've got forever but, man, that's just a lie") and Younger Face (yes, it's here) sound like an acknowledgement that we'd all do well to enjoy what we've got while we can.
After a first set that sees Dan and Mauro swap instruments for one song, and takes in The Myth Of Love, Six Years Gone, Trivial As The Truth and a newly minted Knocked Up (a last-minute addition to the set by Dan that kept Warner up till 3am), I'm happily drained. I leave my position near the back of the church and wander outside in search of a portaloo.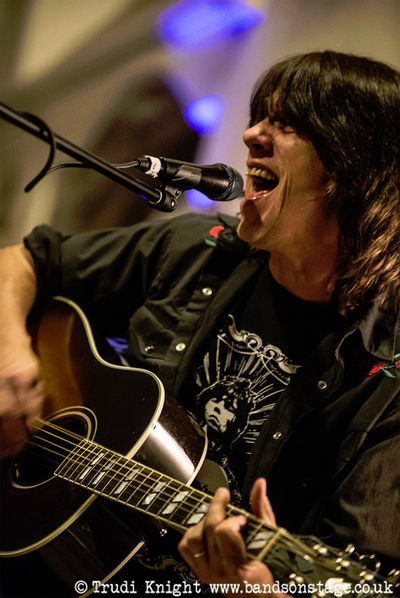 I'm at the front of the queue, where Mauro is chatting to fans (hey, it's as good a place as any when the venue is this small). He's just asked about the beers on offer at the makeshift bar, when tour manager Mick Brown comes over to tell him that Faces and Small Faces pianist Ian McLagan has died. Mauro looks winded. "He played on our records," he says, as if needing to explain (those records being the Georgia Satellites' Open All Night and In The Land Of Salvation And Sin).
Back inside the church, I head for floor space at the front of the stage and park myself. A few minutes later, Dan comes back on, alone with his guitar. He sits down and tunes up, then tells everyone what's happened: "I lost a friend last night, and I lost another friend a few minutes ago." He hadn't planned to sing Another Chance, the Ooh La La-inspired song from his last LP with the Satellites - it is, he says, too obvious for an acoustic show - but here it is, in a form that I'm unlikely to experience again, first-hand at least. The emotion is so raw that I have to look away before the tears that are forming start to flow.
"I don't wanna leave before my time is done Don't wanna stick around when my race is run I don't wanna go before they call my dance Don't wanna die asking for another chance"
When it's over, Dan looks to the roof and gets a hug from Warner as he joins him on stage. The song will forever be linked to this moment for me. It effectively has a new coda, even though the lyrics remain untouched.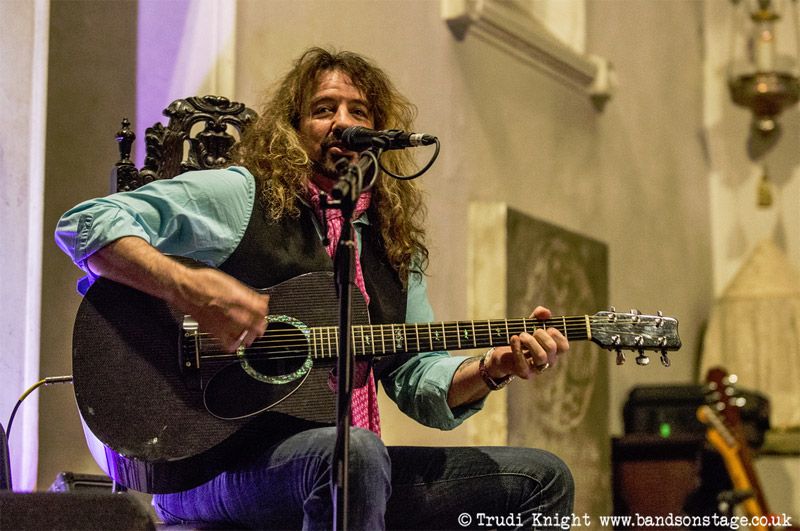 Of course the show must go on, and indeed it does - from Two For Tuesday, through Hard Luck Boy and Julie & Lucky to Damn Thing To Be Done. And I sit just a few feet away from it all with a tight throat and dancing feet, thinking back over the past three decades of my life - about friends both absent and present; about connections I've made; about moments like this where I've felt truly in the moment; and about the washes of euphoria that music has given me as I've journeyed from boy to man. And I become acutely aware that, to quote one of Dan's best-loved songs, there ain't no place in this whole wide world I'd rather be.
These last five years I don't know where I've been, and I certainly don't know where I'm going. But right now, tonight, in this church with this band, I know exactly where I am.
I'm home. And the flowers smell beautiful.
• All photos © Trudi Knight Photography (bandsonstage.co.uk). Used with kind permission.
• To see more stunning pro pictures from these gigs, check out Trudi's galleries: Bush Hall | St Pancras Old Church