Sin city: Dan Baird & Homemade Sin live at the Borderline, London, 20 October 2006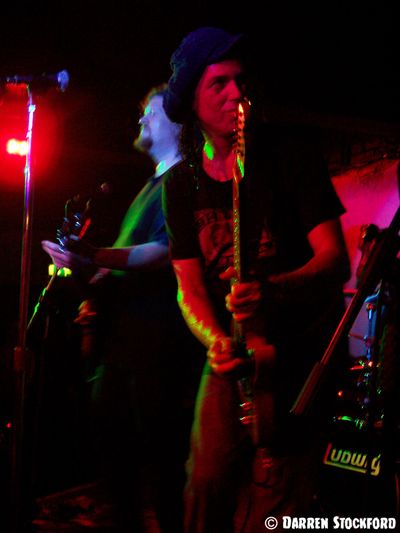 If you're looking for an objective view of the show that Dan Baird and his band Homemade Sin played at the Borderline in London yesterday, you've come to the wrong place. For me, it was a night of beer drinking, hardcore foot tapping and scrunched-faced singing along - to arm-hair-raisingly good songs, many of which were my rock 'n' roll education when I first heard them in my teens. It's hard to stand back and gaze at Dan Baird with anything but awestruck wonder.
The Georgia Satellites, the band that Dan once co-fronted, are my Ramones, my Replacements - the one rock 'n' roll combo I can honestly point to and say 'they changed my life'. They're the only band that, as an adult, I've wanted to ape - in my late teens, I harboured fantasies of having my own band that did everything the Sats' way - and a part of me still holds out hope that, one day, the classic Satellites line-up will reunite. If they do, they'd damned well better cross the Atlantic.
Thankfully, that's something that Dan Baird has done now so often that he's practically an honorary Brit. America hasn't seen half as much live action from him in recent years as Europe has. Granted, it took him eight years to come back after the shows he played in support of 1992's Love Songs For The Hearing Impaired album, but his UK tours are now as regular as clockwork. The last few have even included one Mauro Magellan on drums, meaning that what we have here in Homemade Sin, ladies and gentlemen, is exactly one half of the Georgia Satellites.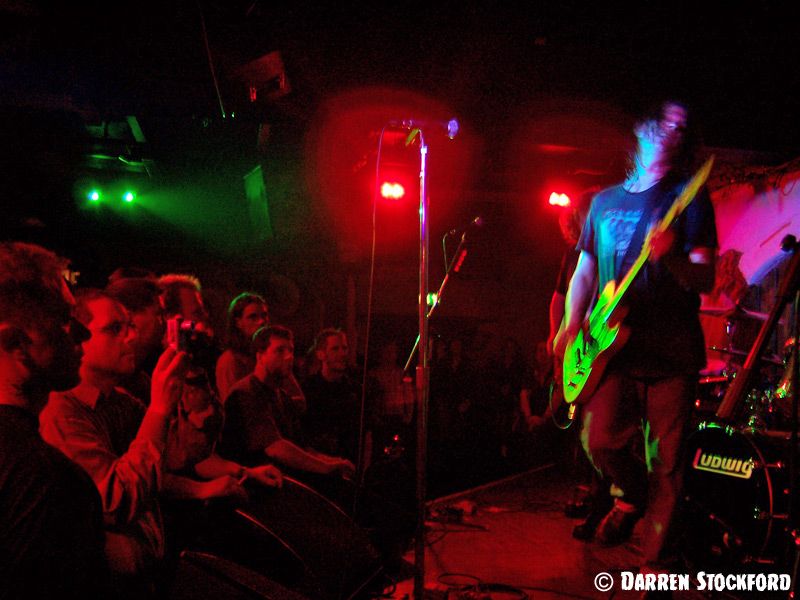 It's also three quarters of the band that played on Dan's first two solo albums, as bassist Keith Christopher (also an ex-Satellite and a member of The Yayhoos) is here too. The final piece of the jigsaw is guitar god Ken McMahan, who's made himself indispensable over the last few years - not least by pulling off a splendid version of the iconic solo in Sheila, one of Rick Richards' finest moments (the original is as perfect a solo as you're ever likely to hear and needs to be treated with extreme care in the live situation).
So that's the tech specs out of the way. I'll now regale you with some highlights.
Opening with the one-two punch of Six Years Gone and I Dunno was stroke of genius - truly, this is encore-worthy material. I can't imagine any fan's stomach not doing flips over that.

All Over But The Cryin' - sang as passionately as it's ever been sung. I often wonder what it's like to write a song like this - about a specific incident in your life (in this case a divorce) and end up singing it night after night more than 15 years later. Does it dredge up those old feelings, or do you become detached from its original inspiration? The venom was certainly flowing through last night's performance, which led, naturally enough, into Dan Takes Five - a 'split' song in more ways than one.

The band wandering off and leaving Dan alone to strum Another Chance, the acoustic Faces-inspired track from the Sats' final album, In The Land Of Salvation And Sin. A couple of hundred voices helped him sing it. I'll call this the 'Paul Westerberg moment', as it reminded me of a similar incident at a Westerberg show I saw last year. It was more than just a bunch of people knowing the words to a song - it was a bonding moment between artist and fans. It helps that Another Chance has a kind of wistful, life-affirming vibe - the song is basically about wanting to stick around as long as you can so you've no regrets.

Another Chance segueing into The Faces' Ooh La La (a debt that Dan's always seemed keen on paying), before the band came back on and started to crank up Younger Face - quite simply the best song that Dan's ever written. I could write an essay just on this song. One day I will. (You have been warned.)

The closing cover, a blistering version of Neil Young's Rockin' In The Free World - a fitting, uplifting end to an hour and three quarters of damned fine rock 'n' roll music. Dan seems to think that encores are for bands with too much time on their hands, as he never seems to have enough. Five minutes after the band had vacated the stage and the lights had come on, a section of the crowd were still chanting for more - a rare occurrence in jaded old London town. Sadly, there was a queue of clubbers outside waiting to come in.
I knew that it had been a successful night when, post-show, my friend Jason set off towards the bar in search of a light for a cigarette. He gave up smoking years ago but was clearly infected by the need to inhale as much old-time rock 'n' roll spirit as he could. Meanwhile, I'd accidentally (cough) strayed two pints over my usual, and proudly lightweight, three. It's daft to measure this stuff in cliches, but it's sometimes fun to be daft.