Simple facts: Case Hardin live at C2C: Country to Country, the O2, London, March 2016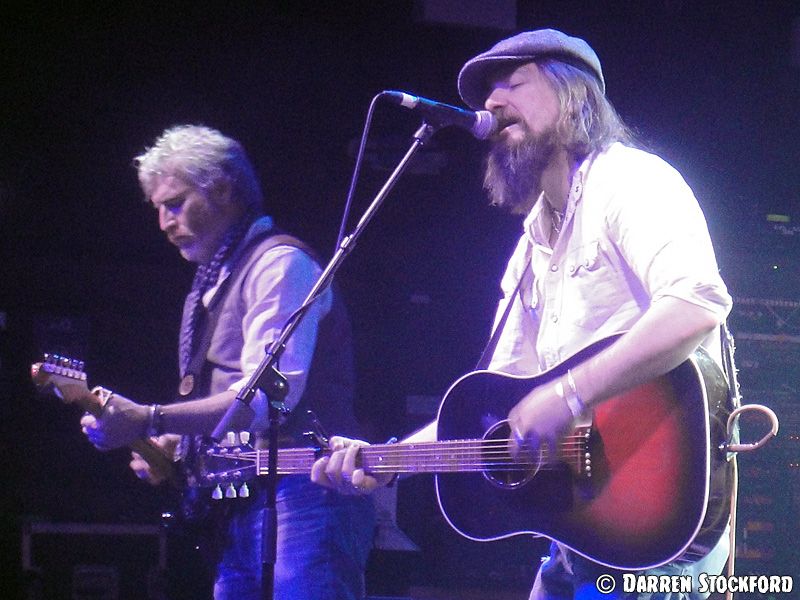 "This next song," says Pete Gow, "is probably the only reason we were invited to play Country to Country."
It's 11.45am on Sunday 13 March, and I'm in Greenwich, at the O2 - or the Millennium Dome, as I hope history will remember it - for a brief look in on what's being billed as 'Europe's largest country music festival'.
The three-day bash has gathered together some of the genre's current big names - the headliners are Miranda Lambert, Carrie Underwood and Eric Church - but there's far more to the event than just an arena show, as dotted around the O2's concourse are numerous smaller stages. Some of these stages are out in the wild, just around the corner from pizza parlours, bars and coffee houses. Others are tucked up toastily inside the dome's satellite venues such as the Brooklyn Bowl. And it's here, in this beautifully lit bar-cum-bowling-alley that Pete Gow, Case Hardin's frontman and founding member, is pondering his band's country credentials.
Eight years into their recording career, the band are promoting their fourth and finest album, Colours Simple. The Clubhouse Records release has racked up an impressive set of reviews, drawing plaudits from Q, No Depression and R2 magazine, among others, and finding its way on to radio airwaves via the likes of Bob Harris and Ralph McLean. A couple of those names, at least, might give you a clue to where Case Hardin reside on the musical spectrum, and it'd be fair to say it's not next door to contemporary country's polished pop-rock sounds. However, today when Pete declares: "I think we're probably the least country act you'll see all weekend," the audience responds with a vocal and definite: "No!"
"No?" queries Pete. "Shit, really?"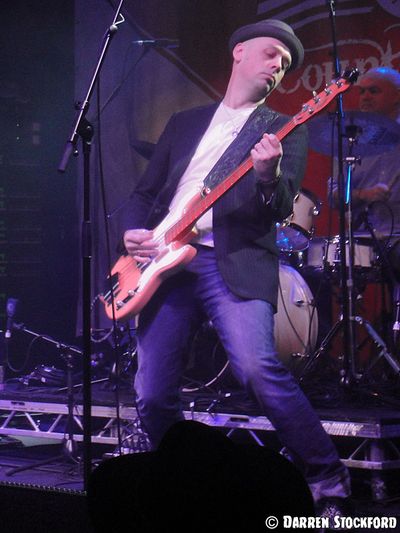 The majority of this near-capacity crowd might be here in anticipation of an unannounced but not-so-secret lunchtime set by The Shires - reportedly the first UK country act to have an album reach the Top 10 - but the appreciative noises they're making suggest they're enjoying Case Hardin. Not that this comes as any great surprise. In the 18 times I've seen the band play over the past seven years, not once have they failed to ignite an audience with their rich and intelligent Americana. Part Son Volt, part Steve Earle, it's a sound that's both retro and modern, taking and often blending rock, country and folk to serve up something more than homage - something almost cinematic in terms of its arrangements and storytelling style.
Many of Case Hardin's songs - the majority of which have been written solely by Pete - are the kind that reward focused listening, but the band know how to kick out the jams too, and every so often they switch on some good old-fashioned rock 'n' roll to break the introspective spell they've cast. One such song from today's set is (Jesus Christ Tomorrow Morning) Do I Still Have To Feel This Way? - a track that not only rocks your socks off but also evokes a nostalgic ache, the kind of half wistful, half euphoric feeling that lives in the grooves of so many great records. It's as if the music, with its celebratory tone, is a clear way out of the situation being described in the lyrics: a sort of six-string salvation.
"Battered, bruised and broken," sings Pete, "a little swollen around the face. This heart's been kicked around so bad it'll never be the same."
And then there it is: "So pass a pen - I'll get it down before it's too late."
When he's not making music, Pete reports from war zones for CBS News, and though he's said that his experiences on the job haven't informed many of his lyrics, he has drawn one parallel between reporting and songwriting: both activities require him to be concise and hit you with his best lines. Some of his songs might be written from the point of view of characters, but it's hard not to feel a sense of a life lived - an intoxicating vapour to imbibe from a songwriter.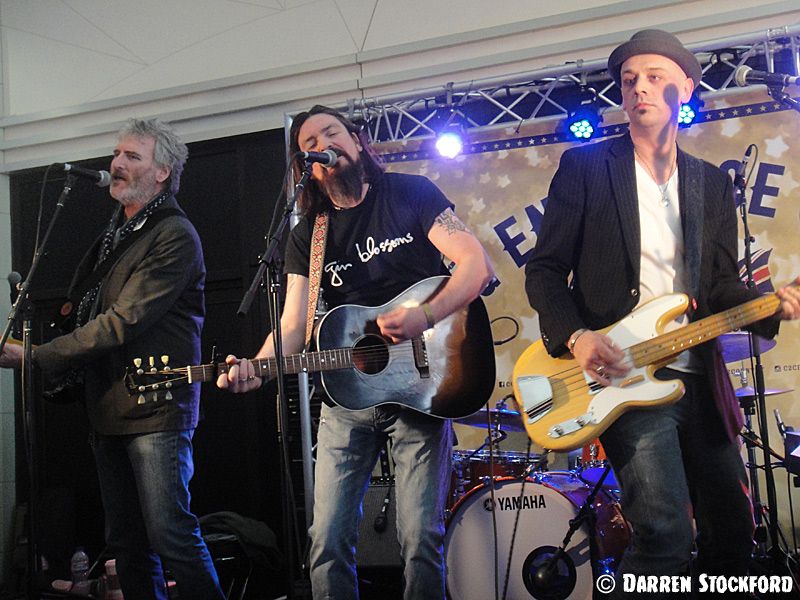 It's also very noticeable that, although Pete leads from the front, his ego hides at the back. He's keen to introduce his musical colleagues, most commonly after they've shone in any particular song, and he always makes sure that an audience knows that he isn't Case Hardin. (The name, incidentally, comes from a character in God Is A Bullet, a 1999 novel by the apparently pseudonymous author Boston Teran.)
Though a handful of players have come and gone over the years, the core of the band - Pete plus guitarist Jim Maving, bassist Tim Emery and drummer Andy Bastow - has remained stable since 2009, and now more than ever that unity shines in their shows. There's an effortlessness to both their playing and stagecraft that puts listeners at ease and invites them into the band's world: Pete the swaying and ducking '70s rocker, Jim the unfazed guitar hero, Tim the rock 'n' roll groover and Andy the… well, Pete, as he so often does, calls him 'mighty' today, and that's as apt an adjective as I can manage. If you want a noun too, I'll give you 'powerhouse', with a small degree of shame for rolling out a cliché, perfect though it is. And last but far from least there's Roland Kemp, a recent addition to the line-up and a pleasing fit for the band, his honky-tonk piano and washes of organ giving the songs a sun-kissed sheen.
It's a thrilling sound from top to bottom, and as a performance it's all firmly in the zone - that place of comfort where technical considerations are completely invisible - despite Pete's admission that: "I've never sung at 11.30 in the morning unless I was still up from the night before."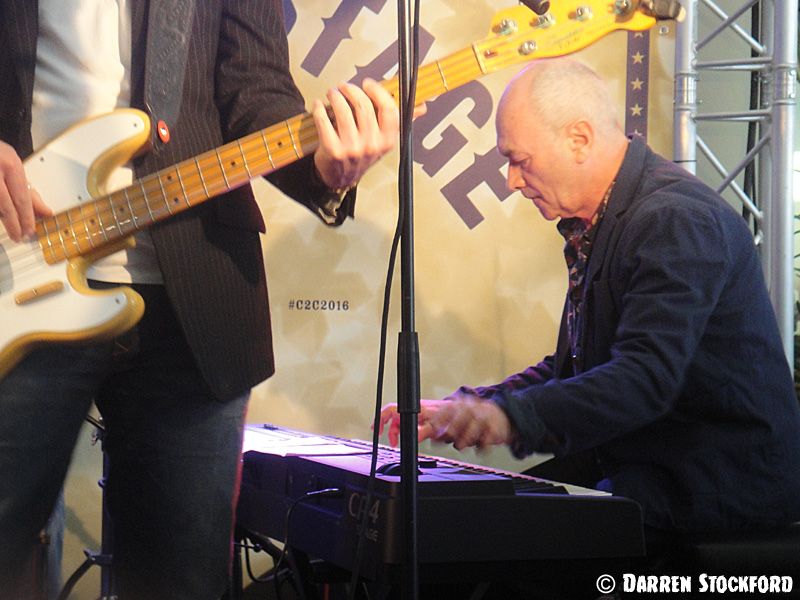 It's actually the band's second set of this year's festival - they were gifted a lie-in yesterday before making their presence felt on the Big Entrance stage in the late afternoon. For those of us down the front, this was a more in-your-face experience, the smaller performance area more akin to a pub stage than the lavish, high and roomy construct of the Brooklyn Bowl. However, Sunday's set has the advantage of a club atmosphere - darkness, bodies and a whacking great PA - as well as a slightly longer time slot, which affords the band an extra song: Cheap Streaks From A Bottle, the catchy and addictive first single from Colours Simple.
The 30-minute set has fewer tonal shifts than many Case Hardin gigs I've seen, but in the circumstances it's understandable. As much as I'd love to hear Poets Corner, the progessive eight-minute album opener, it's absolutely right that the band use their allotted time at a country music festival to instead showcase Roll Damnation Roll, with its shuffling Exile-era Stones feel, and the C2C 'qualifier' A Day At The Races, a dirt-kicking country rocker and a cracking tale to boot.
After the latter, in the midst of heartening applause and a rousing set of cheers and whoops, Pete notes: "Now we're the most country band you've seen all weekend."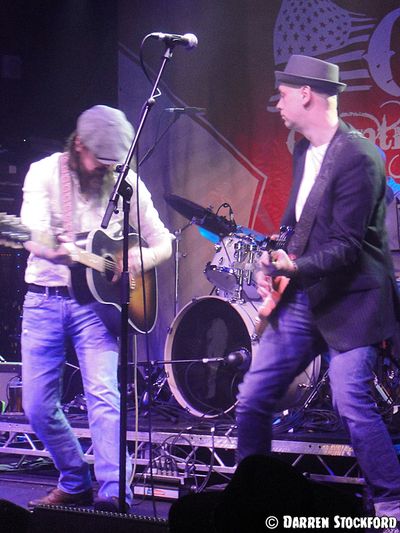 Some of these songs appear to be gateway drugs, and in certain cases it might not be the obvious ones. The waltzing These Three Cities catches the ear of one chap, who, spying Pete in the bar afterwards, grabs him to wax lyrical about what he's just heard. It's a pleasure to see people engaging with this music, and indeed with its writer. And it works both ways. There's an art to addressing an audience who for the most part aren't your own, and Pete has mastered it, using self-deprecating humour to get listeners on side from the beginning and keeping them there with a 'we're in this together' attitude.
"Thank you very much for coming out and drinking so early," he says, wrapping up today's set. "You all need to take a long, hard fucking look at yourselves, drinking at 11 o'clock on a Sunday morning."
Pause for laughter.
"I'm going to do this song and then go and take a good, hard look at myself."
Country music is of course a broad church, and church is traditionally the place to be on a Sunday morning. Case Hardin, it seems, have made some converts. Go on, take a good, hard look.
• Visit Case Hardin's official site or hook up with the band on Facebook