Shining example: Jonny Kaplan & The Lazy Stars live at the Borderline, London, 18 October 2015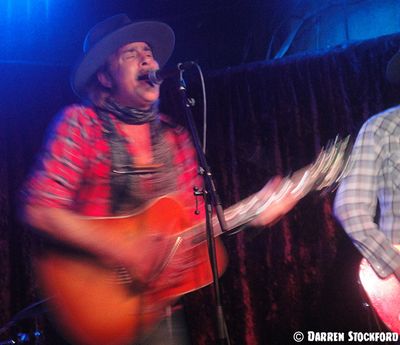 You know that a frontman is giving it his all when, after the first song, he confesses to accidentally swallowing his chewing gum. The song is titled Hidden Treasure, and it occurs to me - because I'm a childish sort - that in a day or two that's exactly what he'll find on a bathroom break.
And if you groaned at that, be thankful he wasn't singing Stick Around.
Shockingly, it was nearly 15 years ago, in December 2000, that I first saw Jonny Kaplan perform. I was at the Borderline to see Caitlin Cary, who was then fresh out of Whiskeytown. Jonny was supporting - mainly in an acoustic capacity, though towards the end of his set he borrowed Caitlin's band and started to rock out - and I was impressed enough to look him up when I got home and order his debut album, California Heart. I reviewed that record for my old webzine, describing the 12-track collection as "a face full of sunshine" and labelling Jonny a purveyor of Cosmic American Music - the term coined by the late, great Gram Parsons to describe his own soulful blend of country and rock 'n' roll.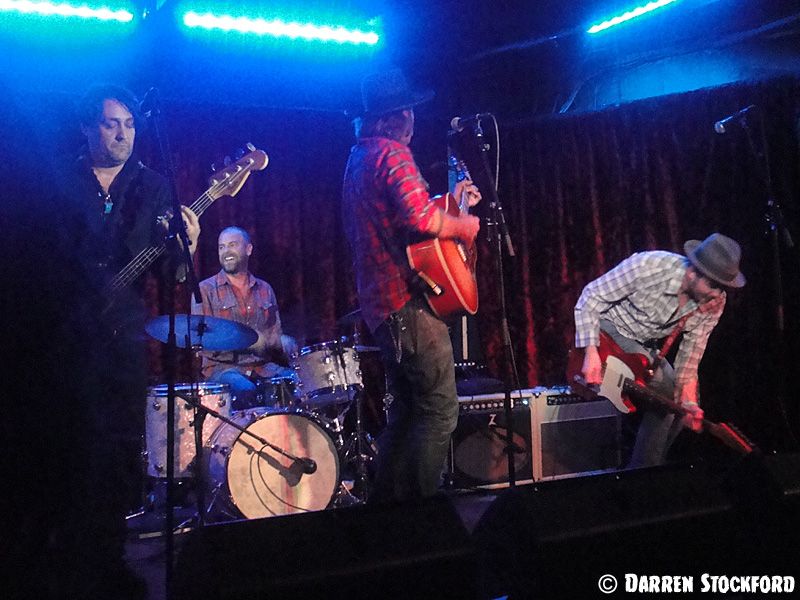 Funnily enough, the next - and for various reasons last - time I saw Jonny play he was paying tribute to Mr Parsons, along with Sid Griffin, Hank Wangford and a host of other admirers of the country-rock legend, at Islington's atmospheric Union Chapel in November 2003 - a special gig to mark 30 years since Gram's passing. One of my lasting memories of that night, alongside the venue being festooned with candles and my good fortune to sit behind Gram's daughter Polly, is Jonny singing A Song For You and bringing the house down.
Almost 12 years later I'm leaning against a pillar in the Borderline, wondering whether he'll repeat the trick. My position, about six feet from the stage, is effectively front row as tonight's crowd is far from capacity (I blame Sunday). But what the audience lacks in number it makes up for in volume, and there's a lot of love in the room. In fact, this evening has been witness to some outright declarations.
"Love you, Jonny!"
"We fucking love you, Jonny!"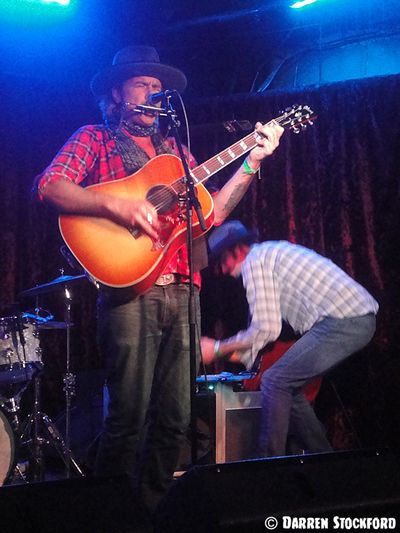 Suffice to say, Jonny loves us too, man - so much so, in fact, that he says he'll be spending a fair bit of time in London over the next couple of years, as well as overseeing a UK release for the latest Lazy Stars album, Sparkle And Shine. It's this record upon which tonight's set is built, from the noirish When You're Down, through the swampy Analee Meets The Scorpion and the country-rockin' I'll Be Around, to the swaggering Garage Cleaner.
I don't catch the names of tonight's Lazy Stars (I sometimes wish that performing musicians wore name badges), but Jonny describes them as "a killer band of British guys". I can't vouch for their nationality but I'll gladly pop a reference in the post regarding their musical prowess.
While I'm writing letters, I might as well file a complaint too, aimed at the chatterboxes whose conversations tonight trample Sweet Magnolia Flower. It should be obvious: an acoustic performance requires a bit of hush, even from those at the bar, but not even a "shut up!" - a fiery shout from the back - makes any kind of dent in the fabric of reality. Introducing the song, Jonny acknowledges the noise, but he doesn't let it affect his performance - or his good mood. "I know you guys came to rock," he says, "but I know you're a bunch of old softies."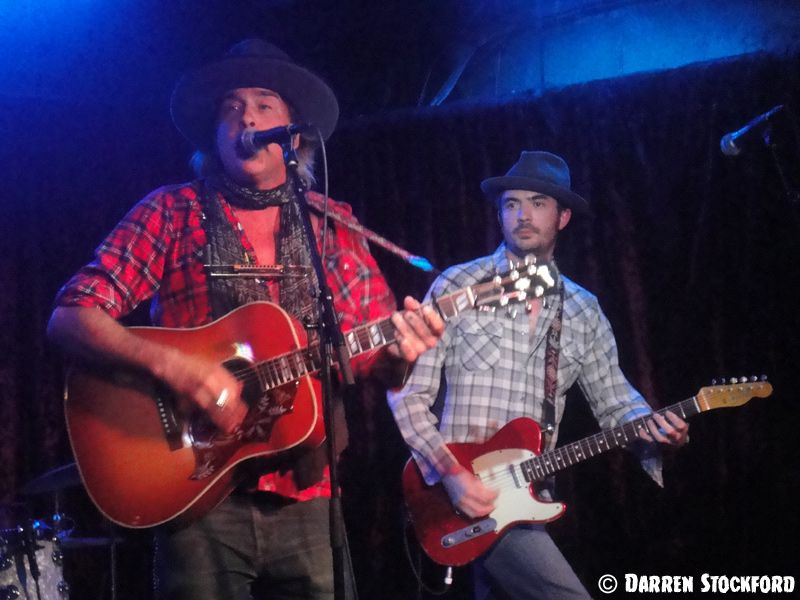 With the finishing line fast approaching, a tray of four tequila shots, complete with salt and lemon, appears on the stage - a gift from a fan. The band take their medicine, and Jonny starts to introduce "a song by one of my favourite songwriters".
And here it is: A Song For You, this time dedicated to a chap in the audience who'd been "waiting such a long time for me to come back and play". A Song For You for you, you might say. It's given some extra sizzle by tonight's opening act, singer-songwriter Ben Jordan, who jumps on stage to lend his vocal talents. It sounds beautiful, and though the song doesn't bring the house down this time, it's very warmly received, and that'll do for me.
The band finish with a groovin' Neil Young cover, Everybody Knows This Is Nowhere, complete with audience singalong section, before retiring to the bar - perhaps for more tequila. There's no encore, because when it looked like the set was drawing to a close, with the Stonesy ballad Still Lonely, the audience cheered so loudly that leaving the stage didn't seem like an option.
On numbers alone, I thought it'd be a quiet night. Happily, I was wrong. This evening, Jonny Kaplan & The Lazy Stars' treasure might be hidden, but it's still golden. And I'm diggin' it.