Just a chance: Badfinger UK live at the Fairfield Halls, Croydon, 14 October 2015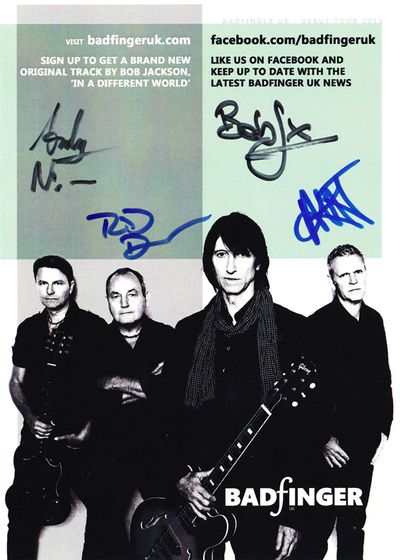 Y'know, I don't know whether I'll be able to write this piece. This morning, as part of a hospital outpatients procedure, I was injected with midazolam, a sedative drug whose skill set includes anterograde amnesia - or, as Wikipedia puts it, the "loss of the ability to create new memories".
This evening, I'm sitting in the main theatre in Croydon's Fairfield Halls watching a show called All Star '60s, a five-band travelling revue that includes Bob Jackson's Badfinger - or, as I'm putting it now, the best chance I've ever had to see the music of one of my favourite classic-rock bands performed live. And I'm wondering whether I'll wake up tomorrow unable to remember a thing.
For the unaware, Bob Jackson joined Badfinger in 1974 and, along with Pete Ham, Tom Evans and Mike Gibbins, was part of the line-up that recorded one of the great lost albums, Head First, which remained unreleased until it was issued on CD in 2000. He and Tom Evans later formed The Dodgers, another great band with power-pop leanings, and toured the US together in an early '80s version of Badfinger. These days, Bob appears to be a proud keeper of the flame - or, as he puts it this evening, a curator of a legacy.
It's an approach that pays off, bringing an air of both respect and celebration to tonight's performance. The band that Bob has assembled - Andy Nixon on guitar, Anthony Harty on bass and Ted Duggan on drums - might be new faces to me, but I appreciate their dedication to performing songs I know so well so well.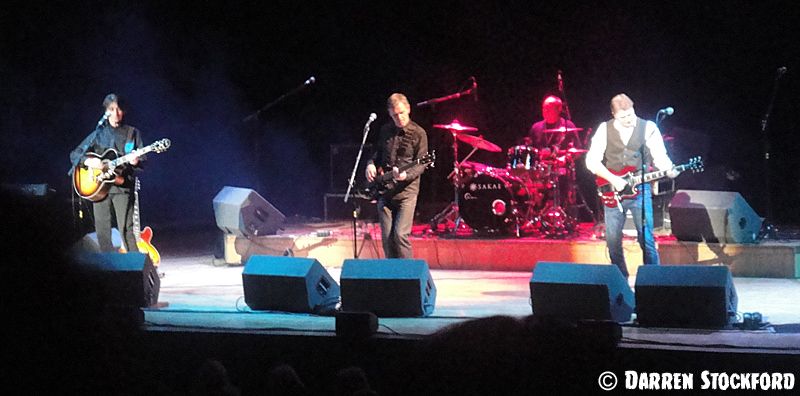 The nature of the evening means that the band only get half an hour on stage, but they've chosen their six songs wisely. "Do you want it?" asks Bob as an introduction. Come And Get It, the Paul McCartney-penned single that put the band on the map, is a fine place to start and it sounds great with theatre acoustics. It's actually the only song among these Badfinger tunes that fits this show's '60s remit - and then only just - but no one seems to mind, assuming they even notice.
The band scale rockier terrain with Just A Chance, the opening cut on 1974's Wish You Were Here album, before mining a gem from 1971's Straight Up, in the shape of a polished Day After Day. Guitar lines sound close to the originals in both melody and tone, and harmony vocals blend to pleasing effect.
Bob sings lead on all the songs - sometimes from behind his piano; other times strapped to a guitar - and somehow manages to conjure the spirits of both Ham and Evans while impersonating neither.
Care has clearly been taken to make this experience a good one for Badfinger fans, though there's plenty for an uninitiated audience to enjoy too - not least the centrepiece that is Without You, whose vocals soar to Nilsson-esque heights. It's the one time they go beyond Badfinger - and, yes, I was expecting to hear something closer to the band's original recording. But unsurprisingly, given the popularity and legacy of the 1971 cover version, it goes down very well. At the song's end, Bob talks a little about its writers, and the audience applaud their names - a touching moment, and an unexpected one for what is effectively a support set.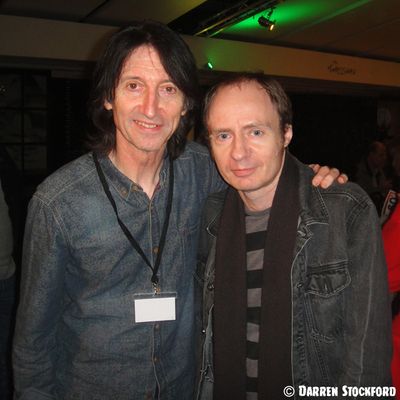 The band finish with two more of Badfinger's best-known songs: Baby Blue, another gleaming jewel from Straight Up - which, as Bob notes, gained a new audience in 2013 when it featured in the final episode of Breaking Bad (no spoilers, please - I haven't seen it) - and No Matter What, the song that was my introduction to Badfinger nearly 20 years ago, when I heard San Franciscan power-poppers Jellyfish cover it.
Back then, Badfinger's back catalogue wasn't readily available on CD, and I imported a Japanese version of No Dice, the 1970 album that birthed the original track. Thankfully, things are a lot better nowadays, though the CD I tucked into my jacket pocket before leaving my house this evening is, sadly, now out of print. When I present it to Bob after the show, while he's signing autographs in the foyer, he feigns shock and declares: "So you're the one!"
Head First was recorded in December 1974 but ended up being shelved by the band's label, Warner Bros, due to legal wrangling. When it finally surfaced, 26 years later, I was not only chuffed by how good it sounded, I was also taken aback by its candour. The Badfinger story is a tragic and cautionary tale for professional musicians, and in songs such as Rock 'N' Roll Contract and Hey, Mr Manager (both penned by Tom Evans), the frustrations of their writer can be heard loud and clear.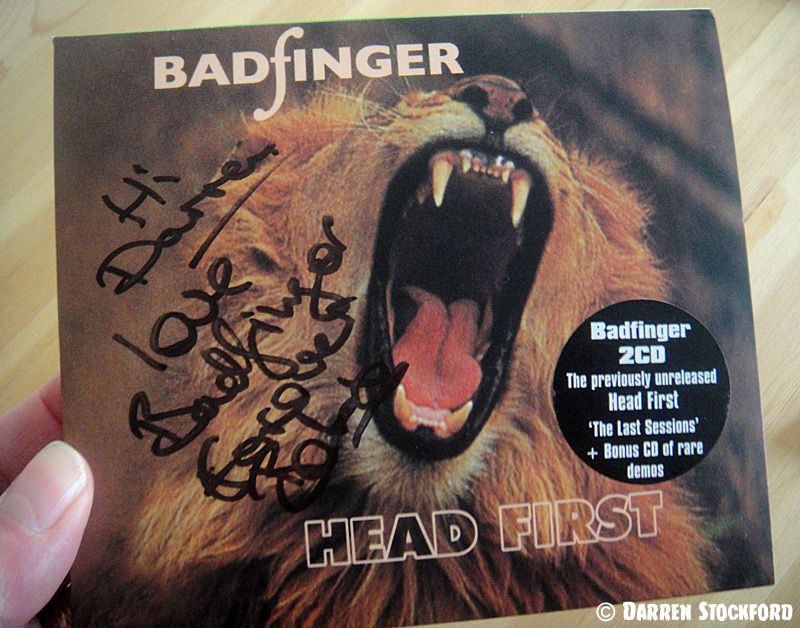 It's been said that one of the Head First tracks, Keep Believing, was a message from its author Pete Ham to Joey Molland, the guitarist and vocalist who left the band prior to the recording of the album. Joey was a key member of the band between late 1969 and 1974, performing on and writing for the classic run of records from No Dice to Wish You Were Here, and he eventually went on to record two more Badfinger LPs alongside Tom Evans, including the excellent Airwaves in 1979. Since the mid-'70s, Joey has lived in the US, where he continues to perform under the Badfinger name.
It's for this reason that Bob's quartet has the 'UK' suffix - though I'm hoping that it's also a hint of things to come as far as more gigs go. It'd be nice to think that there was a regular touring band keeping the Badfinger flag flying here in the UK. Whatever happens, though, I'm grateful for this chance to have seen some of the band's songs played live, in front of a large audience, and sounding so good.
I'm grateful, too, when I wake up the morning after the show with total recall. I might not remember the finer points of yesterday afternoon's conversations, but by the early evening my system must have shaken off the midazolam - the pesky amnesiac that had me wondering whether this review would consist of an embarrassed "you had to be there" - and I was able to resume making memories.
I couldn't have wished for a better place to start.
• Catch Badfinger UK in All Star '60s, alongside Brian Poole & The Tremeloes, The Pacemakers, The Troggs and The Ivy League, at venues across the UK until 16 November
• Visit the band's Facebook page (a website is coming soon)