Blood and ink: Barbara Shelley and Linda Hayden signing, 15 January 2011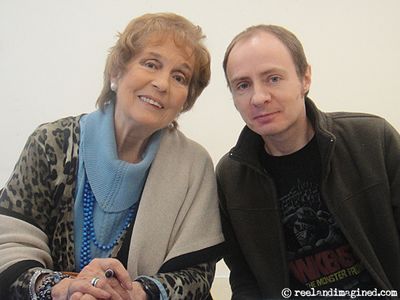 As much as I enjoy attending 10th Planet's Saturday-morning events in Barking, my day usually starts with a groan. The act of rising before the sun does might be easy - nay, compulsory - for vampires but, let me tell you, it hurts when you're more alive than undead.
Of course, when I put it like that, the solution seems obvious - I need someone, or something, to put the bite on me. But, to be frank, I don't much fancy the whole 'fang-growing, coffin-dwelling, blood-drinking' thing.
Someone who might, though, is one of the two actresses I met at last Saturday's signing - namely Barbara Shelley, star of Dracula: Prince Of Darkness, a 1966 sequel in which Ms Shelley is bitten by Christopher Lee's titular count and ends up… well, let's not spill the beans when we could be spilling blood. The red, sticky stuff can also be seen in a fair few other films on Barbara's CV, such as The Gorgon (1964) and Rasputin The Mad Monk (1966). Unsurprisingly, she's been adopted by the classic-horror community as an icon of 1960s horror, and Hammer in particular.
The other lady who pulled me from my bed (metaphorically speaking) on Saturday was Linda Hayden, best known to horror fans for her roles in Hammer's Taste The Blood Of Dracula (1970) and Tigon's Blood On Satan's Claw (1971). By her own admission, Linda isn't a regular on the signing circuit, so this event provided a rare chance for fans to meet her and secure a signature or two - or three or four or five, if they were so inclined (and many were).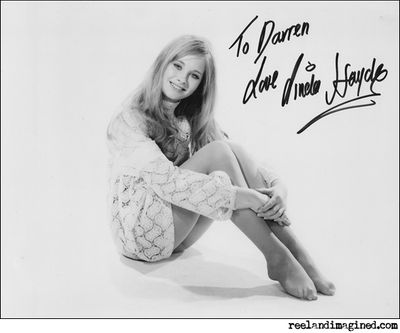 My own autograph-collecting modus operandi will, at some point, be the focus of a different blog post, but for now I'll tell you this: Linda is the first actor from whom I've bought two autographs - one on an 8x10 (my preferred media) and another on a Blood On Satan's Claw DVD sleeve. Completely, outlandishly, unbelievably crazy, I know. What can I say? I was in a chirpy mood.
My early arrival, which I managed to pull off despite weekend rail closures, granted me a mere 10-minute queuing time, but the entire signing lasted for the best part of two hours, with some punters going back for seconds and thirds - something I can't recall seeing at any other 10th Planet event I've attended.
Everything from DVD sleeves and promo pics to original quad posters was passed under the actresses's pens, with both ladies seeming to be in good spirits and happy to pose for photos. When Barbara made a joyful fuss over a young woman's gothic attire, it was clear that she'd made at least one fan's week.
Post-signing, Barbara and Linda - along with the event's other guest, John Leeson, the voice of K-9 from Doctor Who - were interviewed about their lives and careers.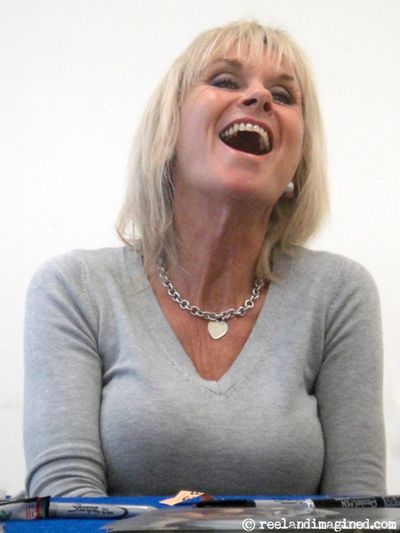 Linda fondly recalled the "wonderful review" that the New York Times gave her for Blood On Satan's Claw, in which she played Angel Blake, a teenage girl who finds herself working for the Devil, who clearly has a well-developed sense of humour (two fallen angels, working together - how sweet).
I later looked up the NYT review, written by Vincent Canby and published in April 1971. Wrote Canby: "I especially liked Linda Hayden, as Angel Blake, the sort of girl who, fully clothed, could have easily unhinged Salem" ('fully clothed' being a reference to Linda's nude scene, in which her character tries to seduce a man of the cloth, played by Anthony Ainley, and very nearly manages it).
Meanwhile, one of Barbara's best reviews came from Paul McCartney. When Barbara bumped into The Beatles in the early '60s, she tapped Paul on the shoulder to ask him a question. He turned around and said in surprise: "Ooh, it's Barbara Shelley! We've seen you on television; we think you're lovely!"
At one point, Barbara's eyes started to mist up as she recalled a chance meeting with Winston Churchill - one of many lovely moments from a lady who seemed keen to share her appreciation for the unusual route her life's taken. When she spoke about her experiences, her sentences often seemed to fall into a pleasing, thoughtful structure.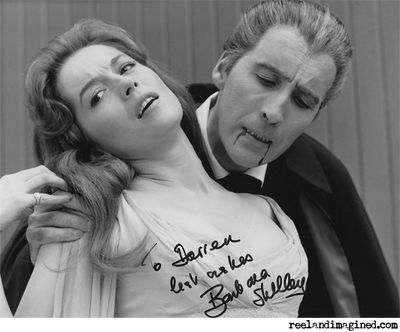 "When I first started doing Hammer," said Barbara, "all the so-called classic actors looked down on the horror film. There is a great thrill for me in having done Hammer and being known. All the other things I did, nobody remembers those. But the horror films, I'm very grateful to them because they built me a fan base, and I'm very touched that people will come and ask for my autograph.
"Hammer wasn't easy, it wasn't pleasant to work for, but I'm very grateful for what they did for me, especially at this time of my life because I had a stroke three years ago, and I'm not disabled but I'm _un_abled. There are certain things that I used to be able to do that I can't do now, but to come and speak to you all - and I had the same experience in Birmingham a little while ago… People say to me that they grew up with my films, and things like that.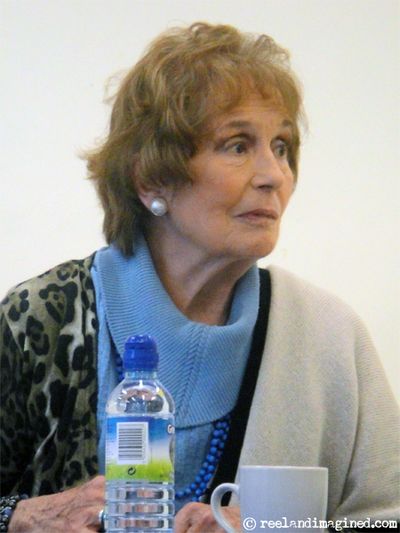 "When I was at a conference in America, I said to somebody: 'Why do you like horror films?' He said: 'Because they mean that anything can happen, and they develop a child's imagination.'
"And my father did that for me. He used to give me old science-fiction magazines, and my mother used to say to him: 'Don't fill her mind with that rubbish!' When we all sat and watched the first landing on the Moon, my father and I both said together: 'What rubbish?'
"This is why when children come and ask for autographs, I'm very touched by the fact that their imaginations have been primed, as mine was. I'm now very open to telepathy and things like that because, from a child, I've thought that anything can happen. And, believe me, anything can. When you wake up and can't move one morning, it's happened.
"So don't have a stroke, my darlings. Watch your cholesterol, and watch your blood pressure. Don't become unabled. Mind you, even though I'm unabled I still meet lovely people like you and I thank you all."
Definitely worth getting out of bed for.