Anomaly wouldn't do this: A look at ITV's Primeval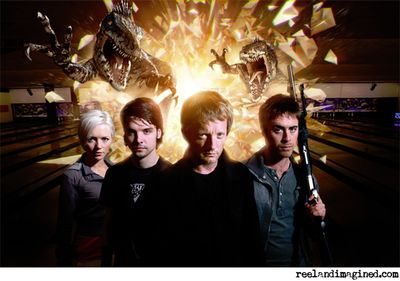 Another one bit the dust - or so I thought. Back in June 2009, it was reported that Primeval, ITV1's prime-time science-fiction show, had possibly breathed its last. After 23 episodes through three series, the programme that brought dinosaurs to Saturday teatime for the first time since (I think) the 1974 Doctor Who serial Invasion Of The Dinosaurs wasn't being recommissioned, leaving its future uncertain - and its fans gnashing their teeth, giganotosaurus-style.
ITV's decision to cancel the show appeared to take its producers by surprise, with the third series finishing a couple of weeks previously on a cliffhanger and a string of loose ends still to tie. Co-creator Tim Haines told Digital Spy that story plans were in place for at least two more series. And with a Primeval movie reported to be in the early stages of production, plus rumours of a spin-off series (which has since been confirmed to be happening in Canada), I thought it was a shame that the original show had been given its P45.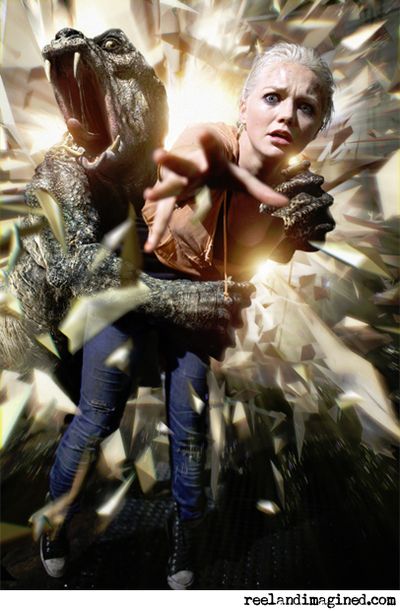 But then, in September 2009, came the reprieve: two new British series of the show, totalling 13 more episodes, had been commissioned, the result of a deal between ITV and the UKTV channel Watch. Primeval wasn't ready to be fossilised just yet; the Jurassic lark was to continue; its fans were no longer 'saur - and, you'll be pleased to learn, I've asked the court to take nine other prehistoric puns into consideration. Might as well clear the decks before the new series kicks off in 2011.
Launched in February 2007, after the success of the revamped Doctor Who two years previously had highlighted the audience for Saturday-night telefantasy, Primeval hit the ground running. With sparkling time portals (known as 'anomalies'), prehistoric beasties, government cover-ups and almost weekly appearances of Hannah Spearritt in her pants (her character's flat had to be kept really warm, to keep her pet reptile happy - a cunning ruse, if ever I heard one), the show drew an average weekly audience of 6.4 million over its first series.
The premise - a small team of scientists, led by Nick Cutter (Douglas Henshall), investigate anomalies while clearing up the stray prehistoric animals that wander through - was simple enough that the show could be enjoyed as a 'monster of the week' romp, while longer-term story elements quietly built the programme's mythology. When the first series ended with one of its lead characters, Claudia Brown, wiped out of existence due to some meddling in the past, it felt like the story was really starting to head somewhere.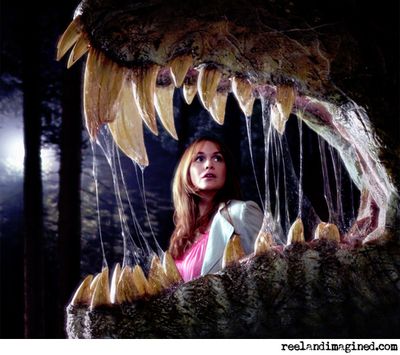 But it didn't - at least not this aspect of it. At the start of series two, Claudia was replaced by Jenny Lewis, played by the same actress, Lucy Brown, and the team suddenly had a swanky new high-tech headquarters. Only Cutter was aware of the changes, as he'd been in the past when they occurred, but he didn't pursue a reason with any real fervour. For the viewer, with no explanation forthcoming (beyond the fact that the timeline had been changed), it felt like a reboot, a chance for the producers to simply rebuild the show.
In the third series, Jenny's personality morphed pretty much into Claudia's, and the character was written out, just two episodes after Nick Cutter was killed by his villainous wife Helen (Juliet Aubrey) - a move that appears to have been instigated by Douglas Henshall wanting to leave (I was unsurprised as I thought he looked bored in his three series-three episodes). Though Cutter's replacement, ex-policeman Danny Quinn (Jason Flemyng), was very likeable and was just starting to come into his own, it seems obvious that the series' finale would have been more dramatic, not to mention nicely symmetrical, with Nick wrestling Helen for mankind's survival.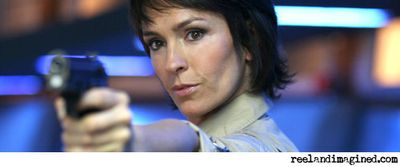 Helen's motivations seemed muddled too. First she shot Nick because his research would apparently lead to our species' extinction, yet when she realised that this hadn't worked she reverted to plan B: wiping out our ancestors before humankind had a chance to evolve. Um, run that by me again…
Still, story niggles aside (and I've not even mentioned the bizarre cloning subplot), I enjoyed the first three series of Primeval and I'm looking forward to its fourth and fifth, the first of which airs in January. The show is fun, easy-to-watch, Saturday-night escapism - family-oriented in tone and full of humour, but not averse to trying to scare, nor afraid to kill off popular, regular characters in horrible ways.
Of course, like all drama broadcast on commercial channels, the show is best watched in a recorded form (if the screenwriter wanted the McDonald's jingle to play while our heroes were staring death in the face, he'd have at least made a note in the margin), but in these days of PVRs that's as easy as pressing a button. Much harder to fathom is the mystery at the centre of the programme: how come there's something, especially a modern science-fiction series, worth watching on ITV?
The exception that proves the rule, Primeval is its own anomaly. Investigate that.