Nicely served: The Ely Plains live at What's Cookin', London, 29 July 2009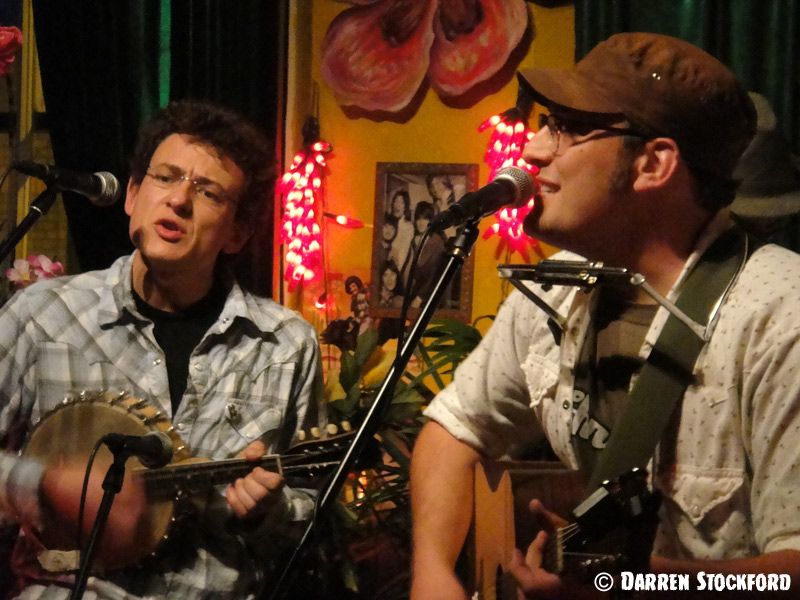 I'm at What's Cookin', at the Sheepwalk, a pub on Leytonstone High Road, and the upstairs function room is functioning just fine. Decked out in flowers, retro lamps and pink fairy lights, with framed photos of country (and some rock) stars adorning surfaces both horizontal and vertical, the room feels more like a shrine than a venue. Crossing the threshold is like stepping into Narnia. It's a world away from the standard sweat-sodden London stage, its only real competition being Islington's Union Chapel - and that's a real church.
If I've done the maths correctly, tonight is The Ely Plains' fourth gig in the capital. Cunningly, by choosing to play country-oriented clubs that attract regular audiences, the band seem to be sidestepping the tumbleweed that breezes past many of the city's stages. There's even a slight theatre feel to tonight's performance, with most of the crowd sitting at densely packed tables. Only a few people playing with their mobiles and talking loudly spoil the illusion.
Opening with Ma, a rockin' hoedown that usually closes their set, the band are clearly in the mood to mix things up. Terraplane, one of the first songs they ever performed together, is pulled out of storage and dusted off, and a handful of brand new tunes are sprinkled around the set - a reassuring pointer that the band aren't happy resting on their laurels, even when this very plant is sharing the stage with them.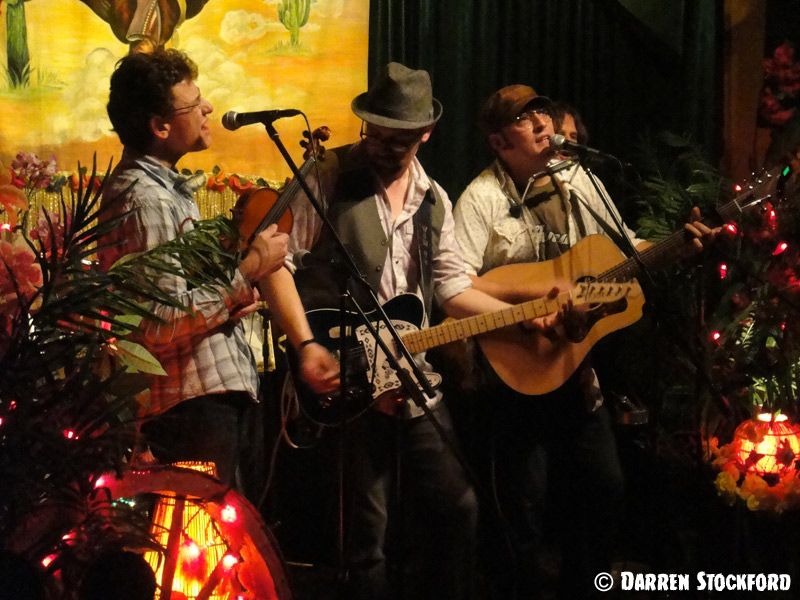 To these ears, it's a wholly confident performance. The sound soars - with the newly installed harmonies, and of course fiddle and banjo, the band seem to be edging ever closer to Old Crow Medicine Show territory - and the banter flows. Frontman Dan, especially, strikes me as a man who's having a good time. When he's in the zone, lost in what he's doing, his smile is infectious - a trait that he shares with many of my favourite performers.
By the end of the set, I'm certain that this is the best show I've seen the band play. They radiate an energy that belies their year-long existence. I don't know whether it's because they're buoyed by their colourful surroundings or just high on the occasion, but everything seems high-impact, as 30 minutes rush by in what feels like 15. With a (mostly) attentive audience on their side, an encore in the bag and an excited MC declaring his intent to bring them back to the club, The Ely Plains can happily chalk tonight up as a success. They played the best-dressed stage in London and walked away looking pretty dapper themselves.