Sweet dreams: Emmylou Harris live at the Hammersmith Apollo, 14 September 2008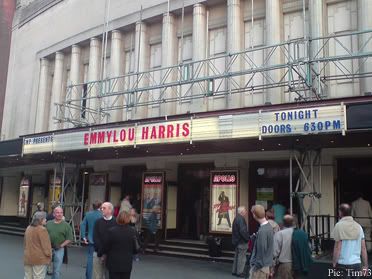 Emmylou Harris, dressed all in white to match her now trademark silvery mane of hair, is an elegant and charming hostess. Given the part she's played in modern country music - from her early, revered duets with Gram Parsons, through critical and commercial success in the '70s and '80s, to her leading charge on the alt-country movement with 1995's Wrecking Ball - she'd be forgiven for putting herself on a pedestal. But she appears to have come through four decades of a recording career with her welcoming personality intact.
She says at tonight's Hammersmith Apollo gig that she used to say she "played country music but didn't inhale" as it had "got so bad". It's clear that she's not talking about her own catalogue, which even at its most commercial could still be classed as what Gram called 'cosmic American music' - country-infused songs cooked up in a melting pot using only the finest ingredients. Nothing at all to be ashamed of there.
The Apollo, thankfully, is blessed with decent acoustics and Emmylou's voice soars. Its tones have deepened over the decades, giving it a silky edge that suits her 'elder stateswoman' image to a tee. Strap on an acoustic guitar and she cuts an iconic figure.
With 29 albums (including live records and collaborations) in the bag, very few of which misfire, it feels as if anything goes tonight. In fact, so intrigued am I by just what Emmylou and her five-piece band are going to play that I decide to take along a notebook and write down the setlist - something I think I've only ever done once before in 21 years of attending gigs. It looks like this:
Here I Am (from Stumble Into Grace, 2003)
Orphan Girl (from Wrecking Ball, 1995)
Sweet Dreams (from Elite Hotel, 1975)
Blue Kentucky Girl (from Blue Kentucky Girl, 1979)
Return Of The Grievous Angel (from Last Date, 1982)
Kern River (from All I Intended To Be, 2008)
Sailing Round The Room (from All I Intended To Be, 2008)
Going Back To Harlan (from Wrecking Ball, 1995)
Pancho & Lefty (from Luxury Liner, 1977)
Red Dirt Girl (from Red Dirt Girl, 2000)
Love And Happiness (from All The Roadrunning, 2006)
Shores Of White Sand (from All I Intended To Be, 2008)
Take That Ride (from All I Intended To Be, 2008)
Broken Man's Lament (from All I Intended To Be, 2008)
Wheels (from Elite Hotel, 1975)
Green Pastures (from Roses In The Snow, 1980)
Born To Run (from Cimarron, 1981)
Bang The Drum Slowly (from Red Dirt Girl, 2000)
The Pearl (from Red Dirt Girl, 2000)
Old Five And Dimers Like Me (from All I Intended To Be, 2008)
Bright Morning Stars (from Angel Band, 1987)
Get Up John (from At The Ryman, 1992)
Together Again (from Elite Hotel, 1975)
Leaving Louisiana In The Broad Daylight (from Quarter Moon In A Ten Cent Town, 1978)
I've had the set analysed in a lab by scientists, and their conclusion is that it's one of the best-constructed setlists they've seen. A tad light on rockers, perhaps, but it covers most bases.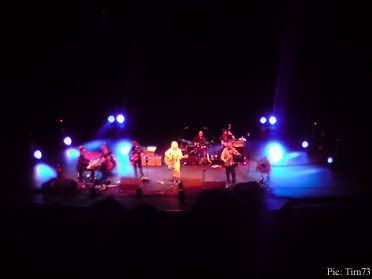 Each decade is represented; the latest album has a big presence (as it should - it's a good record and worth showing off); there are a couple of Gram-penned tunes, two gospel numbers and one from a collaborative LP; and, though it contains plenty of popular tunes, it's far more than a 'greatest hits' set. I could ask for more, but Emmylou and the boys would have to play for a couple more hours, at least.
When I get home and flop into bed (post-toast and tea, of course), I dream that I'm still at the venue, but something - I never find out what - is happening outside and they won't let us leave. A man keeps coming in and saying 'I'm afraid that you'll have to stay for at least another 90 minutes', so the band continue to play. Clear wish fulfillment there.
The pics I present to you were taken by my friend Tim on his camera phone. I gotta roll with the times and get me one of these so I can do sneaky stuff like this.