Dismemberance Day: Meeting Leatherface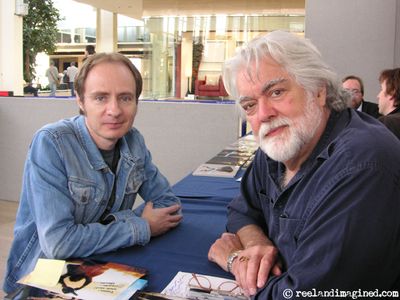 The latest Collectormania event, the last in its current home, takes place this weekend in Milton Keynes. I headed up there yesterday to avoid the Saturday and Sunday crowds. There was only one guest I wanted to meet this time, and that was the gentleman you see pictured with me on the right: Gunnar Hansen, who played Leatherface in The Texas Chain Saw Massacre - the 1974 original, natch.
The film is being re-released on DVD in November, in the shape of a three-disc set full of supplemental material, though I don't think that Gunnar's appearance at Collectormania is tied in to this. It's likely that the organisers were already thinking along these lines after the movie's writer/director Tobe Hooper was mooted for last October's event but had to bail due to work commitments.
Gunnar was welcoming, and the array of 8x10s that were laid out on his desk was one of the most impressive displays of movie stills and publicity shots that I've seen at one of these events, which made selecting one difficult. In the end, I went for the favourite of the big man himself - a shot from the end of the movie with Leatherface swinging his titular instrument about in front of the dusty Texan landscape just as dawn is breaking. He personalised it with: "Darren - you're next!".
Threatened with a whirling chain saw by Leatherface himself - how 'bout that?