By George, it's Collectormania 12!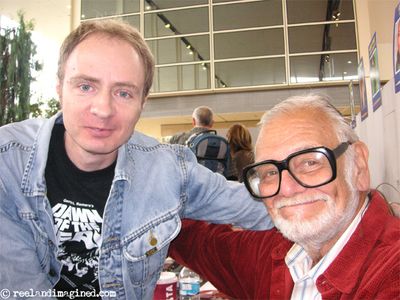 What better place to meet George A Romero, writer/director of the original Dawn Of The Dead, than in a shopping mall?
Yup, it's Collectormania time again. This morning, I made the trip to Milton Keynes' trendily named thecentre:mk - lower-case, of course - in the hope that I'd beat the weekend rush (the 'mania' of the event's title).
And, hey, what d'ya know? Everything seemed to be proceeding at a leisurely pace. All the guests had open queues - there were no virtual tickets - so I met everyone I wanted to within 45 minutes of arriving, securing four signed and dedicated 8x10s and some snaps for the 'family' album.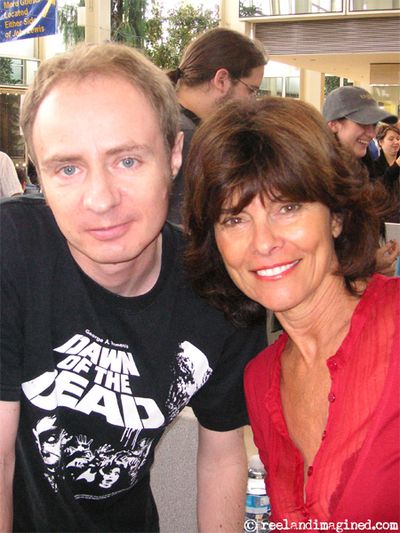 First up is George A Romero, inventor of the flesh-eating zombie (or 'ghoul', as Night Of The Living Dead had it). It's not often that directors attend these events (Tobe Hooper was also scheduled but cancelled last week due to other commitments), and it was a true pleasure to meet this guy. My composure is usually pretty cool at these signing events, but I'm afraid I started babbling at George, finding three different ways to say, pretty much, 'oh, my word - it's George bleedin' Romero_'_.
He responded with an understanding "I know", intoned like 'there, there'. If the younger me - the teenager who rented Day Of The Dead and had his mind blown at the sight of Joe Pilato being ripped clean in half by a pack of hungry zombies - could see the pic above, his eyes would probably pop out of his head, without a Tom Savini gore effect in sight.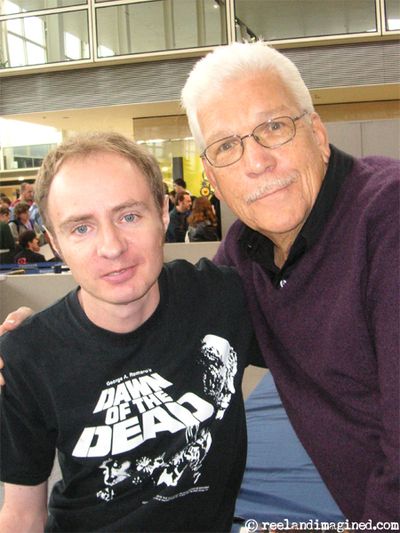 Next is Adrienne Barbeau, actress and star of Escape From New York and The Fog. As a connoisseur of John Carpenter movies, I wasn't going to pass up the chance to meet Ms Barbeau (who was also married to Carpenter between 1979 and 1984).
She opted to derobe for my pic, taking off her jacket to reveal a rather racy red top. She laughed as I told her I'd follow suit and ditched my jacket too. Adrienne's defining role, for me, is radio DJ Stevie Wayne in The Fog (oh, that voice!), a movie which also featured…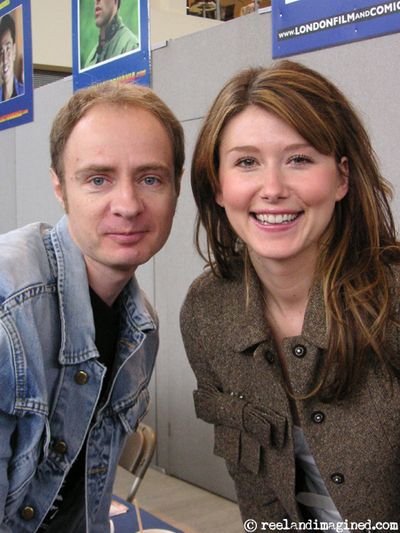 Tom Atkins, who was also in Escape From New York, Creepshow (one of Mr Romero's films) and the not-too-shabby sci-fi shocker Halloween III: Season Of The Witch. Tom came across as a manly guy and clearly loves meeting people. For some reason, he asked me whether my name was Jimmy. The 8x10 I chose to get signed also features Jamie Lee Curtis (Tom's co-star in The Fog). The space is there for another sig, so who knows…?
And finally, here's Jewel Staite, who plays Kaylee in Firefly and Serenity. I find it hard to write Jewel's name without preceding it with the adjective 'lovely'. Friendly of greeting and never knowingly outsmiled, she's the very definition of the word 'photogenic'. That troll-like figure standing next to her is, frankly, spoiling the landscape.