Kross eyed: Redd Kross live at the Underworld, London, 22 January 2007
It must be getting on for 10 years since I last saw Redd Kross live. It's not through wilful neglect - the band just haven't been around. Now in a reformed state, the Kross - as absolutely no one has ever called them - are midway through a block of Spanish shows. Last night's gig at the Underworld in Camden, London, was their only UK date. The result? A heaving venue and a major dollop of expectation, which for the most part the band lived up to superbly.
Last night, Redd Kross made a beautiful noise - the kind of sound that pins people to walls while planting loving kisses on their bellies - and were deservedly received like conquering heroes. Or at least they were until, four songs in, the set started to take in tracks from their more punky period, and a sense of restlessness started to creep into the audience. One very vocal chap to my right kept shouting, in a calm but firm manner: "Come on now, lads, Phaseshifter." Though I'm not a lover of heckling, I could see his point.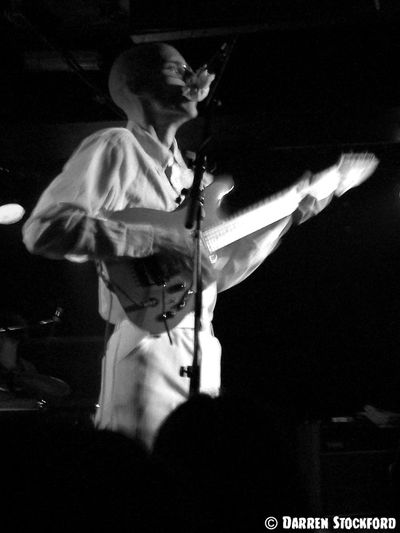 For my money, only three of Redd Kross's five (proper) long players - power-pop's holy trio of Third Eye, Phaseshifter and Show World - are worth showering with praise. The first two records, made in the '80s, are for the most part lacking the refined melodies and dynamics of the later albums, and can be safely filed under 'that's nice, dear'. With an early line-up on stage (the same one that played on Neurotica), the band seemed to be relishing the chance to revisit their roots, which made for a frustrating set in parts - but I do stress only in parts. When a group set out their stall with Lady In The Front Row, Bubblegum Factory and Switchblade Sister, and throughout a 75-minute set have the good grace to perform the likes of Jimmy's Fantasy, Crazy World, Huge Wonder, After School Special, Mess Around, Follow The Leader and Annie's Gone, heck yeah, I'll indulge them.
Oh, and Love Is You - a lilting ditty from Neurotica, sung by guitarist Robert Hecker - was lovely. In fact, Hecker was an unexpected highlight. Personality shone through his playing, though of course I don't usually approve of guitars being worn so high. Forget rock 'n' roll cool - that's gotta be bad for your circulation, surely.