Two's Company: Caitlin Cary and Thad Cockrell live at the Borderline, London, 21 April 2006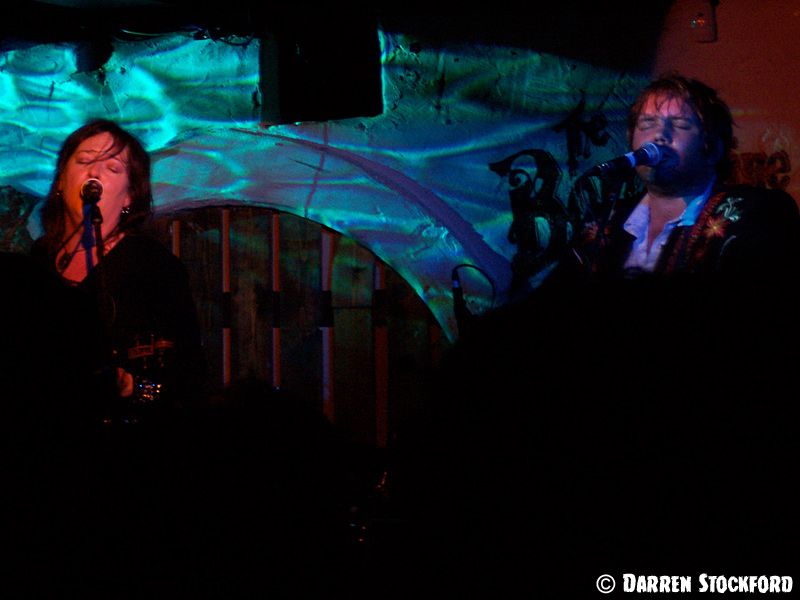 A pint for a nice round two quid? On a Friday night in London? I can only have been at the Borderline. Seven till eight is happy hour, and this kind of thing makes me happy.
Last night I was in town for Caitlin Cary and Thad Cockrell, the pairing of vocal and songwriting talent that produced last year's exquisite Begonias, an album of mostly classic-sounding country duets. I'm a sucker for this sort of thing - crank up the heartbreak and harmonies and I melt, borrowed memories of Gram and Emmylou pooling around me.
Caitlin and Thad are both acclaimed performers in their own right, each having two solo albums to their name. Caitlin is also one third of the all-female Tres Chicas, who packed out this venue a year ago - almost to the day, in fact. Last night was the fifth time I'd seen her perform live, and I have to say that her work over the last five years has been so strong that it's easy to forget she was once a core member of alt.country trailblazers Whiskeytown. And as far as partnerships go, if she does ever hook up with Ryan Adams again it had better be good, because Begonias has really raised the bar.
Thad is, by his own admission, "not alt.country, man" - and it's this purity that's his strength, especially with a set of duets like this. The closest that the pair get to 'alt' is Second Option, which, with its breezy rock hook, could be mistaken for a lost Whiskeytown classic.
While this went down a storm last night (when this band rocked, they really rocked), it was the aching Please Break My Heart - a song so good it made the final cut of both Caitlin's second album, I'm Staying Out, and, in a recorded form, Begonias - that drew the biggest round of applause. It's a song so timeless that I can't believe that it hasn't been written before. And I bet it'll be recorded again by others with an ear for a great song.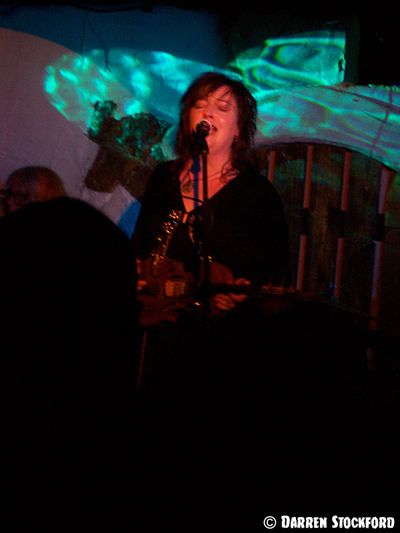 The blend of voices was warming and flawless, both singers making this duetting business sound like the most natural thing in the world. I spotted just one flub in the entire 80-minute set - when Thad came in a couple of bars too early mid-song. But it didn't matter as it was a solo part. He grinned at Caitlin and she grinned back. Their chemistry was apparent from the beginning of the show, which kicked off with a kiss. Bless.
Begonias was played in its entirety, the two leads - Caitlin on violin and Thad on acoustic guitar - backed by a pedal steel player, a drummer and a rather tall and hairy bassist.
Setlist surprises included a Dylan rocker that I didn't recognise but which sounded fantastic ("we sometimes like to help out aspiring songwriters," joked Thad), and a couple of 'solo' tunes, which were held back for the encore: Together Again, a Buck Owens songs that Thad recorded with Caitlin for his first album, Stack Of Dreams; and Thick Walls Down, a Cary/Cockrell co-write that the pair performed on Caitlin's first long player, While You Weren't Looking.
It was a nice way to end, rounding out the gig with songs from years gone by that they'd recorded before they were officially a duo. And the encore felt genuine as: a) the applause was relentless, b) the venue was 10 minutes over curfew, and c) the lights had started to come on.
A great night, then - and one made all the more enjoyable by meeting friends Rob and Ila, who kept lonely old me company and no doubt have much better pics than the ones you see above. Seriously, my Box Brownie shrivelled when Ila produced some very pro-looking equipment from her bag, and is still looking nervous now.