Kashmir sweaters: Tyla and Dregen live at the Kashmir Klub, London, 29 May 1999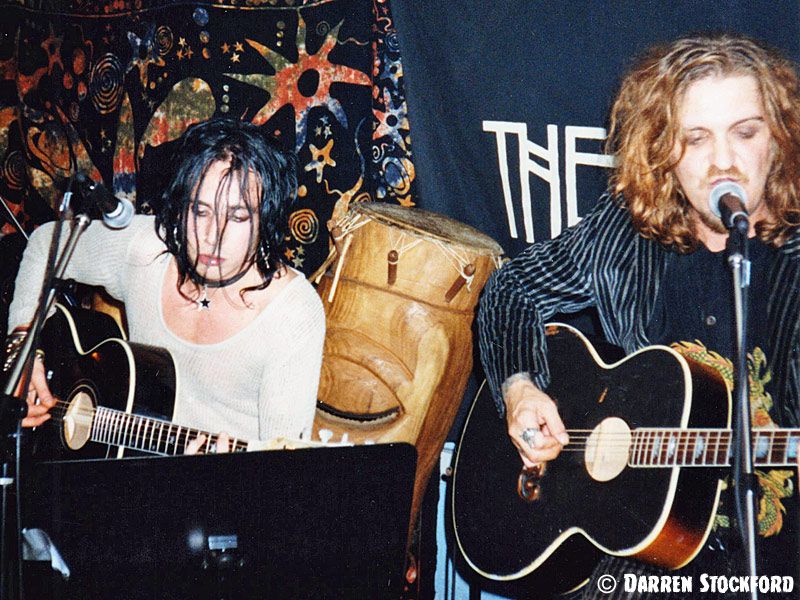 "Do you really know, do you really see, do you really give a fuck what's happening here?"
Chance would be a fine thing for the 100 or so people who don't have anything approaching a front row view of tonight's proceedings. I'm thankful almost to the point of disbelief that I do have such a view, though I start to panic when a seven-foot tall guy (no kiddin') dressed all in leather pushes his way past my left shoulder. Luckily, he's heading for an empty, recently vacated seat (the girl who was previously sitting there having decided to move to a spot where she could get a more photogenic view of Dregen) and I breathe an audible sigh of relief. But yeah, the Kashmir Klub could certainly do with a stage - though, with a ceiling this low, it's really not possible.
For once, tonight's 'secret' shenanigans seem to be pretty much just that. There's no queue of people snaking its way down Paddington Street, desperately hoping to blag themselves a place on the guest list. There are no tickets tonight, just a list of lucky punters and the usual liggers. Inside the venue, it's stiflingly hot, but it doesn't even seem unbearably crowded, which is remarkable when you consider that the gig room itself is no bigger than my living room. For once, the press haven't caught a whiff of this, and it feels all the better for it.
It's been an absolute age since I last saw Tyla live. I missed his September '98 London show 'cos it coincided with a US holiday. With the added attraction of two acoustic guitars - and the bonus of one of them being played by Backyard Babies guitar god Dregen - tonight's show is something I've been looking forward to for weeks. I'm expecting something approaching The Best Acoustic Show Ever. What I get isn't quite that - and I'll tell you why in mo' - but it does leave me with a nice warm glow and a healthy smile on my chops.
Our compere for tonight is Dante Bonutto - a name that'll be familiar to anyone with an interest in The Wildhearts' story (he was the A&R man responsible for the band's EastWest signing). Dante plays the perfect host, introducing the pair as: "Poet, painter, full-time rock 'n' roller, Tyla; and, of course, the sexiest thing to come out of Sweden since the blonde one out of Abba's satin-clad rear, Dregen." It strikes me that, with Tyla having recently upped sticks and moved to Sweden, an apt subtitle for tonight's gig could in fact be Attack Of The Killer Swedes. I decide to sit on it, though. Bad puns based around non-existent B-movies could ruin the evening for everybody.
The pair's entrance, save for a polite cheer from the crowd, is a bit subdued. For Dregen, who's used to walking on stage to the thunderous applause of a rabid Backyard Babies crowd, this probably feels a bit strange. When he plugs in his acoustic guitar and sits down on a stool ("my arse aches," he complains after an hour), I start to feel a bit odd myself. He looks so… so… un-Dregen-like. I'm used to seeing him hyped up and raring to go. On stage with the 'Babies, he often seems possessed by the very spirit of Satan himself. If the Devil's around tonight, he must be chilling out at the bar.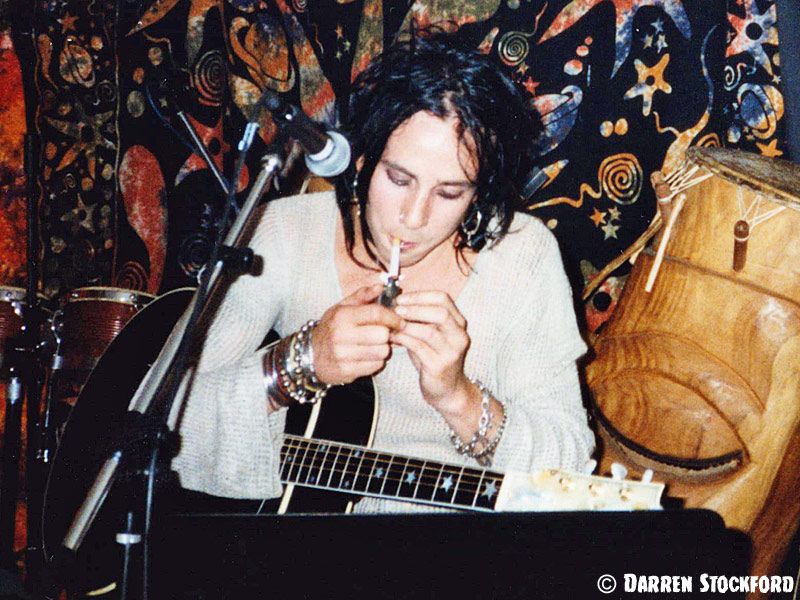 Though I wouldn't claim to know his true personality, Dregen does seem like a complete sweetie off stage. After tonight's gig, when Ginger introduces him to me and Tara, he pretends to remember us from an interview we did with him about 14 months ago. It's possible, I suppose, but he must have done at least a hundred interviews since then.
For Tyla, though, this kind of gig has been his life since the Dogs D'Amour split in 1995. He must have played more acoustic shows than Bob Dylan by now. Unlike Dylan, however, his live set has changed very little over the years. Considering that Tyla has released somewhere in the region of 50 songs since he first went solo, I have to wonder why his gigs still consist of 95 per cent classic Dogs stuff. Undoubtedly, this is what a large proportion of his audience wants to hear. But giving an audience exactly what it wants is always going to hold an artist back.
Me? As much as I love the Dogs (and, boy, do I love the Dogs), I don't want Tyla to become a museum piece, forever in debt to his past. I don't want him to turn into Chuck Berry, playing the nostalgia circuit for the rest of his days, 'cos the guy's worth far more than that.
Aw, okay, okay, I'll quit moaning. I can just about forgive tonight's Dogs-heavy set list. This is, after all, a special occasion - for Dregen as much as us, I suspect. The guitarist looks tiny against Tyla's towering frame. His playing complements the frontman's strumming style well, and he ensures that there are plenty of surprises to be enjoyed, including a brief snatch of Pipeline hidden in set opener What's Happening Here.
When the duo launch into one of the absolute classics - say, Drunk Like Me or How Come It Never Rains - Dregen lets out a "yeah!" He's obviously very excited to be up there playing (and singing) with one of his rock 'n' roll heroes. There's a definite 'passing on of the torch' vibe about tonight's show - though you have to wonder which way it's actually being passed when, during In The Dynamite Jet Saloon, Tyla hits a decidedly dodgy chord, which he strums on for a while, attempting to pass it off as deliberate.
"What chord is that?" asks Dregen, leaning over to look, a knowing smile on his lips.
"I made it up, " says Tyla. "It's my fuckin' guitar, innit? Besides, you've been fuckin' making 'em up all night!"
The show is full of witty banter like this, most of it tumbling from Tyla's lips. Earlier in the show, during Last Bandit, the frontman had to stop playing mid-song when he went to hit a chord and the guitar didn't produce the note he was expecting (the support band, Sack Trick, were apparently using a different tuning). Suddenly 3 Colours Red guitarist Chris McCormack appeared at the side of the 'stage' to take the guitar away for a re-tune.
"That's how famous we are!" said Tyla, without missing a beat. "Keep the motor running, Chris!"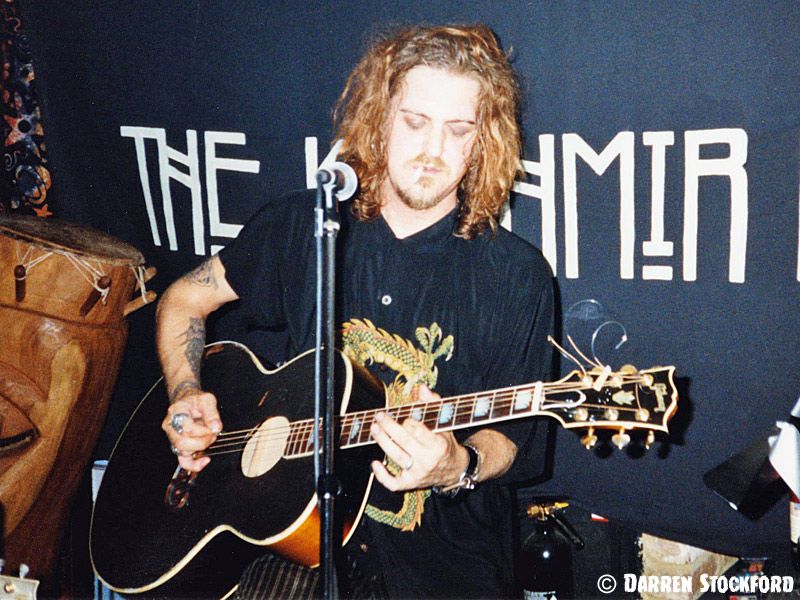 Both Tyla and Dregen are armed with their own bottles of red wine tonight, which they consume like it's going out fashion… not that either of 'em would give a toss if it was. After all, it'd leave more for them. With the stage partly lit by candles (perched in empty wine bottles, natch), and the hippy-esque, tie-dyed backdrops floating behind Dregen, I actually experience a craving for the smell of patchouli tonight. In fact, this would be an absolute godsend, as Mr Tall's pongy ciggies are starting to make me feel a bit queasy. (If you're gonna chain smoke mortuary-strength cheroots in a crowd, at least have the common courtesy to exhale through your bum.)
For me, the best moments of the evening come when Tyla wraps his tonsils around two Backyard Babies songs. Both Highlights and Ghetto You (with Tyla actually singing "ghetto you", not "get to you") are stripped right back to the bone, though the arrangements still seem much fuller than those of the Dogs songs. Highlights, particularly, seems so suited to Tyla's voice that I demand, here and now, that the pair get together to record a studio version of this tune and stick it on the next Tyla LP. Performed acoustically like this, Highlights is a truly haunting song. It sticks in the mind for days. Quite honestly, I don't think I'll be able to listen to Backyard Babies' version again without thinking of tonight's performance. If you've not heard it, I urge you to seek out a bootleg. (And there are plenty out there.)
"The next time I see you," says Tyla before leaving the stage, "I'll be playing an electric guitar with a mate of mine called Bam."
He's back two minutes later for the encore.
"Actually, I lied, didn't I? 'Cos I'm not playing an electric guitar… don't believe a fuckin' word I say."
The final song of the night is a very cool version of the Stones' Dead Flowers. Neither Tyla not Dregen seem quite sure how to end it, though. They finally decide to have a stab at taking it home, and the club reverberates to the sound of The Sweet's Blockbuster as they leave the 'stage'.
Where to now? For Dregen, it's back to the bosom of Backyard Babies. He has a new album to record. Tyla, meanwhile, is off to God knows where. There's a possible Dogs D'Amour reunion (of sorts - no Steve James, apparently) happening later this year. And then… who knows?
I'd like to think that, like all the best rock 'n' rollers, the ol' bugger will grow old disgracefully. He already feels like some kind of godfather for the 1990s' rock 'n' roll scene, and though it'd be nice to see him get some long overdue critical recognition, the people who matter already know and appreciate him for what he is. Which is…?
In 1993, RAW magazine asked Tyla the question: "What is rock 'n' roll?" His reply took the form of a 1,000 word essay titled 'The Spiral Staircase, Rollercoaster, Merry-Go-Round Of Money (In That Little Thing That Is Rock 'N' Roll)'. In it, he mused upon the lifestyle, the source of his creativity, drink, drugs, heroes… all kinds of stuff. It was the final paragraph that caught my eye, though. Looking back at it now, it sums up the man better than anyone else ever has, and goes a fair way to explaining his enduring appeal.
"What is rock 'n' roll?" said Tyla. "Really, when you boil it all down, it's dirt simple. A voice, a guitar and a soul."
I guess the bottle of red's optional.