Bi-sected: Jackdaw4's Bipolar Diversions reviewed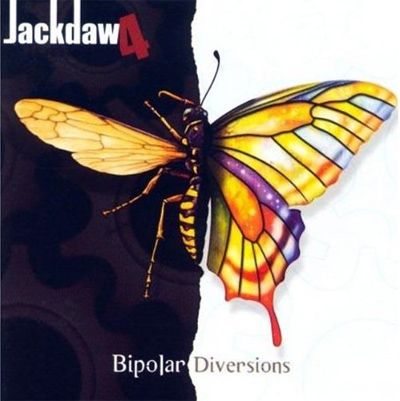 As I write this, I'm being force-fed a banner advertising The X Factor. Dannii Minogue, Simon Cowell, Sharon Osbourne and Louis Walsh are staring at me - an act of intimidation to which I refuse to succumb. Give up. I ain't buying, folks. To steal and twist a line from rock poet Jon Bon Jovi, you give a pop a bad name.
'Course, in my day, it were all fields 'round 'ere and pop music was tummy-turning, rather than stomach-churning, which is why I've found the recent commercial success of artists such as Scissor Sisters and Mika most cheering. The kids, it seems, are appreciating That Seventies Thing once again.
This is extremely good news for Jackdaw4.
Having spent many years out of alignment with popular taste, Willie Dowling and his band of loyal collaborators now have the pleasure of viewing the zeitgeist from above. Their latest record, Bipolar Diversions, the follow-up to 2004's Gramophone Logic, has been a work in progress for some time. Originally pencilled in for last spring, the album arrives on 22 October with a lengthy history of tweaking and knob-twiddling. The result is the first proper second album that Mr Dowling's ever made (none of his previous bands have ever made it this far) - 10 tracks that run the gauntlet of classic pop and rock sounds, all shot through with Willie's typical lyrical wit and way with a chord change.
First track SOOMA (All This Vision) - which opens with a lyric that had me laughing out loud on first spin - showcases a Beatley melody and some Sixties-style clean guitar picking; while there's a touch of The Who about My Little Gangsta, an ode to a certain strain of modern youth culture. Boasting Keith Moon-style drum fills and a striking keyboard riff, the song has an air of 'rock opera', its dense arrangement, lead guitar flourishes and mellow middle eight all adding to the vibe.
Hints of modern artists such as Franz Ferdinand and Blur can be heard in, respectively, the title track (whose opening riff is sure to provoke comparisons with Take Me Out) and The End Of The Party, while Frobisher's Last Stand crosses an Oasis-like bridge with a euphoric chorus that wouldn't sound out of place on a Jellyfish album. I'd wager that the 'Fish were also an influence on Illumanti, as well as Heimlich's Manouvres, whose time changes and stylistic twists echo Ignorance Is Bliss, one of Andy Sturmer's more out-there efforts.
Curiously, the track that's been chosen to lead the record's promotion, by getting its own video, is the acoustic-sounding, White Album-esque Jesus Wants My Soul Back - a good song but possibly the track that's least representative of the record's overall feel, strange though it might sound to say that about what is, after all, quite an eclectic collection. Though I'm throwing out a lot of comparisons here, I must stress that the record is a million miles from a cut 'n' shut job - refreshingly more than the sum of its parts.
The sequencing is strong and, as usual for a Willie Dowling production, the closing track leaves the listener with a sense of having just sat through a great film. Sleep - the title and concept perhaps winking at The Beatles' Good Night - is a layered, piano-led ballad, sung in part in a lovely falsetto, that's pretty much a perfect sonic representation of climbing beneath the sheets and drifting off to dream land.
That said, I don't think there'll be many people dozing off to this album. Anyone shutting their eyes in its presence is more likely to be lost in the dizzying melodies and crafted arrangements. These bipolar diversions have, ironically, produced their own cure: aural Prozac. Take once a day - that's my advice.