"Excuse me, can I borrow your intestines?"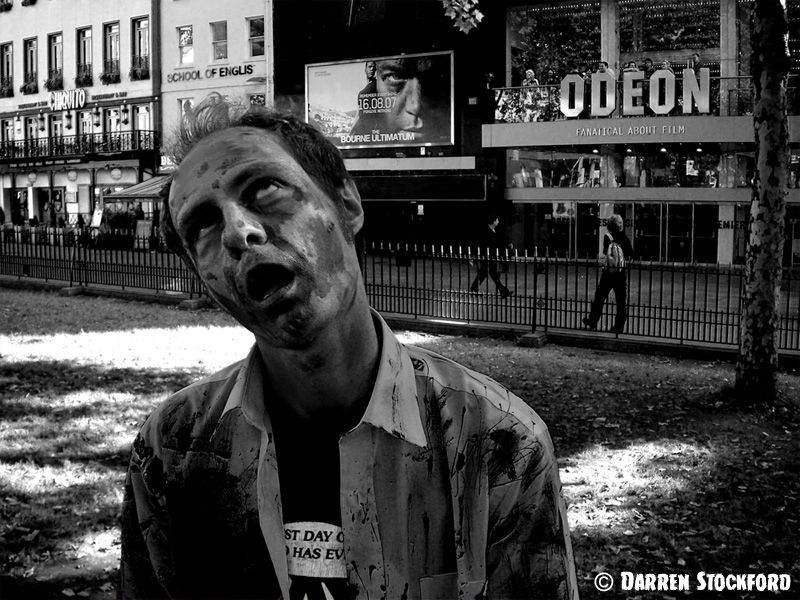 It's not a question I overhear every day. An explanation? Aw, go on then…
This morning, despite it being a bank holiday, I leapt out of bed at 7am and dashed up to London's Leicester Square to take part in a world record attempt: the biggest ever zombie gathering. The record's currently held by the undead of - where else? - Pittsburgh, where on 29 October last year 894 zombies wailed their way around Monroeville Mall, a venue that needs no introduction to fans of the original Dawn Of The Dead.
The London event was organised by Frightfest and tied in to the promotion of new British indie movie The Zombie Diaries, which had its UK big-screen premiere at the Odeon straight afterwards. But more about that in a mo'.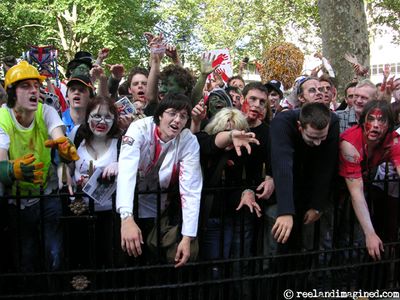 Armed with a couple of packs of kids' face paint and a very 'bloodied' shirt (quite clearly amateur hour compared to others' efforts), I arrived at Leicester Square at about 8.45am and spent 10 minutes or so 'getting into character'. I was handed a numbered ticket (51) so the organisers could gauge how many zombies there were.
I don't think the record was broken - it was probably too early in the morning to attract all but the, ahem, diehards. But there was a good crowd, a great soundtrack - you can't beat a bit of Fabio Frizzi on a Monday morning - and, ironically, a lively vibe. A fantastic time was had by… well, me certainly, and I'd imagine everyone else, if the amount of moaning was anything to go by. (C'mon, think about it…)
The pics accompanying this 'ere blog entry were taken by my wife Tara, who was an absolute star for getting up early and indulging me with this. I guess she must love me or somethin'.
**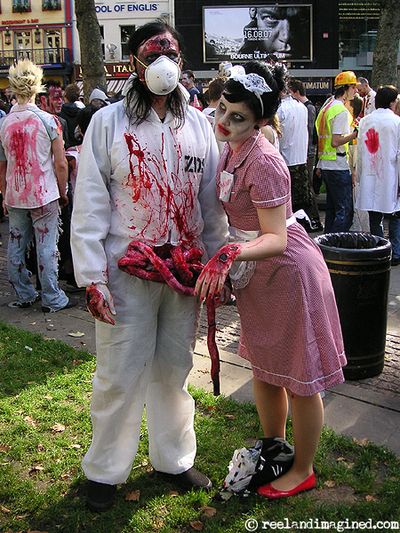 **The Zombie Diaries screening saw a packed house. The writers/directors, Michael Bartlett and Kevin Gates, were in attendance, along with some of the cast. There was a brief Q&A session after the film, plus free 'I survived The Zombie Diaries world record zombie walk' T-shirts for everyone. Hurrah!
I'm not going to rate the movie just yet, though, as I had a big problem during the screening. The film is shot and edited in a Blair Witch style - handheld and shaky - and I spent much of the running time battling motion sickness. I seriously felt as if I was going to chuck, so I spent whole scenes with my eyes shut and lost a few plot threads in the process.
I did, however, buy the DVD (which came out today), and intend to give the film another go in the comfort of my own home. I liked its serious, grim tone very much. Great zombie make-up too. I just hope that my guts hold out when I watch it on a smaller screen. And to think I nearly bought a front-row ticket.