Director's cut: John Carpenter live in London and Brighton, Oct/Nov 2016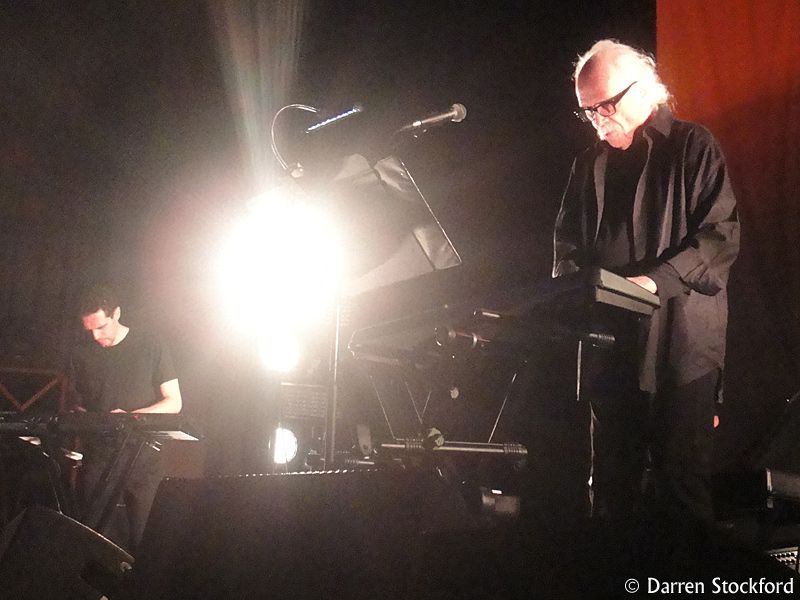 "Please be aware no food, drink or chewing gum is allowed in the venue. Thank you."
The printed sign, one of a handful dotted around the entrance and foyer area of the Troxy, is trying its polite best to look after the venue's interests, but it doesn't seem to have caught the attention of tonight's performer, John Carpenter, who's happily chewing away.
It's hard not to think of Roddy Piper in They Live: "I have come here to chew bubblegum and kick ass. And I'm all out of bubblegum." Carpenter's supply seems plentiful, but asses - or rather arses, as we're in London - still get a good shoeing.
The filmmaker/composer is in the capital to finish up his nine-date tour of the UK and Ireland, and I'm feeling a bit emotional. With my legs planted firmly on a prime piece of real estate - ie, down the front by the barrier, about 15 feet away from the man himself - I'm trying to soak up every last drop of what's happening on stage. It's my third and final show of the tour. Once this is over, that's it - certainly for a while, but maybe forever.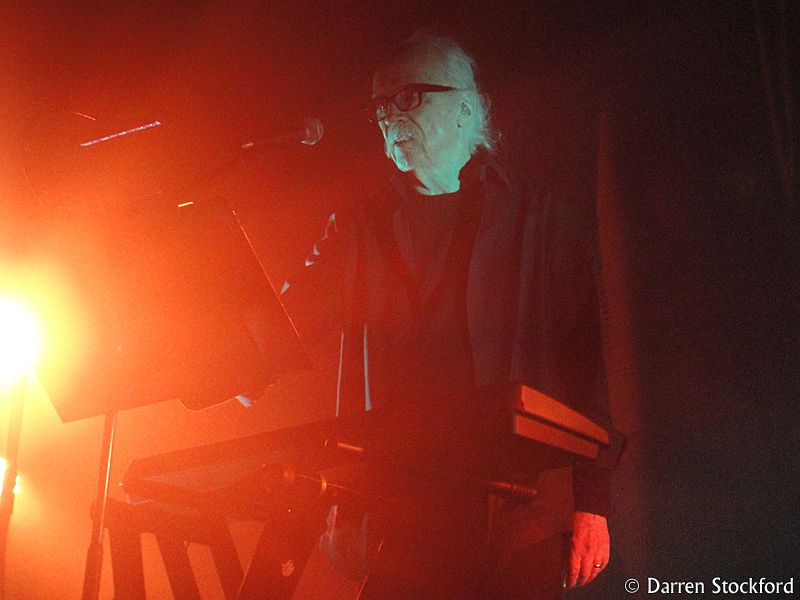 John Carpenter has been a cinematic hero of mine since I was a young teen. Like many fans of my age, I first saw his films in the early 1980s on tapes from my local VHS rental shop. Back then I knew little about what a director did, but I knew that if this guy's name was on the opening credits of a film, I was in for a great time. His were some of the first horror films I saw that felt like horror films, in as much as they had an effect on me that was both physical and intense.
It's a cliché to talk about rollercoaster rides and pounding hearts, but as a teenager that's exactly what I experienced for the duration of films such as Halloween, The Fog and The Thing. Sometimes I felt sure that my family could hear, or perhaps even see, the 120bpm thump of my chest as these films played out. Even as a young, more cine-literate adult, I was jolted by the images and ideas in Prince Of Darkness and In The Mouth Of Madness, and felt unsettled enough at certain points to wonder whether I'd reach their final reels.
It was Carpenter's horror films that hooked me, but I succumbed to the charms of his other films too: the magical martial-arts fantasy, the dystopian action movie, the science-fiction romance and the rock-star biopic, to allude to just a few of the titles from the director's rich and interesting filmography - a back catalogue that has made me laugh, gasp and cry: the holy trinity of cinema experiences.
As the age of DVD and widescreen TV dawned, I bought, collected and rewatched all of his films - in most cases for the first time in the correct aspect ratio - and I started to appreciate him as a composer too, developing a love for his soundtrack albums as standalone works. For many years now, barely a week has gone by without me playing John Carpenter's records, and I've long considered him one of my favourite musical artists - though, of course, seeing him in concert is one of those things I never thought I'd get the chance to do because, well, he doesn't play gigs.
Yet here I am, and to quote Prince Of Darkness: "This is not a dream."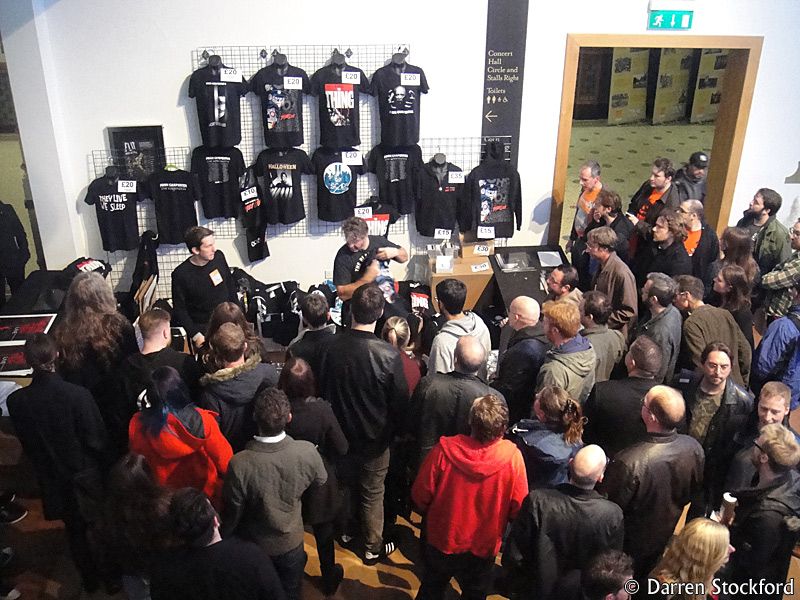 The seeds for this live tour were sown in February 2015, when Carpenter released an album called Lost Themes, which despite its title was actually a collection of nine brand new tracks that he composed and recorded with his son (and fellow prince of the synth) Cody and his godson, guitarist Daniel Davies. "They're little moments of scores from movies made in our imaginations," said John in the sleevenotes, where he also enthused about the project's enjoyment and lack of pressure. The idea, he said, was "to make my music more complete and fuller, because we had unlimited tracks. I wasn't dealing with just analogue any more".
The result was the biggest, boldest-sounding John Carpenter album to date. Fresh ideas and sounds were mixed with elements from the composer's extensive back catalogue to create an addictive prog-rock record, which might have come as a shock to anyone whose only exposure to his music was through his early film scores.
Despite Carpenter's reputation for brooding, atmospheric, synth-led music - the type of stuff with which he made his name - his discography is actually a pretty broad church. From the bluesy, jazzy sounds of They Live (composed with Alan Howarth, with whom he worked a lot in the 1980s), through the dark country blues of Vampires, to the pounding metal of Ghosts Of Mars (recorded with Anthrax and Steve Vai, among others), there's a lot more to the sound of John Carpenter than his early work might suggest. And Lost Themes brought something else to the table: the idea that Carpenter's musical career didn't have to be limited by the timetables or other requirements of film production.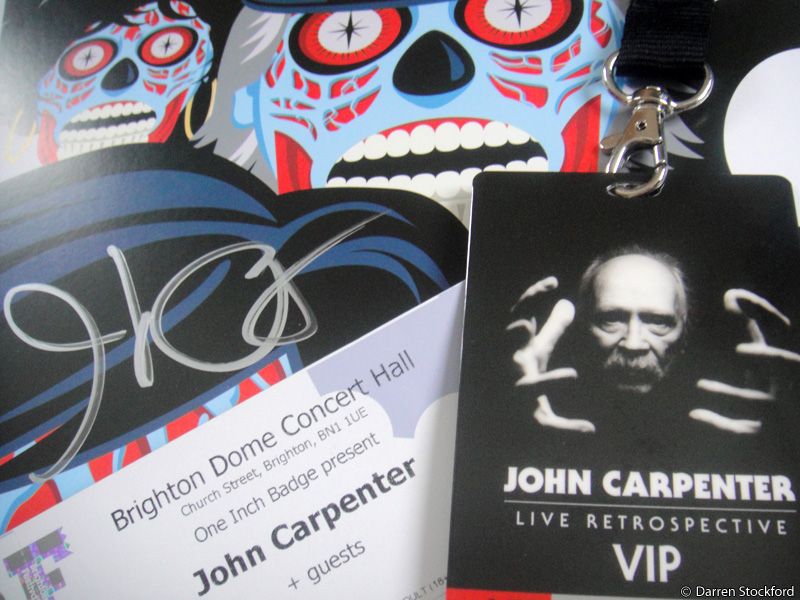 In April 2016 a second album was released, Lost Themes II, and a month later the composer and his band - Cody and Daniel, plus guitarist John Konesky, bassist John Spiker and drummer Scott Seiver - took to the road to perform not just the Lost Themes material but also music from many of John's film scores. The tour kicked off with a show at the Bootleg Theater in LA on 20 May, and finally reached UK shores on 20 October with a gig at the Brighton Dome.
And that, dear reader, was when and where my adventure began.
When I bought my ticket for the Brighton show, it was just a gig ticket. However, a couple of months later, 'VIP' meet-and-greet packages went on sale, and I had a Palmer-from-The-Thing moment. It was all getting a bit surreal. Let me get this straight: not only was I going to see John Carpenter in concert, but I was going to meet him too?
This was conclusive, indisputable, incontestable proof that you just never can tell what's around the corner. I'm an eternal pessimist, but sometimes life is very, very kind.
My 'VIP' ticket wasn't cheap, but as the experience was likely to be once in a lifetime and a few exclusive goodies were included in the price - a T-shirt, a bag, a signed They Live print and a laminate - it seemed like decent value. The only trepidation I felt was to do with the experience itself. What if I caught John on a bad day, or even in a bad moment? As a regular convention-goer, I know that this can happen sometimes when you meet people whose work you enjoy, and that when it does it can take the shine off things, for a while at least.
I needn't have worried - in fact, I should have known. John appeared cool and relaxed as I told him that I loved his music. He complimented the home-made 8"x10" montages I asked him to sign and dedicate - one featuring his movie posters, another with his album sleeves (as I explained to him, I couldn't decide on two items to get signed, so I figured I'd ask him to effectively sign everything) - and I came away from our meeting more primed than ever for the gig itself.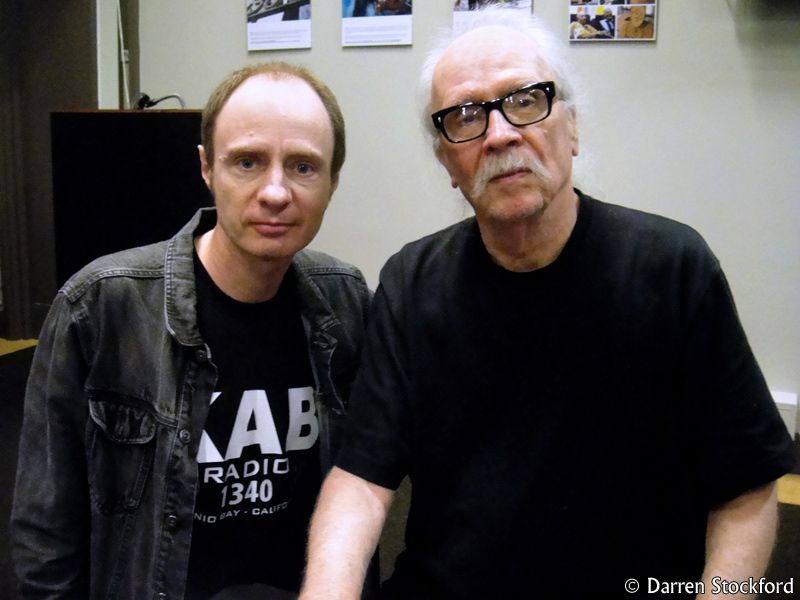 Though the tour had been up and running since May, I had no idea what to expect from its setlist. I'd been treating these gigs like a film, avoiding 'spoilers' as I wanted to let the narrative unfold in front of me. The last five months had felt like a slow march, but my patience paid off and I'd managed to arrive at the Dome unspoilt. With the band hitting a six, and my second-row balcony seat providing me with an unimpeded view of the stage and one of the best live sounds I think I've ever heard, I couldn't have asked for more. In fact, the next day I described the entire evening to my wife as 'perfect', and that's not a word I use lightly, picky blighter that I am.
Eleven days later, on Halloween (Halloween!), I saw the first of two London gigs, a show that in many ways impressed me too - though in one respect, at least, my experience could have been better. The band were great, as was the sound; the crowd were loud and appreciative, cheering not just the on-stage performances but also many of the on-screen actors and visuals, and the atmosphere felt more heightened than it had at Brighton. However, my seat let me down.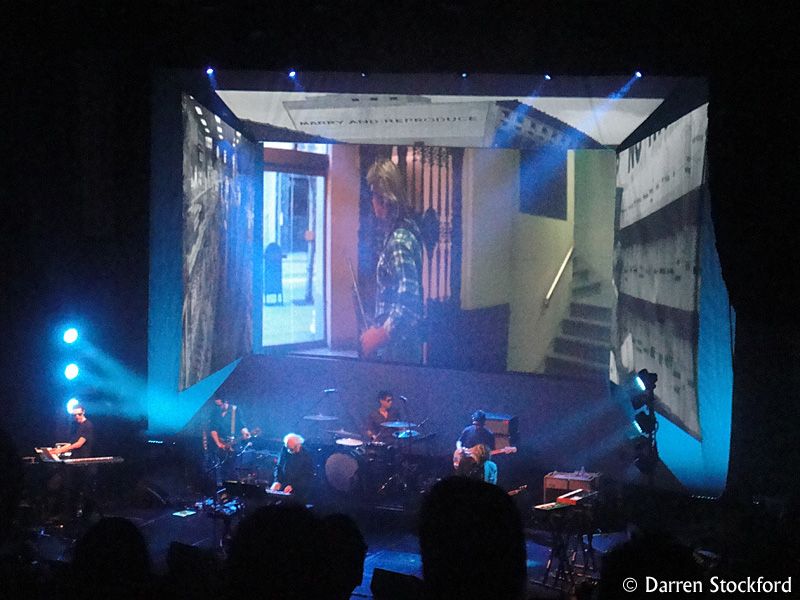 Due to the design of the Troxy's balcony, where a section of tabled seating partially blocks the view of those sitting in the front row of the standard, theatre-style seating, my sightline was compromised. If I sat up straight I could see everyone on stage, but those bobbing heads were bad news, especially when some of them leaned inwards. At times, it was like watching the band through bollards.
I enjoyed the show, but I knew exactly where I'd be heading for my third and final John Carpenter gig. Tomorrow, for my second night at the Troxy, the only barrier between me and the band would be the actual barrier.
So after an early arrival - sixth place in the standard-entry queue (VIPs go first, of course) - that's exactly where I find myself: gazing up at the stage from the front row. Mission accomplished. I'm home and dry - with the emphasis on 'dry'. This afternoon, my preparation for ensuring that I won't have to vacate my position has involved imbibing fluids in quantities no larger than those necessary to sustain life. Truly, this is thirsty work.
All the shows on this leg of the tour seem to have been running to the same schedule, with the band walking on stage at 8.30pm prompt, and that's what happens tonight. Naturally, the appearance of John Carpenter himself draws the crowd's biggest cheers, and he looks to be in good spirits, shaking his arms and saluting the audience. Once he's behind his keyboard, the show begins: a high synth note and a sparse drumbeat herald the opening guitar riff and keyboard melody to Escape From New York's title theme.
It's quite a rush, but there's more to come. Forty seconds in, as the track shifts up a gear with a crashing guitar riff, the large screen at the back of the stage springs to life, and a computerised New York skyline heralds a three-minute montage of the film's highlights.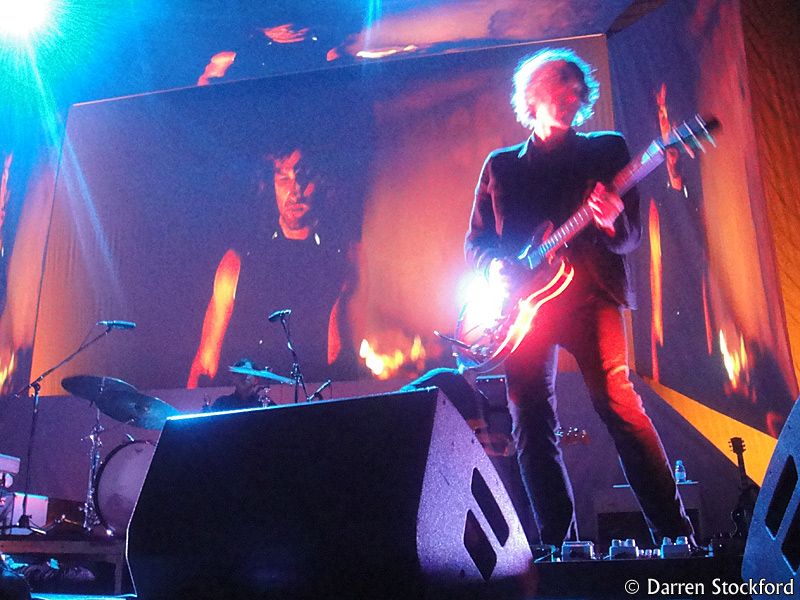 I've seen this opening three times now, and each time it's given me a tingle: the roar of the crowd, the sound of the music and the sudden appearance of light, colour and Snake Plissken work as one to create a real moment.
This kind of thing can knock a man off his feet, so I'm grateful to be clutching the barrier.
Escape sounds magical - bigger than ever before, with the tambourine hits of the original replaced by a thwacking great snare sound and Daniel Davies's guitar lifting the track to a soaring climax. At the previous two gigs I found it hard to take my eyes off Daniel, and tonight, at close range, it feels trickier than ever. He's a very physical performer, and as such he comes across as the rock star in the band, though there's no showboating: his playing always serves the track.
Next on the menu is the main theme to Assault On Precinct 13, a harder-edged melody than Escape and a track that, midway, sees Daniel moving from fretboard to keyboard. It's another crowd-pleaser, and once again the clips on the screen add to the atmosphere of the piece. In fact, I'm struck by the 'classic' feel of the film and how its characters look like something from the golden days of Hollywood, though its grittiness is apparent too. The clips show no concession to sensitive palates - as indeed they won't throughout the entire show - and 40 years on, Assault's ice-cream-van scene still packs a heck of a punch.
The screen itself is fascinating. When not in use, it hangs at the back of the stage looking like a flat cinema screen, albeit one with a sizeable decorative border. However, when the right kind of images are projected on to it, it gives the illusion of being an open-fronted box - a neat trick that feels fitting for a man who's spent his life creating flat images that feel anything but.
Naturally John Carpenter's presence on stage is a big one. Leading from the centre, he grooves on the music throughout, occasionally raising the ol' 'devil horns', and sometimes pointing to people in the audience as acknowledgement of their reactions. Though he reads his between-song patter from the music stand in front of his synthesizer, he performs his lines with gusto and makes no secret of their scripting, turning the pages as he's talking. His introductions are simple but effective, and the crowd lap them up.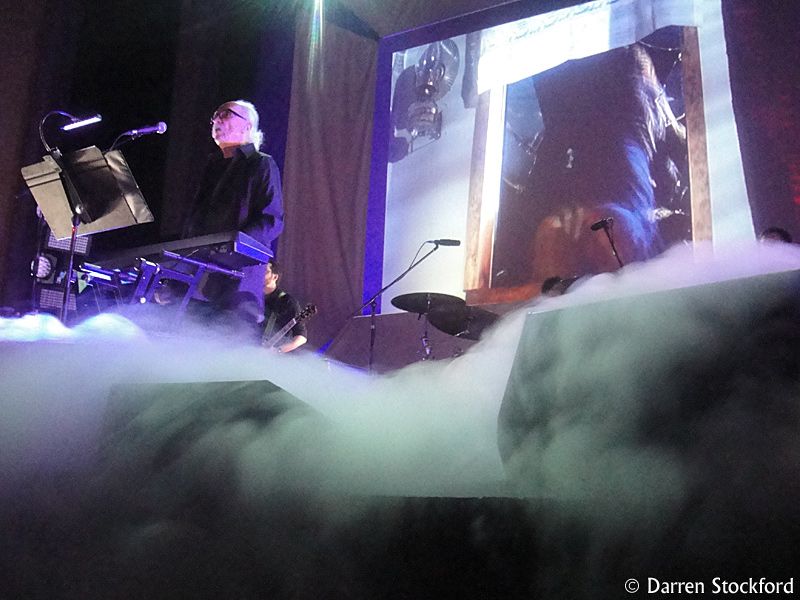 "Good evening," he says as the crowd roar their approval at the end of Assault On Precinct 13. "I'm John Carpenter!"
Another big cheer.
"Last year my first non-movie album, Lost Themes, was released. We'd like to play two cuts from the album."
The first is the album's opening cut, Vortex. A mournful piano gives way to a bubbling synth and pounding drumbeat, the first of the track's twists and turns - a key feature of much of the Lost Themes material. With no accompanying film clips, the lighting takes up the slack, casting flickering blue and purple hues across the stage and backdrop.
It's an exciting five minutes that prove that even in the live arena Carpenter's music can be effective on its own terms, with no ties to people's memories of movies. To seal the deal, the band take Mystery for a spin, its Wurlitzer-style opening giving way to a prog-rock workout that serves various movements and a modulating doom metal climax.
We're never more than two songs from a film theme, though, and John soon returns to his roots with the icy minimalism of Rocks At Drake's Bay, a three-movement piece from The Fog, which comes complete with a rolling theatrical mist that snakes its way around the musicians' feet before gliding eerily over the front-of-stage monitors and into the front rows.
The simple tricks are often the most satisfying, and getting a faceful of fog as John Carpenter plays the theme to one of my favourite horror films is a memory I'll struggle to top.
The theatrics continue with Coming To LA, from They Live, with the band stopping after the opening riff to reach for their sunglasses - a device in the film that allows wearers to see the world as it really is: ruled by aliens who keep people in line with subliminal messages of obedience. It's another crowd-pleasing moment - and in case you want to play along, pairs of They Live sunglasses are on sale in the foyer.
From its minimalist beginning, the track showcases some jazzy piano from Cody, before climaxing with some fiery, bluesy soloing from Daniel, who punctuates the performances with his slide-guitar licks. If this is the sound of subservience, I submit.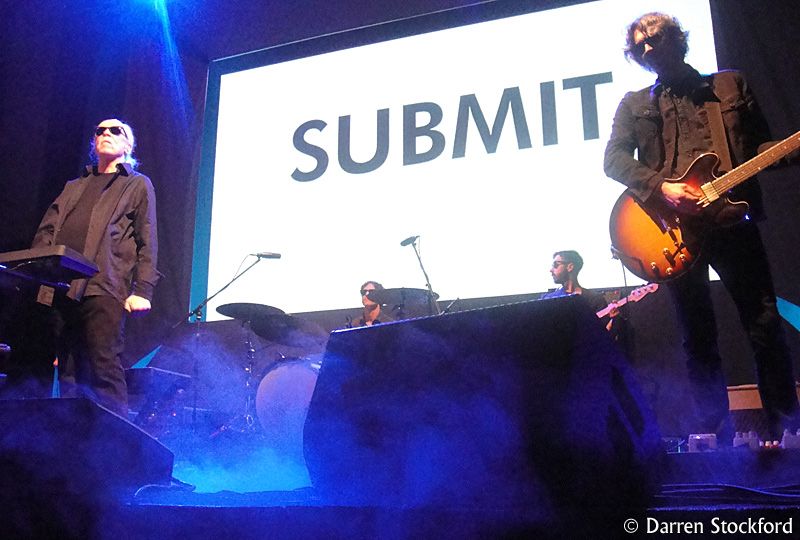 "In 1982 I made a movie called The Thing," says John, to yet another roar from the audience. "The music was composed by Ennio Morricone, one of the great composers in movie history. We'd like to play the opening title in his honour."
The clips on the screen look spectacular and are pretty much a showreel for the film's groundbreaking special effects, but for me The Thing is the one film theme of the set that doesn't really catch fire. Daniel's guitar lifts the end, but for the most part, in this setting, the track feels a lesser companion to John's own compositions - which is surprising, given that it's tonally similar to some of his early scores and it works so well in the film.
In contrast, Distant Dream, the opening cut from Lost Themes II, is jaw-dropping. A pounding rock epic with a patented Carpenter bass sound and a thrilling light show, the track stands proud as the show's centrepiece - not just a highlight of the more recent material but of the entire set. Where the heck does one go from here, though?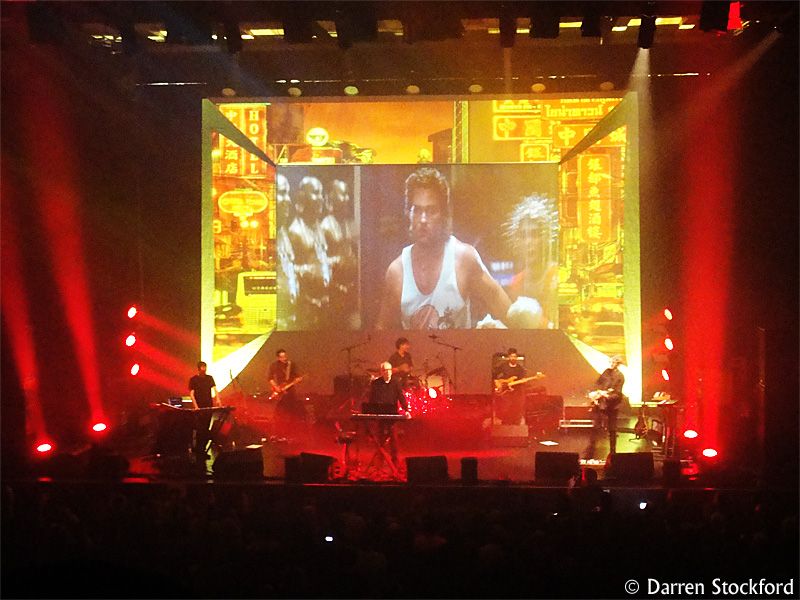 The answer arrives in the shape of Pork Chop Express, the pacy hard-rock track that opens Big Trouble In Little China. It sounds huge, and the red and greeny yellow lights are highly effective as the adventures of the bungling Jack Burton play out on the screen - another of the show's visual high points.
The band return to Lost Themes for the next two tracks. The brooding Wraith brews slowly, bubbling into and out of existence, while the eerie but steely Night acts as a showcase for Daniel's guitar work, the spotlight literally upon him as he crafts his licks over a classic-sounding synth riff. Night is perhaps the closest to early '80s Carpenter that the Lost Themes albums tread, and as such it really does sound like a lost theme.
The main set climaxes with Halloween's menacing title theme - a cue at the two previous gigs I saw for a sea of phones and cameras to appear, so I assume that the same thing is happening behind me tonight - and, finally, the title music to In The Mouth Of Madness, a bold metal romp that brings the main set to a close in thrilling style.
At the Brighton show, the two young women sitting next to me didn't recognise this track and started consulting IMDb on their phones. After last night's gig, my wife told me that she hadn't seen this film either. And later tonight, on my way out of the venue, I hear someone wondering aloud what that curious-looking movie starring Sam Neill was.
In The Mouth Of Madness, it seems, is a film awaiting discovery by some.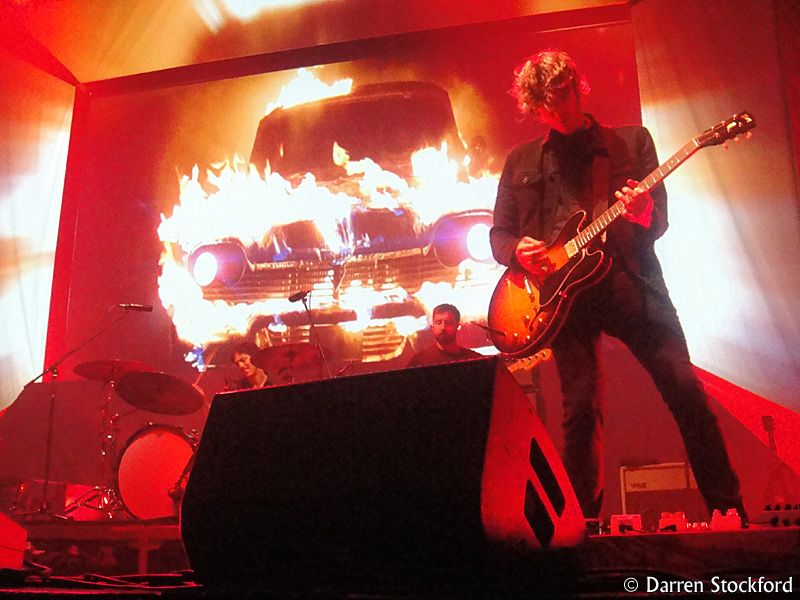 And so to the encore, which begins with John pointing to someone in the audience and saying: "You know my lines before I say them, don't you?"
Like a favourite film, this live show has clearly inspired a few rewatches.
Darkness Begins, from Prince Of Darkness, sounds fantastic, its pulsing bass and choral tones building to a fevered climax of spiky synth notes. Seeing the film's highlights compressed into three minutes, I can't help thinking how bizarre it must look to anyone not yet acquainted with it - like one of Lucio Fulci's nightmarish gothics. The final shot of the montage is one of my favourites - and not just from Carpenter's filmography. Beautiful, chilling and otherworldly, it could almost be a painting.
We're on the home straight now, with two more non-movie cuts: Virtual Survivor from Lost Themes II - all chugging riffs and chiming keys - and Purgatory from the original Lost Themes, which begins with some mournful piano from Cody before the band launch into an angular rhythm that pushes the track to a space-age climax.
"I want to thank you for coming tonight, London," says John. "We had a great time up here! There's one thing I want to leave you with: please, going home, drive carefully. Christine is out there…"
Christine Attacks (Plymouth Fury) is an interesting choice to close the show, as to my knowledge Christine's score isn't especially well-known or celebrated, though it's a favourite of mine. And this particular track - a pulsing, driving (yes, I went there) slice of melodic synth rock - happens to be my favourite piece on the album, so I'm pleased to see it snatching some overdue glory.
The titular automobile, ablaze but rolling down the road in hot pursuit of its prey, is an impressive reminder of the days when practical effects were still king. With the stage bathed in orange light, you can almost feel the heat.
Finally, the band take their bows: Konesky, Seiver, Spiker and Davies, plus of course John and Cody - Carpenters by name, and apparently by trade too, as they definitely nailed it. In old-school cinematic fashion, the screen announces 'The End'.
Whether we'll see a sequel, I have no idea. This time last year I couldn't have imagined any of this. Could the John Carpenter musical revue roll back into town one day?
In the words of MacReady from The Thing, and to quote another great ending: "Why don't we just wait here for a little while? See what happens…"