Pumpkin soup: My two-day Halloween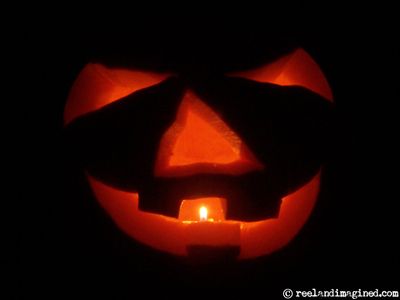 It's a tradition on this day that I post a pic of my efforts with a pumpkin and a tiny hacksaw blade so, well, here's this year's flawed masterpiece. Nothing radical; just a good old-fashioned jack o'lantern. A hint of evil in the eyes and a toothy smile - exactly how it should be.
Halloween actually started a day early for me, as I spent Thursday evening supping pints of the Devil's brew (well okay, Strongbow) in the company of Satan's house band, Slayer. Hammersmith Apollo was the venue - the very same place, albeit with a different name, that I saw my first Slayer gig 20 years ago, on the South Of Heaven tour.
My partner in metal that evening was Jason H, who joined me on Thursday for a night of nostalgic thrash worship and polite, if pished, headbanging (amazingly, everyone in the balcony remained seated - I tell ya, it was far less civilised back in the day). For an old fan it was (ahem) heaven: just two songs came from the band's post-1990 albums, and the final 30 minutes was the Reign In Blood LP from start to finish. I couldn't have asked for more. They had one of the most blinding light shows I've ever seen too, and didn't play an encore as there was no need. Marvellous.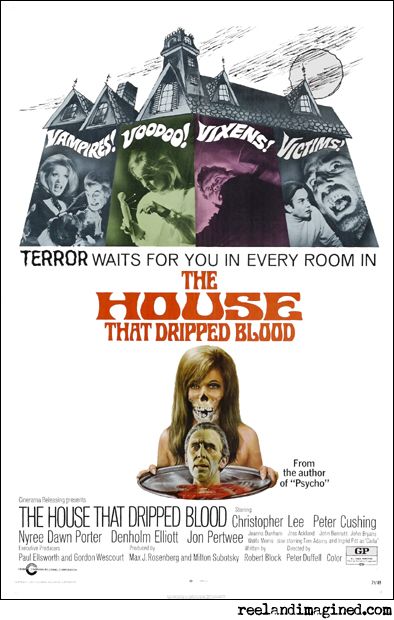 Having done the visceral stuff the night before, I enjoyed a much more subdued Halloween, which is how I think it ought to be done really. Carve a pumpkin, light the candle, turn off the lights and stick a creepy film in the DVD player. This year I plumped for The House That Dripped Blood, an Amicus anthology from 1971 starring Peter Cushing, Christopher Lee, Denholm Elliott, Ingrid Pitt and Jon Pertwee, among others.
Story-wise, it's not the best film of its kind, but it manages to maintain a strong atmosphere and has some well-executed scares, especially in the Method For Murder segment. These anthology flicks are always a good bet for Halloween, and this did the job pretty well.
Rounding off the evening's entertainment were the last two parts of Dead Set, E4's Charlie Brooker-penned zombie series set in the Big Brother house. I thought that these were the two best episodes, though the whole thing could have been improved by cutting down on the shakycam shots. Every single zombie was filmed with a wobbly, undercranked camera, even when they weren't actually doing much, and it became very wearing very quickly. What just happened? Dunno. I couldn't make it out.
Still, there was lots to love: the sense of apocalypse was strong, considering how small and contained the on-screen story was; and it was gorier - and in a real meaty way - than many recent big-screen zombie films. I appreciated the little nod in the script to The Living Dead At The Manchester Morgue in episode 1 (I'm not a fan of the Night Of The Living Dead line, though - that was just confusing). And the final act was hugely reminiscent of… well, that's a big spoiler so I'll zip it. If you missed it, the entire thing is being shown, in movie form, tonight at 10pm on E4.
I don't think Dead Set said or did anything that another zombie movie hasn't said or done (at least nothing significant struck me on first viewing), which coming from the pen of Brooker surprised me. But it was good to see an out-and-out horror series with solid acting, good dialogue and plenty of splat airing on TV.