There they go again: The Quireboys are back!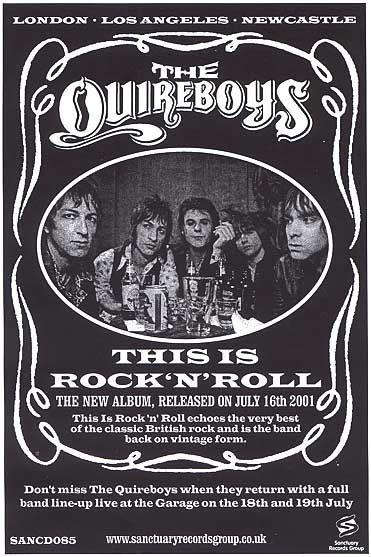 Well, that was a nice surprise.
Last night (13 June 2001) was the final night of Cheap Trick's three-gig London Garage residency. I was waiting for the support band to come on, wondering who it would be (Monday night we had the singer from Urge Overkill - very good; Tuesday was some dirgey English band I never caught the name of - not so good), when out wandered Spike and Griff.
"'Allo, remember us?"
Yeah I do, as it happens. Nice to see ya, fellas.
Spike explained that they were in town doing some promo and had been invited to open for CT. They were joined by an unnamed keyboard player and did a half-hour acoustic set, playing Whippin' Boy, Roses And Rings, I Don't Love You Anymore, a couple of songs from the new album, and a medley of Just My Imagination (the old Temptations song, as covered by the Stones on Some Girls) and You Can't Always Get What You Want.
And they were mighty fine. The goosebumps were rising at one point, which is always a good sign. I was surprised to see Spike playing guitar, though - how long's he been doing that?
I also heard a fair chunk of the new album, This Is Rock 'N' Roll (to be released on 16 July on Sanctuary Records), as it was playing over the PA before and after their set. First impressions? Very good. It's got tunes, that's for sure. Some of the tracks sounded a bit heavier than the old stuff, but that could've just been the boomy Garage PA.
There were posters up all around the venue plugging the live shows they're doing there on 18 and 19 July (I nicked one from the toilets on the Monday), and there were some flyers advertising the new album kicking around last night (pictured).
It's been a long time comin'. And there's only one more month to wait.
Update - 30 June 2001
Simon Rinaldo, the band's new keyboard player, has emailed me to tell me what's happening (cheers, Simon!).
The new line-up runs:
Spike - vocals Griff - guitar Luke Bossendorfer - guitar Nigel Mogg - bass Martin Henderson - drums Simon Rinaldo - keys
Luke and Martin came from Griff's old band, Glimmer. Simon's been a session musician for a while. He also played in one of Luke's old bands, Shrunk, for a couple of years. And that Garage support was the first time he'd played with them - they had a practice the day before, and he got the gig!
Apparently, there's going to be full UK tour, followed by a European jaunt in September.